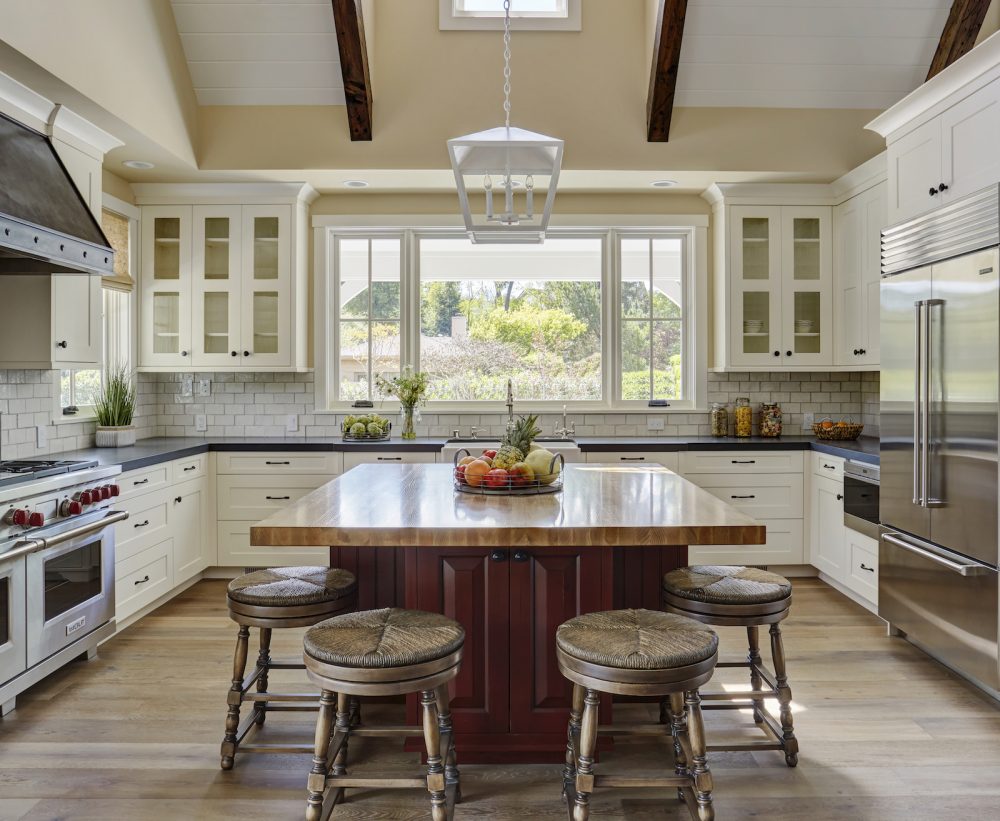 All photography by Michael Kaskel
At Bentwood Luxury Kitchens, we are very excited to share a special Dealer project as well as highlight exceptional people in the business. Since becoming a dealer in 2001, Joy and Jerry Wilkins of Custom Kitchens from Oakland, California have always had a wonderful relationship with Bentwood. Joy says it best here: "Bentwood and Harmoni are our number one cabinet supplier because we've built a great relationship and have complete trust in their product and service". And this is what it's all about for us here at Bentwood. Owner Randy Pittard takes great pride in relationships like these. We feel the same joy and mutual respect when working with the successful industry professionals who embrace our products and execute beautiful projects year after year. See how we collaborated on this stunning modern farmhouse.
It's not often that a new construction or traditional/stylized farmhouse project comes about in the greater San Francisco Bay area.  So, Joy Wilkins a Certified Kitchen and Bath Designer for almost 35 years, was excited when asked to work on this unique project.
The new house was designed to emulate the original 1910 red farmhouse that existed on the property and give clients their 'Forever Home' perfect for sharing with family and friends.
The homeowners were beloved friends of the couple that had lived there for years and were dedicated to creating a new traditional yet modern home that was also a tribute to the Lafayette community as well as the previous owners.
It Takes a Village – or a Design Team
For such a significant endeavor, a design team of experts were brought together to execute this special project–those who understood the detail and passion of the clients for their new home. Leslie Kalish, Interior Designer from LMK Interiors, referred Custom Kitchens as a Bentwood Dealer with a longstanding reputation for quality work. Design team members collaborated with the homeowners, Interior Designer Leslie Kalish and Gayle Leksan of LMK Interiors, and the builder Jeff Momson. Custom Kitchens designed, provided and installed Harmoni and Bentwood cabinetry in the entire home including the kitchen, dining room, all bathrooms, mudroom, laundry room and small kitchenette in the guest loft.
What made this project even more fun was integrating an All-American color theme of red, white and blue. And a modern farmhouse is the perfect project to do this!
Everyone Gathers in the Kitchen for Good Reason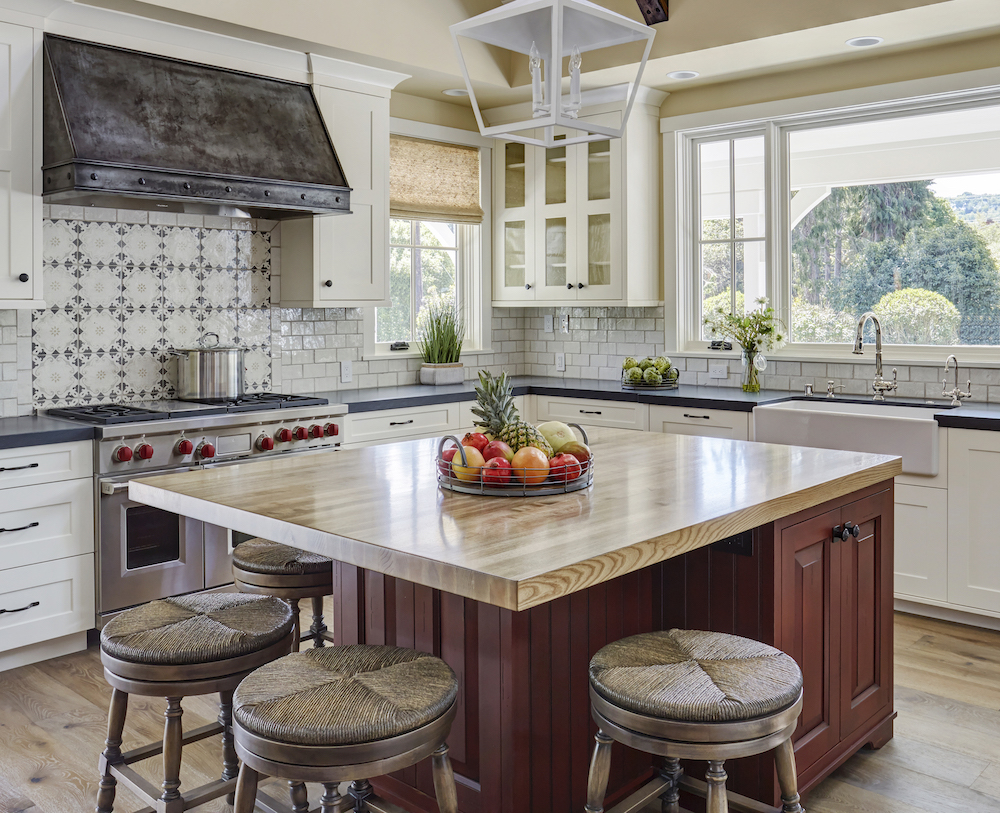 In the new family kitchen, everyone is pulling up a seat and gathering around. The barn red color inspiration on the family island and furniture grade details like the beadboard and toe kick allow the island to be the focal point and hub of the kitchen. Beautiful crafted hood and tile back splash are perfect complements to the Farmhouse palette and style we can't get enough of.
For the Kitchen perimeter, classic white painted cabinetry in updated shaker door style was the perfect choice.
A traditional farmhouse sink looks just perfect and lovely, and who minds washing a dish with that window view?
For defining details, furniture toe and glass doors on cabinetry make sure there's nothing 'Plain Jane' about this kitchen.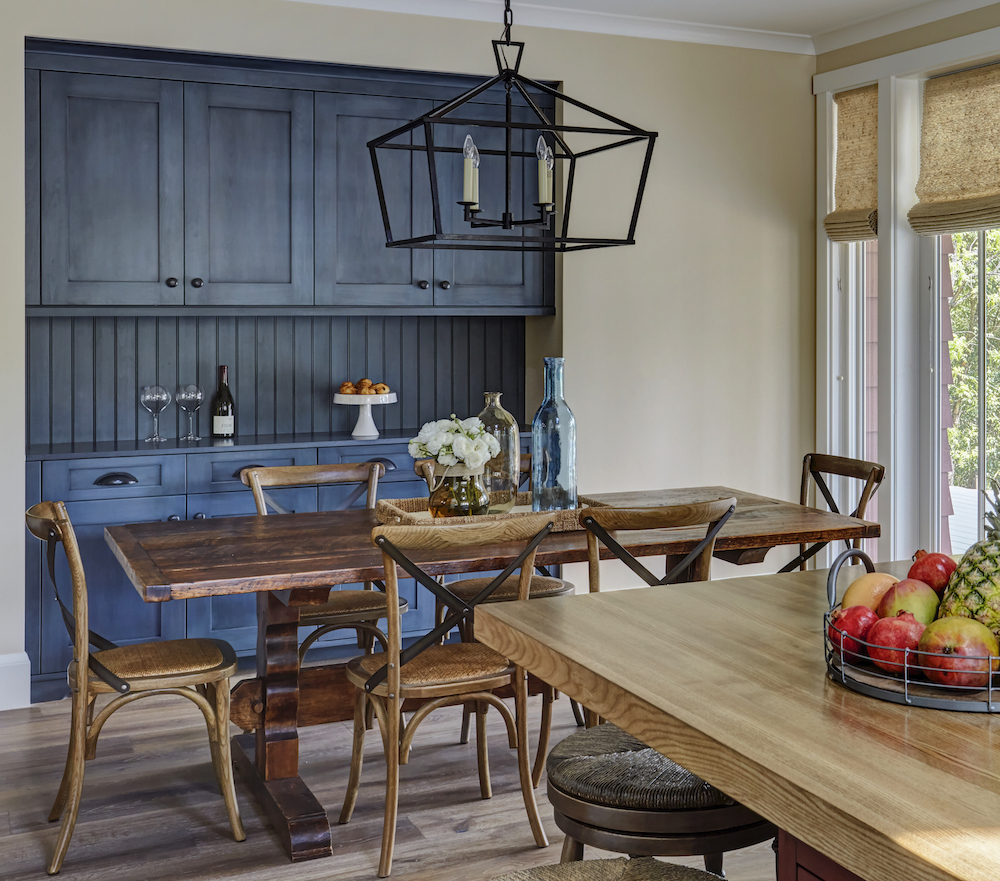 To support large family feasts, a custom furniture hutch was designed for serving ware storage and buffet serving. The denim inspired finish looks amazing on alder wood with repeating beadboard and toe kick details, making this design blue-ribbon worthy.
Mudrooms, Because Life is Messy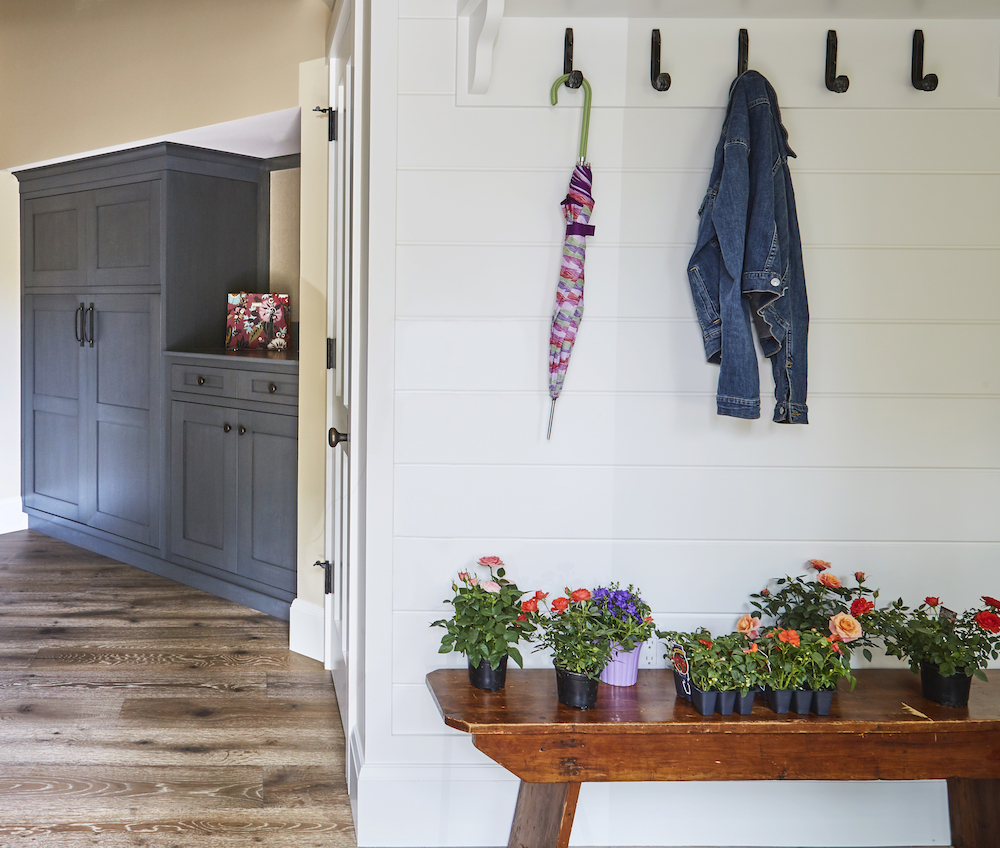 This same cabinetry door style and finish were used to create a custom coat closet and landing area in the Mudroom located right off the wrap around porch.
Functional Finishing Touches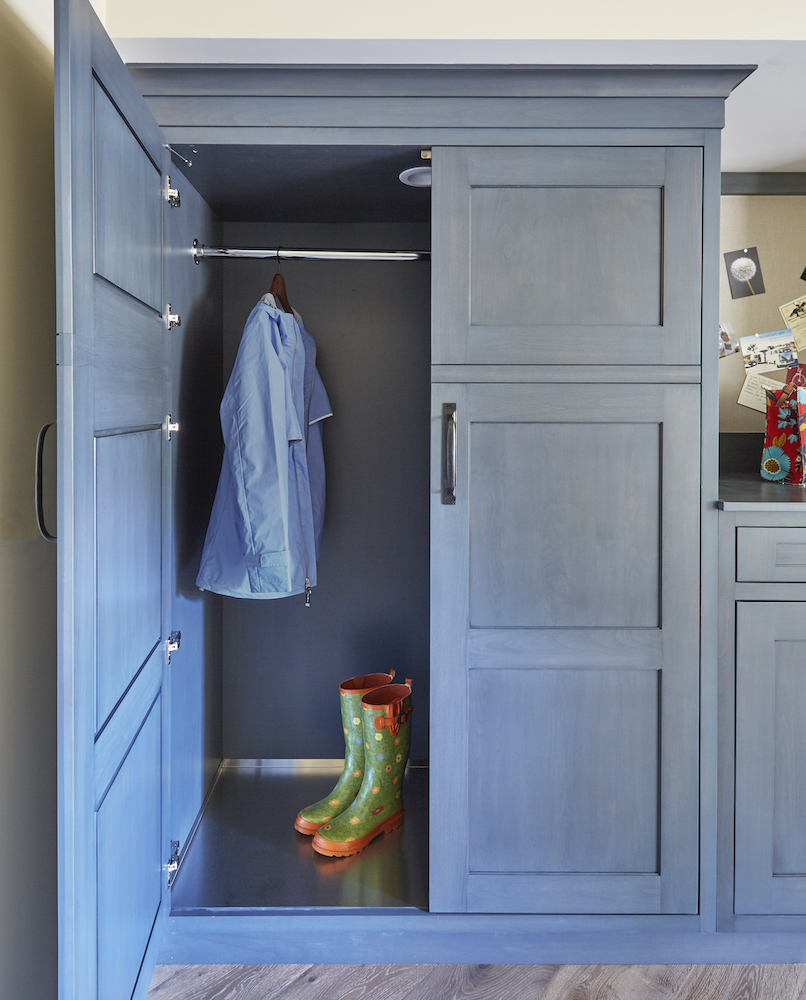 The Bentwood tall cabinet was designed as a coat closet with stainless steel bottom for wet boots or coats.  The full height doors to the coat closet were designed with a "curf" in the false rails to create the look of stacked doors but opened as one to allow for full height access to the cabinet.
In keeping with the Modern Farmhouse theme, rift cut white oak in new 'Fawn' finish for powder room vanity feels just right. Aged finish hardware and cabinetry toe details are consistent throughout home.
Relaxed Elegance in Master Ensuite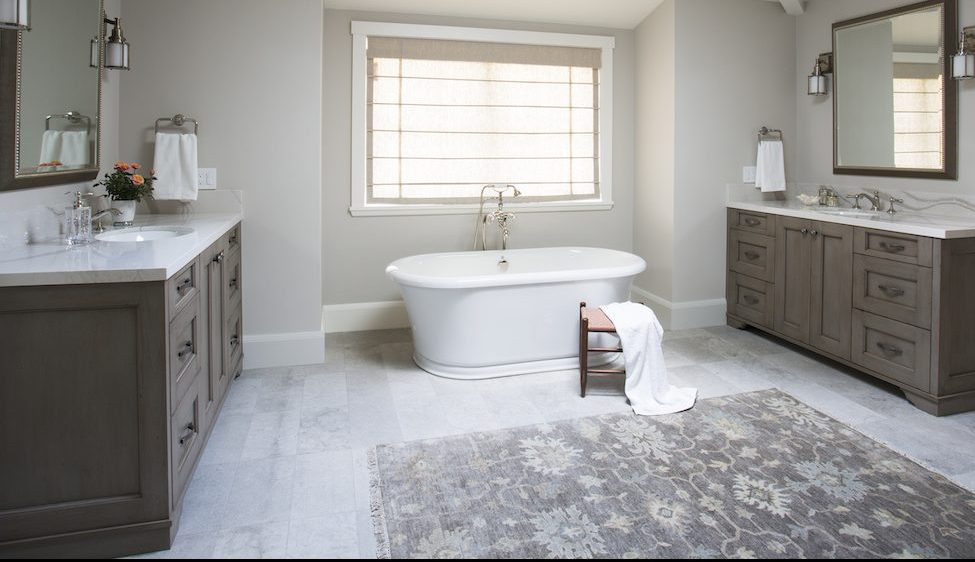 Every homeowner should have a personal retreat, and this Master Ensuite is stunning!
Master Bath alder doors on vanities in crafted finish 'cloudy day' are elegant and estate worthy.  Separate Double vanities with free standing tub give ample room for relaxing and personal space.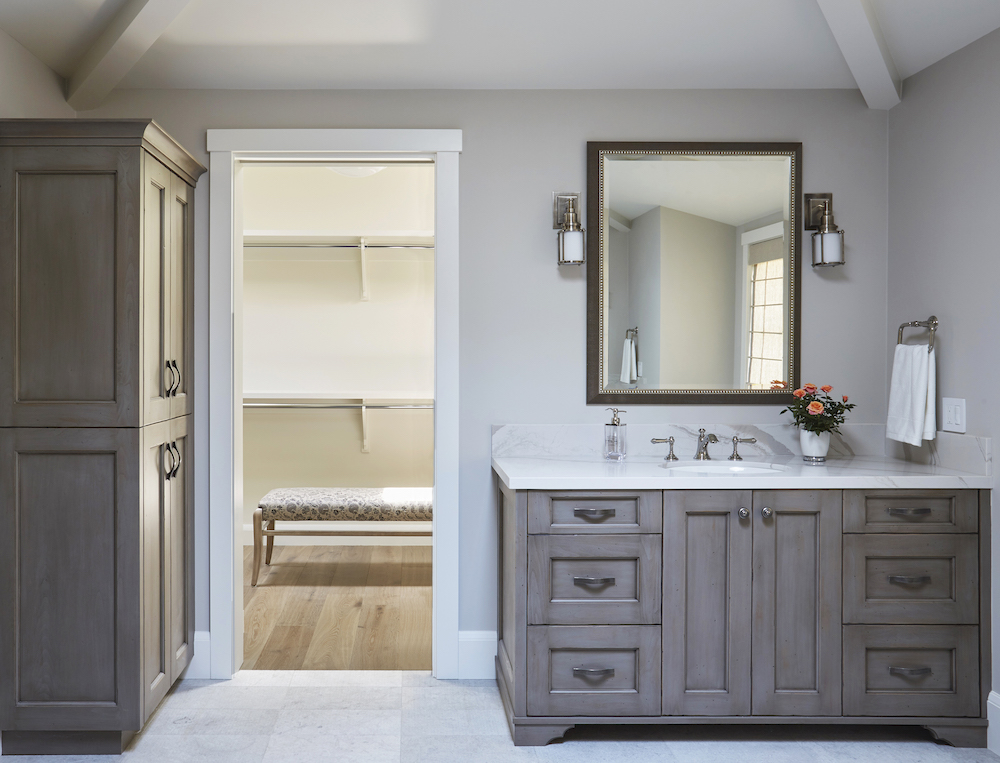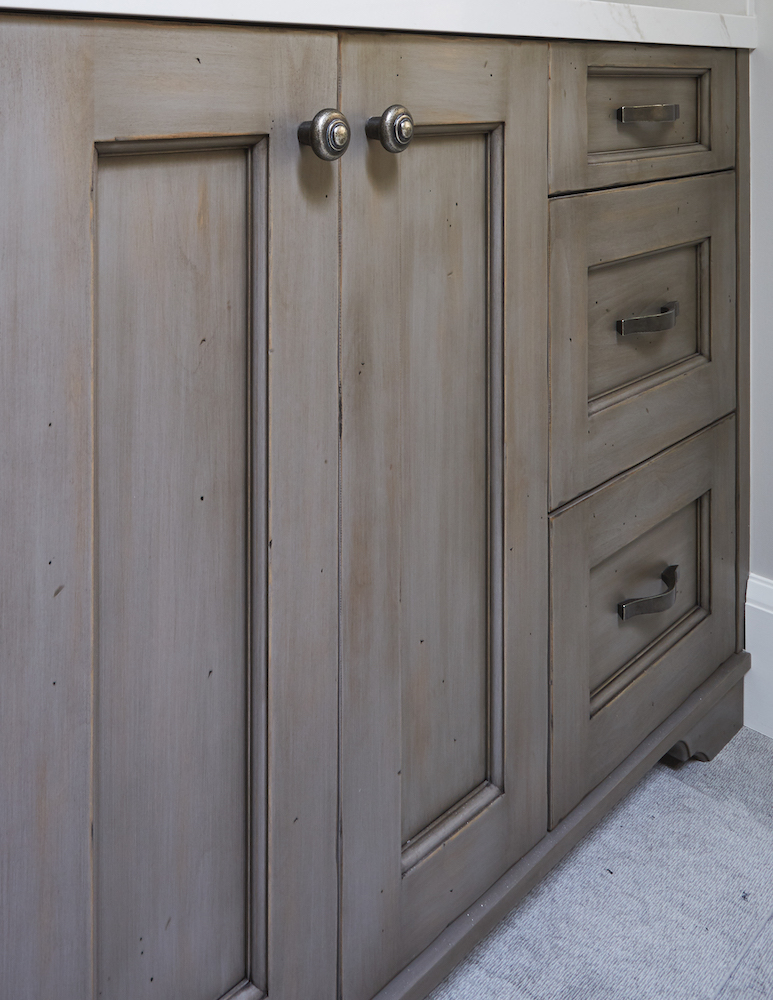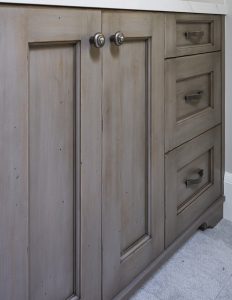 A custom furniture piece designed in same style and finish offers additional storage, while the Master Closet offers ample clothing hanging space.
Extra Space for Family and Friends, Of Course!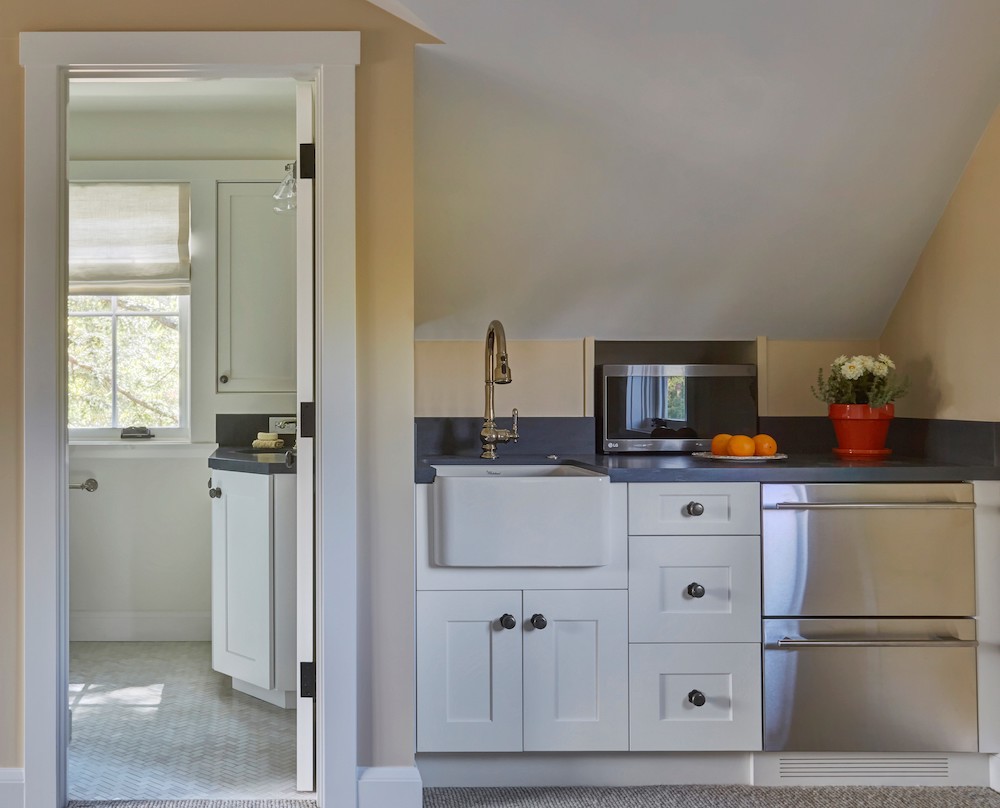 When you have a lovely home that you also want to share with family and friends, guest quarters are essential.  We love the upstairs Efficiency with consistent farmhouse design details—check out the mini farmhouse sink and refrigeration drawers.
White cabinetry in the kitchenette and bathroom feels inviting and gracious.
This Modern Farmhouse Makes Family Living Easy for Years to Come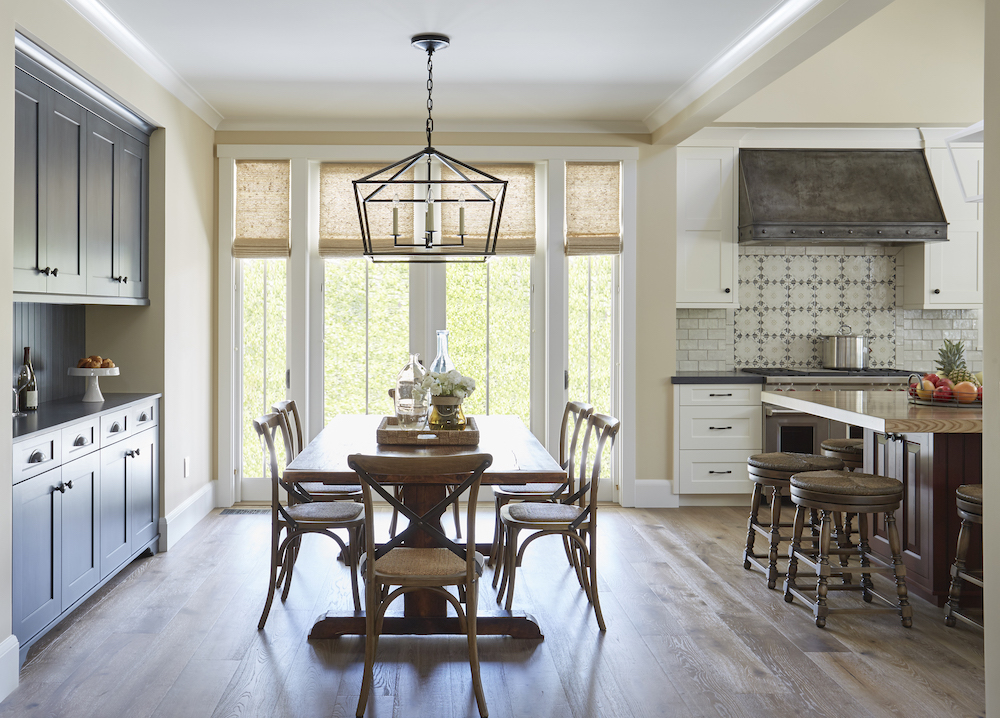 As you can see, much care was given by the design team to create a modern traditional home the clients would love for years to come. For the cabinetry portion, Custom Kitchens focused on design elements that celebrated the farmhouse past but were well equipped for today's living and entertaining. Beautiful finishes, furniture grade details, drawer accessories and storage were key to designing with the Bentwood and Harmoni products that achieved the vision. We feel so lucky to have been a part of this truly American project, and to work with dealers who appreciate the beauty of Bentwood cabinetry, just like our friends at Custom Kitchens.
Find Inspiration Near You
Are you looking for some inspiration and creative ideas for your space? Look through our gallery to discover some of our finished projects.
Summary
Article Name
A Modern Farmhouse with a Historic Past
Description
Today we present our first dealer showcase, this time in Northern California. See how Bentwood and Custom Kitchens collaborated on a truly modern farmhouse.
Author