At Bentwood Luxury Kitchens, we love to cook and entertain as much as our clients, and often talk 'food' with those who share our passion. Going into the holiday season, we thought it was only fitting to share some of our easy Fall meal favorites and go-to recipes for entertaining. Enjoying time with loved ones is what it's really about, not preparing a 5-course meal with perfect wine pairings and being too exhausted to enjoy your guests!
These are beautiful, delicious foods that are easy to assemble ahead or easily ordered up through a local caterer or grocery store.
Ina Garten continues to inspires us. As the Barefoot Contessa, she always seems to have a perfect recipe for entertaining family and friends that tastes great, presents beautifully and doesn't take all day to make. We have not had the pleasure of personally designing an Exclusively Bentwood kitchen for Ina yet, but we are still hopeful; she is our kind of gracious entertainer.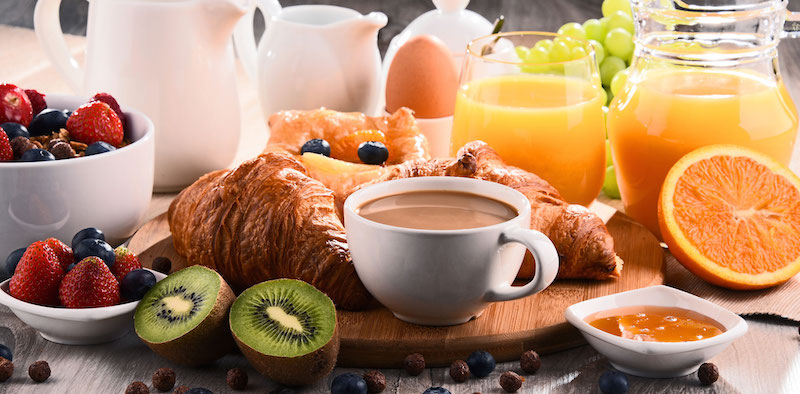 Start the day off with a lovely Breakfast Bar and let guests help themselves—think early risers and late sleepers. Set up a beverage area including coffee, tea, juice and water. Then prepare baskets/trays of assorted baked goods like halved muffins, croissants, and sliced banana, cranberry or artisan breads. Serve with butter, whipped cream cheese and jams. Add a fresh fruit tray or fruit salad to round out a light breakfast. For a more extensive offering, add proteins like hard boiled eggs, avocado slices, assorted quiches or a make ahead egg casserole. Instead of cooking bacon or sausage, present a tray with spiral ham slices and garnish with fresh orange slices—also great for a having on hand for a quick sandwich in between meals.
Need a great muffin recipe to make goodies anytime? This recipe for Blueberry Coffee Muffins is an ideal snack or a gracious thank you gift for anytime, not just for the holidays.
Blueberry Coffee Cake Muffins
Recipe: Food Network
INGREDIENTS
12 tbsp. (1-1/2 sticks) unsalted butter, room temperature
1-1/2 cups sugar
3 extra-large eggs at room temperature
1-1/2 tsp. vanilla extract
1 cup sour cream
¼ cup milk
2-1/2 cups flour
2 tsp. Baking powder
½ tsp. Baking soda
½ tsp. salt
1 pint fresh blueberries
INSTRUCTIONS 
1.Preheat oven to 350 degrees and place 16 paper liners in muffin tins.
2. In an electric mixer bowl, cream the butter and sugar until light and fluffy for about 5 minutes. Put the mixer on low and add the eggs 1 at a time, then the vanilla, sour cream, and milk. In a separate bowl, sift the flour, baking powder, baking soda, and salt together. Mix on high speed and add the flour mixture to the batter and beat until mixed. Fold in the blueberries with a spatula making sure that the better is thoroughly blended.
3. Scoop out the batter into the prepared muffin pans making sure that each cup is filled to the top.
4. Bake for 25 to 30 minutes until the muffins are lightly golden brown on top.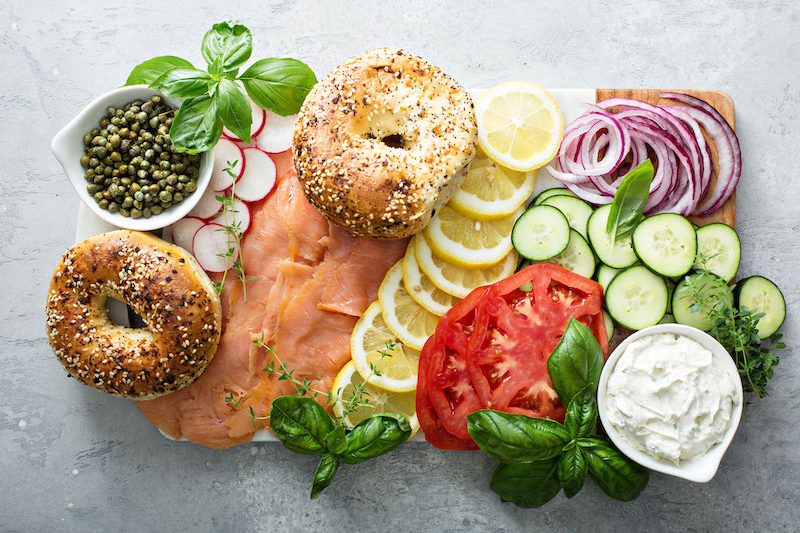 Another favorite meal perfect for Brunch, or really anytime, is a traditional smoked salmon platter.
Who can resist freshly toasted sliced bagels with assorted whipped cream cheeses and all the standard accompaniments- sliced tomato, cucumber, red onion, and capers- delicious and easy to present, perfect for the holidays.
For a special presentation that tastes as good as it looks, order a whole poached decorated salmon when entertaining a crowd. Add mini egg salad and tuna salad sandwiches to extend the buffet.
And finally for easy anytime snacks, an elegant fruit tray is the perfect complement showcasing the freshest seasonal fruit.
Below, we have one of our favorite Ina Garten fruit platter recipes.
Recipe: Food Network
INGREDIENTS
2 small ripe melons
1 "golden" pineapple
2 bunches grapes
1 pint fresh figs
1 pint raspberries
1 pint strawberries
1 pint blueberries
1 red papaya
INSTRUCTIONS
Begin the platter with a base of ripe, colorful, sliced melons and pineapple–for example, cantaloupe, honeydew, Galia, or Cavaillon melons, plus the new "golden" pineapples. Peel the outside of a whole melon, cut it in half through the stem end, and scoop out the seeds. Place the melon halves cut side down on a board, and slice them straight across into 1/2-inch-thick slices. Fan each half-melon out slightly and arrange it on the platter. Next, cut off the top and bottom of the pineapple, peel the outside, and use a sharp knife to remove the "eyes." Cut the pineapple in half lengthwise and remove the core by cutting a "V" down the center of each half. Again, place the pineapple halves, cut side down, on a board and slice them straight across into 1/2-inch-thick slices. Fan the slices out and arrange them next to the melon on the platter.
Once the base is set, you can add any kind of fruit that's available. I like to have one thing that is taller than the rest, such as a large bunch of grapes or a decoratively cut papaya, to give the platter height. Then I add raspberries, strawberries, blueberries, and fresh figs in casual but organized groups. The platter can look like a bowl of M&M's if there are too many colors scattered with no order. Visually, your eye needs to have a focal point and to be able to see each type of fruit. After all the fruit is arranged, I add flat green leaves around the outside of the fruit, to set off the colors. Use lemon and galax leaves from your florist, or fig leaves and grape leaves from your garden. Make sure they are pesticide-free and well washed.
Any kind of fruit will work well on this platter. For special occasions, add persimmons, kiwi, passion fruit, Queen Anne cherries, fresh apricots, and mangos. Choose whatever is colorful and seasonal.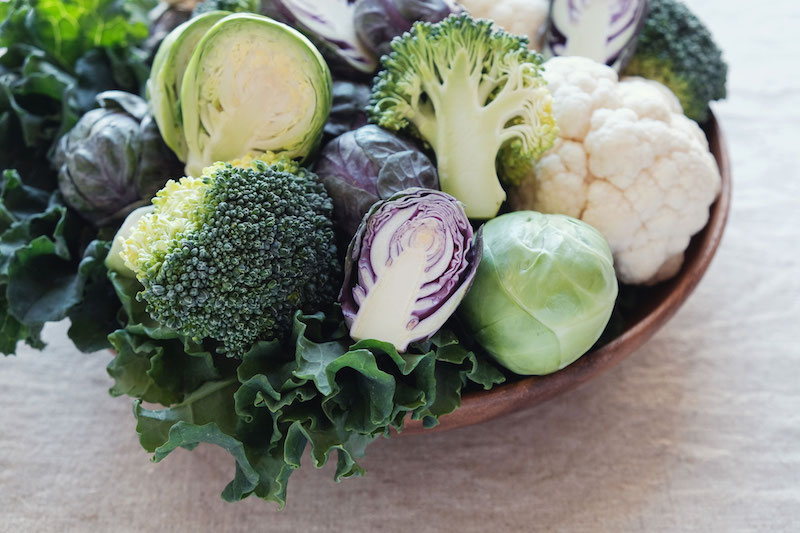 Crudités, traditional French appetizers made up of sliced or whole raw vegetables and served with vinaigrette dressing, make for a beautiful healthy menu option. As far as presentation goes, pick the best looking seasonal vegetables and greens—we love adding unexpected vegetables like jicama and endive.
Serve this Blanched Crudités as a starter or extend presentation with a large chunk of aged parmesan, olives, and hummus from Ina Garten's Cookbook for a light yet satisfying meal.
Recipe: Food Network
INGREDIENTS
1 pound asparagus
1 pound carrots, sliced diagonally in 1-inch chunks
1 pint cherry tomatoes
2 heads radicchio
Herb Dip:
8 ounces cream cheese, at room temperature
1/2 cup sour cream
1/2 cup mayonnaise
4 scallions, white and green parts, minced
2 tablespoons fresh parsley leaves, minced
1 tablespoon fresh dill, minced
1 teaspoon kosher salt
3/4 teaspoon freshly ground black pepper
INSTRUCTIONS
1. Prepare a large bowl with ice water.
2. Remove the tough bottoms of the asparagus stalks. If they are thick, peel the stems half-way up the stalk.
3. Add the carrots to the pot of boiling water and blanch for 1 minute. Immediately remove the carrots with a slotted spoon and plunge them in the bowl of ice water. Drain the carrots when fully cooled.
4. Add the asparagus to the boiling water and blanch for 1 minute. Immediately remove the asparagus with a slotted spoon and plunge them into the reserved bowl of ice water. Drain the asparagus when fully cooled.
5. Slice the radicchio into wedges.
6. Arrange the carrots, asparagus, cherry tomatoes, and radicchio on a platter and serve with the Herb Dip.
7. Place the cream cheese, sour cream, mayonnaise, scallions, parsley, dill, salt, and pepper in the bowl of an electric mixer fitted with the paddle attachment and blend. Serve at room temperature.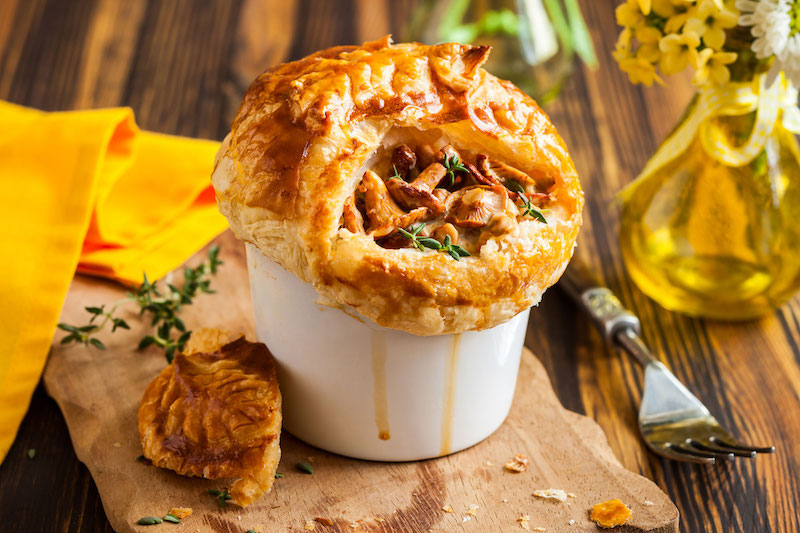 A satisfying warm dinner is sure to please family and friends this busy holiday season. For comfort food favorites, we love Ina Garten's Chicken Stew with Biscuits recipe. It is perfect to make with turkey after Thanksgiving, and the vegetable and lobster pot pie versions are also winners! This recipe presents beautifully in colorful French bakeware for family style serving. Or you could make individual servings in small pie dishes.
Prepare the stew ahead of time, then make the biscuits when ready to bake. Serve with a crisp garden salad, fruits and a tray of brownies. Dinner is done!
Chicken Stew with Biscuits
Recipe: Food Network
INGREDIENTS
For the Stew:
3 whole (6 split) chicken breasts, bone-in, skin on
3 tbsp. olive oil
Kosher salt and freshly ground black pepper
5 cups chicken stock, preferably homemade
2 chicken bouillon cubes
12 tbsp. (1-1/2 sticks) unsalted butter
2 cups chopped yellow onions (2 onions)
3/4 cup all-purpose flour
1/4 cup heavy cream
2 cups medium diced carrots (4 carrots), blanched for 2 minutes
1 10-ounce package frozen peas (2 cups)
1 1/2 cups frozen small whole onions
1/2 cup minced fresh parsley
For the Biscuits:
2 cups all-purpose flour
1 tbsp. baking powder
1 tsp. kosher salt
1 tsp. sugar
1/4 pound (1 stick) cold unsalted butter, diced
3/4 cup half-and-half
1/2 cup chopped fresh parsley
1 egg mixed with 1 tbsp. water, for egg wash
INSTRUCTIONS 
1. Preheat the oven to 375 degrees.
2. Place the chicken breasts in a sheet pan and rub with olive oil. Season with salt and pepper. Roast for about 35 to 40 minutes or until cooked through. Set aside to cool. Once cooled, remove the meat from the bones and discard the skin. Cut the chicken into large dice, which will leave you with 4 to 6 cups of chicken.
3. Heat the chicken stock in a small saucepan and dissolve the bouillon cubes in the stock.  Melt the butter and sauté the onions until translucent in a large pot over medium-low heat for 10 to 15 minutes. Add the flour, constantly stirring over low heat for 2 minutes. Add the chicken to the stock and simmer for 1 minute on a low heat until thick. Add in 2 tsp. Salt, 1/2 tsp. Pepper and the heavy cream. Next, add in the cubed chicken, carrots, peas, onions, and parsley and mix well. Put the stew in a 10 x 13 x 2-inch oval or rectangular baking dish and place onto a sheet pan lined with parchment paper — Bake for 15 minutes.
4. To make the biscuits combine the flour, baking powder, salt, and sugar direct into the bowl of an electric mixer. Add in the butter and mix on low speed until the butter is the size of peas. Add the half-and-half and combine on low speed. Mix in the parsley.
5. On a well-floured board roll out the dough with a rolling pin until 3/8 inch thick. Cut out twelve circles with a 2-1/2 inch round cutter.
6. Take the stew out from the oven and arrange the biscuits on the top of the stew filling. Brush the top with egg wash and return to the oven to bake for 20 to 30 minutes until golden brown and the stew is bubbling.
Stunning Dessert Presentations
Having holiday desserts on hand is just part of the seasonal celebration! Thinking about what dessert to make for visiting with friends over a cup of coffee or what sweet to serve after your lovely family meal? We have 3 Dessert Presentations that will make everyone smile.
Sliced Pound Cakes—Tray assorted sliced pound cakes and serve with whipped cream, berries, and lemon curd for a lovely dessert presentation.
Cookies—Some of our favorites are coconut macaroons, chocolate chip, and decorated sugar cookies—Santa will thank you!
Beautiful Bowls—Perfect make ahead desserts that have you looking like a star! We like to present these recipes in crystal or clear glass bowls perfect for Holiday entertaining. You can't go wrong with a trifle, chocolate mousse, or tiramisu.
Ina's Vanilla Pound cake recipe below is perfect for your Holiday Dessert Table, but you will probably make this all year long.
Vanilla Cream Cheese Pound Cake
Recipe: Food Network
INGREDIENTS
Baking spray with flour, such as Baker's Joy
3 tbsp. demerara or turbinado sugar, such as Sugar in the Raw
3/4 pound (3 sticks) unsalted butter, at room temperature
8 ounces cream cheese, at room temperature
2 1/2 cups granulated sugar
6 extra-large eggs, at room temperature
1 tbsp. pure vanilla extract
Seeds scraped from 1 vanilla bean
3 cups sifted cake flour (measured after sifting)
1 tsp. kosher salt
INSTRUCTIONS
1. Preheat the oven to 325 degrees. Spray two 8 1/2 x 4 1/2 x 2 1/2-inch metal loaf pans with the baking spray. Sprinkle the insides of the pans with the demerara sugar, tilting the pans to cover evenly.
2. Place the butter, cream cheese, and granulated sugar directly in the bowl of an electric mixer fitted with the paddle attachment. Beat on medium speed for 2 1/2 to 3 minutes, until light and creamy. Scrape down the bowl with a rubber spatula to be sure it's well mixed. With the mixer on low, add the eggs, one at a time, mixing well and scraping down the bowl before adding the next egg. Mix in the vanilla extract and vanilla seeds.
3. In a medium bowl, combine the cake flour and salt. With the mixer on low, slowly add the flour mixture to the butter mixture, scraping down the bowl and beater with a rubber spatula. Mix the batter with the spatula to be sure it's well mixed.
4. Divide the batter evenly between the two loaf pans, smooth the tops, and bake in the center of the oven for 60 to 70 minutes or until a toothpick inserted into the center of each cake comes out clean.
5. Allow the cakes to cool in the pans for 30 minutes, then carefully turn them out and cool completely on a baking rack.
Vanilla Cream Cheese Pound Cake
Entertaining Shortcuts:
Set up serving areas: gather plates, glasses, utensils, and napkins the night before and set them aside in a serving area. Create a bar, appetizer, main serving, dessert stations, and kids table stations to keep your guests circulating the house and keep your work zone 'working.'
Prep foods in advance: pre-cut vegetables, pre-slice bagels, and pre-chop herbs for garnish.
Bake ahead: either bake or freeze your food ahead to save time— be sure to allow yourself some wiggle room; after all, you cannot rush baking a cake  (better yet, ask a friend to bake one for you).
At Bentwood Luxury Kitchens, we embrace time spent in the kitchen with family and friends, especially during the Holiday season. Maybe you now have a new recipe or serving tip that gives you a little more time to enjoy them.
Find Inspiration Near You
Already inspired to get cooking? Talk to one of our Bentwood Designers who can transform your kitchen into your own cooking sanctuary!
Click here to set up a personal consultation to explore the possibilities for your home. We'll connect you with a designer in your area and get started with your vision right away!
Not quite ready to begin a project? Look through our gallery to find inspiration and discover the beauty of Bentwood.
Summary
Article Name
Beautiful Meal Presentations for Easy Holiday Entertaining
Description
Need some quick and easy meal ideas for guests, family, and friends this season? See our and recommendations for easy holiday entertaining!
Author