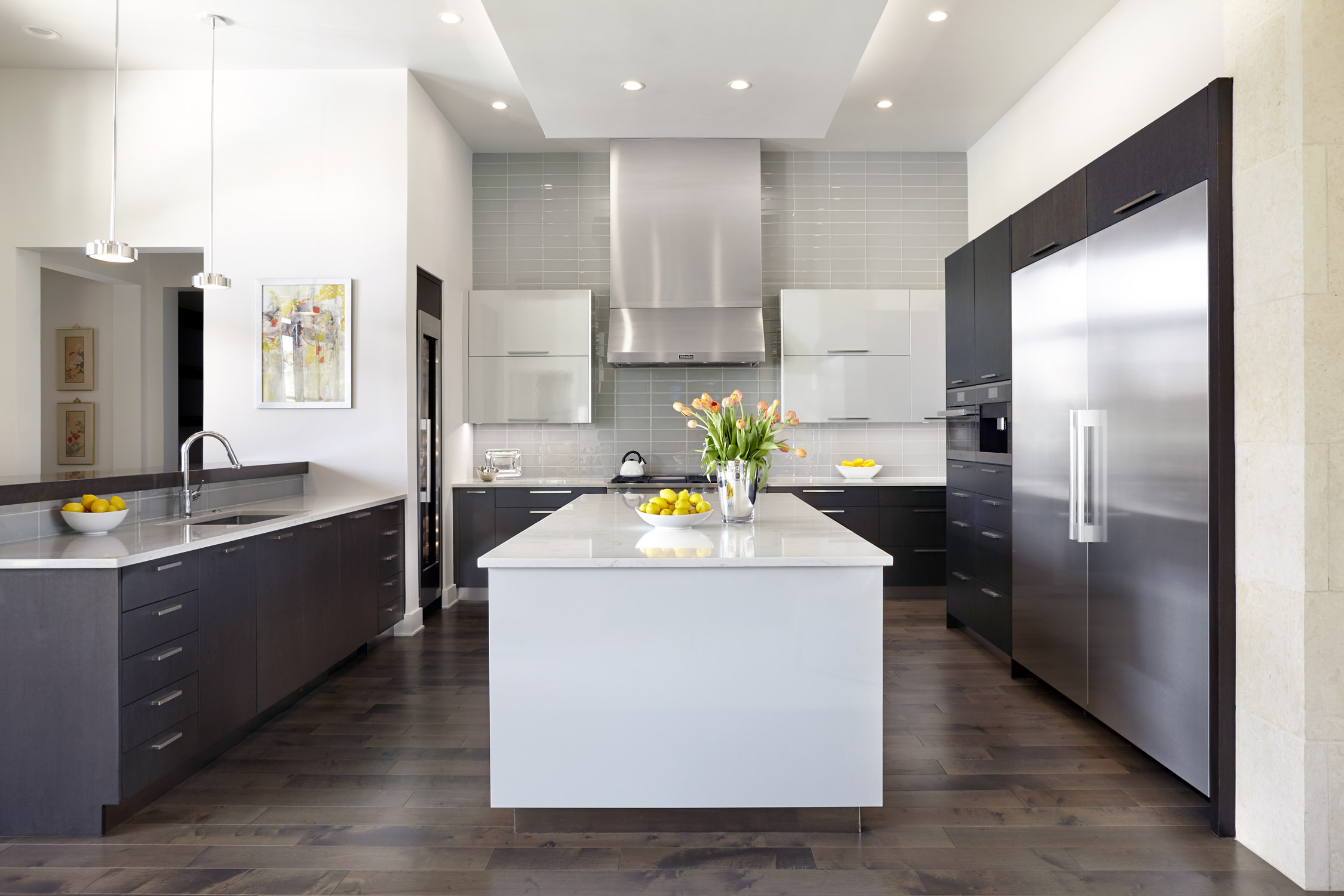 A couple from Dallas began a new construction project with Rendition Luxury Homes. Rendition's project manager contacted Bentwood of Dallas to take on the kitchen and butler's pantry along with the collaboration of Fran Deleo from Fletcher Design.
The home had a special layout with the kitchen adjacent to many other living spaces, and our goal was to enhance the open space plan with the right finish materials and features while centering everything around the ceiling cloud dropped above the island.
This project began with the footprints from C.A. Nelson Architects, which brought the outside environment in and allowed for the flow between a centralized kitchen and the surrounding living spaces.
Luckily this project faced no large challenges, but was fueled with the goal of creating an open and free flowing space. We found this remodel to be unique due to the variety and amount of appliances, all from the Miele line, selected by the client: column refrigerator and freezer, Combi-steam oven, stainless hood, coffee maker, column wine storage and 48" dual fuel range. In addition to these products, the butler's pantry also featured an additional oven and integrated DW.
When it came to installation and creating a seamless flow between appliances and cabinetry, we had to pay special attention to the specifications of each appliance. To accomplish the vision of the clients, our Bentwood designers worked closely with Fletcher Design and the clients to find the perfect matches for the space.
We loved the flood of natural light this space received and chose a stylish mix of elements to make the kitchen stand out. We mixed in high gloss gray laminate cabinets with the rift cut white oak cabinets in a Hoison finish; all of which come with pantry pull outs, tray dividers, dish peg inserts, cutlery divider storage, coffee cup drawer inserts.
These features are small but have a huge impact on the functionality of the space! The white melamine interior provided easy visibility to all contents and helped to reflect the natural lighting we loved so much also allowing us to take full advantage of the landscaping by creating a harmonious flow between outdoor and indoor living environments.
In the end, the space was well-illuminated with overhead, accent and task lighting. One of our favorite features was the focal point of the range and hood flanked by our high gloss European cabinets with lift up stay doors. This design aspect created a subtle pop in a sleek and modern way.
This remodel, and unique design proved to be another great collaborative process for our Bentwood team. Working with such a creative, knowledgeable, and gifted group of experts made the process run smooth and delivered a final product which reflected the clients' vision. between a centralized kitchen and the surrounding living spaces.