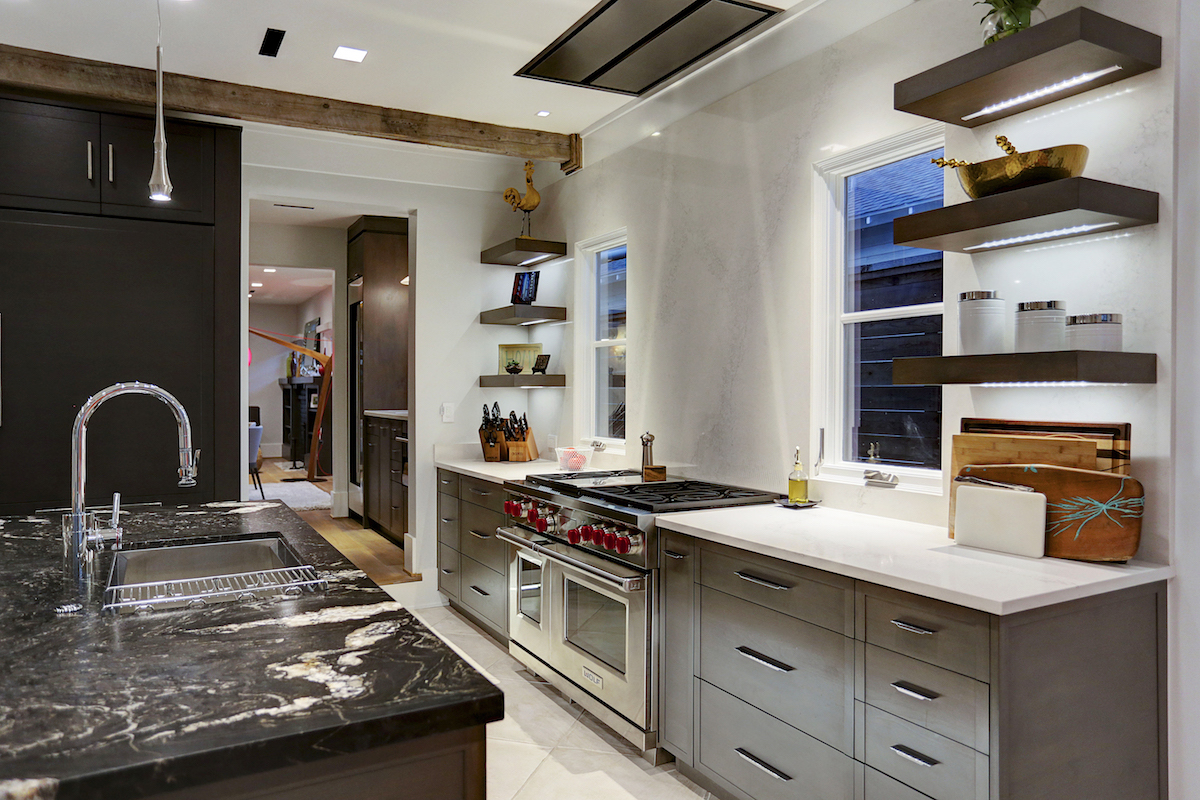 In 2015, the homeowners of a 1930's bungalow home located in the historic Houston Heights decided to undertake a large scale addition and remodel. The original home was a single story 1200 sq. ft space, and their vision called for an addition of 1600 sq. ft.
Being in a designated historic neighborhood, the original façade of the home had to remain intact and honor the integrity of its historic design. Similarly, the additional square footage had to be approved by the area's architectural review committee to ensure it retained the look and feel of its original design.
The core vision of the owners was to take the overall feel and aesthetic of the bungalow and make it more current and fresh with modern updates and contemporary touches. Already having a great collection of fun, bright art, the couple also needed a complementing background to showcase their pieces.
Our Bentwood designer worked with our clients to select custom cabinet and millwork design for the whole house. The kitchen and butler's pantry featured our Bentwood line, complete with a Bonn door in Alder Seal and Seko door in Rift White Oak Soy stain on the refrigerator surround, offering a bold, clean finish. A truly unique touch to the space are the floating shelves with built-in LED tape light that flank either side of the stove.
The rest of the home, including laundry room, master bath and guest room feature our Harmoni collection. In these additional spaces we brought to life personal touches that reflect the personalities and lifestyle of our homeowners, such as the custom-built dog sink in the laundry room and cozy under-the-stairs office space with ample storage and desk space, as well as built-in LED tape light, offering a clean, inviting glow.
The master bathroom was designed with his and her needs in mind, complete with floating double vanities and wide, spacious cabinets and drawers for personal items. The master bath also features a Lido door in natural Quartered Eucalyptus.
The use of shaker-like door styles throughout lends to the home's original Craftsman style, but are a bit more contemporary for this home, such as the guest room, where we installed a Paramus door in Alder Seal stain.
The Bentwood team thrilled in the opportunity to work with a historic home and transform it into a contemporary masterpiece, while still honoring the integrity of its original design. With our expert designers on staff, we were able to transform this home into a comfortable living space with personal touches that beautifully highlighted the personalities and lifestyles of our clients.