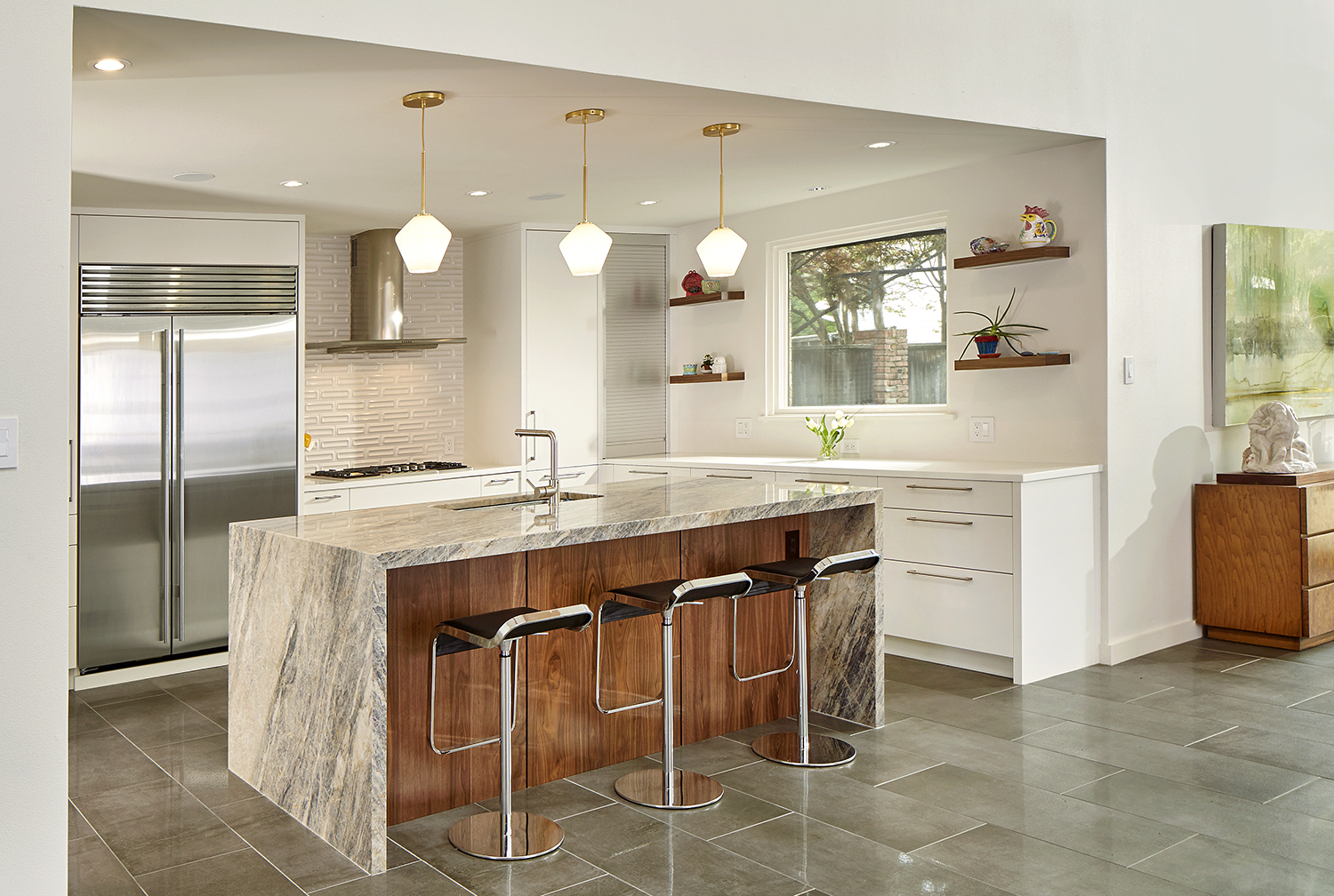 James and Lisa Hammel of the top-rated Alair Custom Homes team contacted Bentwood of Dallas to collaborate on a total home remodel. The complete project was a successful joint effort between the client, the creative experts at Alair, Rebecca Browning Design Firm, and the design team at Bentwood led by Senior Design Consultant Alicia Kasprzycki.
The homeowners were looking to update the entire home to reflect more on-date trends while preserving and highlighting the existing mid-century modern vibe that served a fully functional and family-friendly space. The unique concept of the kitchen came from Rebecca's architectural drawings and laid the foundation for the final design.
Our project required some clever design and craftsmanship to meet the desired look and work around challenges presented when it came to installation.
To achieve a design which fit the needs of our clients while creating a luxurious and livable atmosphere the clients, with the aid of the detail-oriented architect Rebecca, selected finish materials that would be durable and easily cleaned.
The island, a notable centerpiece of the room, was expertly finished with a flat-cut planked walnut that matched the floating shelves, adding a simple yet elegant touch that tied the space together.
Staying true to the Bentwood mission of creating original and functional features we were sure to utilize every inch of usable space by installing multiple pantry cabinets in the kitchen and butler's pantry.
The butler's pantry doors and perimeter kitchen doors were done in a Ventura style with wrapped white laminate and housed multiple roll-out trays for easy access to space, a key aspect of a truly family-oriented space! We also incorporated hidden storage for appliances behind the aluminum tambour roll-up door.
The successful cooperation and creativity from all parties involved allowed for design challenges such as inconsistent ceiling heights and HVAC locations in the kitchen to be solved quickly and easily.
The result was an illuminated space that better suits families; by opening the space between the kitchen and the living area we were able to deliver an area that makes it easier for the homeowners to cook and entertain.
The Bentwood team was delighted with the outcome and the smooth collaboration process between Alair's positive and responsive team, the meticulous Rebecca Browning, and our informed client. Although this project had many moving pieces, we felt it was mostly effortless with the players involved.
Communication can make or break a project and determine if client expectations are met, according to Alair Custom Homes. When it comes to effective and productive communication, Alair leaders say Bentwood is as good as it gets. James Hammel from Alair said "the Bentwood team's unique ability to decipher homeowners' desires and expectations allow them to put dreams onto paper and execute them into reality." With experienced team members and an offering of high-quality products, Bentwood Kitchens is the perfect choice for discerning clients who recognize great cabinetry.