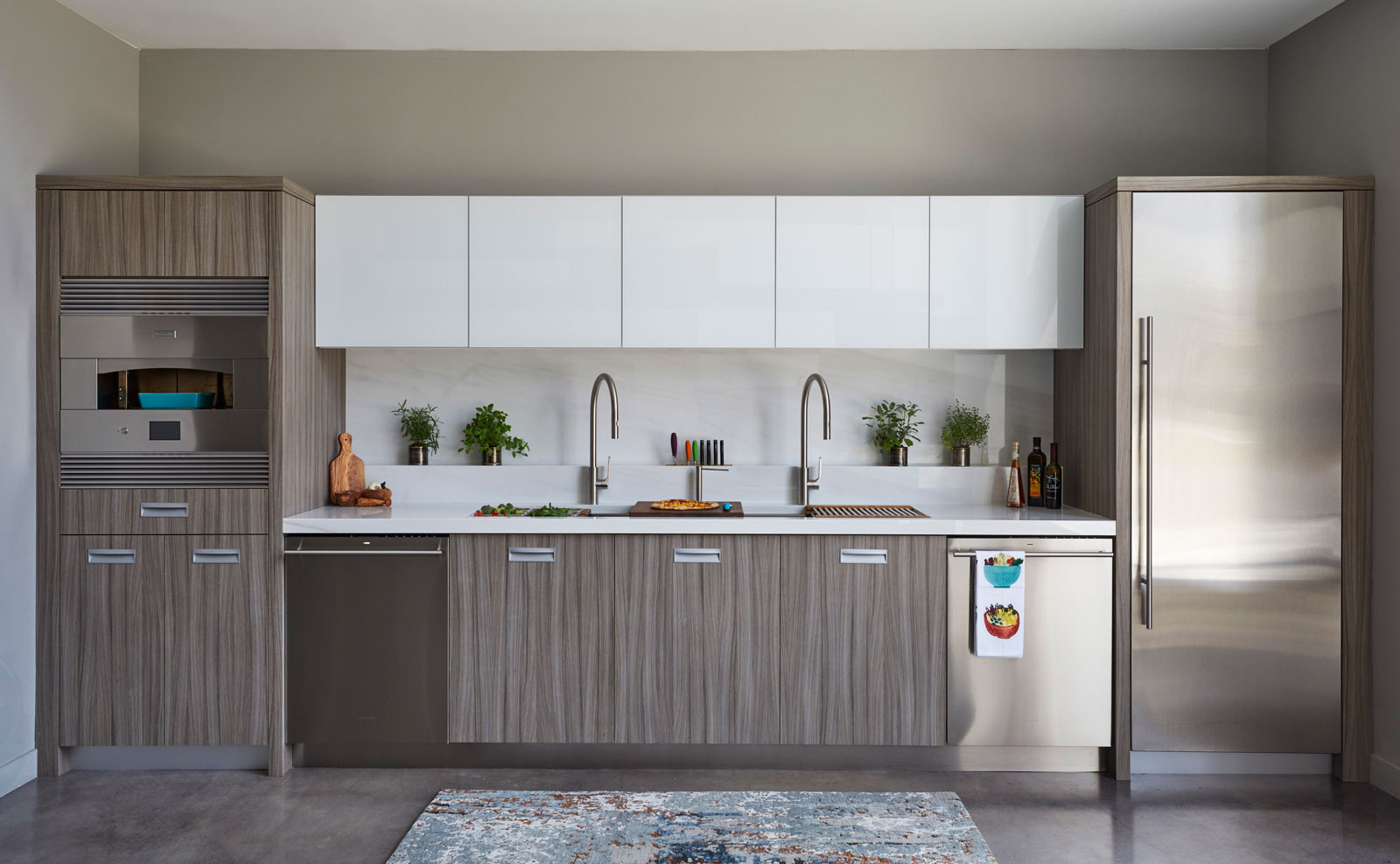 PROJECT NAME: Monogram of Chicago Design Center at the Merchandise Mart
DESIGN TEAM MEMBERS: Steve Karp/Kitchen Designer of Bentwood of Chicago and
Christina Reed/New Title of Monogram Chicago
Photography: Werner Straube of Werner Straube Studio
TOP 5 DESIGN COMPONENTS THAT ARE SIGNIFICANT:
Design Collaboration — Our friends at the Monogram Design Center came to us for creative solutions on extending their working kitchen and showcasing new company appliances. Christina Reed—Product Specialist of Monogram Corporate collaborated with Steve Karp, Bentwood Senior Kitchen Designer, to create a secondary chef station, add storage, and feature key appliances to this bustling national showroom.
Floor Plan Challenges — In the existing 15 ft of wall space our design needed to include essential appliances, work effortlessly for the showroom chefs and reflect an updated contemporary design that clients could envision in their homes.
Beautiful Materials & Finishes — A new palette of materials selected reflects the modern vibe while complementing existing displays. For the working Chef station, custom cabinetry in Designer thermolaminate material looks beautiful and houses the flush mounted Pizza oven perfectly! The white glass cabinets over the Galley Workstation tm are crisp and clean. In the new oven display, dark grey high gloss cabinetry looks striking against the white wall backdrop.
Modern Function Components — For the showroom's hardworking chefs who host several events per week, the secondary chef station is a winner! Additional cabinetry allows for dish storage, houses 2 dishwashers, 1 column refrigerator, pizza oven, and 6 ft Galley Workstation with double Galley Taps tm AND all the workstation accessories! Now that is efficiency!
Favorite Design Element — Simplicity and beauty from total design. Guests who now visit the Design Center can not only experience the newest Monogram appliances, but see how these products would actually look in their home. Too bad the chefs don't come with ?