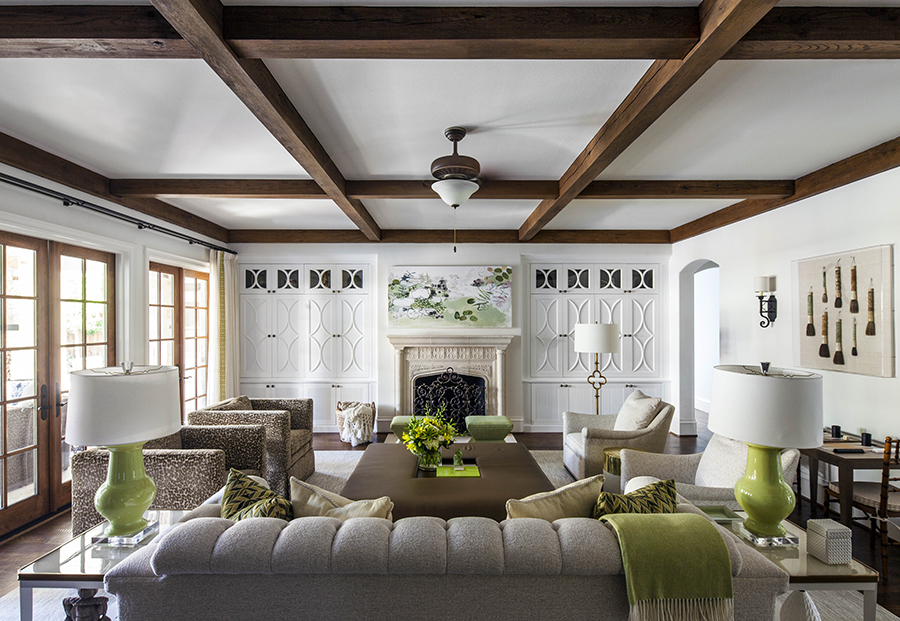 Photography by Nick Johnson
It is a balancing act, the desire for a designer style and family function for your home.  
Having a place for everything is key along with making it easy for family members to navigate for their needs. Custom cabinetry designed specifically for your home is a worthy investment that offers both beauty and function. 
At Bentwood Luxury Kitchens,  we manufacture cabinetry that stores, organizes, and functions for rooms outside the kitchen.  Our dealer network consists of experts who design residential spaces utilizing our cabinetry and fully embrace the "before & after."     
Below we share projects that offer real-life solutions for busy families that may offer inspiration for your home project.   
Family Room Storage

Opportunities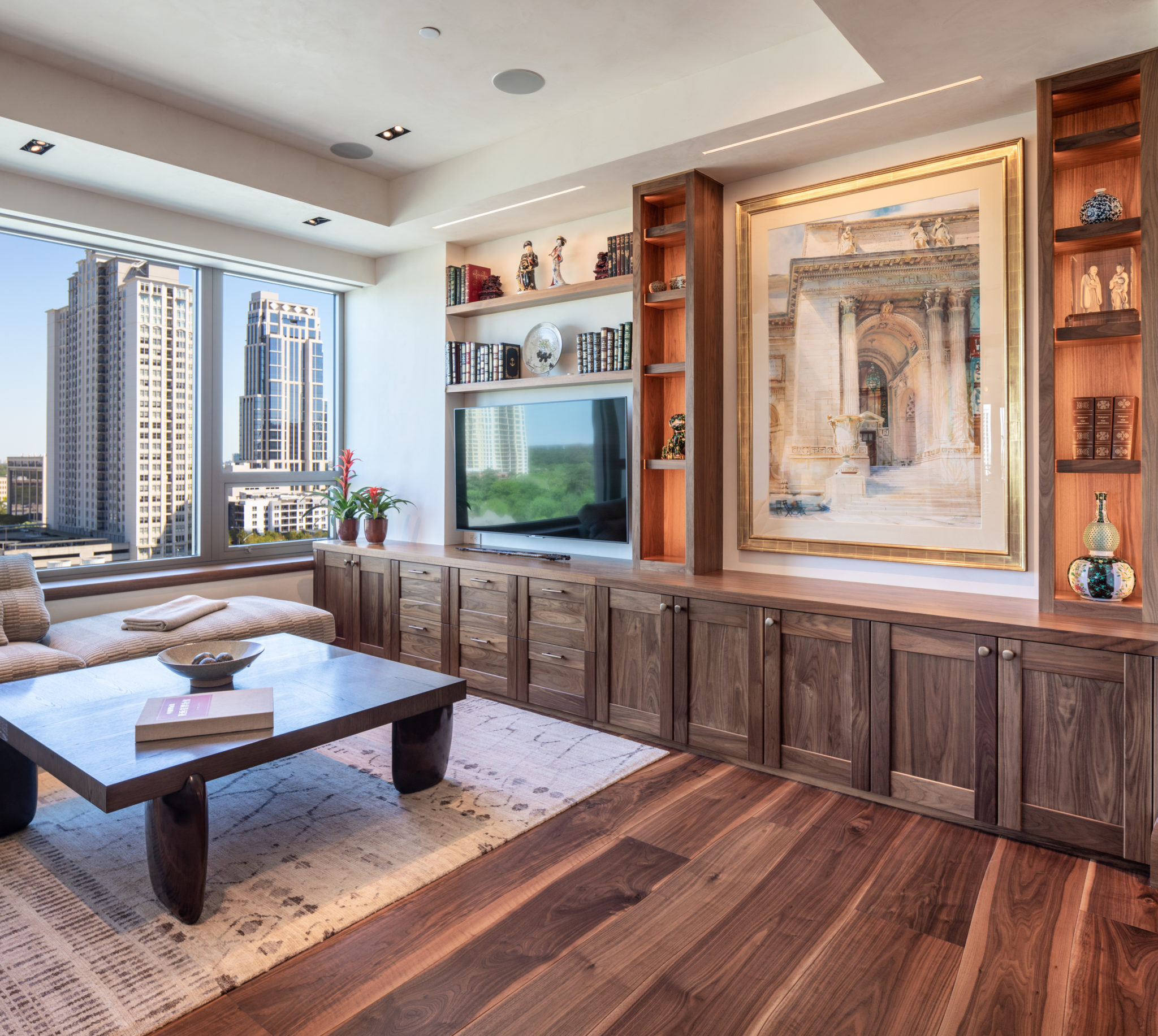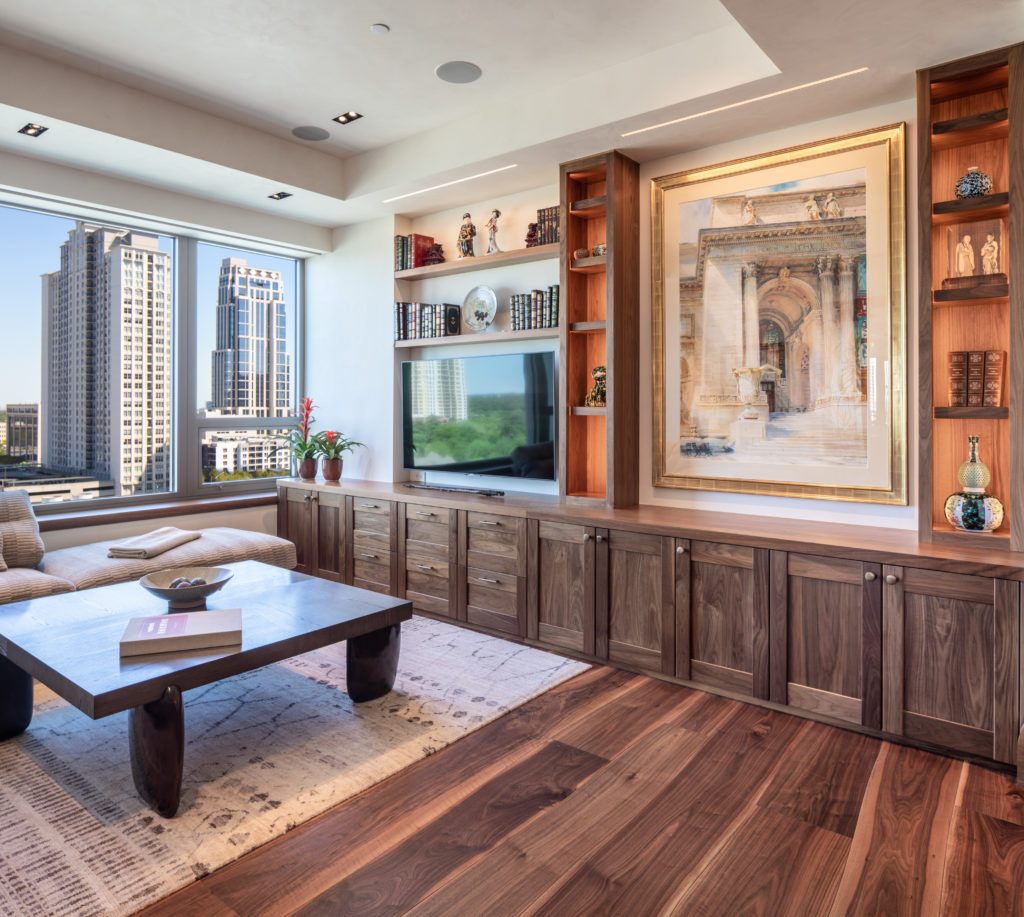 With the open floor plans of today, deciding if the main TV should be in the Family Room is a personal choice. Designing cabinetry in this social area often includes a TV or focal element, open shelving, and base cabinetry.  A combination of art, books, and photos feels right at home in the Family Room.  The real beauty is taking the opportunity to personalize cabinetry for your family situation.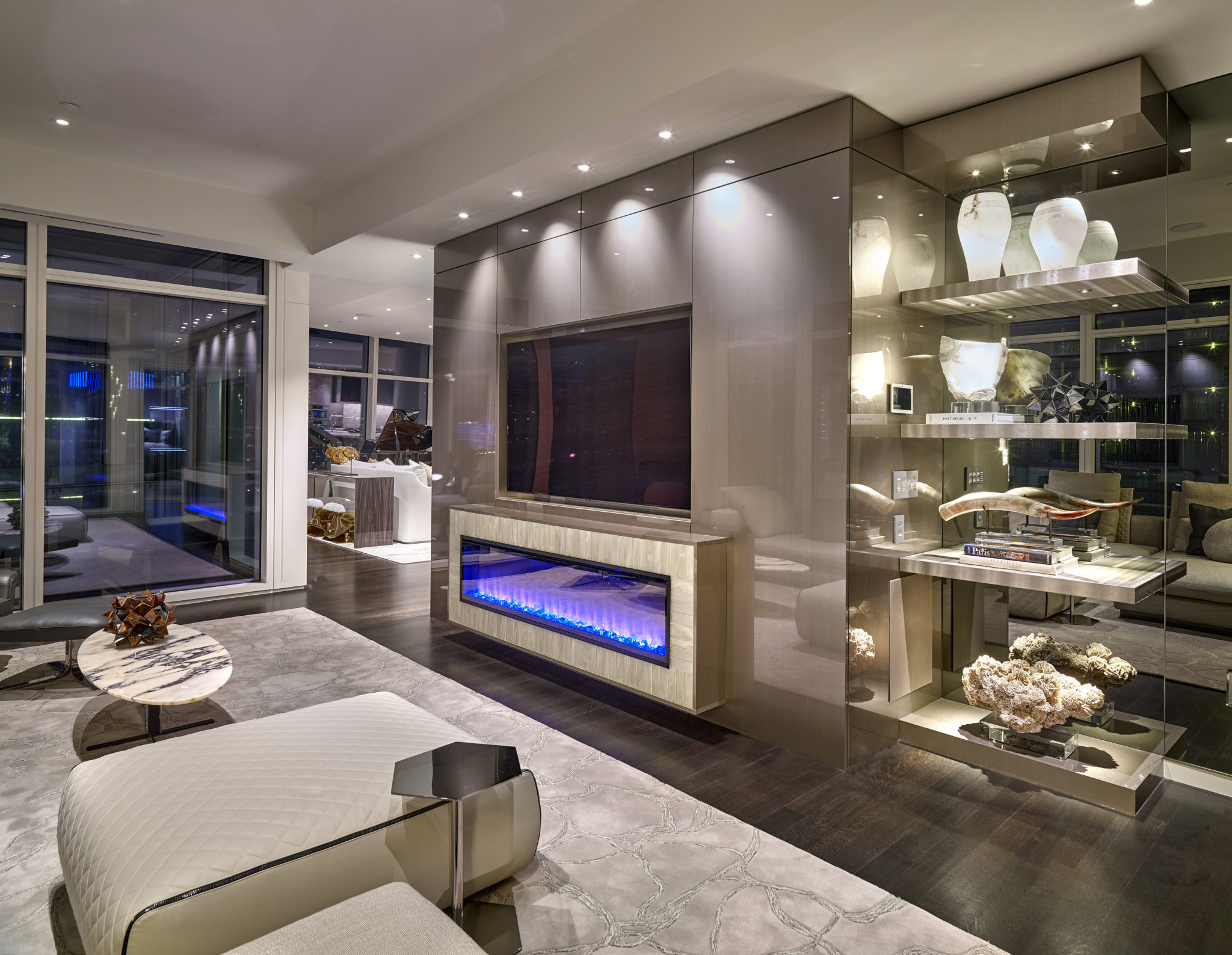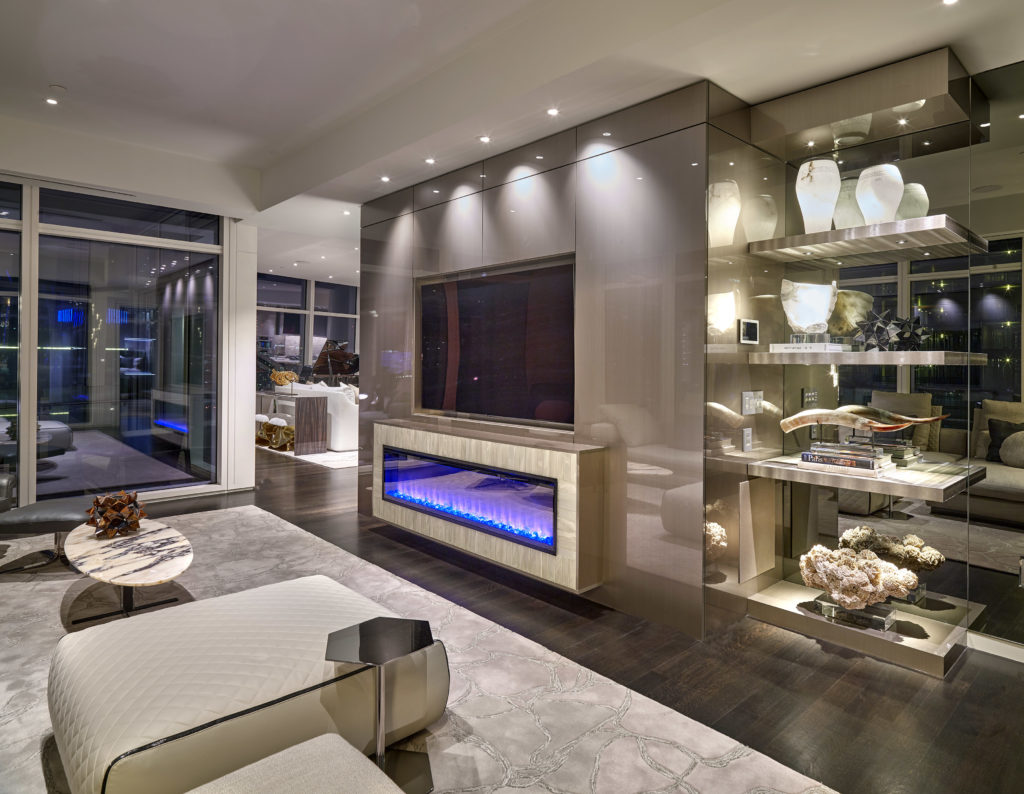 Above, a fireplace takes center stage in this Modern integrated design.  Repeating the same high gloss cabinetry specified in the kitchen provided cohesive luxury for this Bentwood of Dallas condo project.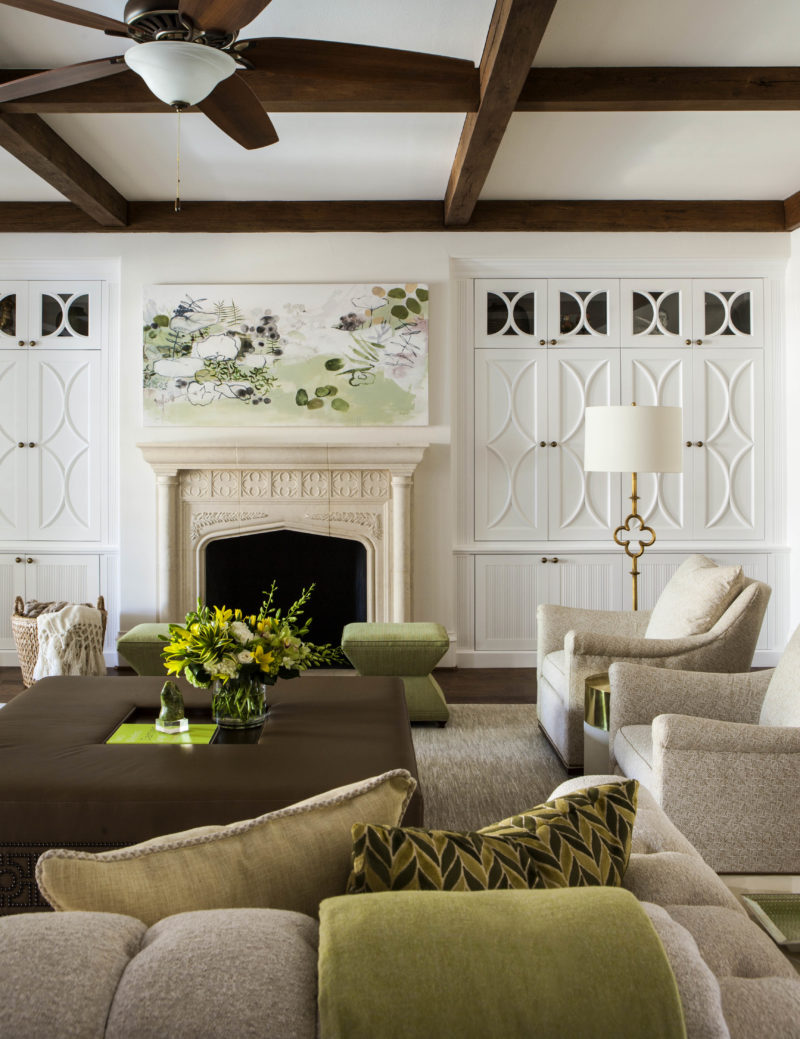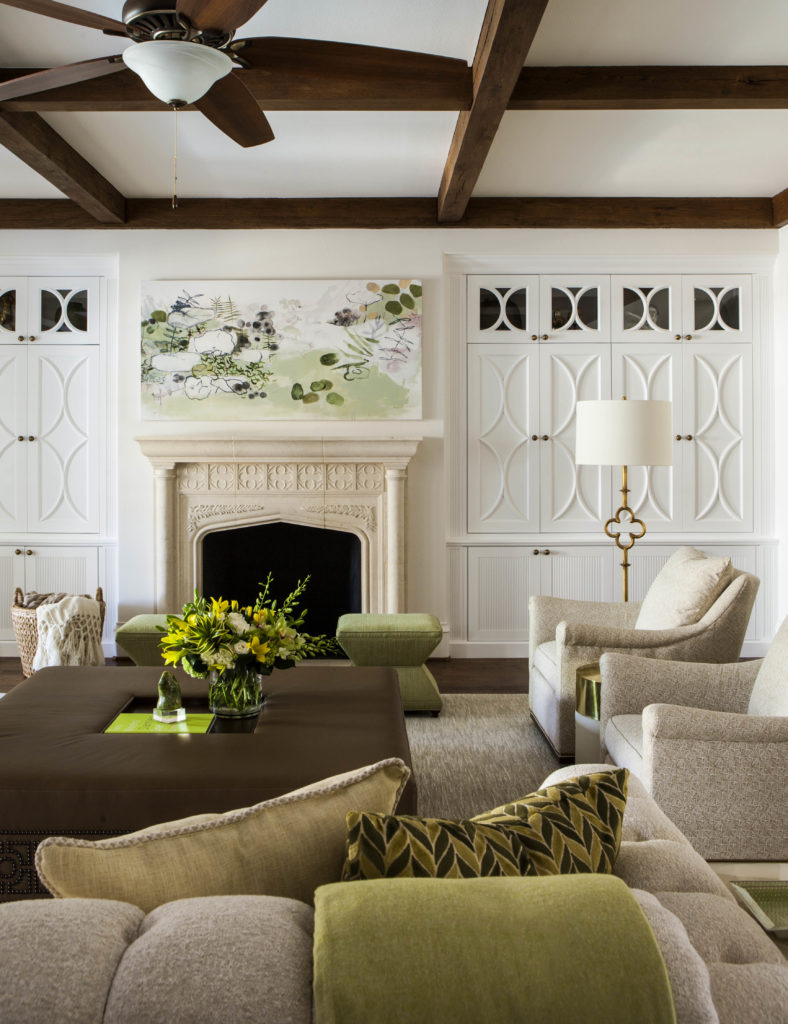 A popular design point of view today is all about flexible function.  Being able to conceal the TV and toy area at a moment's notice has real appeal.  Decorative cabinetry panels shown above offer a focal detail to the Family Room along with essential storage and function.  The custom mullion design is also found in the kitchen tying these social rooms together in high style.  
Dedicated Personal Spaces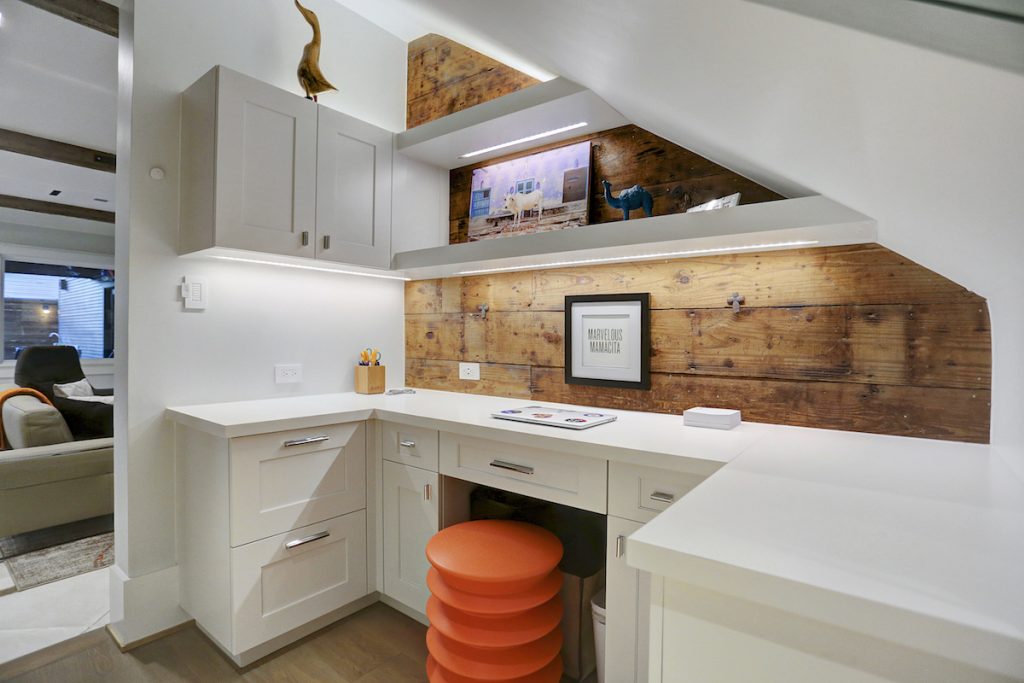 Sometimes you need some space away from the open social rooms.  Having personal areas that support work, study, exercise, and creative time, is vital to individual well-being.  Designing cabinetry that functions for both kids and adults is a win-win.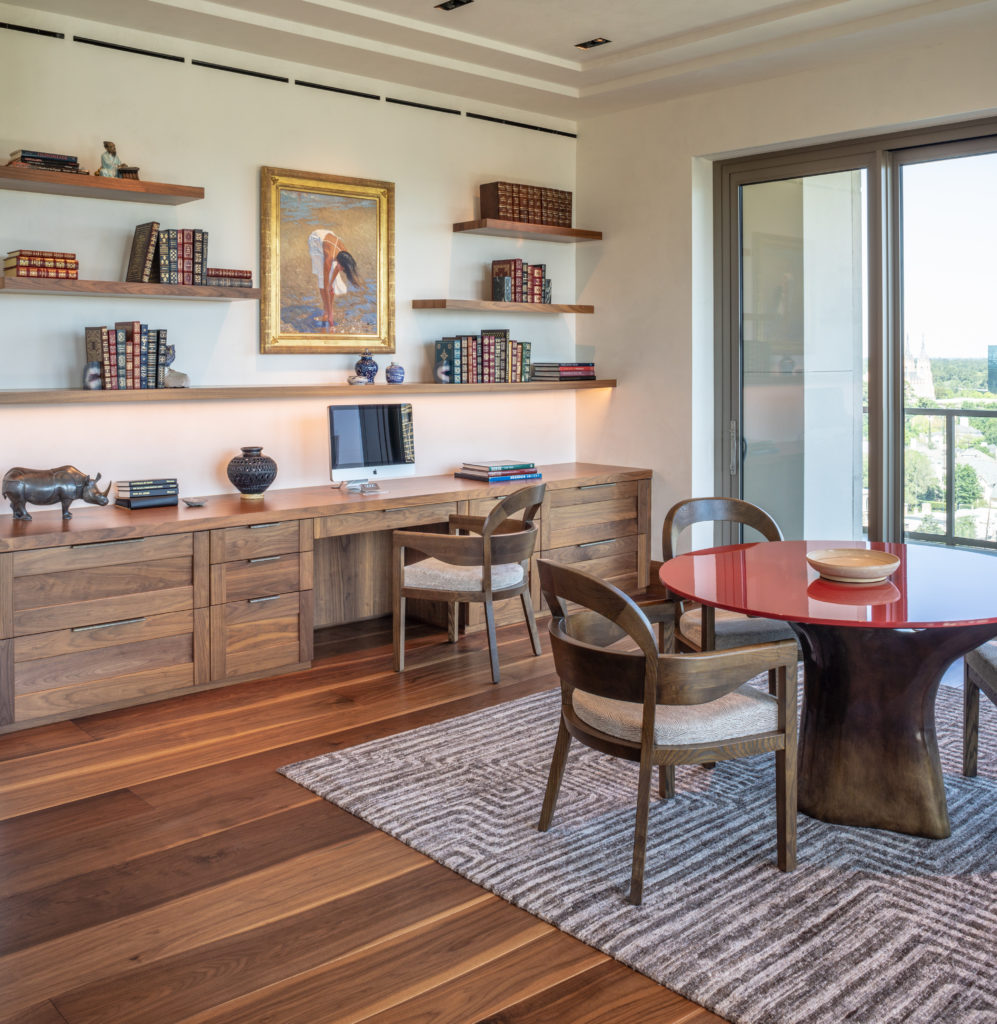 Above a built-in desk area is steps away from the main traffic area in this luxurious Bentwood of Houston project.  This thoughtful design includes utilizing the same walnut cabinetry throughout the residence for a consistent organic theme.  Having a quiet place to open the computer, make a phone call, and go through the mail is valuable real estate we all want!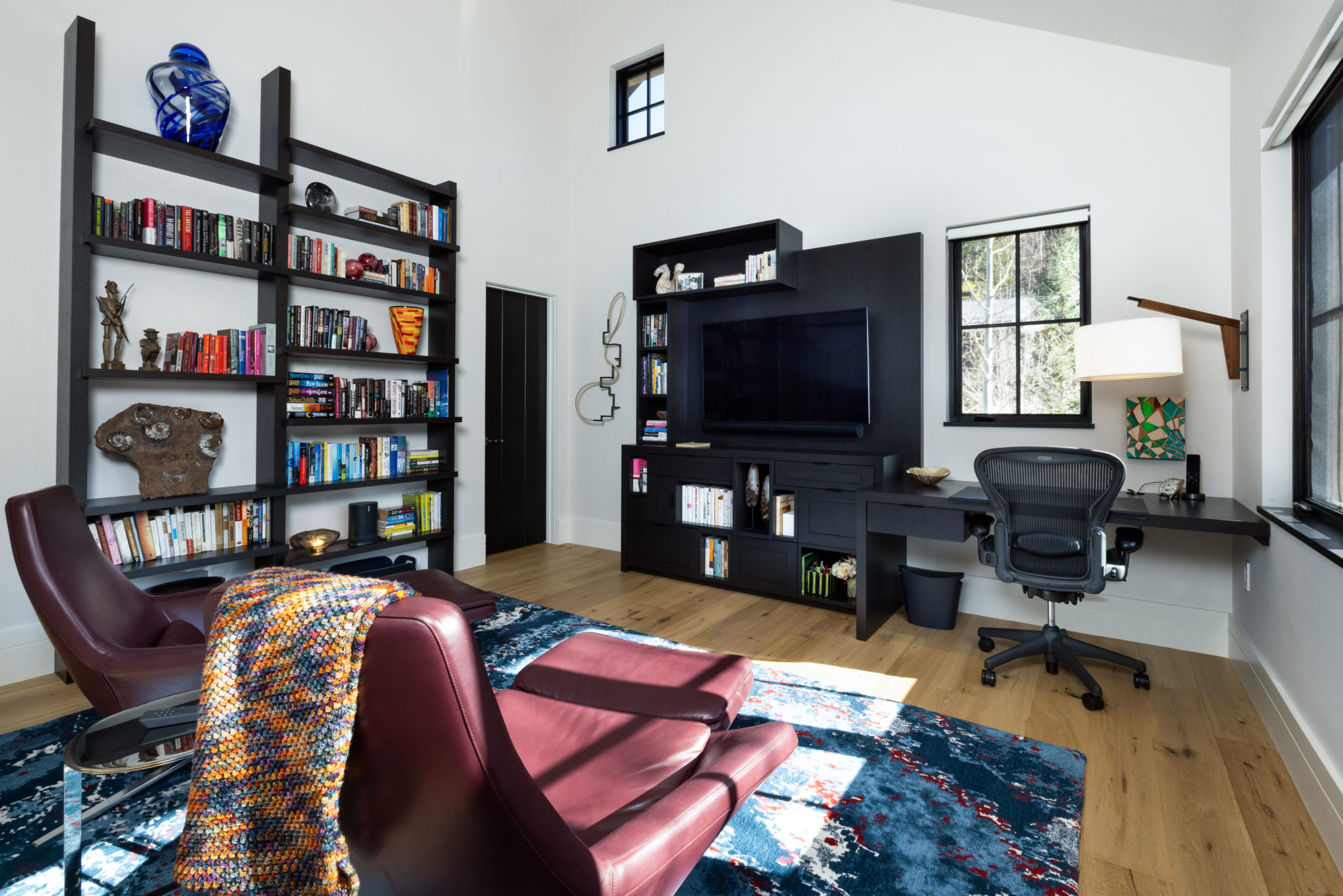 Designer, Nicole Bradford from Elegant Cabinetry and Design shares a stunning home office from her Mountain Contemporary project that exemplifies what is possible.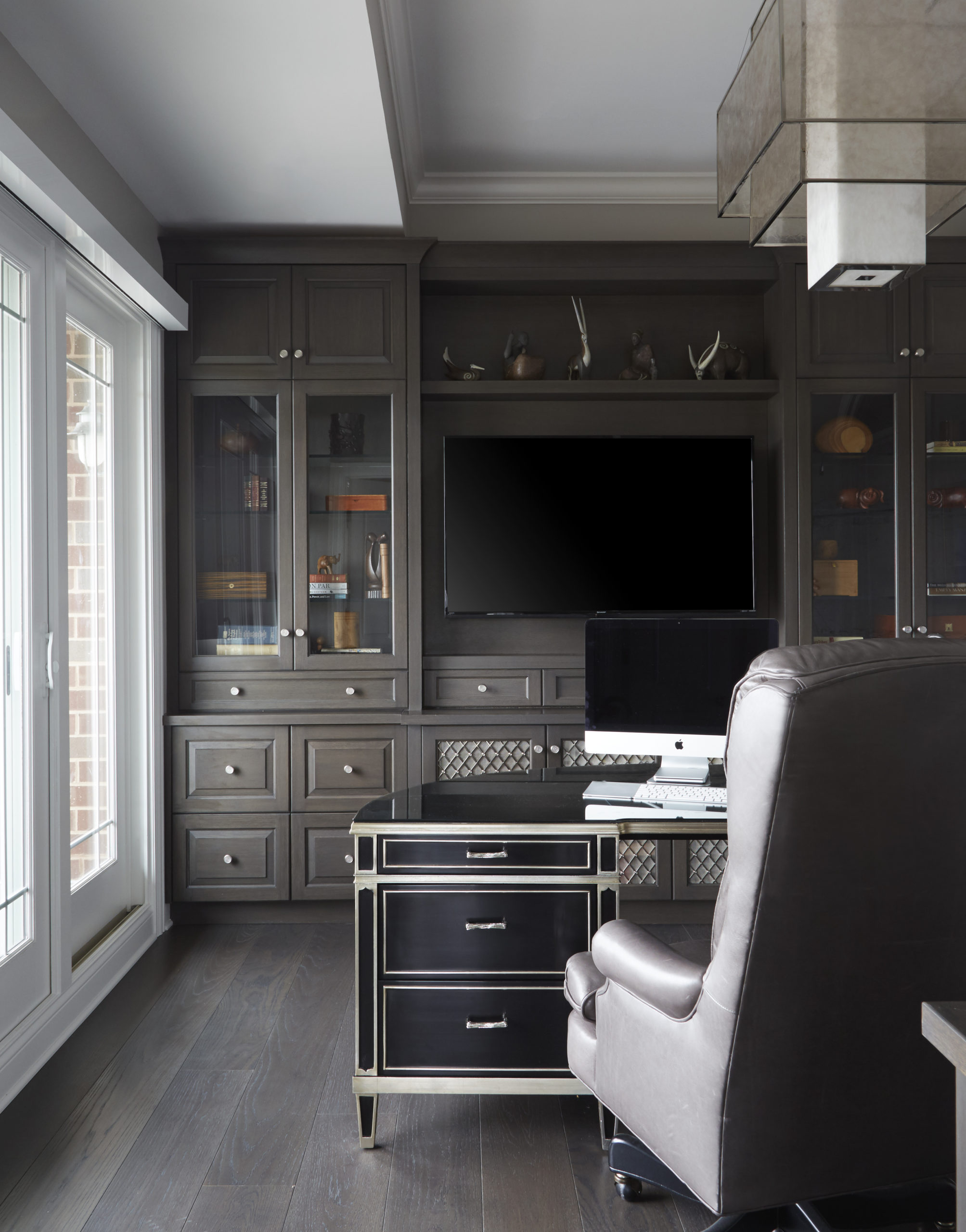 A dedicated home office is often essential for busy parents—a  place for work, private conversations, and personal storage.  Why not have cabinetry designed for what you need, how you work, and in your own style?     
Designer, Steve Karp from Bentwood of Chicago shares a home office that satisfies both functional and handsome visual details for an executive client.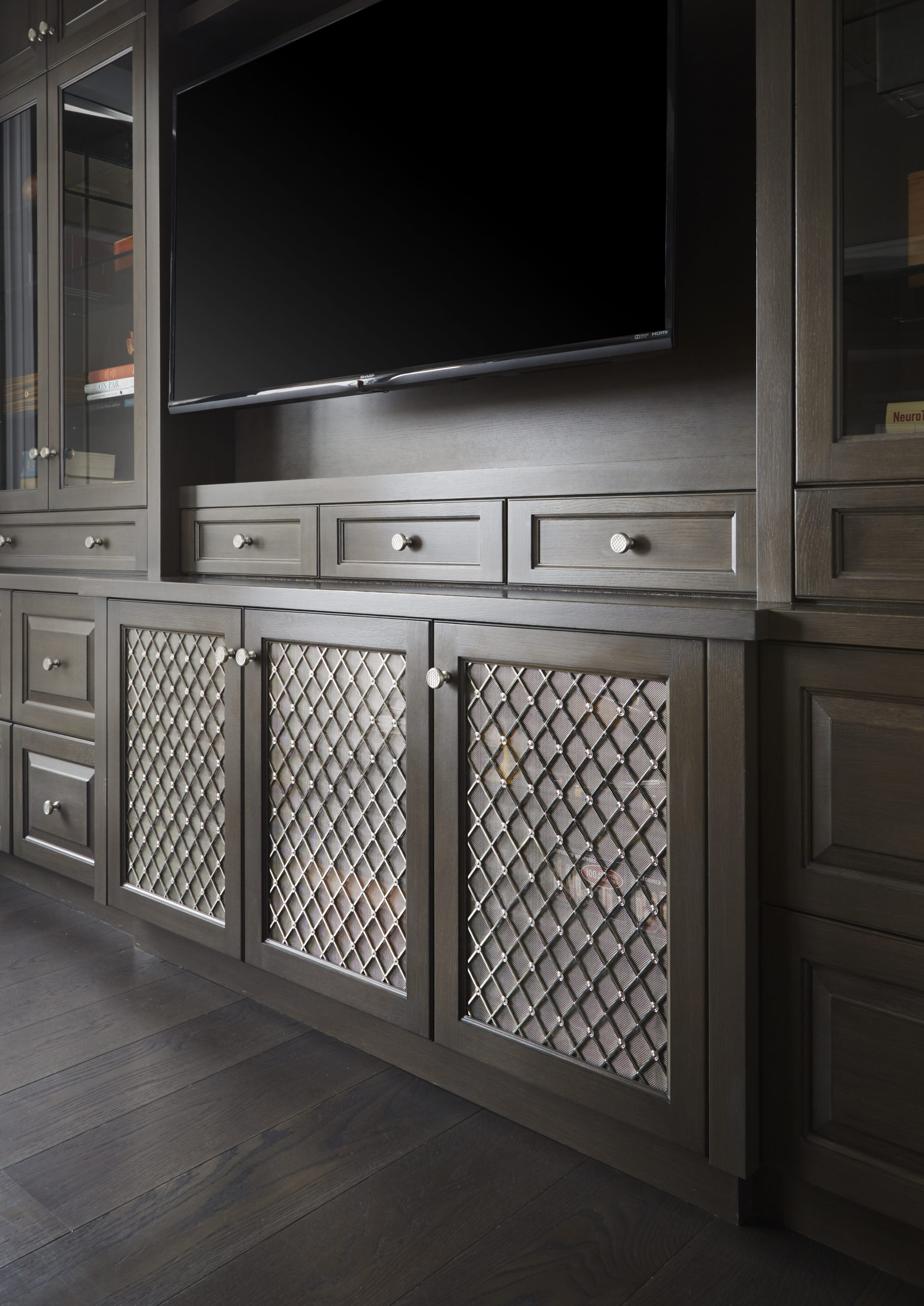 The Additional Dwelling Unit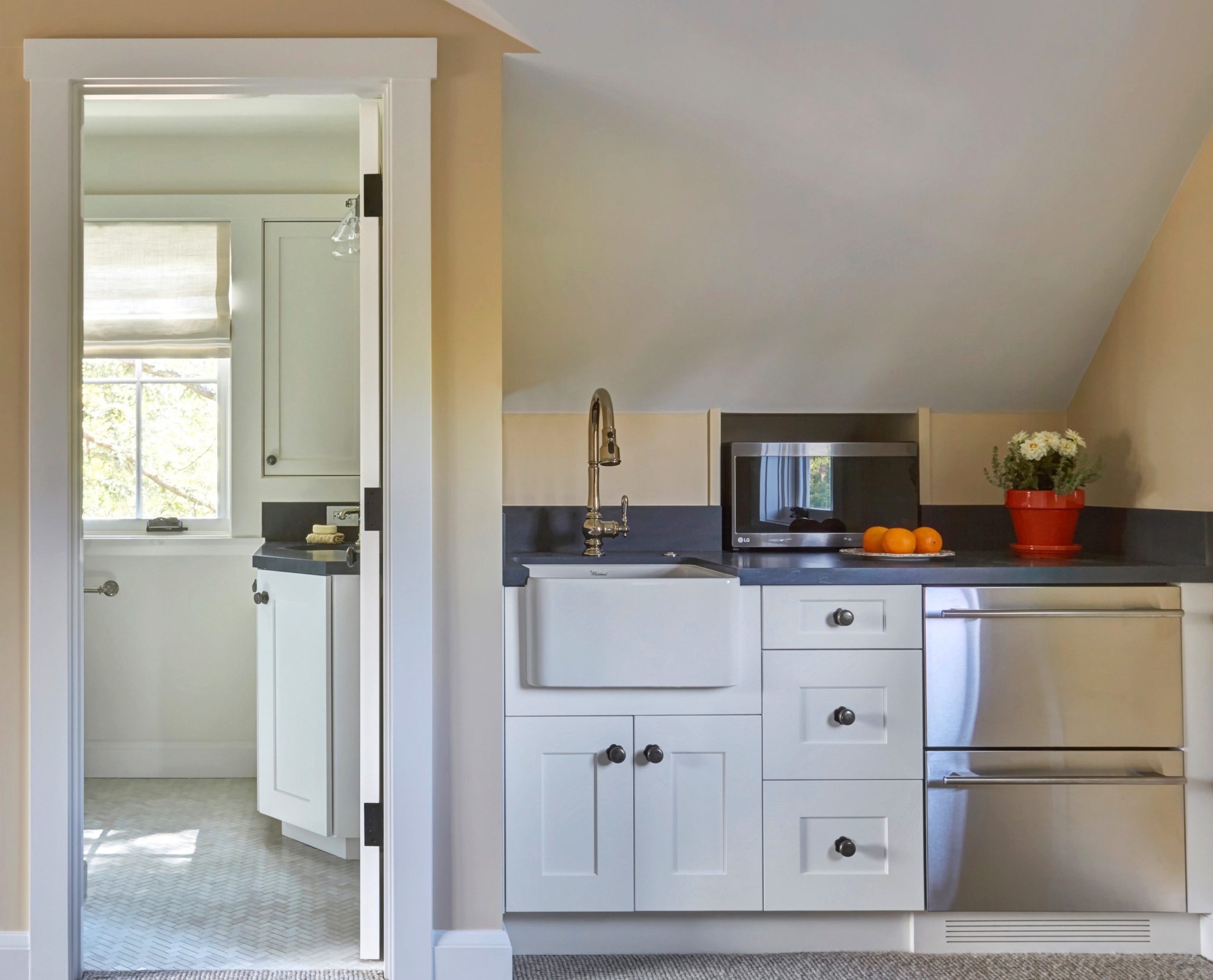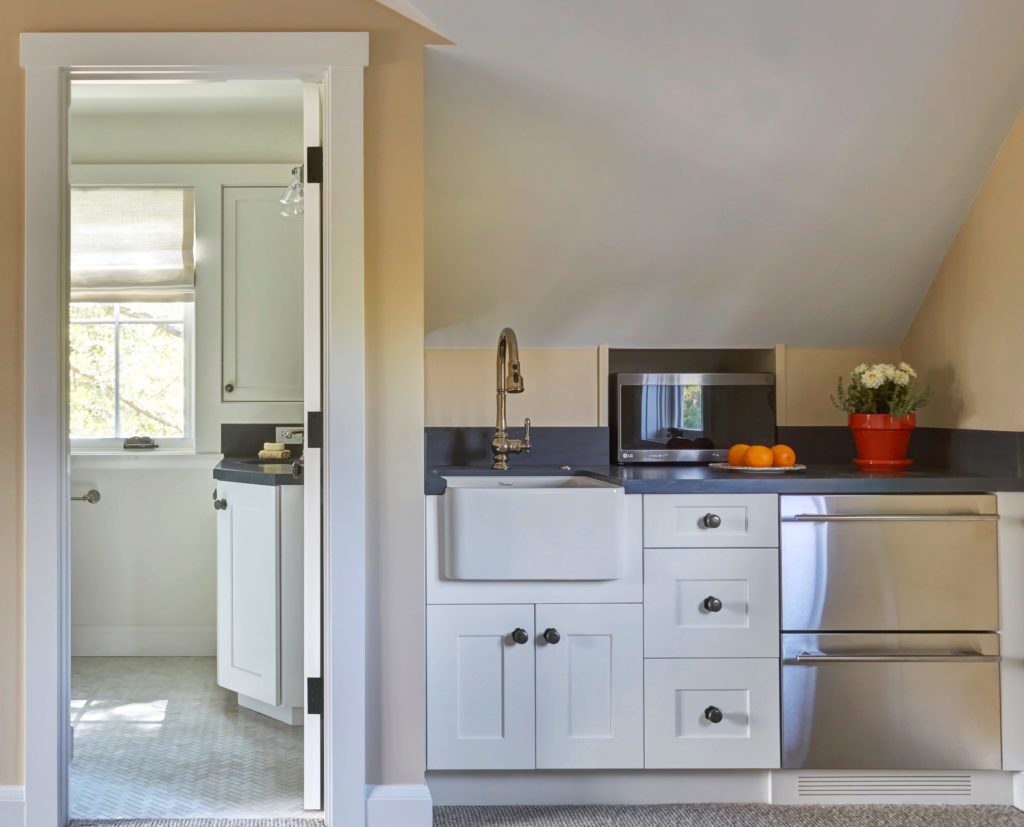 Gathering much popularity is the Additional Dwelling Unit or ADU.  A separate building from the main house, usually under 1,200 square feet located on the property.  This flexible space could be a guest house, studio, or office. For these tiny spaces, cabinetry design includes extra attention to function, aesthetics, and special-sized appliance offerings.        
Our dealer friends at Custom Kitchens show how they interpreted cabinetry for an ADU reflecting the Modern Farmhouse project theme.  Having the flexibility of Bentwood cabinetry sizing is valuable when it comes to small-footprint design.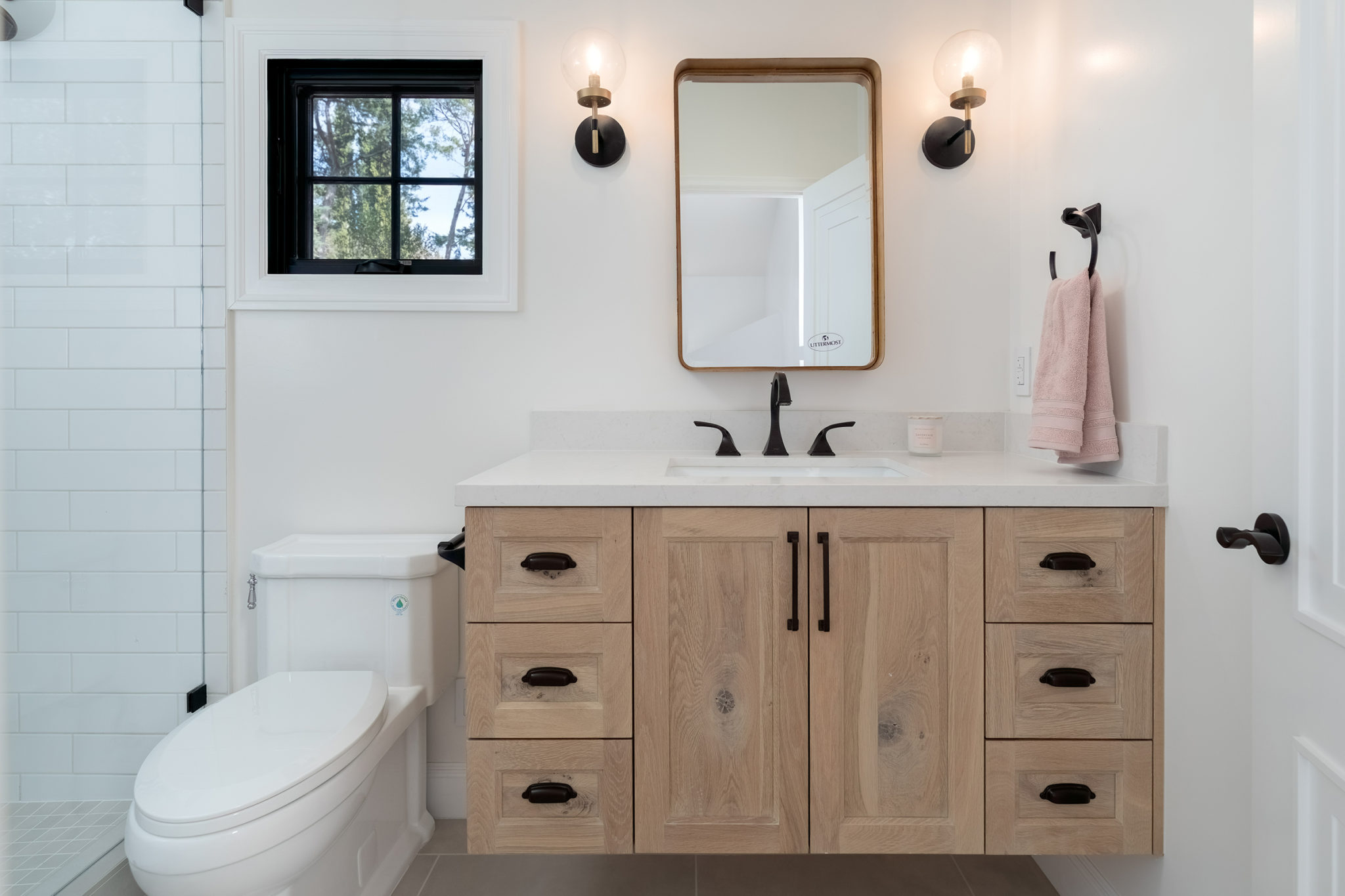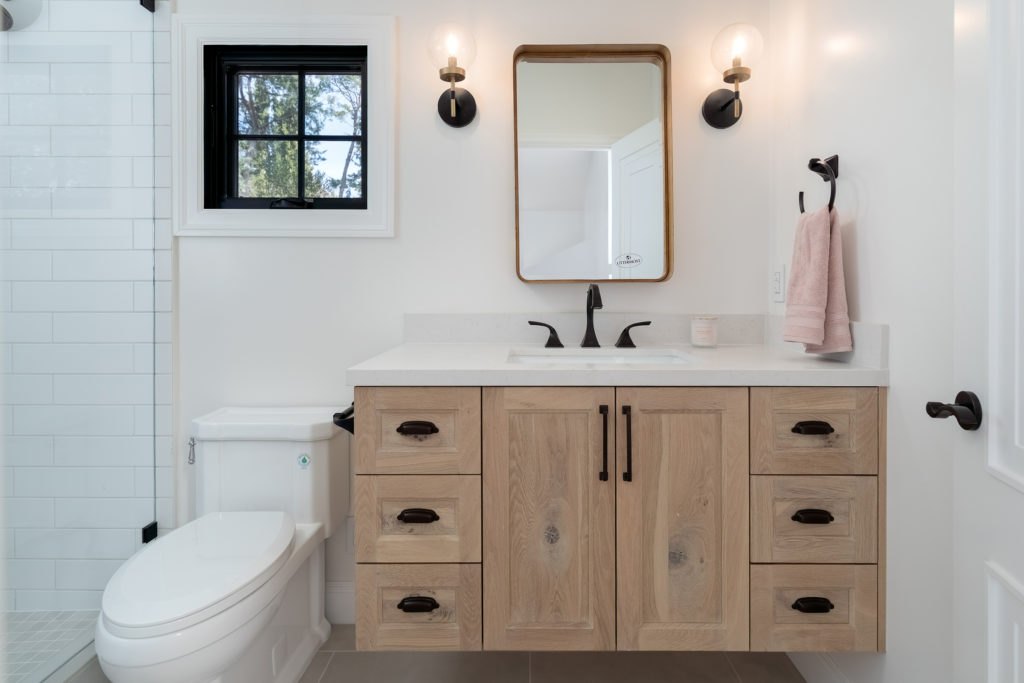 We find bathrooms are the most popular rooms outside the kitchen where cabinetry is ordered.  The days of the pedestal sink are over and finally bathroom design includes appropriate cabinetry with storage.   
This guest bath vanity from dealer friends Greenberg Design Gallery  is a great example of an updated design.  Luxurious neutral wood cabinetry with contrasting black hardware creates a fresh bathroom aesthetic.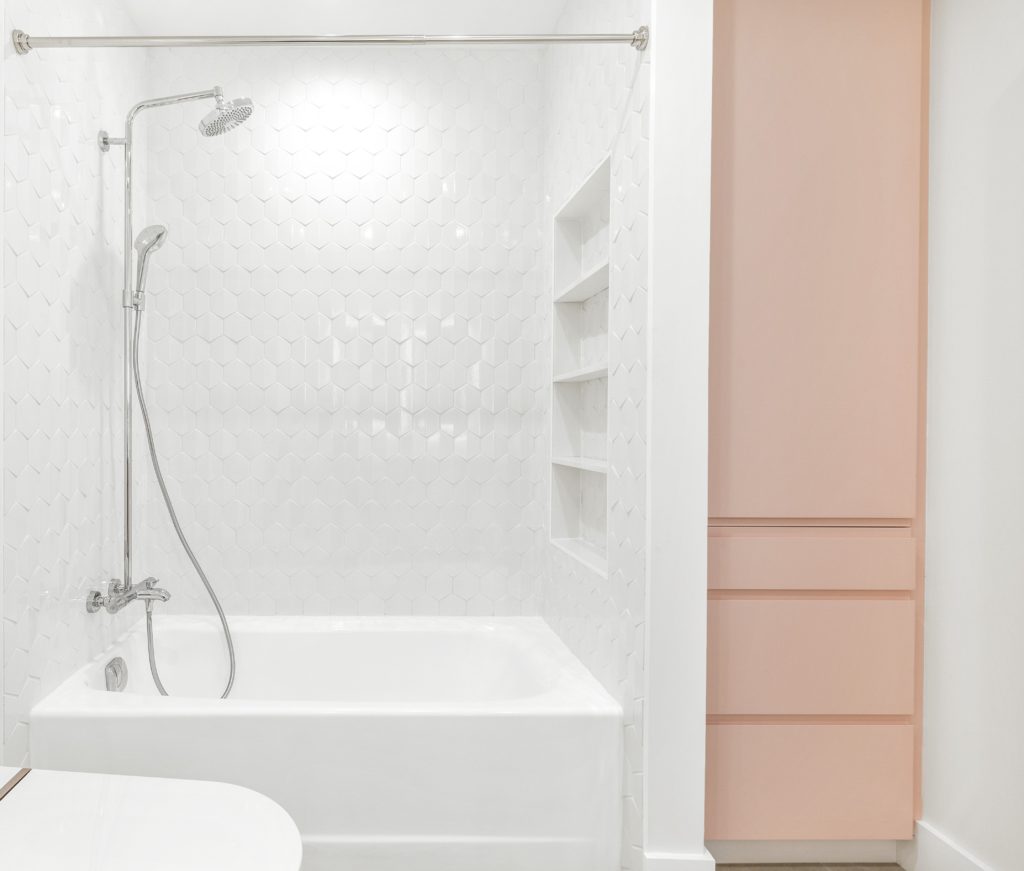 For a kid's bathroom, we love the pink paint specified for the tall storage cabinetry adding a little fun.  Another successful bathroom design from the Greenberg Design Gallery team.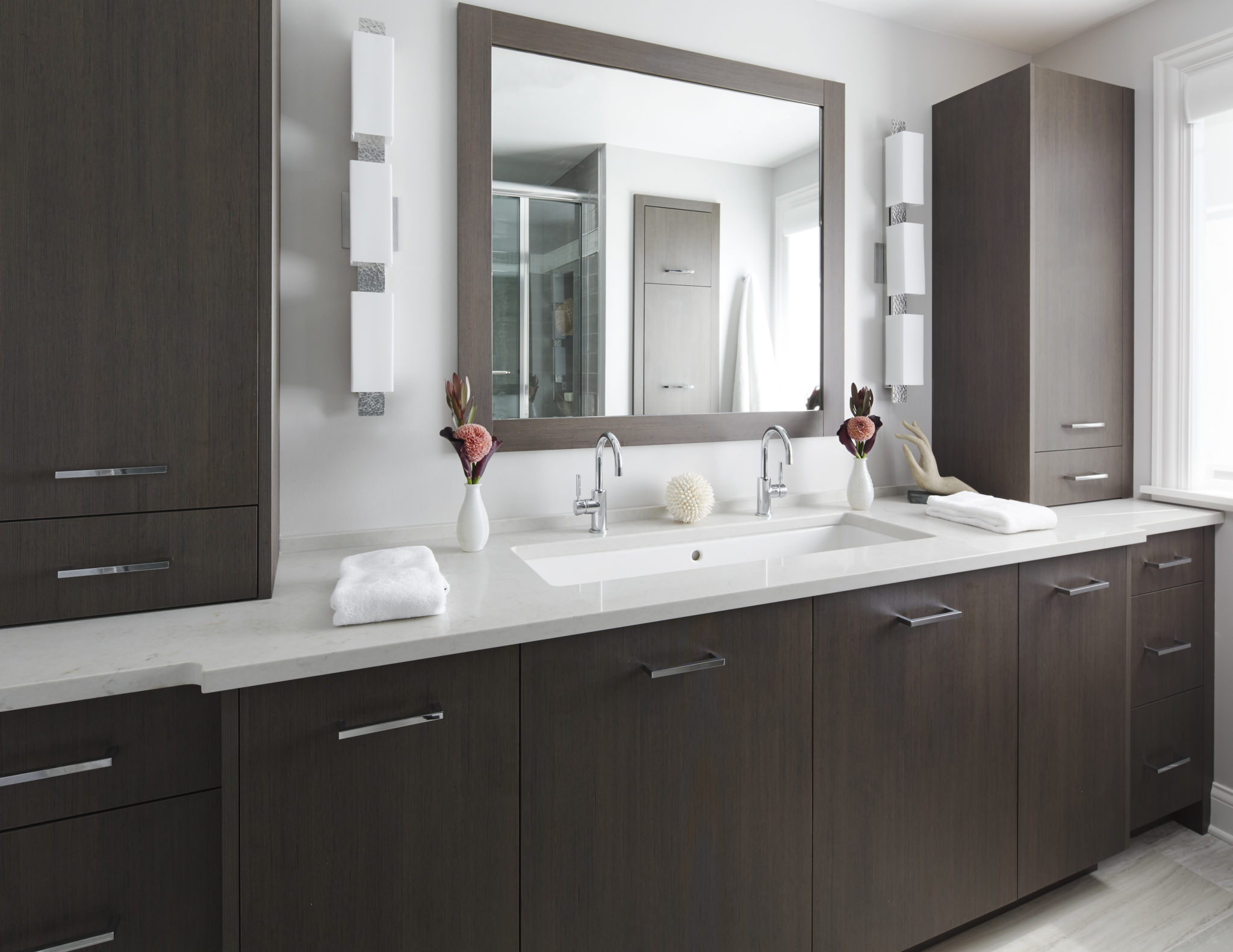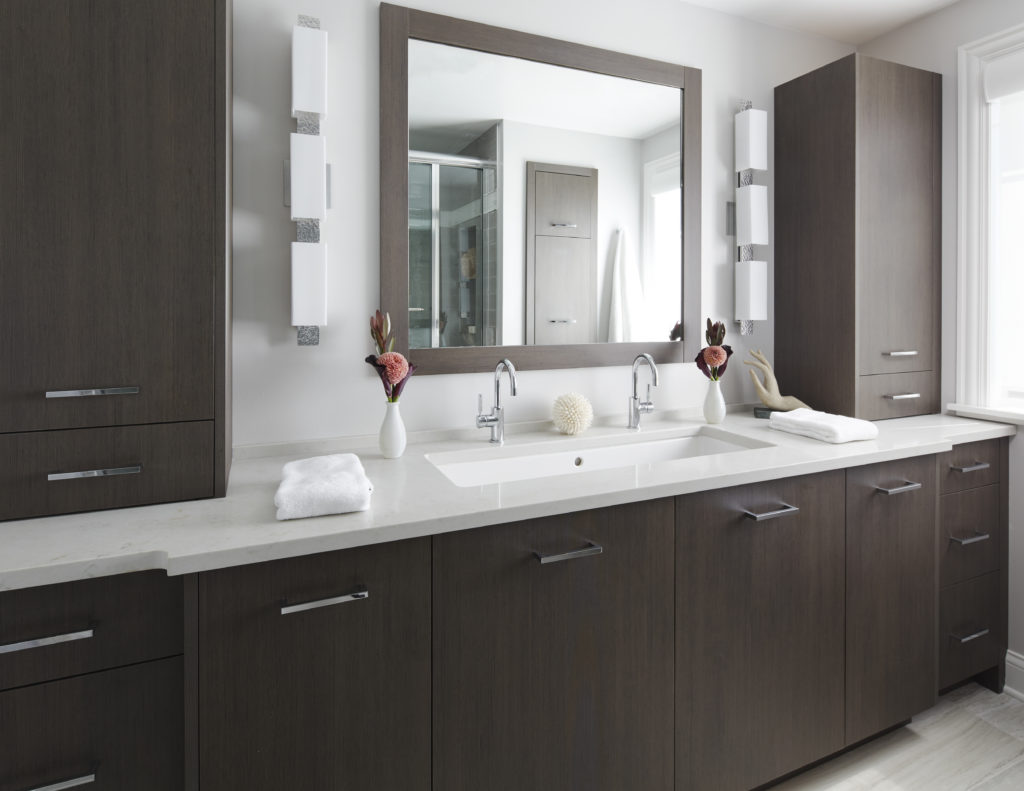 Custom vanities today include ample countertop space, drawers with internal electricity, and savvy accessories for storage and organization.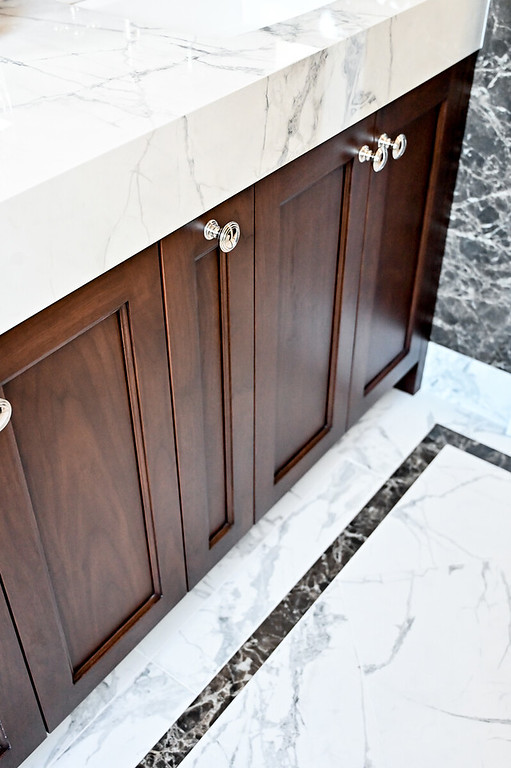 Designer, Shawna Roorda of Bentwood of Houston  shows a vanity pull-out accessory perfect for both large and small bathroom items.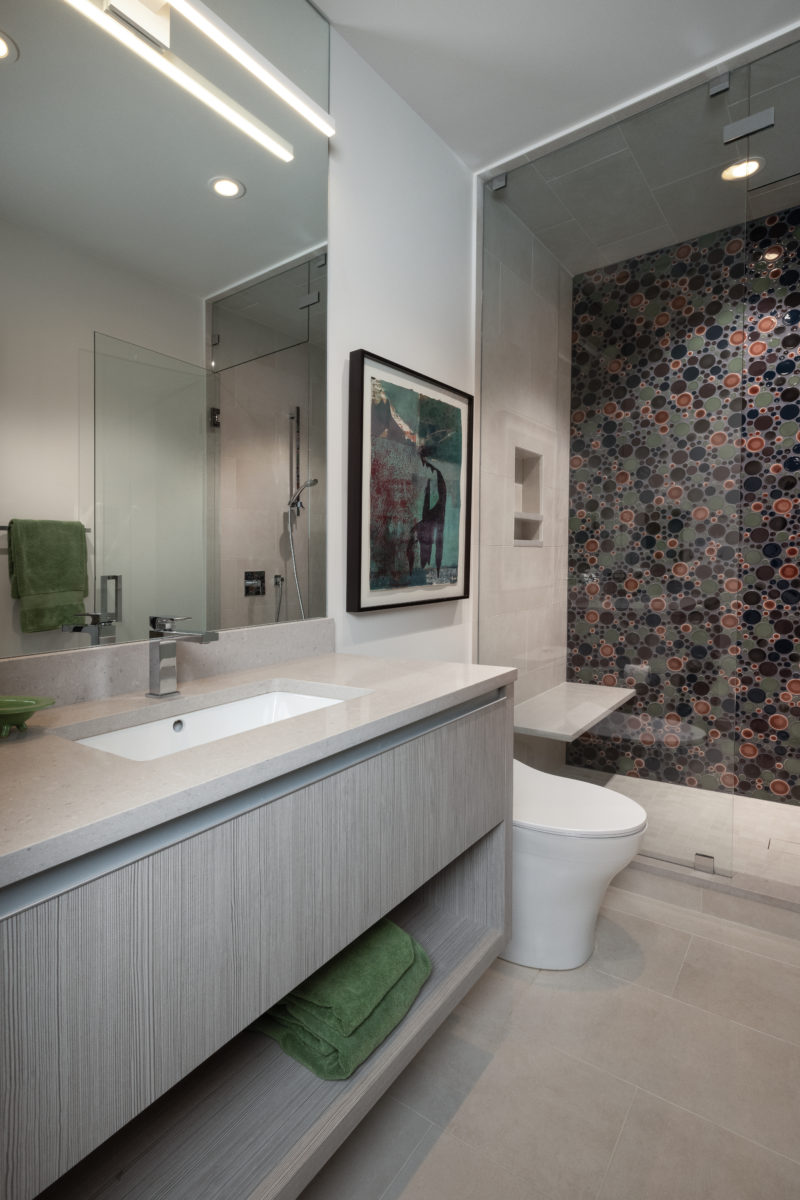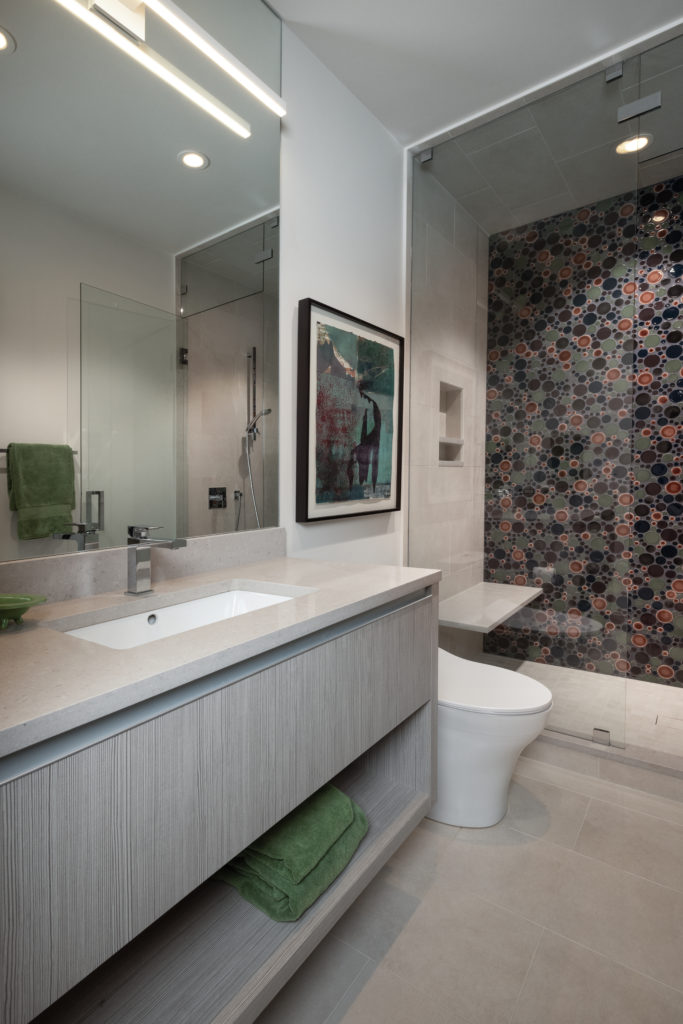 For more contemporary bathroom projects, we are fans of the floating vanity design.   A clean modern look is achieved, plus we love the open shelving for towel storage.   
This guest bath designed by Nicole Bradford of Elegant Cabinetry and Design  is full of contemporary style with integrated hardware door style and High Pressure Laminate (HPL) textured material.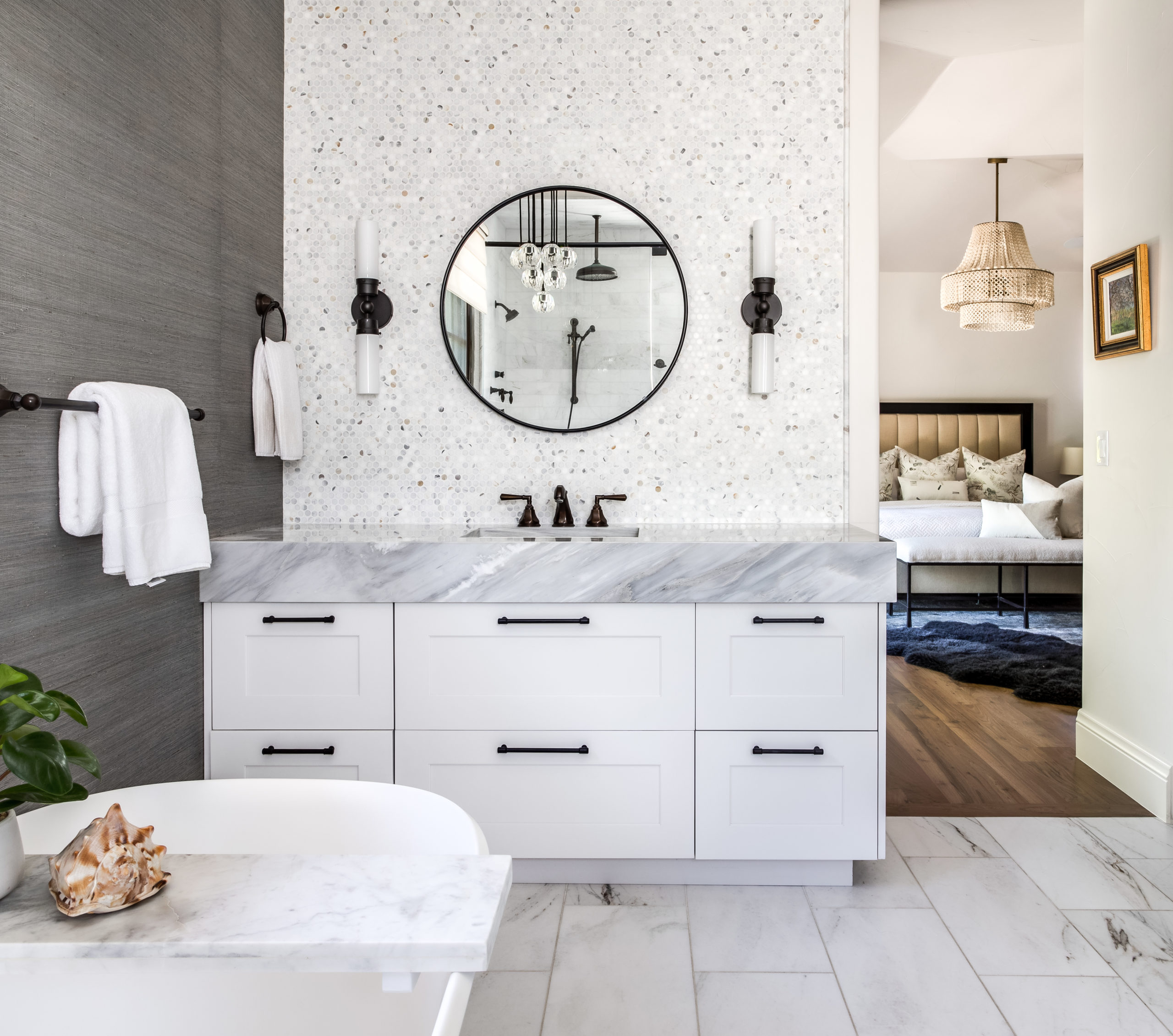 After a busy day, the Primary En Suite is the place where parents can take a minute to relax, reset, and unplug.  A personalized bathroom designed with custom cabinetry provides the function and aesthetic just right for each couple.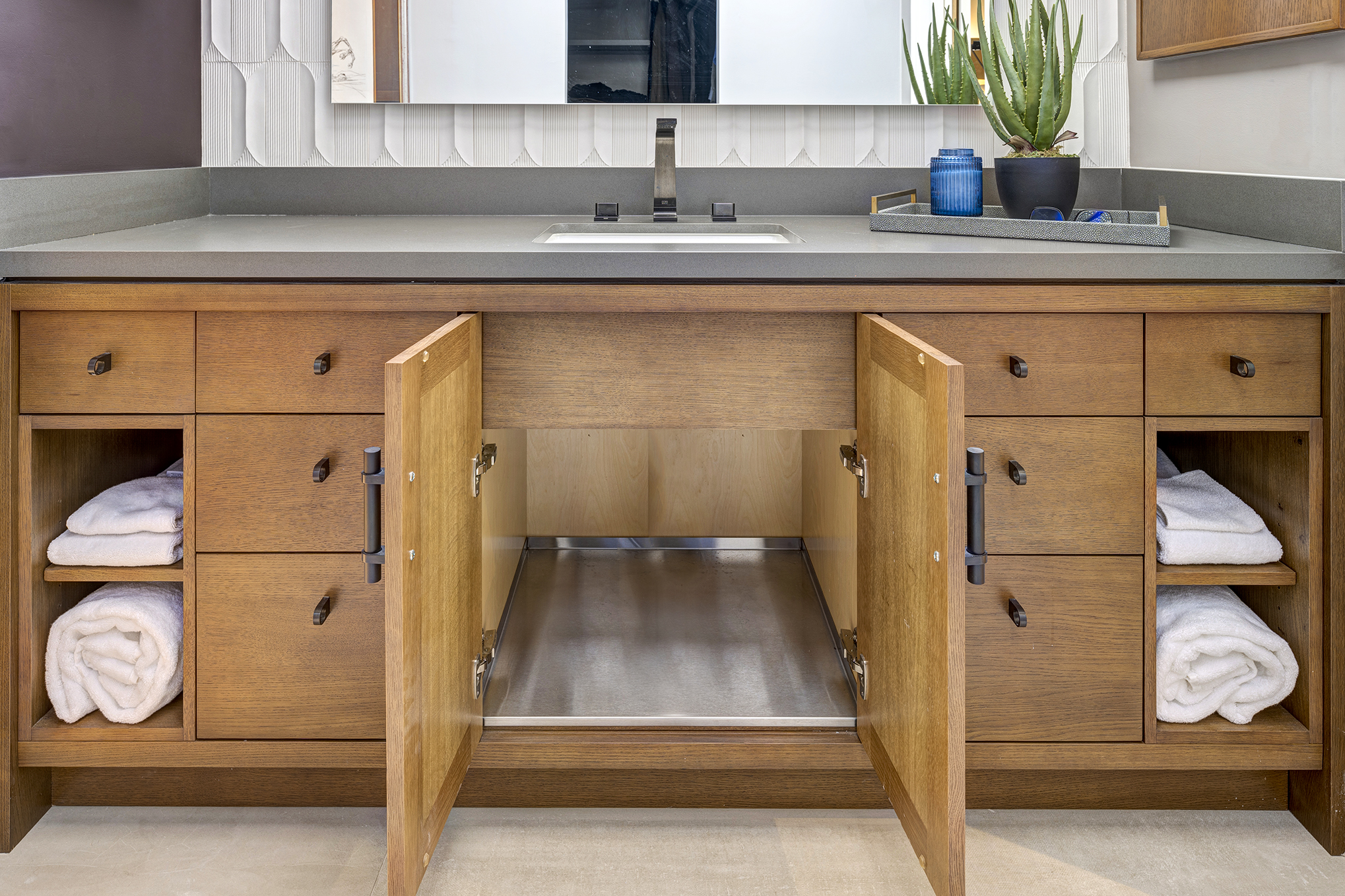 A shared vanity is often the best bathroom layout option when it comes down to usable space. From designer Shawna Roorda of Bentwood of Houston, we see behind the cabinetry a couple well-appointed accessories.  A stainless liner located in the vanity base protects cabinetry when storing cleaning and liquid supplies.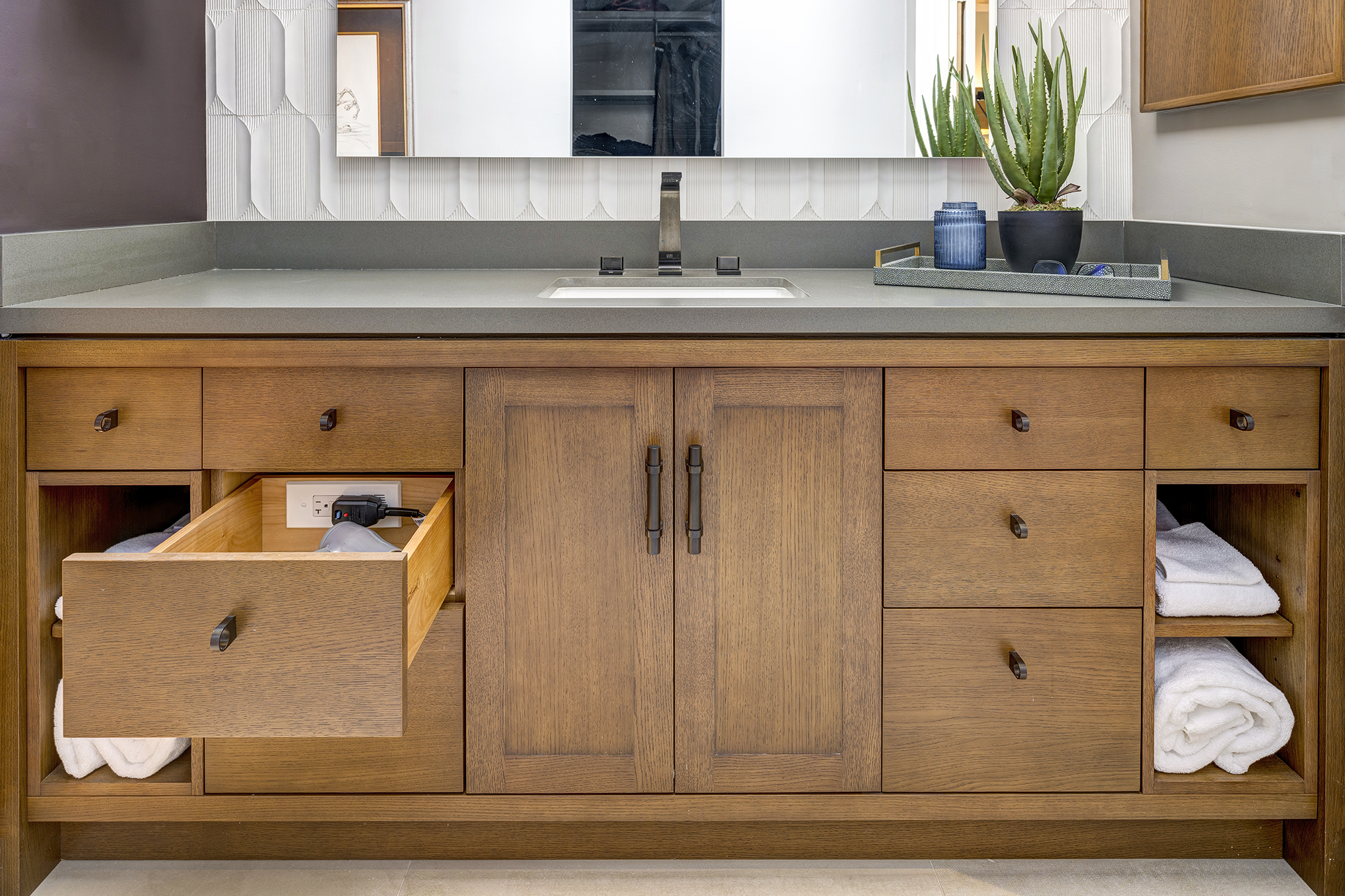 Spa

–

inspired

Showe

rs/Wet

Rooms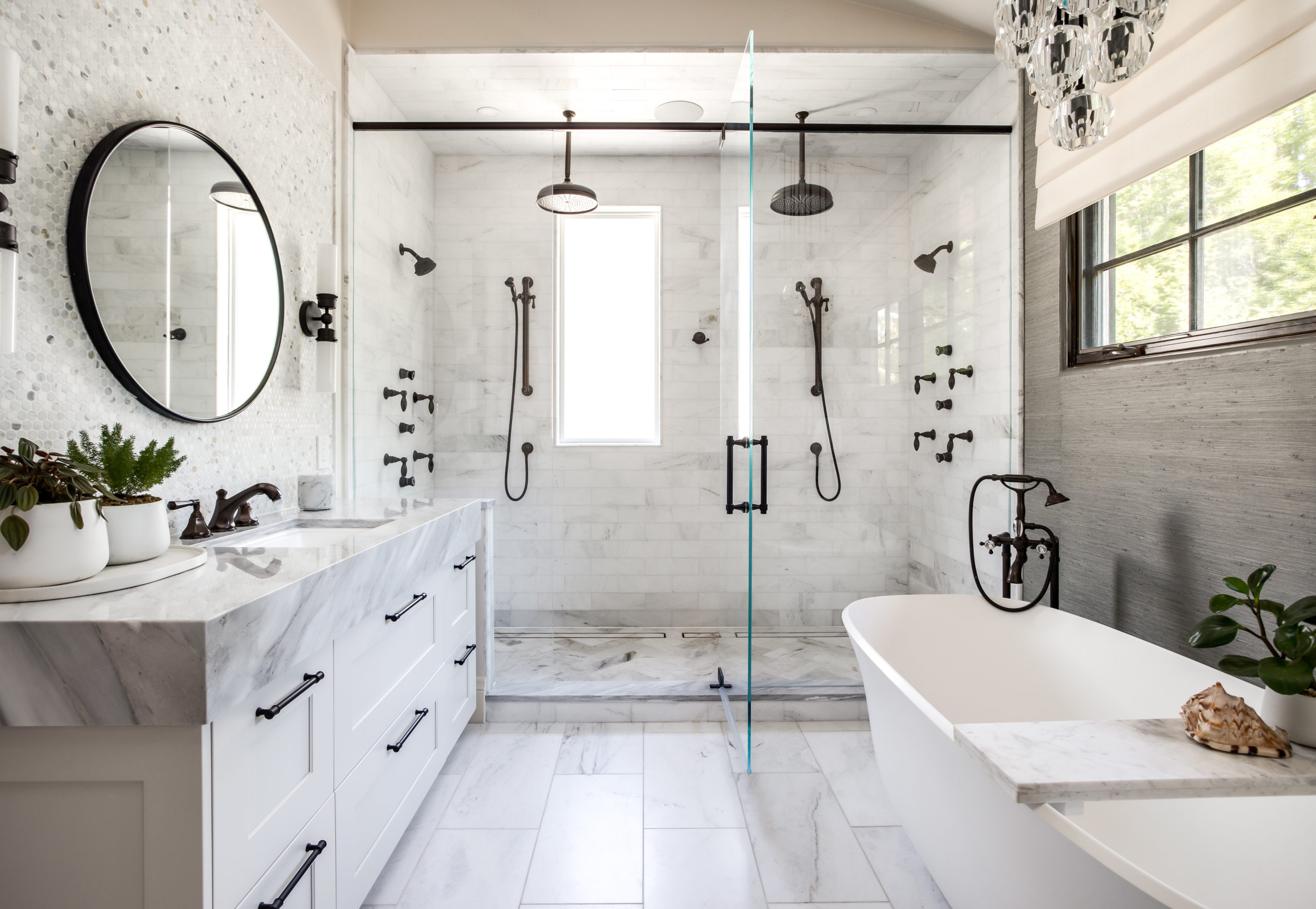 Many clients are ditching the old water jet tubs for spa-inspired showers.  Having more space wins over a crowded design and the bathtub has now become "optional."  With exciting new plumbing and functional details like storage niches and seats, your own spa shower awaits.  
Designer, Michele Peerbolt from AI Studio Group shares a primary bathroom project that demonstrates this remodel trend.   
It all comes down to personal preference and budget.  There is no question that bathrooms are high-functioning rooms that benefit from custom cabinetry.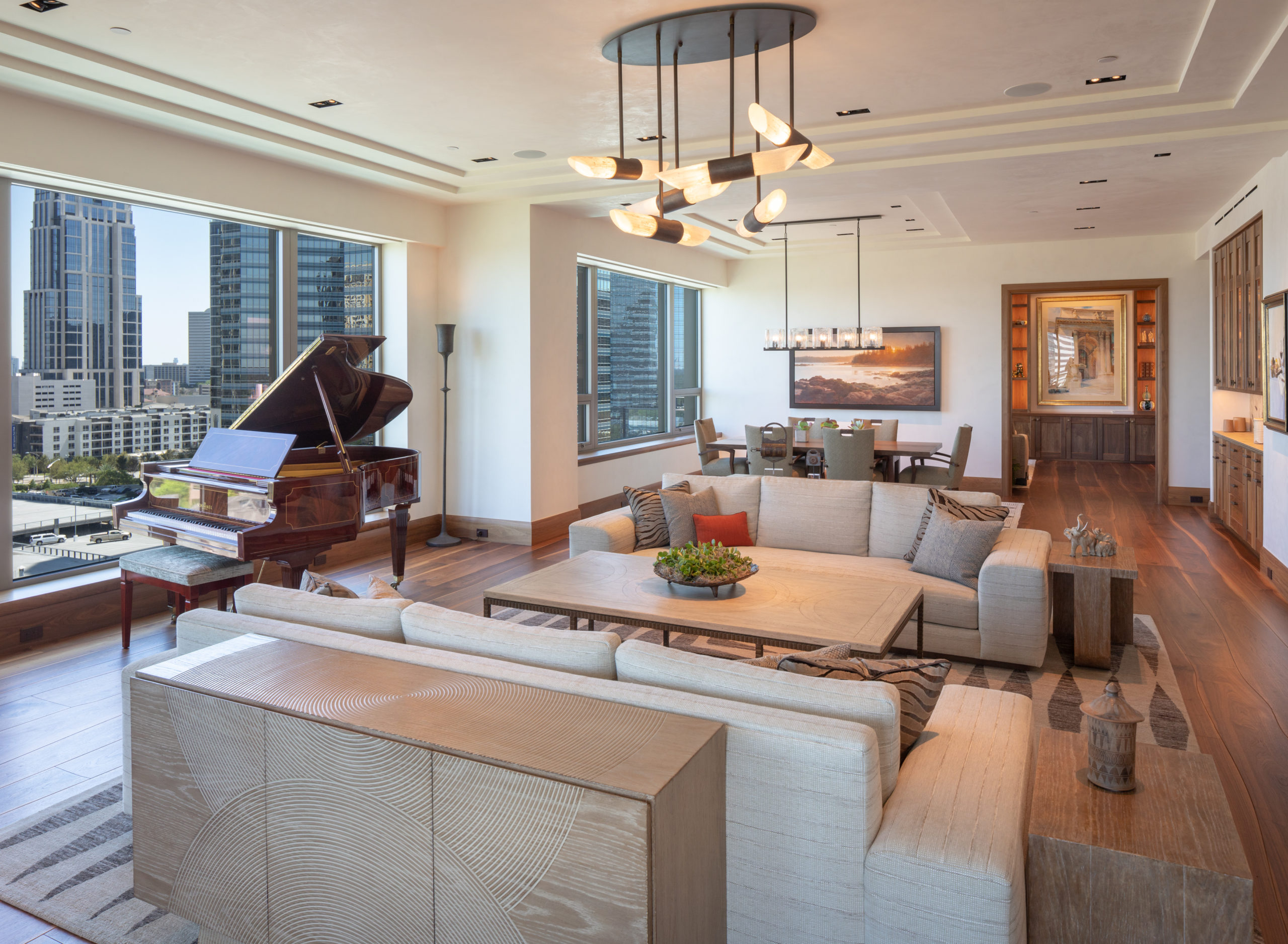 Designing cabinetry for spaces outside the kitchen is all about supporting the client's lifestyle with the best products on the market. Function, storage, and overall style do matter when it comes to family residences of today.  At the Bentwood companies, we believe with Bentwood and Harmoni cabinetry for your home you can rest assured it is one less thing you have to worry about.  
Find Inspiration Near You
Summary
Article Name
Family Friendly Cabinetry Outside the Kitchen
Description
At Bentwood Luxury Kitchens, we manufacture cabinetry that stores, organizes, and functions for rooms outside the kitchen. Custom cabinetry designed specifically for your home is a worthy investment that offers both beauty and function.
Author