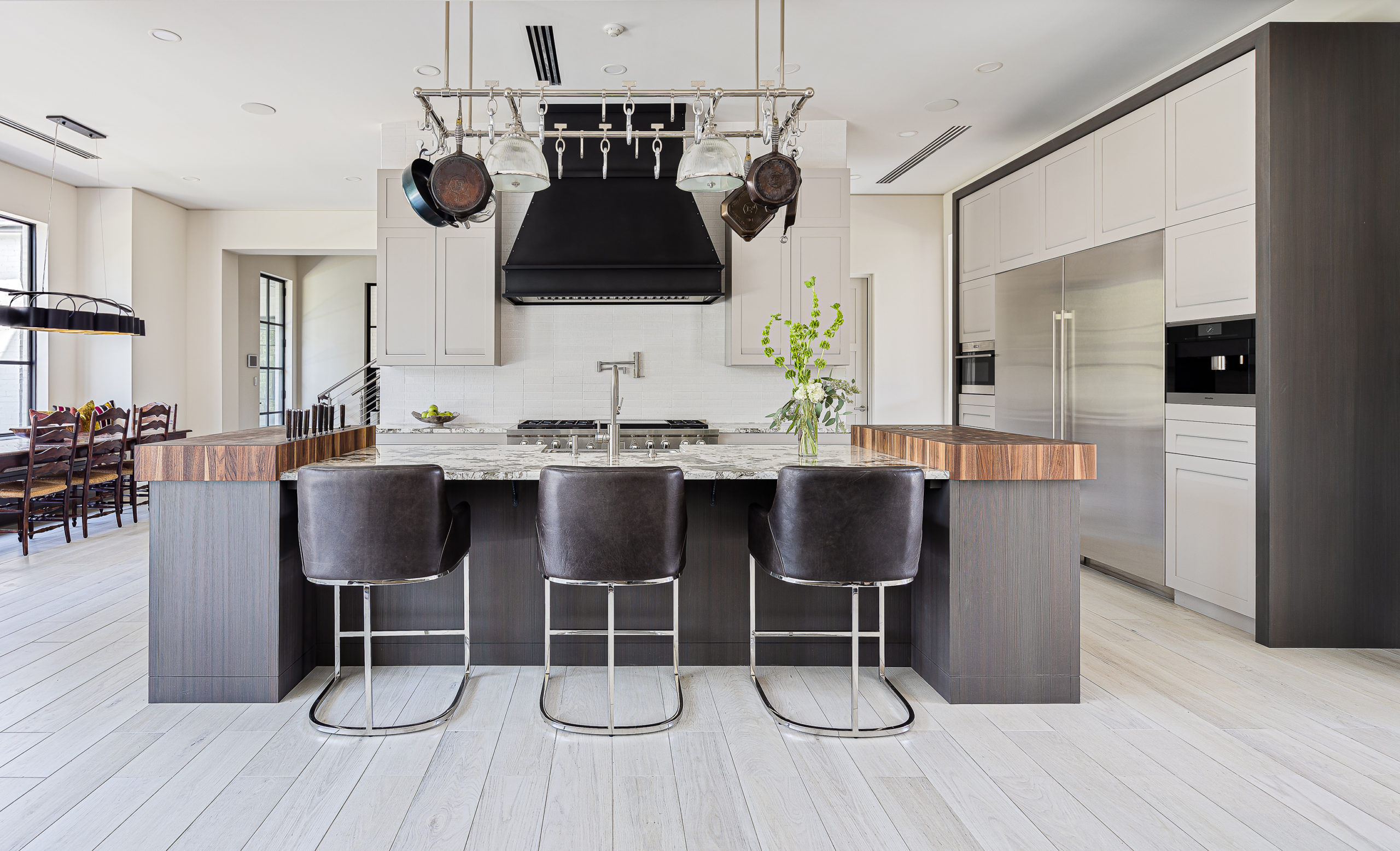 Photography by Eric Elberson
At Bentwood Luxury Kitchens, we are very excited to share a special dealer project, as well as highlight some exceptional people in the business.  Since becoming a dealer over 15 years ago, Mary Ann and Terry Elston— owners of The Cottage in Shreveport, Louisiana— have always had a wonderful relationship with Bentwood.  It has been very gratifying to watch the growth and continued success of such a highly respected dealer team. At Bentwood, owners Randy Pittard and Kevin Bryant take great pride in relationships like these and the successful industry professionals who embrace our products and execute beautiful projects year after year.
Planning For Two Kitchens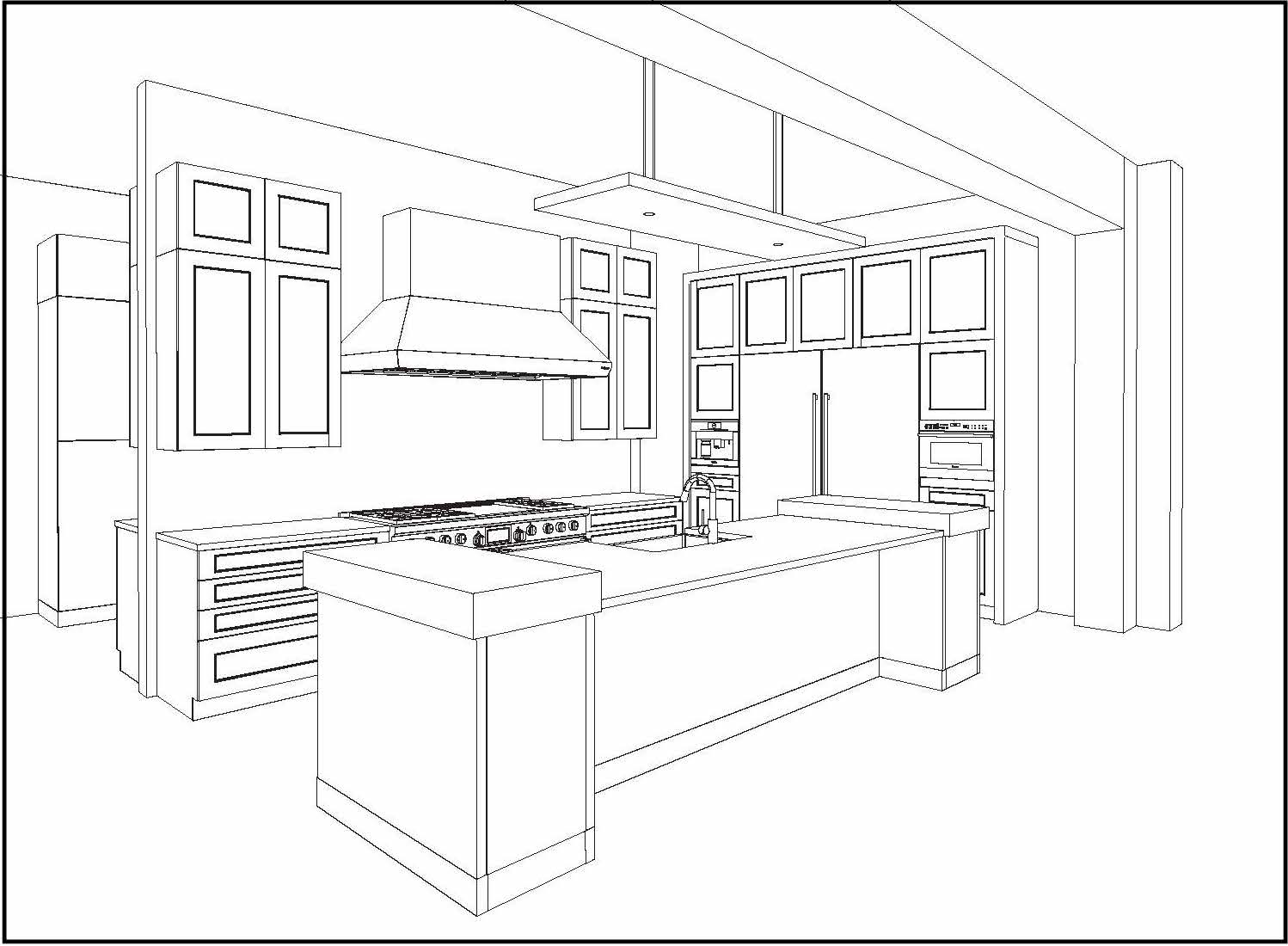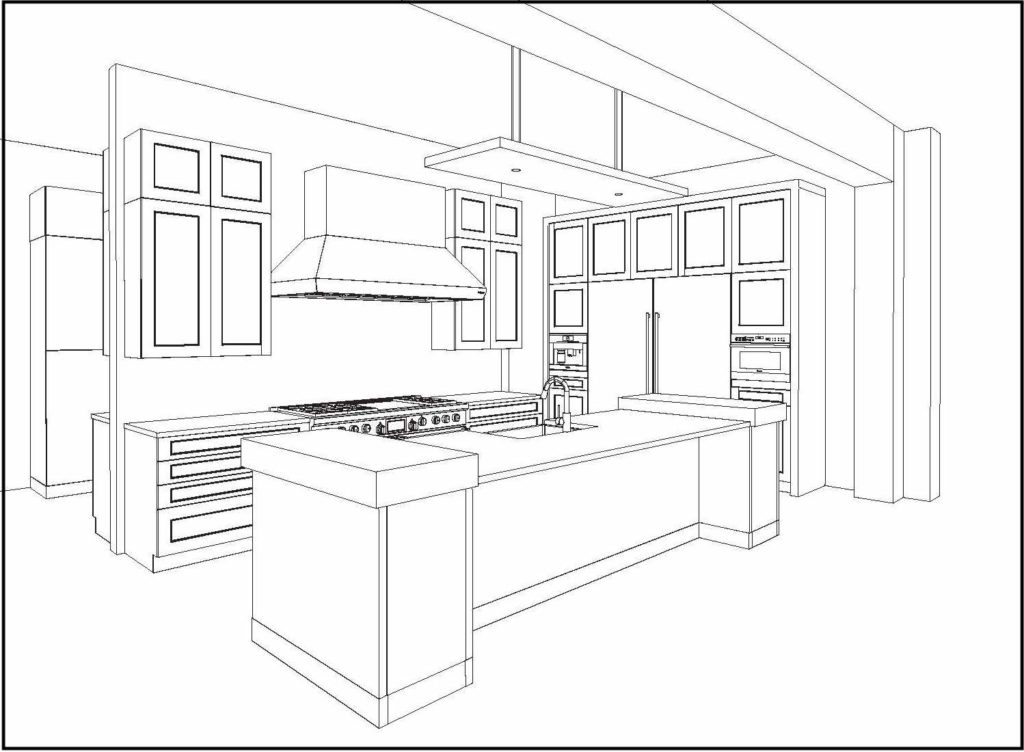 One such recent project is a real stand-out for many reasons.  When a Louisiana homeowner was ready to build a modern residence and knew the main kitchen and supporting catering kitchen would be key components—all in an open floor plan—it was clear this was far from your standard build.  A real opportunity existed to personalize the home for entertaining, including all of today's modern elements. Architect Ben Patterson recommended Bentwood for the client's project consideration.  So Interior Designer Connie Howard and the client visited the Cottage showroom to meet with Kitchen Designer Katie Stanfield.  All parties agreed that Bentwood's custom cabinetry would be a great fit and this talented project team was ready to bring the vision to life.
Thoughtful Design for the Main Kitchen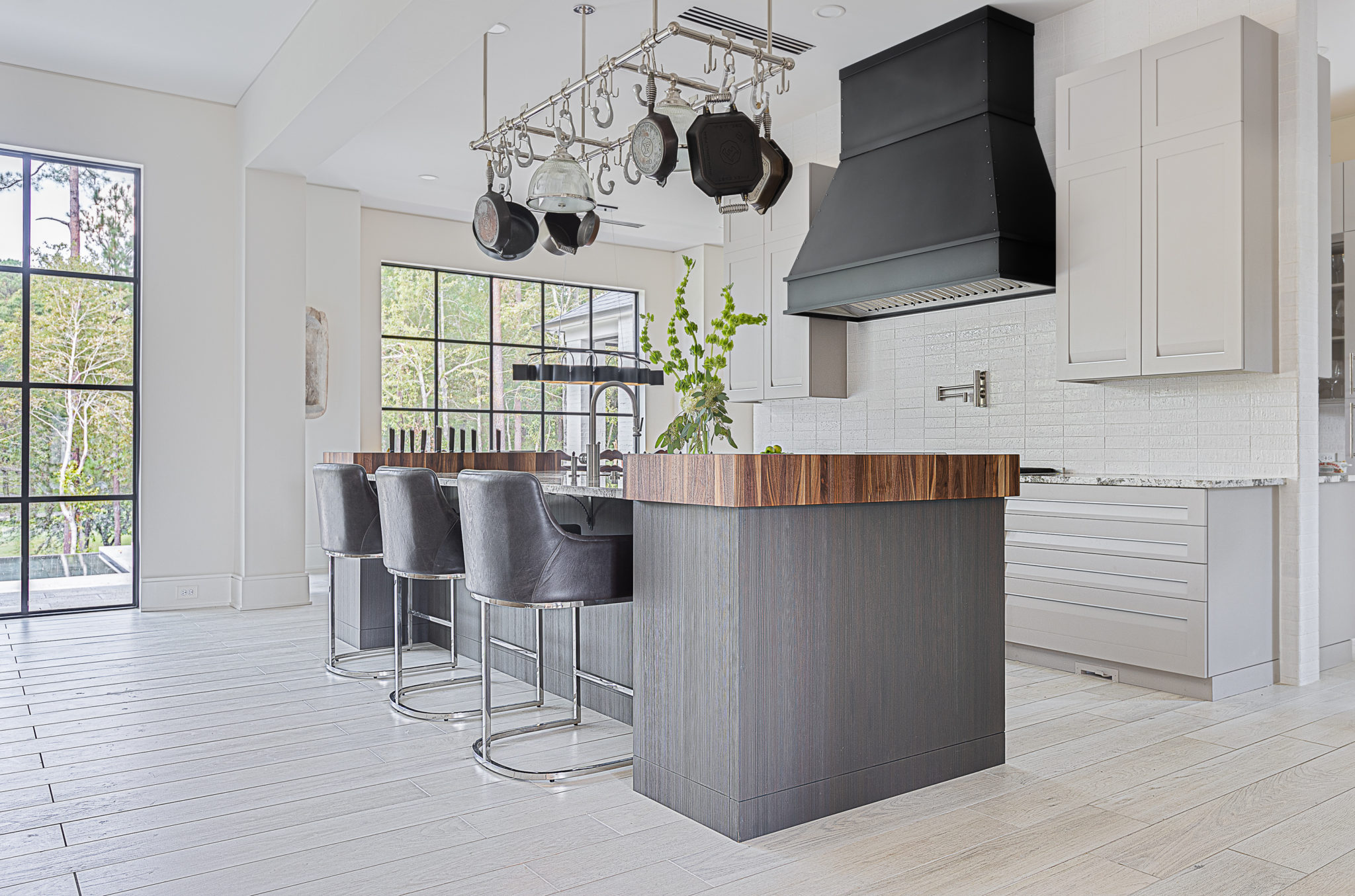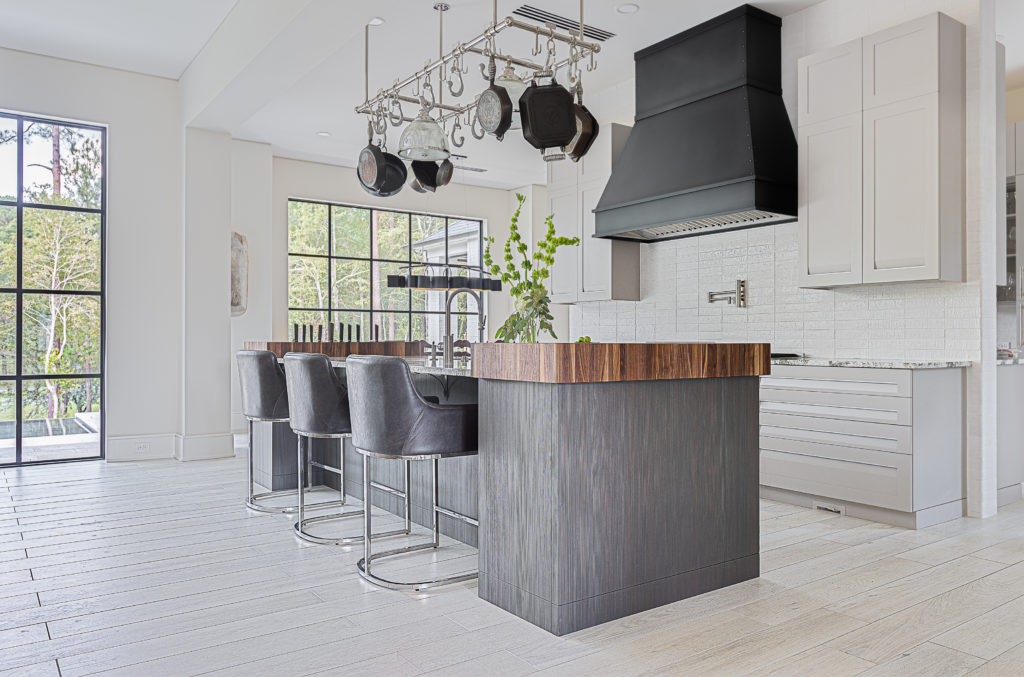 When choosing perimeter cabinetry for this modern and elegant space, Bentwood's Nouveau door was selected for 3-dimensional interest and integrated, minimal hardware for a clean look.  The paint selected was Sherwin Williams "Requisite Gray," a soft, neutral shade perfect for complementing custom feature elements of the main kitchen.
Custom Details for Optimal Design & Function
The matte black custom hood over the professional Wolf Range™ makes quite a beautiful statement on the range wall. It has all the ventilation power needed for cooking on the impressive 60" range.  Another beauty, the modern pot rack hanging over the island adds a jewelry-like component and is up to the task of supporting the pendant lights along with all the professional cookware.  For countertop material, a natural quartzite in a soft color palette adds luxury paired with durability.
An Island Perfect for the Home Chef & Guests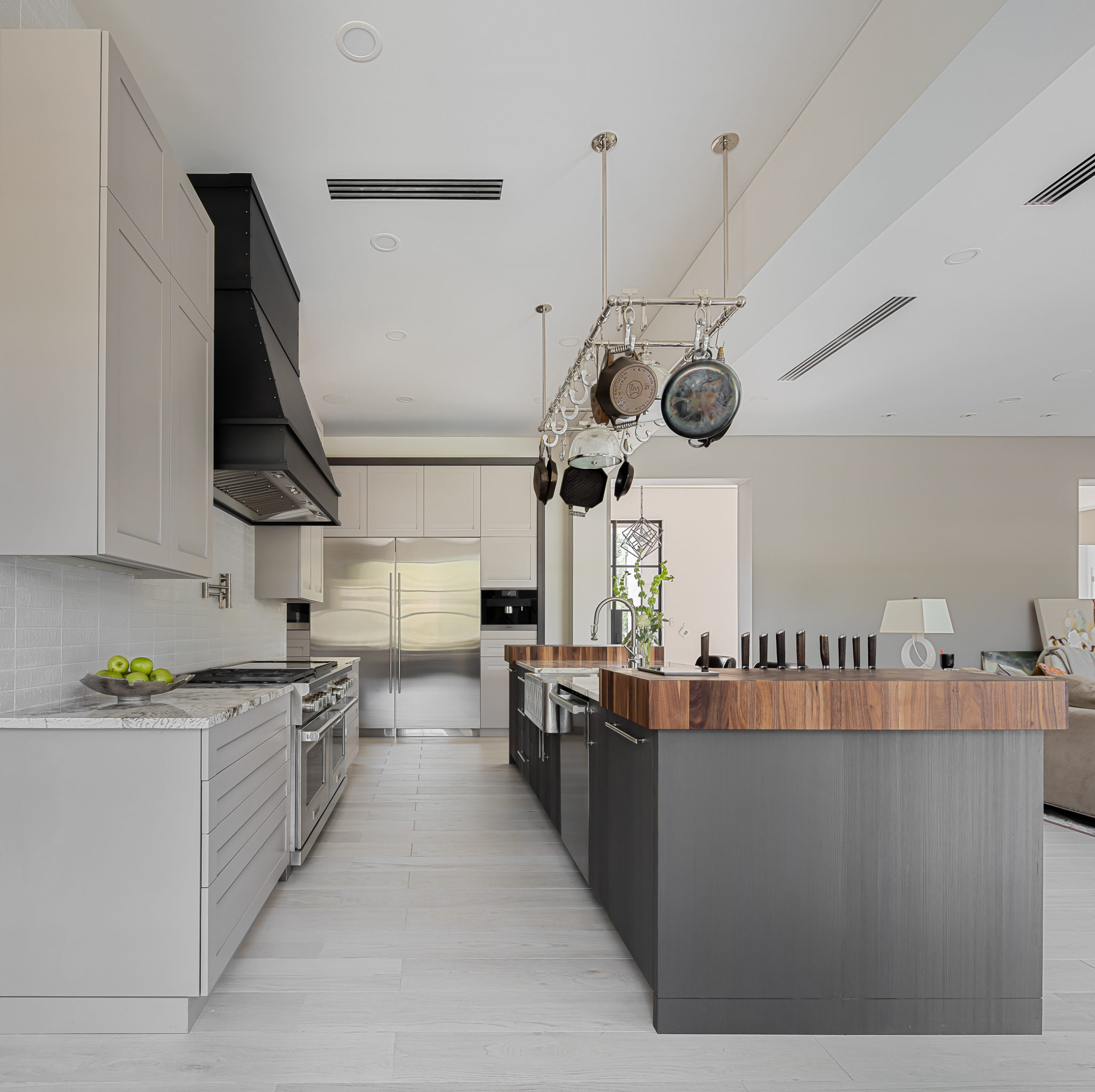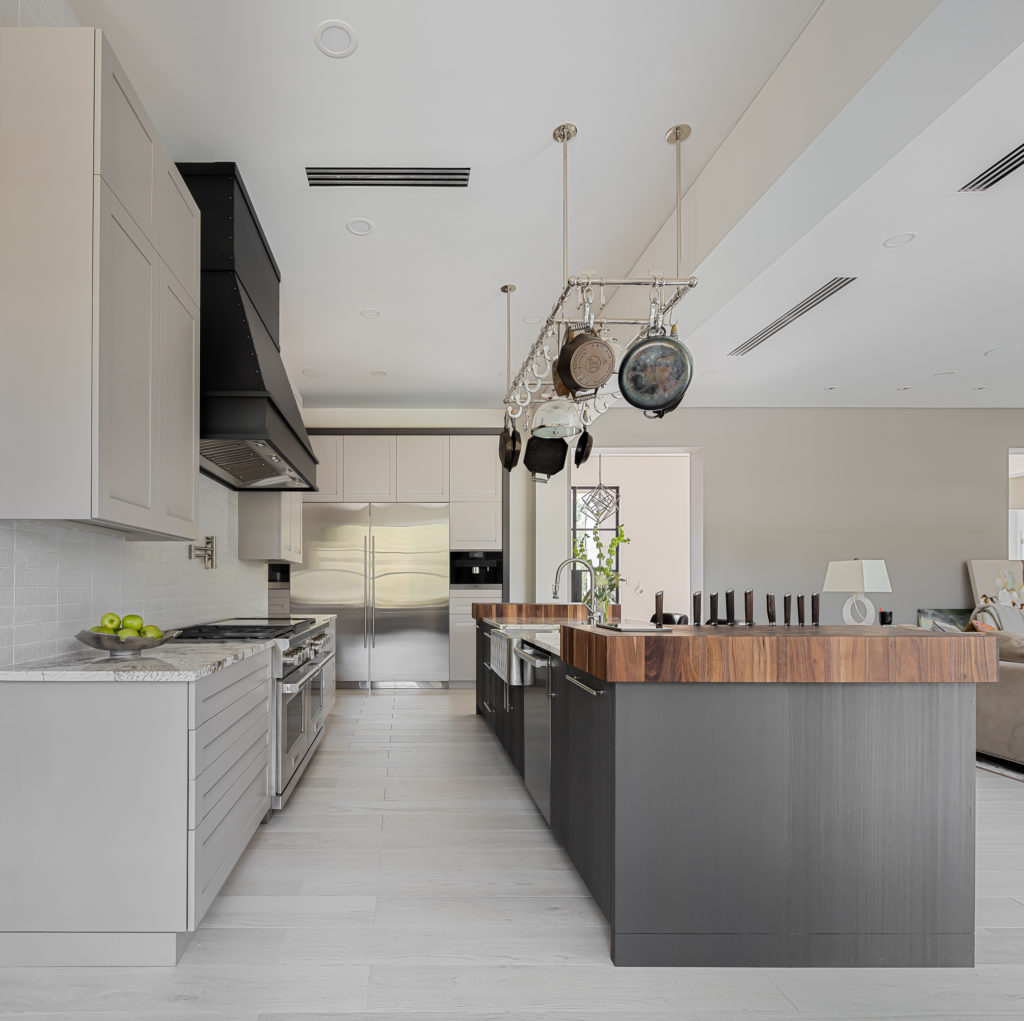 On the large Island, Bentwood's Estate door in European conifer with strata detail in Oyster stain was selected for the cabinetry.  This textured material is also repeated in framing the focal refrigerator wall for a cohesive design element. Subzero refrigerator-freezer units, along with Miele integrated coffee maker and dishwasher are top luxury appliances for this well-appointed work zone. The island's custom apron-front sink makes clean-up and food prep a snap for the home chef. Guests can relax on the opposite side and enjoy the show along with its tasty food preparations!
Make Mine Double Walnut, Please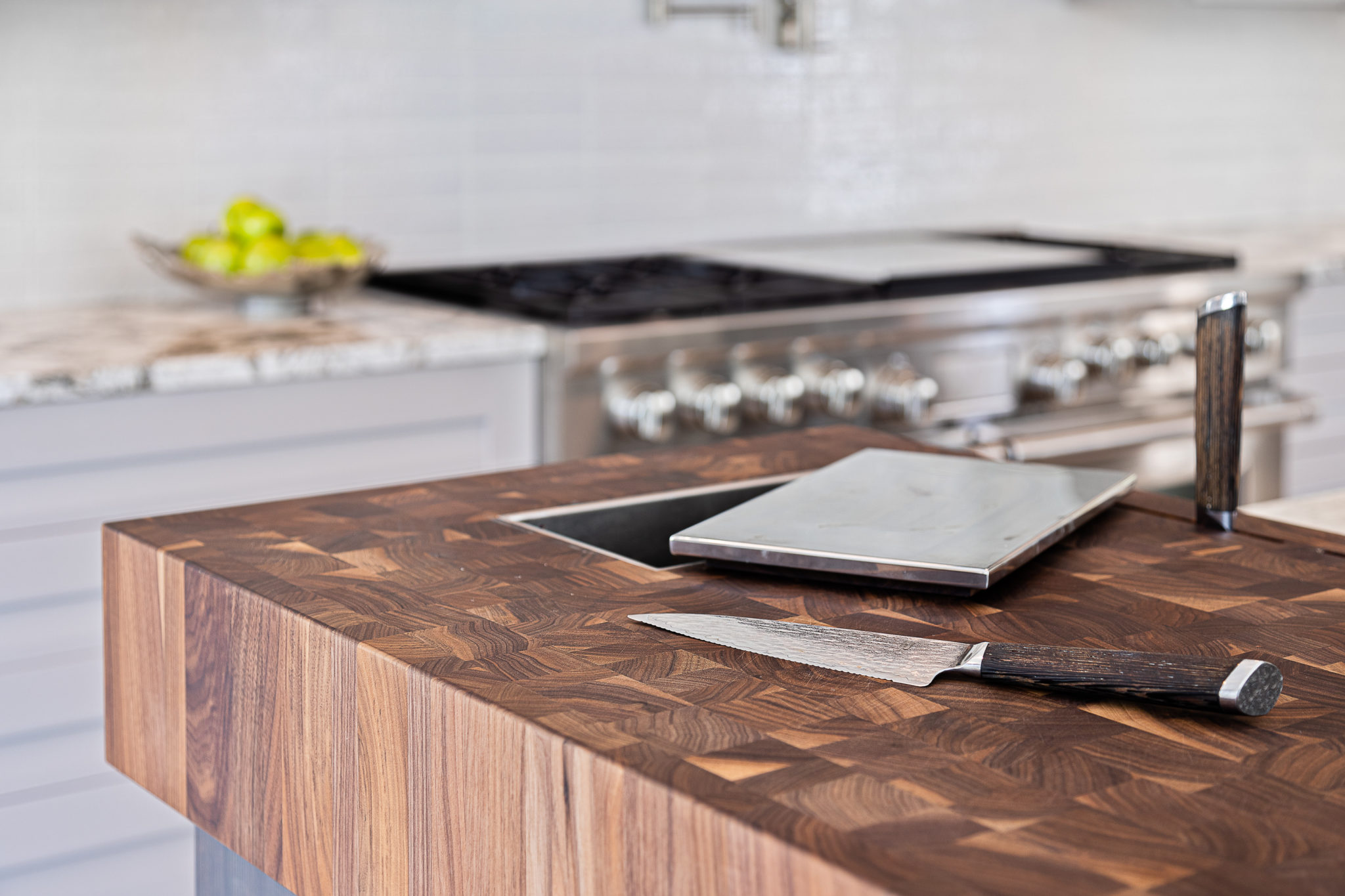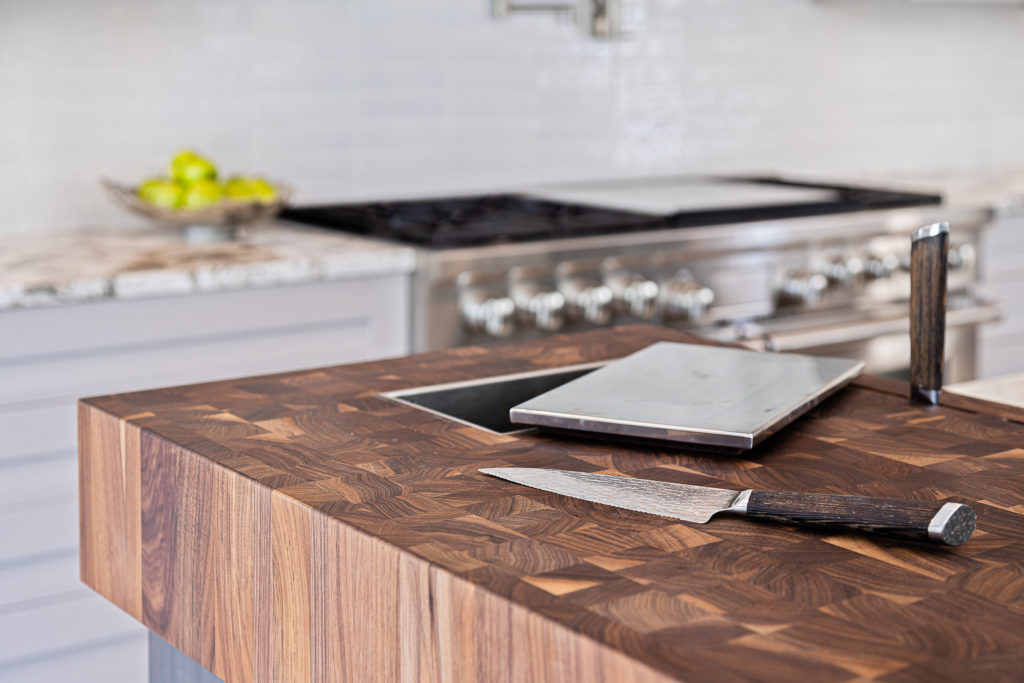 Two matching 4" custom, walnut end grain countertops flank the island as stunning design elements, providing the ultimate cooking and entertaining support.  These custom countertops by Grothouse include knife storage, a custom trash shoot, integrated metal trivets, and large workspaces that will impress any Iron Chef.
Maximum Storage & Efficiency for the Catering Kitchen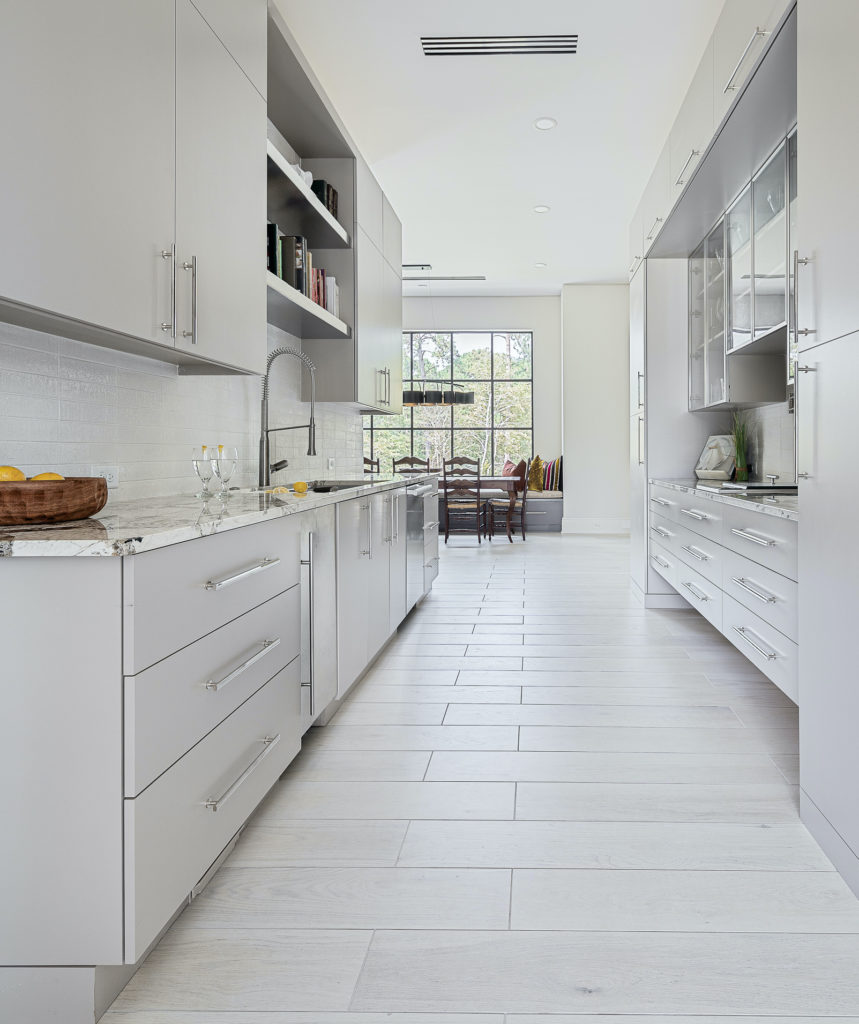 Because this household loves to entertain, a caterer's kitchen was essential for all the back-of-the-house prepping, staging, and clean up when enlisting staff support. "The key was designing a space that was very functional and efficient, as well as visually complementary to the main kitchen—not identical," shared Stanfield.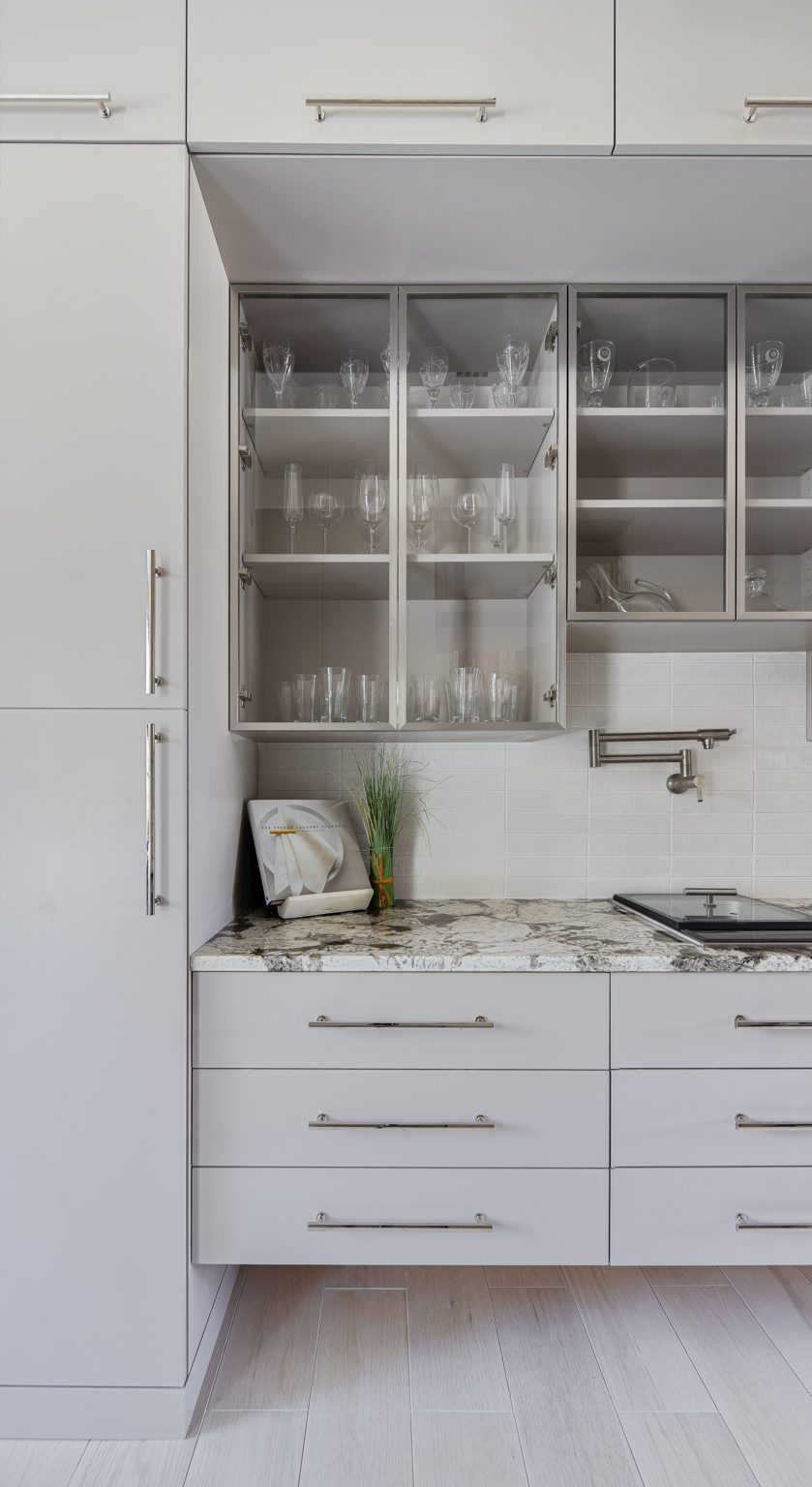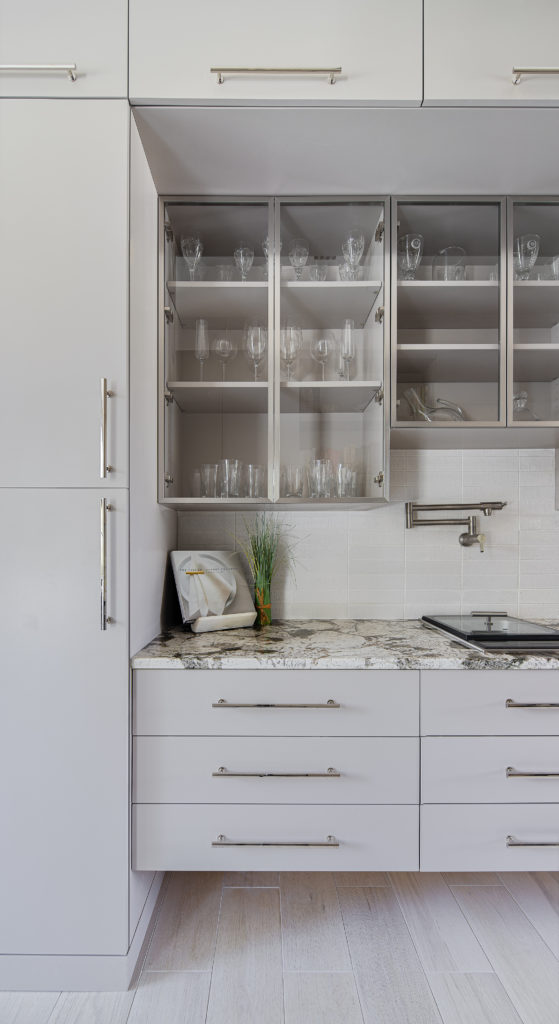 For continuing the modern style, painted Bentwood cabinetry in the Estate door was selected. This clean style allows for linear framing and maximizes storage capacity. Glass-front upper cabinetry in a brushed stainless finish offers quick access to glassware, plus gives visual interest to the workspace. Open shelving above the sink (also in brushed stainless) gives a convenient place to house a growing cookbook collection.
Here the tall pantry works overtime when hosting parties. Upper vertical storage was added for convenient access to essential trays for food prep and serving. Below, roll out shelves allow for easy access to small appliances and other catering supplies.  Well thought out for function and efficiency, it culminates in a beautiful modern kitchen aesthetic.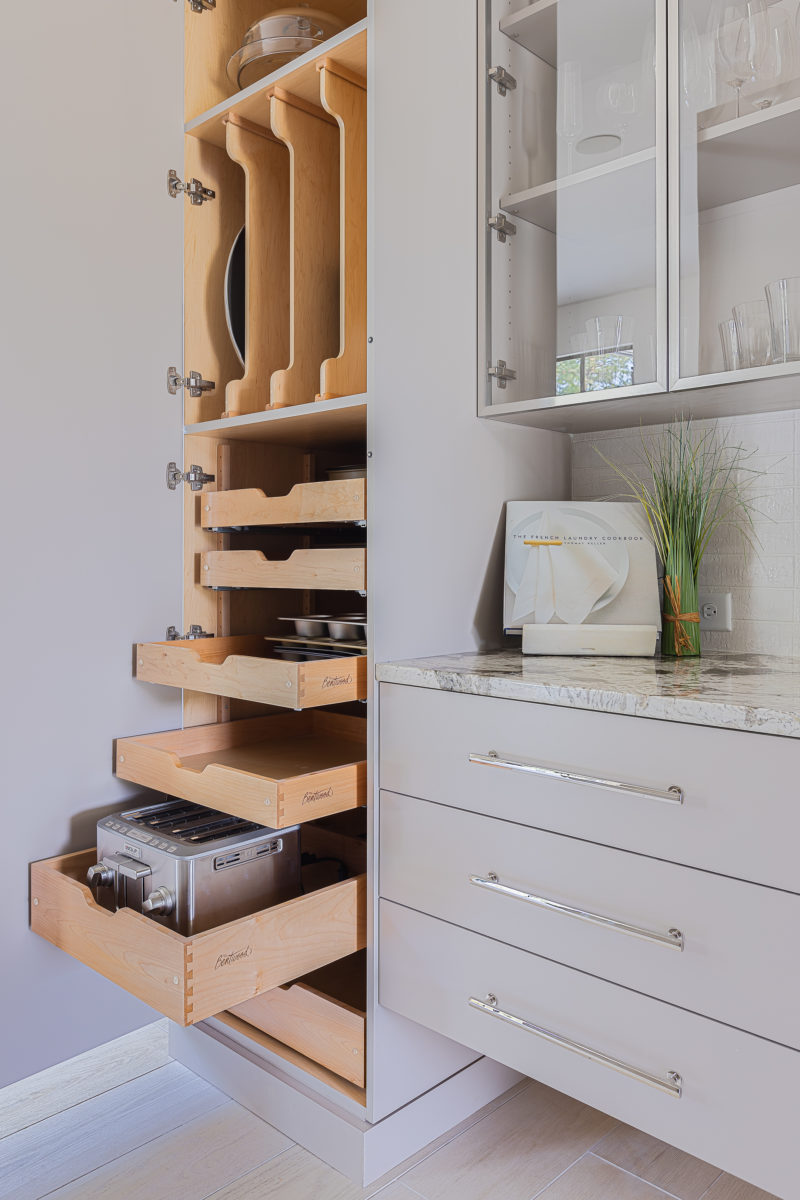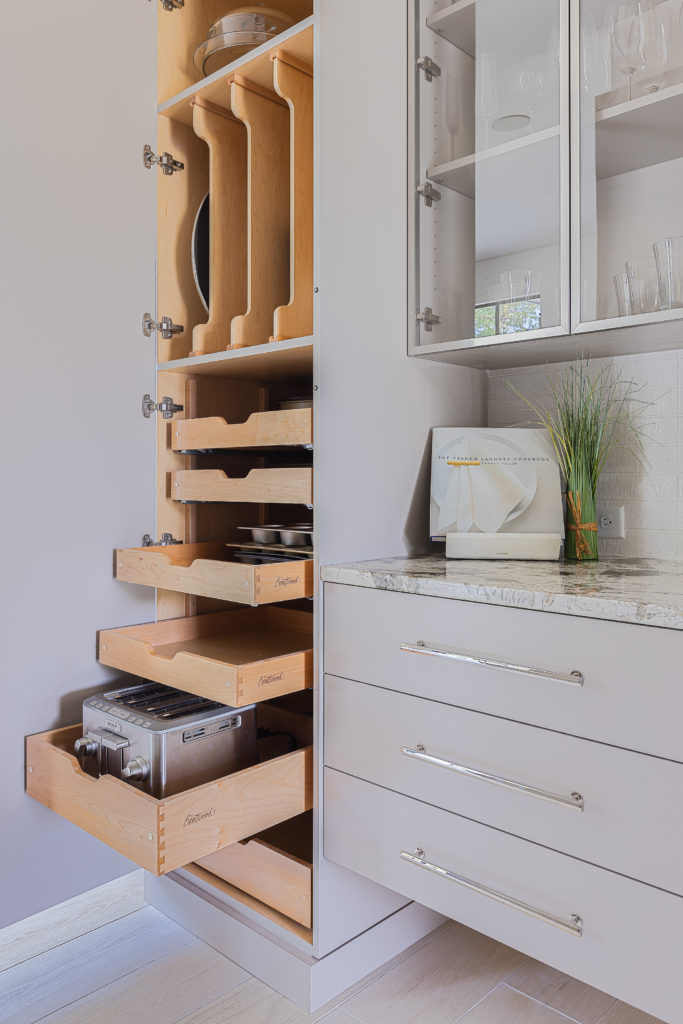 Modern Living with Future Entertaining Ahead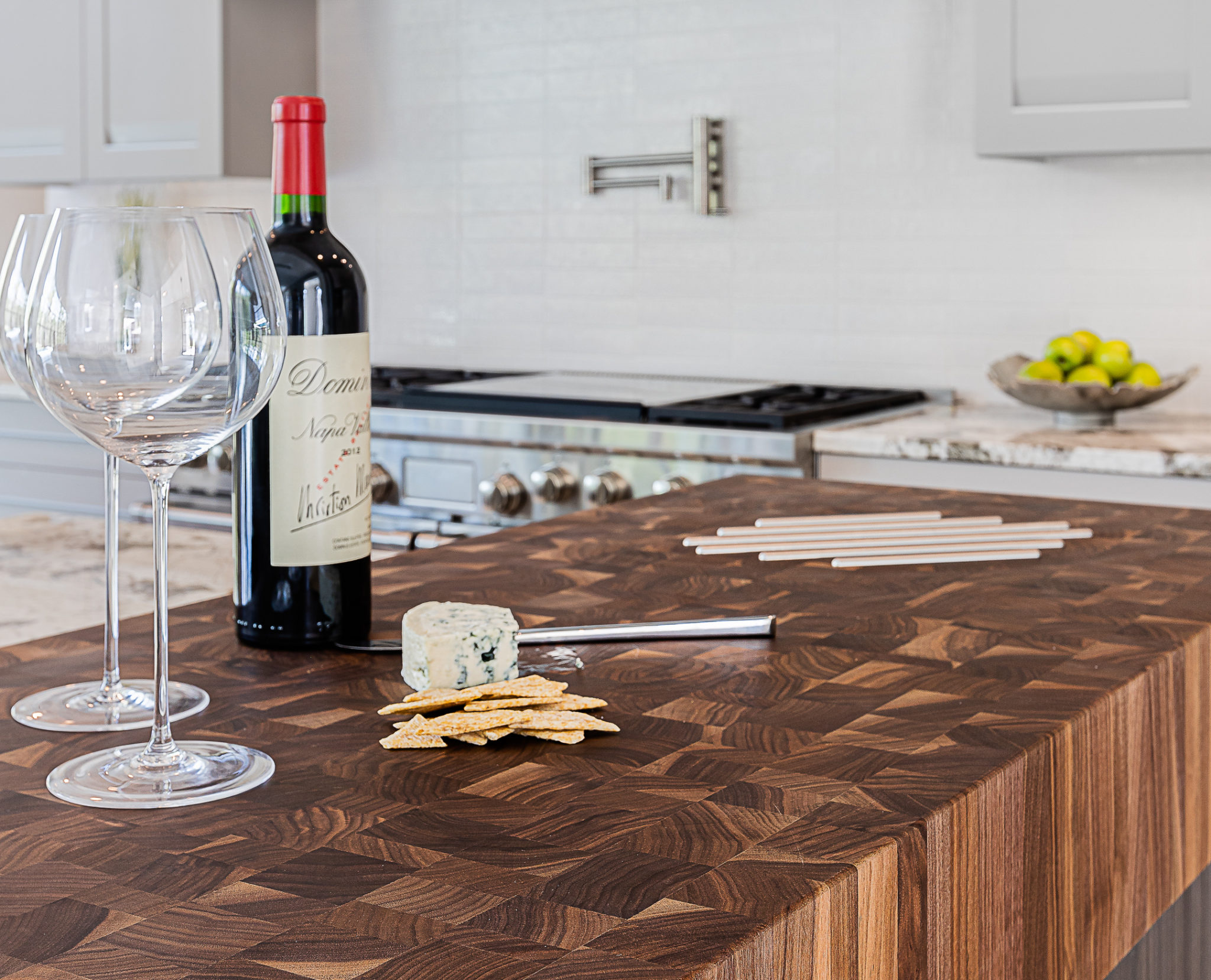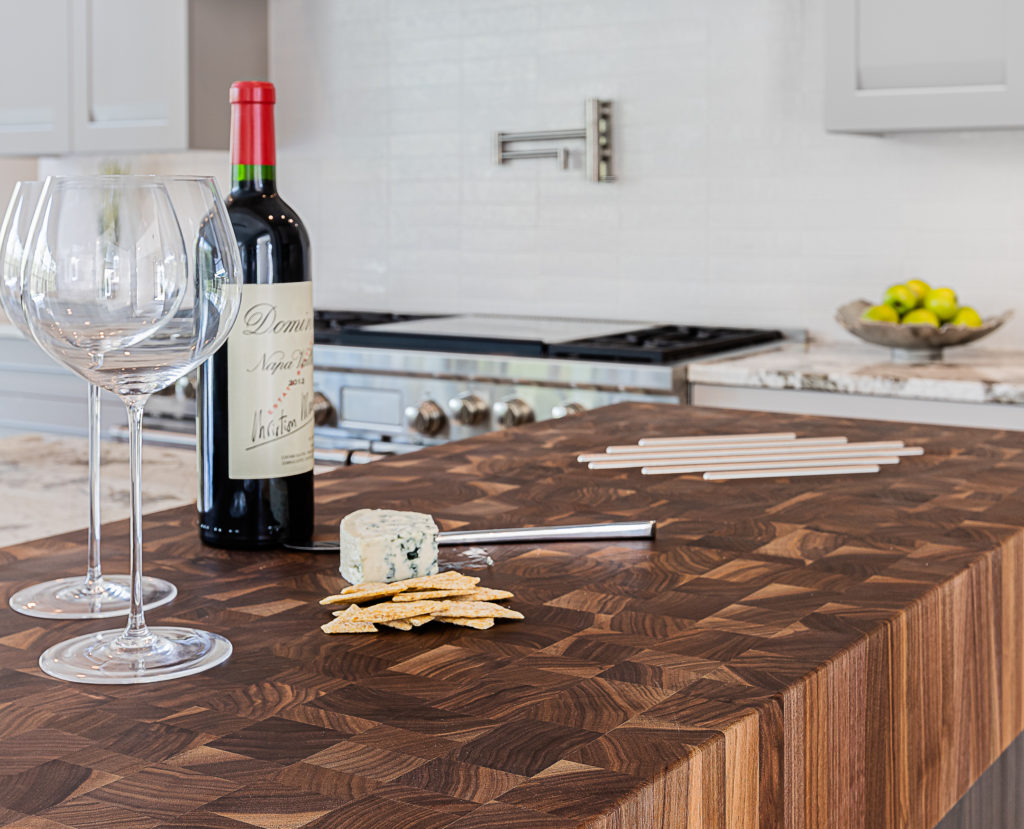 It is wonderful to see how a new construction home came together for this Louisiana homeowner where modern kitchen configuration was an important focus.
The main kitchen and caterer's kitchen reflect the thoughtful design that celebrates the client's love of cooking and entertaining. We are so pleased that Bentwood custom cabinetry helped facilitate this team's creative vision.
Another great project to celebrate— Cheers!
Find Modern Kitchen Inspiration Near You
Summary
Article Name
Modern Elegance on the Bayou
Description
Explore our latest dealer showcase in Shreveport, Louisiana. See how Bentwood and The Cottage collaborated on this modern, multi-kitchen home!
Author