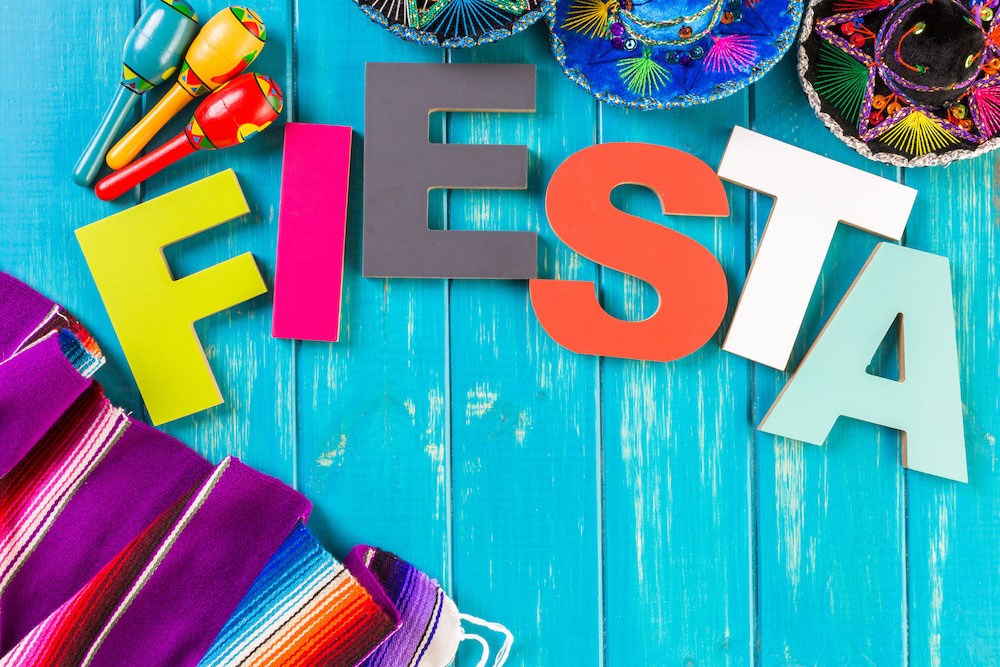 At Bentwood Luxury Kitchens, we love to cook and entertain as much as our clients and industry friends.  With Cinco de Mayo fast approaching, we are inspired by the beautiful foods, flavors, and passion of Mexican cooking. So, sharing some tasty Cinco de Mayo recipes seems like the perfect way to kick off the Fiesta—Olé!
When we think of Mexican food, Rick Bayless is the shining star —chef, restaurateur, tv cooking personality, author, philanthropist, and all-around foodie giant in the world culinary scene. Driven by his passion for tasty Mexican food—from fine dining to tacos—his recipes are 'best in class'. If you have had the pleasure of dining in one of his restaurants, grabbing 'Frontera to go', or bringing home one of the many Frontera grocery items, you understand.  Below, we are sharing some classic recipes that you can put 'your own riff on' as Chef Bayless would say.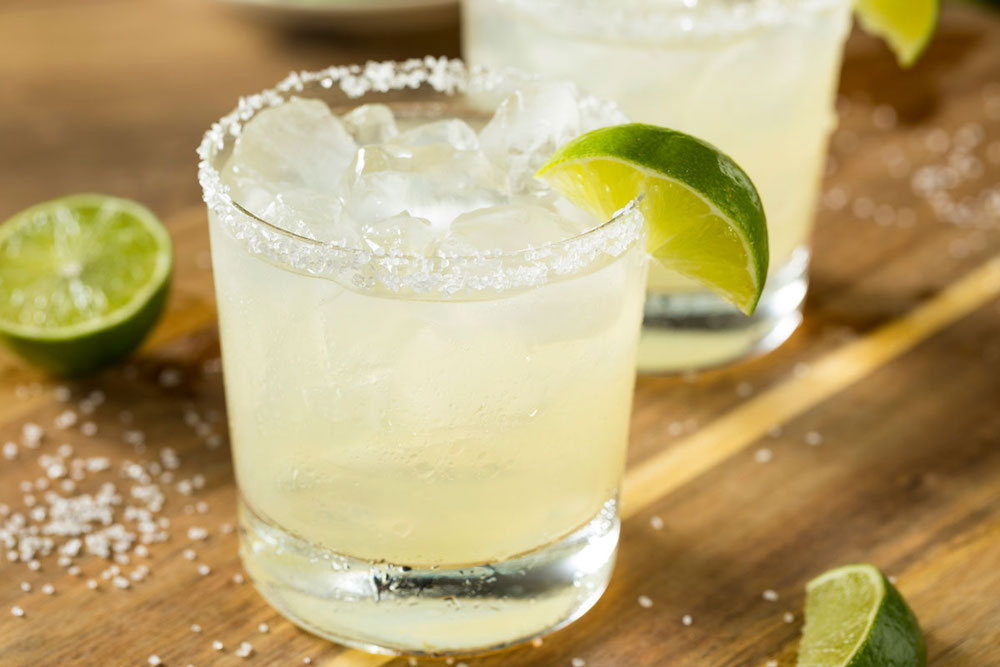 Of course, we need the best Margarita recipe to start things off, and this one's always a winner! In addition to the classic, there are many refreshing margarita varieties to explore going into Summer. For more ways to cool off, try Sangrias, Mexican Beers with Lime wedges, and Agua Frescas for the kids. For Cinco de Mayo, we've got you covered with Chef Bayless' Top-of-the Line Margarita.
Recipe: Food Network
Ingredients
Lime wedges
Coarse salt
1/4 cup fresh lime juice, about 1 large lime
1/4 cup silver 100% agave tequila
1/4 cup orange liquor
1/2 cup coarsely cracked ice cubes
Instructions
Rub the rims of 2 martini glasses with a lime wedge, then dip the rims in a dish of course salt. Refrigerate the glasses if desired.
In a shaker, combine the lime juice, tequila, and orange liqueur. Add ice and shake 10 to 15 seconds, then strain into the prepared glasses.
Classic Starters for Your 'Frontera' Fiesta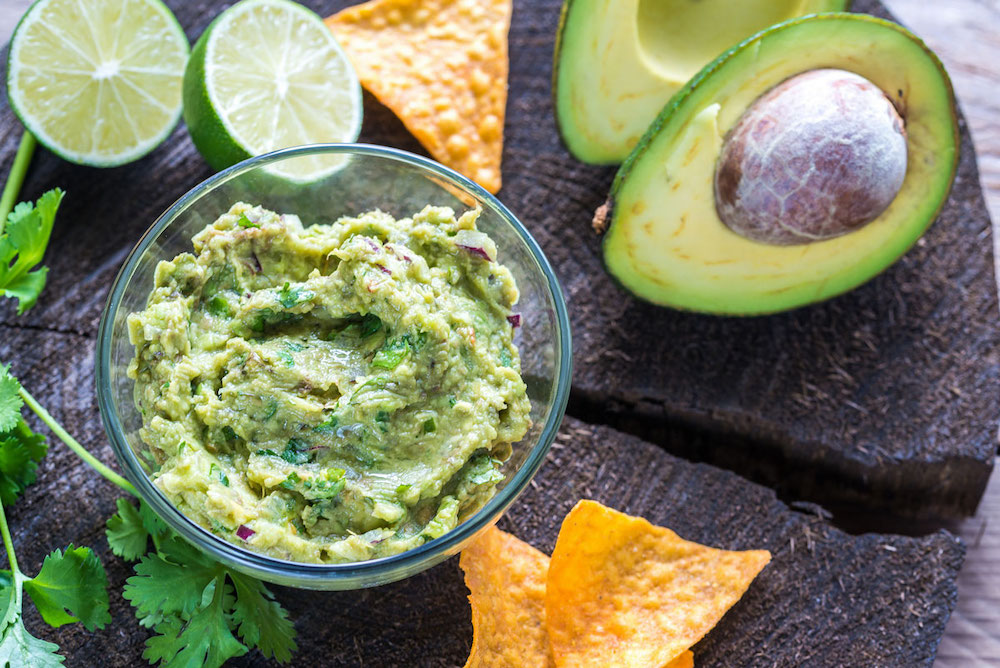 When it comes to Cinco de Mayo recipes, crunchy corn chips are often all that's needed to go with colorful guacamole and salsa. Just make sure your chip is thicker and up to the dipping task—white, yellow, blue, and red varieties are all very tasty. For Guacamole and Salsa recipes, fresh ingredients are essential for delicious clean flavors to come through. The best in class guacamole recipe is just perfect in 'simple' form or can elevate to 'luxurious' depending on your menu.
Here is Chef Bayless's simple guac recipe, sure to please everyone:
Recipe: Rick Bayless
Ingredients
2 to 3

garlic cloves, peeled

Fresh hot green chiles to taste

(

I'd choose 2 serranos), stems removed

3

avocados,

preferably the black-skinned Hass

A couple of

tablespoons

Fresh Mexican herbs

(such as cilantro, pipisa or papalo)

1

small

white onion (fresh knob onion—green tops still on—is best), finely chopped

Salt

2

tablespoons

fresh lime juice

A

little

crumbled Mexican fresh cheese

(queso fresco) for garnish

A

sliced radish or two for garnish
Instructions
Finely chop the garlic and green chiles, and scoop them into a bowl.
One at a time, run a knife down through each avocado, starting at the top, until you reach the pit; continue cutting around the pit until you reach the point you started.
Twist the two halves of the avocado apart. Remove the pit and discard. Scoop the flesh into the bowl with the chiles. Mash coarsely with the back of a spoon or an old-fashioned potato masher.
Add the herbs and onion, stir to combine, then taste. Season with salt (usually about a teaspoon) and lime juice. Scoop into a serving dish and garnish with cheese and radishes.
One of our favorite Salsa recipes is the 'Smoky Chipotle Salsa with Pan-roasted tomatillos' full of smokey flavor, but not overpowering. If you have a crowd over, extend your appetizer offerings to also include Quesadillas, sopes and another variety of salsa.
Recipe: Rick Bayless
Ingredients
3

large

garlic cloves, unpeeled

8

ounces (5 to 6 medium)

tomatillos, husked and rinsed

3 to 4 

canned chipotle chiles en adobo

, stemmed OR 2 tablespoons blended canned chipotle chiles en abobo

Salt

, about 1/2 teaspoon
Instructions
On a heavy, ungreased skillet over medium heat, roast the unpeeled garlic, turning occasionally, until blackened in spots and soft, 10 to 15 minutes. Cool, slip off the papery skins, then roughly chop.
Lay the tomatillos on a baking sheet and place about 4 inches below a very hot broiler. When the tomatillos blister, blacken and soften on one side, about 5 minutes, turn them over and roast the other side. Cool completely on the baking sheet.
Scrape the tomatillos (and any juices that have accumulated around them) into a food processor or blender and add the garlic, chipotle and salt. Pulse until everything is coarsely pureed.  Transfer to a serving bowl along with enough water (usually 3 to 4 tablespoons) to give the salsa an easily spoonable consistency.
Main Entrees That Go Way Beyond Taco Tuesday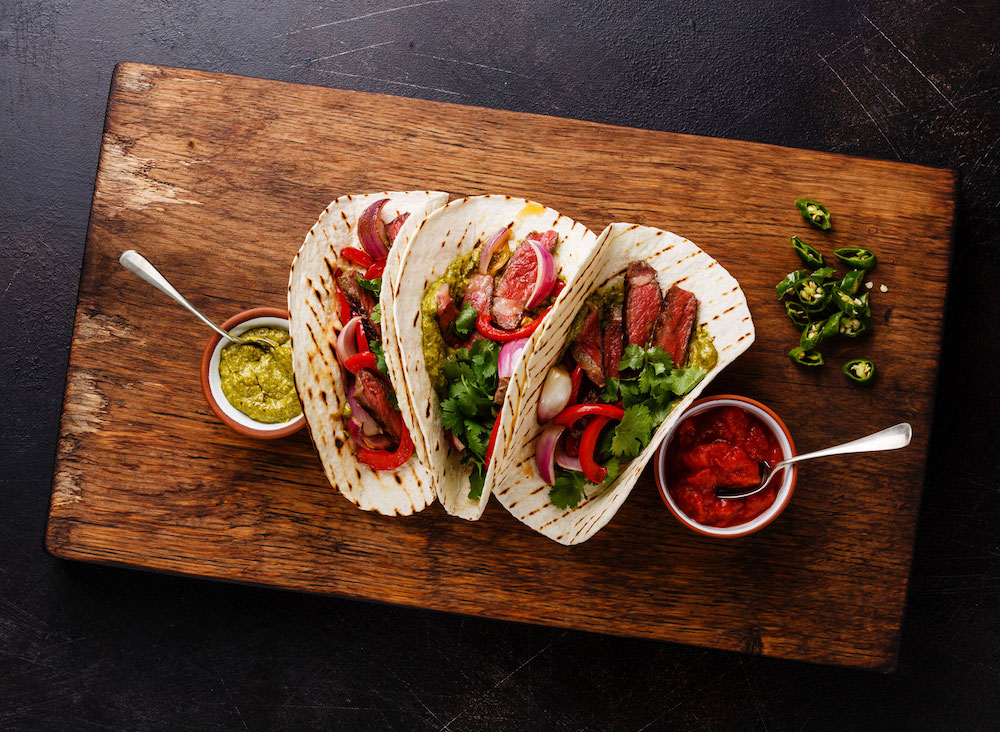 This is a great excuse to try something beyond the 'Gringo' taco that will delight your guests. Both of these recipes were featured on Chef Bayless's 'Taco Tuesday' Series. Take a look at the videos and recipes below; we think you will be inspired and might possibly come away with new winning Cinco de Mayo recipes!
Chipotle Skirt Steak Taco with Smokey Tomatillo Salsa
Recipe: Rick Bayless
Ingredients
One

7-ounce can

chipotle chiles en adobo

1

pound

skirt steak (thinner "outer" skirt steak is most tender-it should already be trimmed of the exterior white membrane and surface fat)

1

large

white onion, sliced into rounds about 1/2-inch thick

3

tablespoons

vegetable or olive oil (divided use)

Salt

12

warm

corn tortillas

3/4

cup

Smoky Tomatillo Chipotle Salsa

, for serving
Instructions
Heat a gas grill (or grill pan) to medium or light a charcoal fire and let it burn until medium hot. Scrape the can of chiles with its canning sauce into a food processor or blender and process until smooth to make a quick marinade. Use a brush to coat the steak with the marinade. (Cover and refrigerate the remainder for up to several weeks to flavor other preparations.) If your grill grates aren't well seasoned, spray or brush both sides of each steak with a little oil.
Lay the steaks on the hottest part of the grill and, after a few minutes depending on the temperature and thickness of the steaks, use a pair of tongs to check if the meat is ready to flip: it should have released itself from the grill and have rich brown grill marks. Flip the meat and cook the other side until as done as you like: about 3 minutes per side for medium skirt steak. The meat will be juiciest if you let it rest in the oven for 5 to 10 minutes on a wire rack over a plate.
Spray or brush the onions with oil and sprinkle with salt. Lay them on the grill and cook, turning them from time to time, until richly golden and soft, about 10 minutes.  Remove to a cutting board and cut each round into quarters.
Cut the skirt steak into roughly 3-inch lengths, then cut each piece across the grain into ¼-inch strips. Toss the meat with the onions. Taste and season with salt, usually about 1 teaspoon. Serve with the warm tortillas and salsa for making soft tacos.
Roasted Red Pepper Salad with Chorizo Dressing
Recipe: Rick Bayless
Ingredients
1 1/4

pounds

large fresh peppers (I like a mixture of 1 large poblano and 2 medium red bell peppers)

1/4

cup

(4 ounces) fresh Mexican chorizo sausage, casing removed

2

garlic cloves, peeled and finely chopped

2/3

cup

vegetable oil, olive oil or a mixture of the two

1/4

cup

cider vinegar

1

teaspoon

crumbled dried Mexican oregano

1/2

teaspoon

salt

1

small

red onion, thinly sliced

12

fresh

corn tortillas OR 12 large leaves of Boston/butterhead lettuce or bibb lettuce)

1/2

cup

freshly grated Mexican queso añejo

or other dry grating cheese, such as Romano or Parmesan, for garnish
Instructions
Roast the peppers over an open flame or 4 inches below a broiler, turning regularly until blistered and blackened all over, about 5 minutes for an open flame, about 10 minutes under the broiler. Place in a bowl, cover with a kitchen towel, and let cool until handleable.
In a small skillet over medium heat, cook the chorizo, stirring and breaking up the clumps until the sausage is browned, 8 to 10 minutes. Add the garlic, stir for a minute longer, then scrape into a pint jar (or other container), leaving behind as much fat as possible. Add the remaining ingredients, secure the lid and shake until smooth. Taste and season with additional salt if you think necessary. (You should have about 1 cup of dressing.)
Rub the blackened skin off the chiles, pull out the seed pod and rinse briefly to remove bits of skin and seeds. Cut the chiles into ¼-inch strips and place in a bowl along with the onions. Shake the dressing to thoroughly combine, then drizzle the pepper mixture with about 1/3 cup of the dressing. (If you want to use this as a warm dressing as is common for spinach salad, microwave uncovered for 15 to 20 seconds.) Taste and season with salt, usually about ¼ teaspoon.
Serve with fresh warm corn tortillas. Or for a lighter dish, arrange a few lettuce leaves on each of 4 small plates instead of the tortillas. Scoop a portion of the pepper mixture in the center. Shake the dressing well and drizzle a little over the lettuce. (Cover and refrigerate the remaining dressing for another salad.) Sprinkle the tacos with the cheese and they're ready to eat.
Homemade Sides that are Meal Makers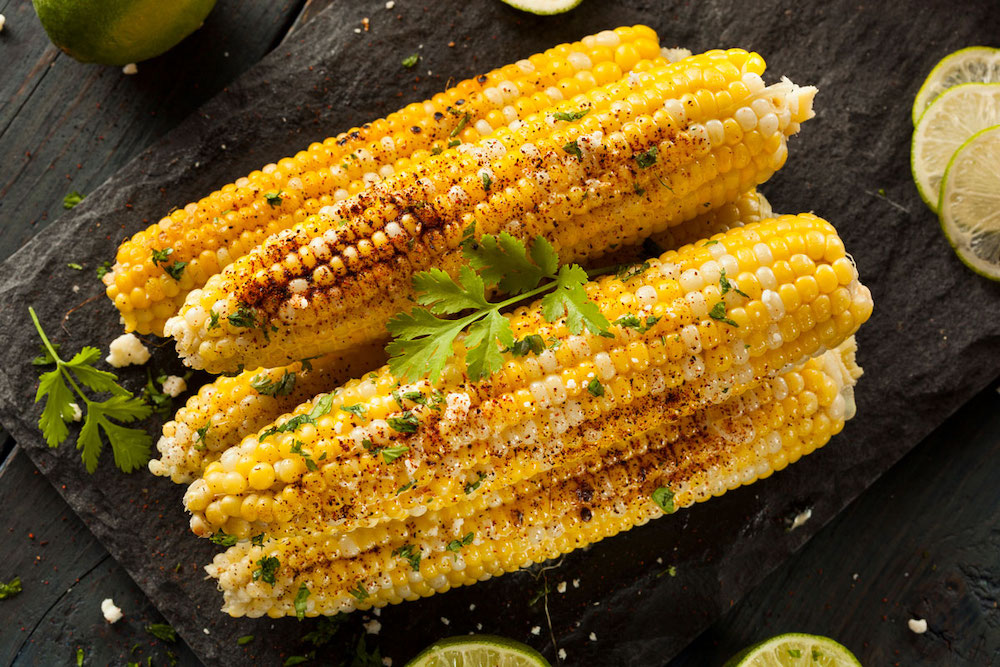 Grilled Corn with a Twist
There's nothing like a fiesta outside with food on the grill, and grilled vegetables are equally as scrumptious as grilled meat! Check out this grilled corn with a twist recipe, which can actually be prepared ahead until ready for grilling. This may become a new favorite recipe for the Summer grilling season!
Recipe: Rick Bayless
Ingredients
1

8-ounce package large

dried corn husks

12

ears

sweet corn, husks and silk removed

1

gallon

brine mixture (see Testing Notes)

1

cup

Mexican crema,

sour cream or creme fraiche

1/2

cup

Mexican queso anejo

or other grated garnishing cheese like Romano or Parmesan

1/4

cup

ancho or guajillo chile powder

2

limes, cut into wedges
Instructions
Place the husks in a large bowl and cover with very hot water. Weight them down with a plate to keep them submerged, and let stand for a couple of hours until the husks are pliable.
Place the cleaned ears of corn into a container along with the brine and let sit for several hours while the corn husks are softening. (You can choose to skip this step, but in addition to adding moisture to the corn, it's also seasoning it.)
Heat the grill to high. Remove the corn from the brine and grill about 6 minutes, turning occasionally until the corn is lightly charred on all sides. Remove from the grill and let cool. Cut the corn kernels off the cobs. If you've skipped the brining step, you'll need to season the corn with salt.
Drain the husks, lay out 12 of the largest ones for wrapping the grilled corn. Use several of the remaining corn husks to tear into 1/4-inch strips for tying the corn packages. You'll need 24 strips. Scoop 3/4 cup of grilled corn into the middle of each of the 12 husks. Fold the side closest to you over the mound of corn to cover it. Take the opposite side and bring it up and over to seal the package. Twist and tie off both ends using the corn husk strips you prepared. If you're preparing them ahead, arrange them on a tray and wrap tightly with plastic wrap. Place them in the refrigerator.
When you're ready to serve, place the corn packages on the grill over medium heat. Cook for 4 minutes, turn them over and cook for another 2 to 3 minutes or until the corn is hot. Remove them to a platter, slit the packages open and pass the crema, cheese, chile powder, and lime around so that each of your guests can add the toppings of their choice.
Testing Notes: To make the brine, combine 1 gallon cold water with 1/2 cup salt and 1/2 cup of sugar. Stir to combine. Soak the ears of corn in this brine for at least 30 minutes up to 8 hours. This not only seasons the corn, but also provides extra moisture, so that the corn can stand up to the heat of the grill. This method was developed by the Cook's Illustrated Test Kitchens and originally aired on their Cook's Country TV show.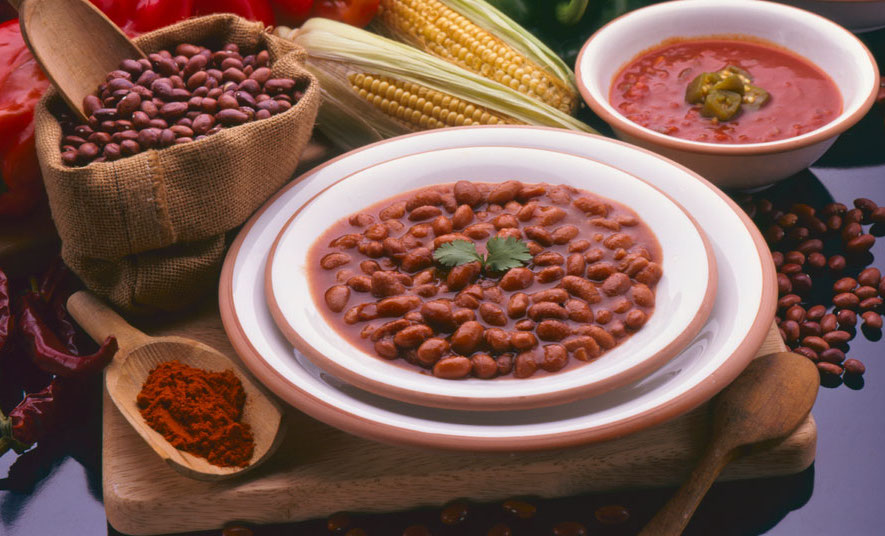 With a little preparation, you can have an easy side dish full of flavor to complement your Main Course. Home Cooked Beans can be prepared low and slow on the stove top or in a pressure cooker for quick cooking. Always delicious and healthy, recipes for beans make enough to incorporate into several meals. Or, you can turn the beans into a full meal with some on-hand ingredients.
Recipe: Mexican Everyday Cookbook by Rick Bayless
Ingredients
1 pound (about 2 1/2 cups) dried beans (any Phaseolus bean will work, from white navies to reds and blacks —I'm not talking about lentils, garbonzos or favas here)

2 tablespoons rich-tasting fresh pork lard, vegetable oil or bacon drippings

1 medium white onion, roughly chopped

1 large sprig fresh epazote or 2 fresh or dried avocado leaves if cooking black beans (optional)

Salt
Instructions
Spread the beans on a baking sheet and check for stones, dirt clods or anything else you wouldn't like to eat. Scoop into a colander and rinse. If using a slow-cooker, first pour the beans into a medium-large pot, pour in 2 quarts of water and bring to a rolling boil over high heat; then pour into the slow-cooker. For stove-top, pour the beans into a medium-large (4- to 6-quart) pot or a pressure cooker. Pour 2 1/2 quarts water into the pot or 2 quarts into the pressure cooker. Add the lard (or oil or bacon drippings), onion and, if using, the epazote or avocado leaves. (For best flavor, lightly toast the avocado leaves in a dry skillet.)
For the slow-cooker, allow at least 6 hours on high for the beans to become tender, though you can leave them cooking for up to 10 hours. For the pot, bring to a boil on high, then partially cover (unless you're using an earthenware Mexican bean pot) and reduce the temperature to low (the liquid should show a barely discernible simmering movement); the beans should be tender in 1 1/2 to 2 1/2 hours, depending on the variety and their freshness. You may need to replenish some of the water during stovetop cooking to keep the beans floating freely. For the pressure cooker, follow the directions that came with your model; in mine, cooking takes 25 minutes.
When the beans are tender, stir in 1 1/2 teaspoons salt and simmer for a few minutes longer. Taste and season with additional salt if you think the beans need it. Remove the epazote or avocado leaves, if using, and the brothy beans are ready.
Cooking Notes and Ideas:
Mexican cooks don't soak beans because they know that throwing out the soaking liquid isn't a very good idea. It doesn't do much to make them more digestible (only a steady diet of beans helps with that), and it makes the beans turn out pale in color and flavor
Cut 1 1/2 to 2 pounds of boneless pork shoulder roast into 1-inch cubes. Spread on a baking sheet and slide close up under a hot broiler. In about 5 minutes, when the meat is brown, turn over and brown the other side. Transfer to a slow-cooker or large pot. Prepare the recipe as described, with the addition of the meat. Serve in deep bowls with salsa, a salad and warm tortillas.
Something Sweet, ¡Por Favor!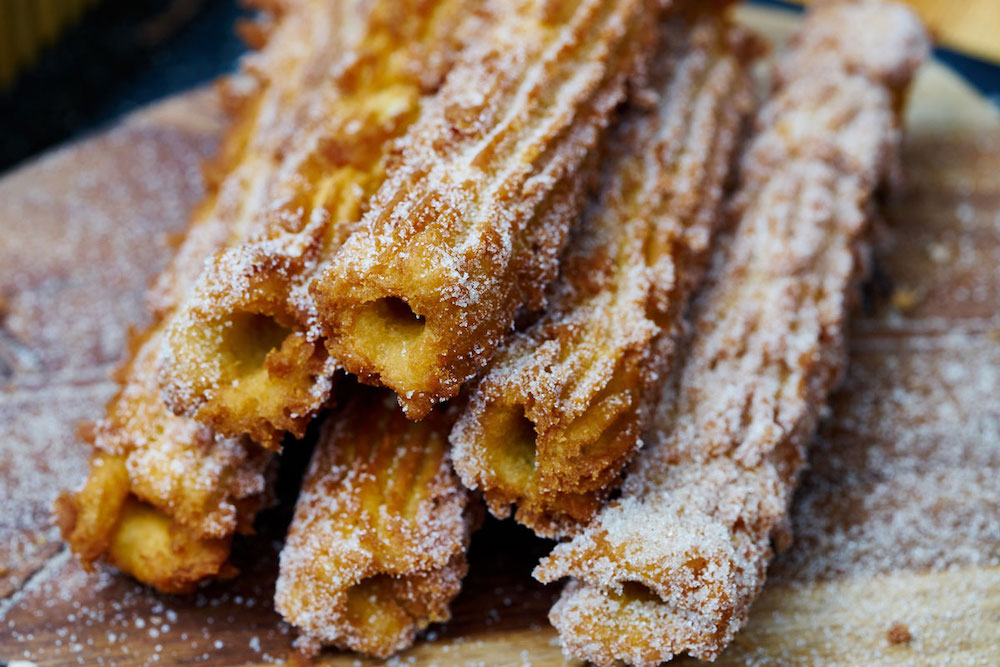 Churros and Chocolate Sauce
For dessert, there are so many great recipes to choose from. But if you have ever enjoyed a freshly made, sugary churro with chocolate sauce, you know why we are sharing this recipe. In Chicago churros are on display at the Bayless XOCO Cantina and very hard to pass up, especially with the Mexican chocolate sauce—the recipe is below! (Fair warning: you might not want to share these– they are that good).
Recipe: Rick Bayless
Note: If you love churros but don't have a churro press or cookie gun to make the traditional shape, make them like gnocchi and call them "churro bites." Roll a portion of your dough into a rope with a ¾-inch diameter. Cut it across into ¾-inch pieces. Roll the tines of a fork lightly back and forth across one side of each piece, leaving indentions that are about 1/8 inch deep, somewhat imitating churro ridges. Fry as directed in this churro recipe, recognizing that these churro bites will cook much more quickly.
Make ahead: The churro dough (Step 1) can be prepared up to several hours before frying; cover it and leave at room temperature. If you can't fry the churros just before eating, warm them for 3 or 4 minutes in a 350 degree oven, but always serve them warm.
Ingredients
2

tablespoons

 

vegetable oil

1 

tablespoon

 

sugar, plus 2/3 cup to roll the churros in

Vegetable oil

 

to a depth of 1 inch, for frying

1

cup (4 1/2 ounces)

 

all-purpose flour

1/2 

teaspoon

ground cinnamon, preferably Mexican canela 

(optional)
Instructions
Make the dough. In a medium-small (2-quart) saucepan, combine the oil, 1 tablespoon sugar and ½ teaspoon salt with 1 cup water.  Set over high heat and bring to a boil, stirring occasionally.  Remove from the heat and add the flour all at once, stirring vigorously until the mixture forms into a thick, smooth-textured ball.  Let cool in the pan
Frying the churros. When you're ready to eat the churros, heat the oil in a large pan (my preference for ease and consistency of temperature is a heavy pan or cast-iron skillet that's about 9 inches across and 3 inches deep) over medium to medium-high. to about 375º (the oil will shimmer on the surface and smell like hot oil).
Scoop the dough into a churrera, a cookie press fitted with a 3/8-inch fluted opening or a heavy-duty (canvas-type) pastry bag fitted with a 3/8-inch star tip.  Holding your pressing apparatus a few inches above the hot oil, press out a 5-inch length of dough (the end will dangle into the oil), then pull it free from the press with your fingertips. Cook this one churro, turning occasionally, until it is deep golden brown, about 2 to 3 minutes if the oil temperature is right.  Remove it to drain on paper towels, let it cool a minute, then break it open to check for doneness—it should be just a little soft inside (but not doughy).  Too low an oil temperature and the churros will take a long time to color, usually bursting apart before they're brown; too high a temperature and they'll brown quickly but not cook through.
Press out and fry the churros 4 or 5 at a time, draining each batch on paper towels.  Spread the 2/3 cup sugar over the bottom of a baking pan and mix in the optional cinnamon.  Roll the churros luxuriously in the sugar mixture while they're still warm.  They're ready to enjoy.
Mexican Chocolate Sauce for Dipping
Recipe: Rick Bayless
Ingredients
1

cup

 

cream

3

tablespoons

 

agave syrup or corn syrup

4

ounces

 

bittersweet (60% to 70%) chocolate, chopped into small pieces

2

discs

 

(about 3 ounces) high-quality Mexican chocolate, chopped into small piece

½

teaspoon

 

ground Mexican cinnamon (canela)

¼ to ½ 

teaspoon

 

salt

1

teaspoon

 

pure vanilla extract

1

teaspoon

 

ground ancho chile (optional)
Instructions
In a small saucepan, bring the cream and syrup to a full simmer over medium heat. Turn off the heat and immediately add the two chocolates, cinnamon, salt, vanilla and optional ancho chile. Whisk until the chocolates are completely melted and the mixture is smooth.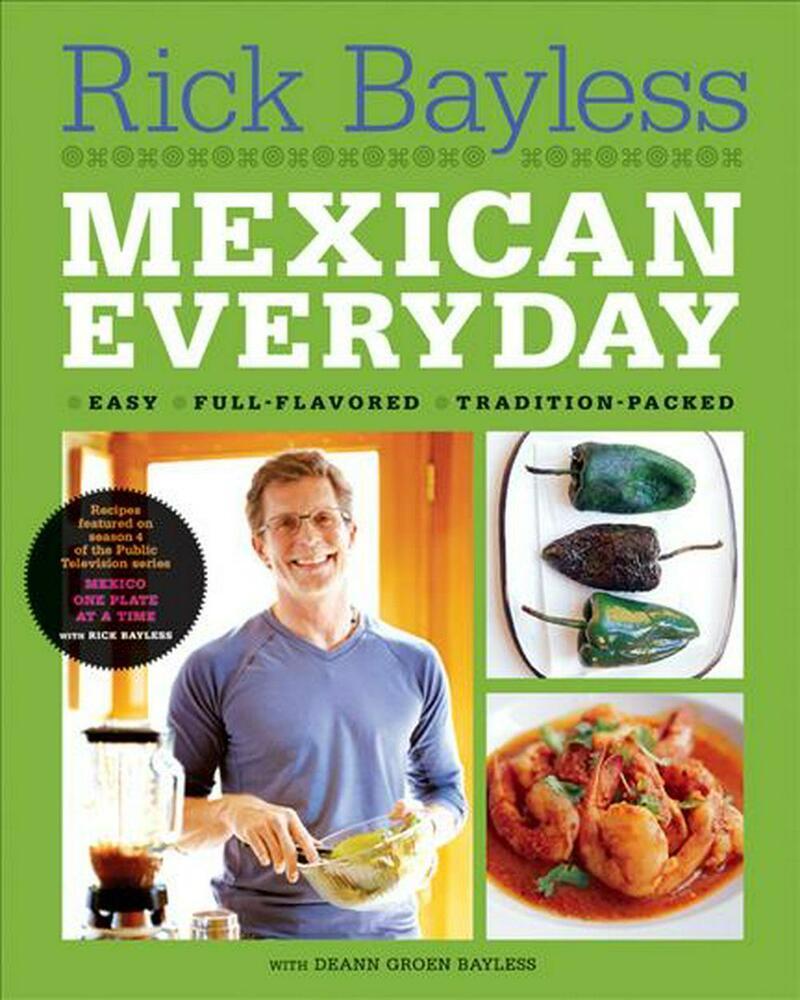 As Kitchen Designers we love to get creative in the kitchen, and with our recipes for Cinco De Mayo ready to go, we are looking forward to cooking up some delicious Mexican foods. Enjoy your own Fiesta with some new recipes that are fresh and beautiful for taking outdoors in the sunshine with friends and family.
Find Inspiration Near You
Already inspired to get cooking? Talk to one of our Bentwood Designers who can transform your kitchen into your own cooking sanctuary!
Click here to set up a personal consultation to explore the possibilities for your home. We'll connect you with a designer in your area and get started with your vision right away!
Not quite ready to begin a project? Look through our gallery to find inspiration and discover the beauty of Bentwood.
Summary
Article Name
Have Your Own Fiesta with Favorite Cinco De Mayo Recipes
Description
When we think of Mexican food, Rick Bayless is the shining star chef we love! We're sharing his favorite and seriously delicious Cinco de Mayo recipes.
Author