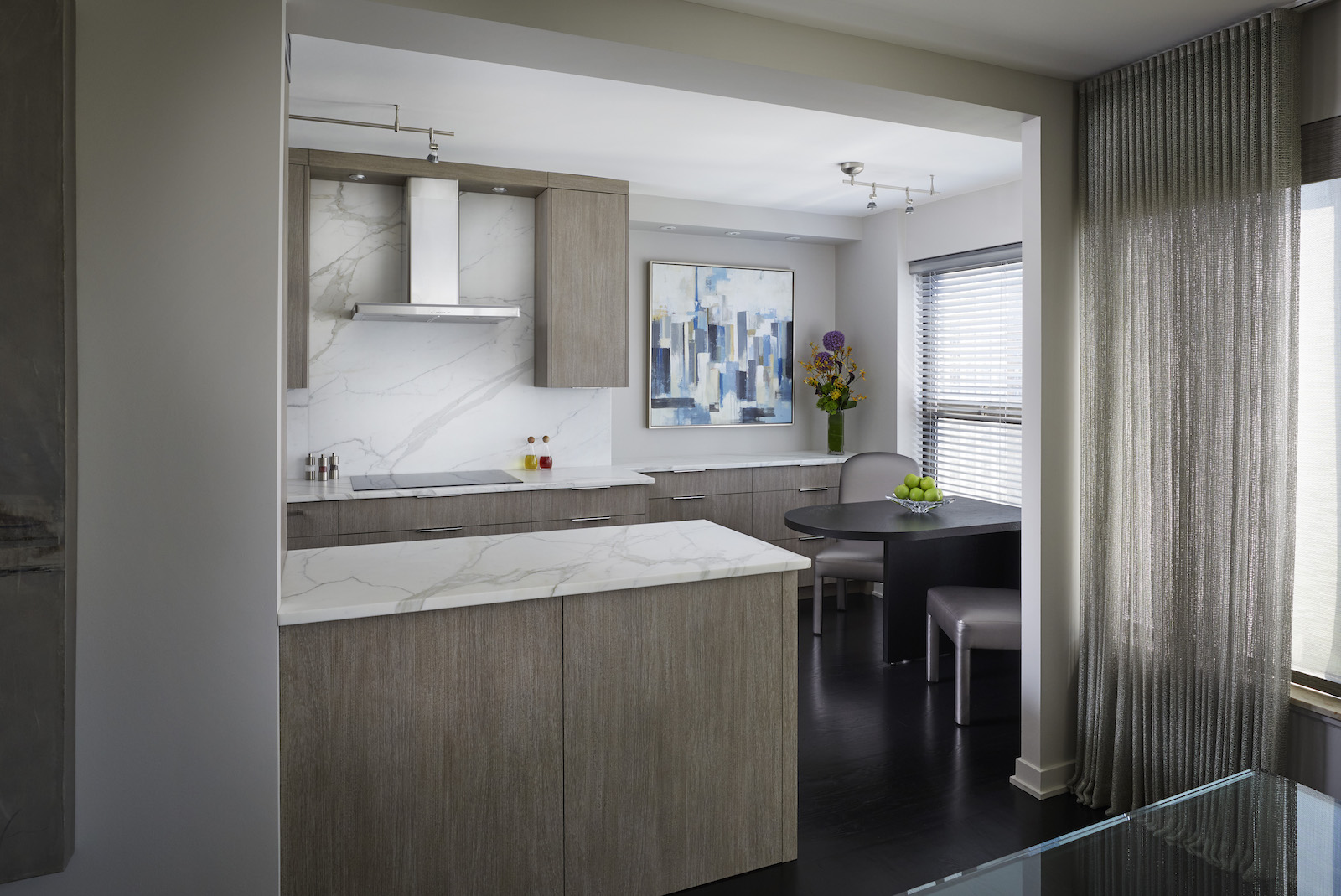 We are delighted to introduce one of our most recent Chicago personal design projects. Read below about the transformation of this stunning space in a luxury high-rise for this remodel project.
When she was ready to begin her project, our client's first call was to her longtime family friend, Interior Designer Maryellen DeBartolo. After visiting many showrooms at the Merchandise Mart, Maryellen and our client met Steve Karp, Bentwood Senior Designer at Bentwood of Chicago, and they knew that they had found the perfect design team for this unique project.
We are honored that she trusted us with her Gold Coast residence that had been in her family for years, making this project an extra special collaboration.
Making the Best Use of Space in a High-rise Remodel
Creating a modern design for an existing home always presents different challenges. But for this remodel, designing in an established high-rise building required knowing the restrictions and how to fuse creativity, functionality and an open floor plan to achieve the overall vision. We wanted to keep the client's style in mind, creating a polished look throughout that would be both contemporary and streamlined, while prioritizing elegance.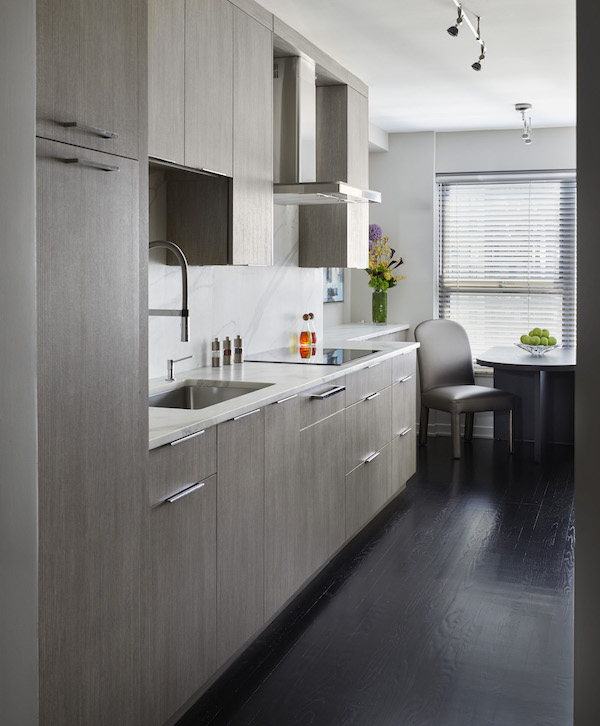 Working within the parameters of the space and the galley-style kitchen, fully integrated appliances were selected to give the kitchen a modern look while maximizing efficiency. To create additional room, we also extended custom cabinetry to the window to provide better storage for household supplies and paperwork.
Transforming a Historic Residence to a Modern Design
Our client already knew that she wanted to utilize black wood floors and Calcutta Gold Marble, so everything else was designed to complement these premium materials.
In the kitchen, the cabinetry material is engineered Italian laminate, which highlights the beautiful stone and dramatic floors. Special attention was given to the central peninsula, creating a spacious landing space, perfect for entertaining and kitchen conversation.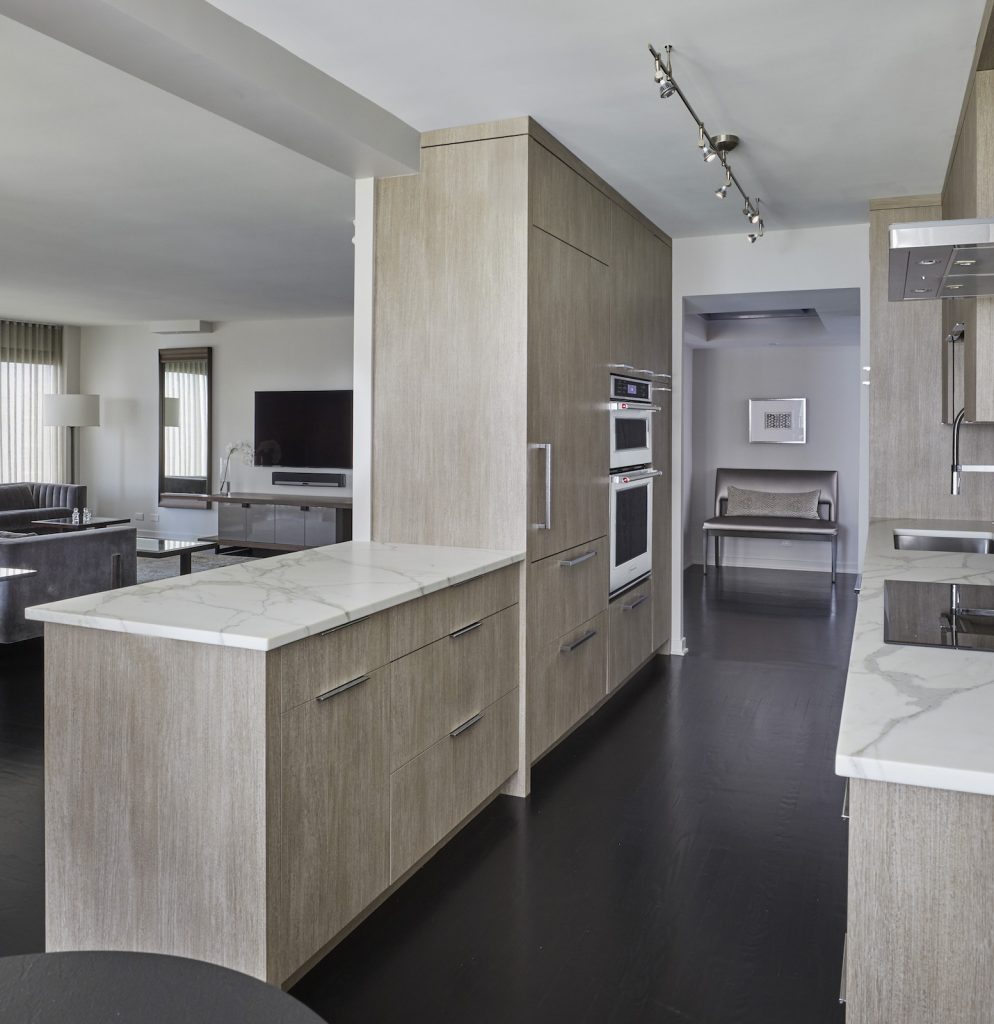 In the bathrooms, the custom cabinetry's dark color perfectly complements the eye-catching marble countertops and tile.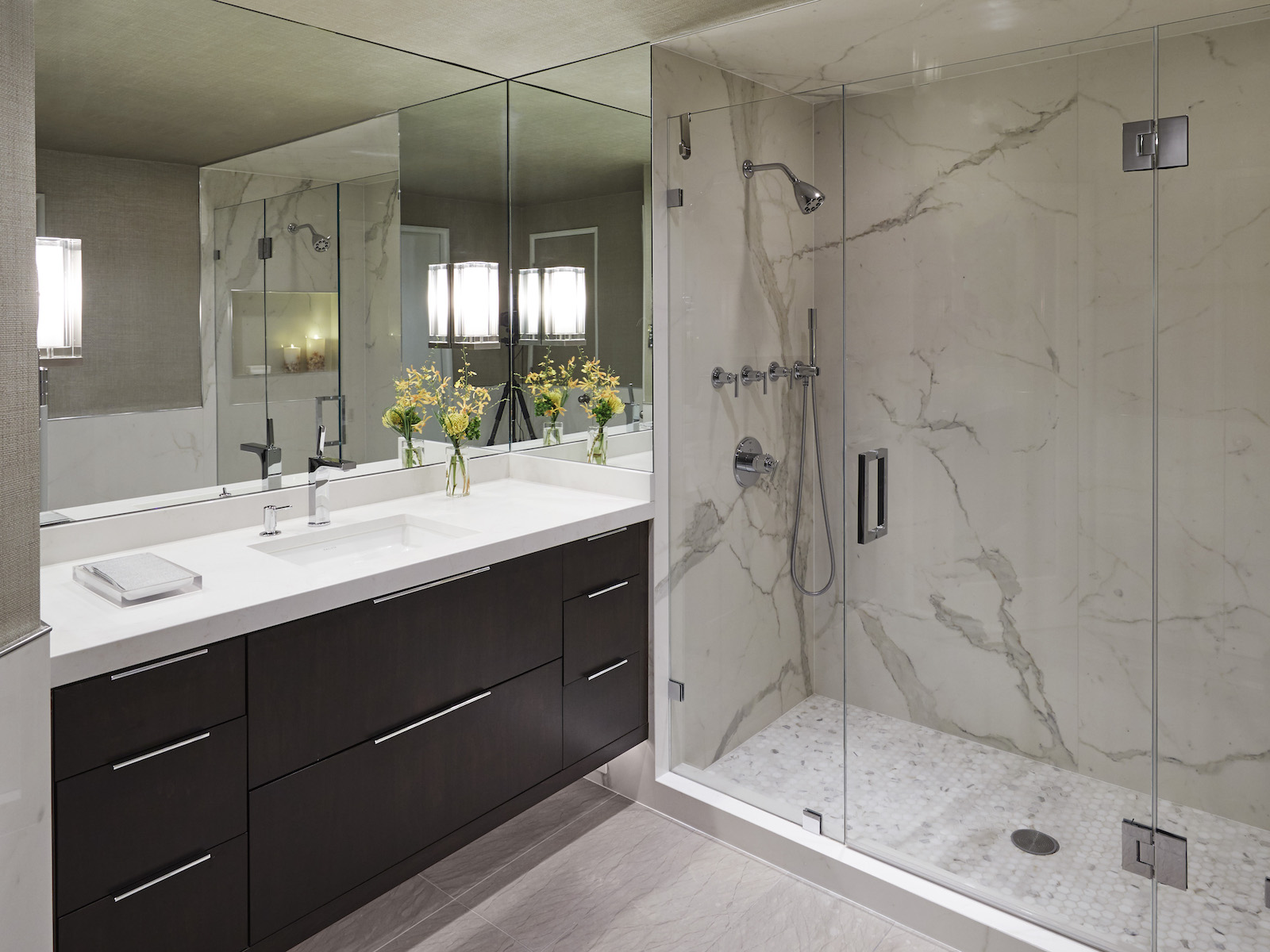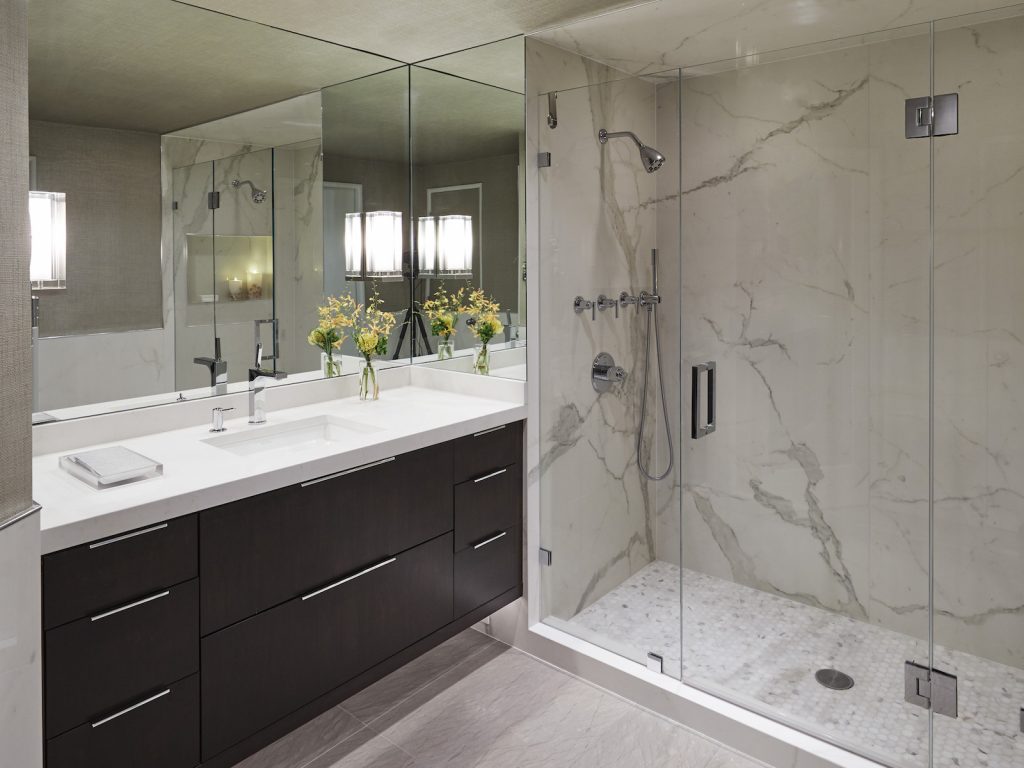 The Master Bath has great use of Calcutta Gold Marble in the shower, with elegant slabs on the walls and mosaics on the floor. The glass doors keep the design modern and streamlined.
The large custom vanity made of rift white oak and stained in dark finish contrasts beautifully with the Calcutta Gold Marble. A full custom mirror and decorative sconces allow for ample lighting. Plus the under cabinet lighting adds that dramatic elegance any girl would love!
In the Powder Room, we repeated the use of dark finish on the vanity. Like in the master bath, under cabinet lighting adds function and creates a unique ambiance.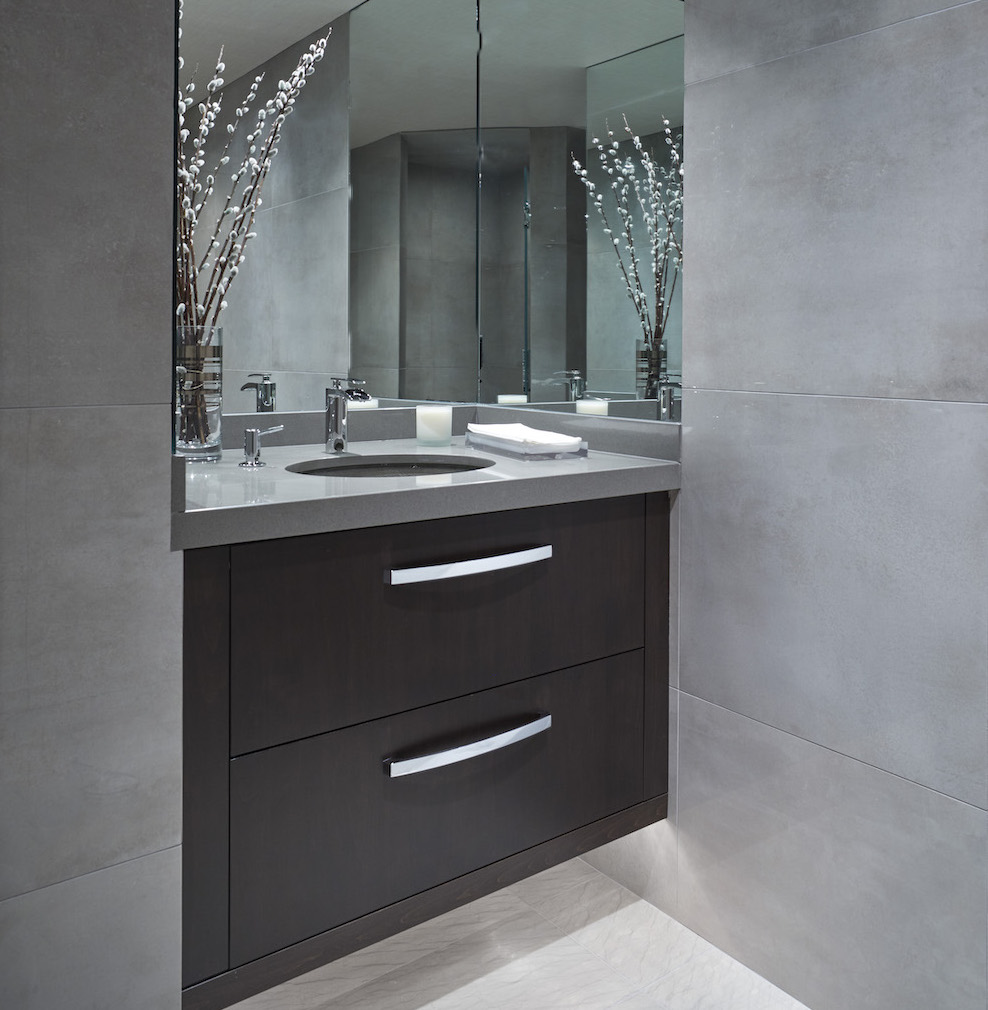 Bringing in the New While Honoring the Past
Although the Gold Coast address still hints at its historic roots, the end result was a total unit transformation of our client's home. A stellar example of modern-day elegance, this high-rise remodel stands out for its unique use of materials, and its metamorphosis from the past to present day luxury.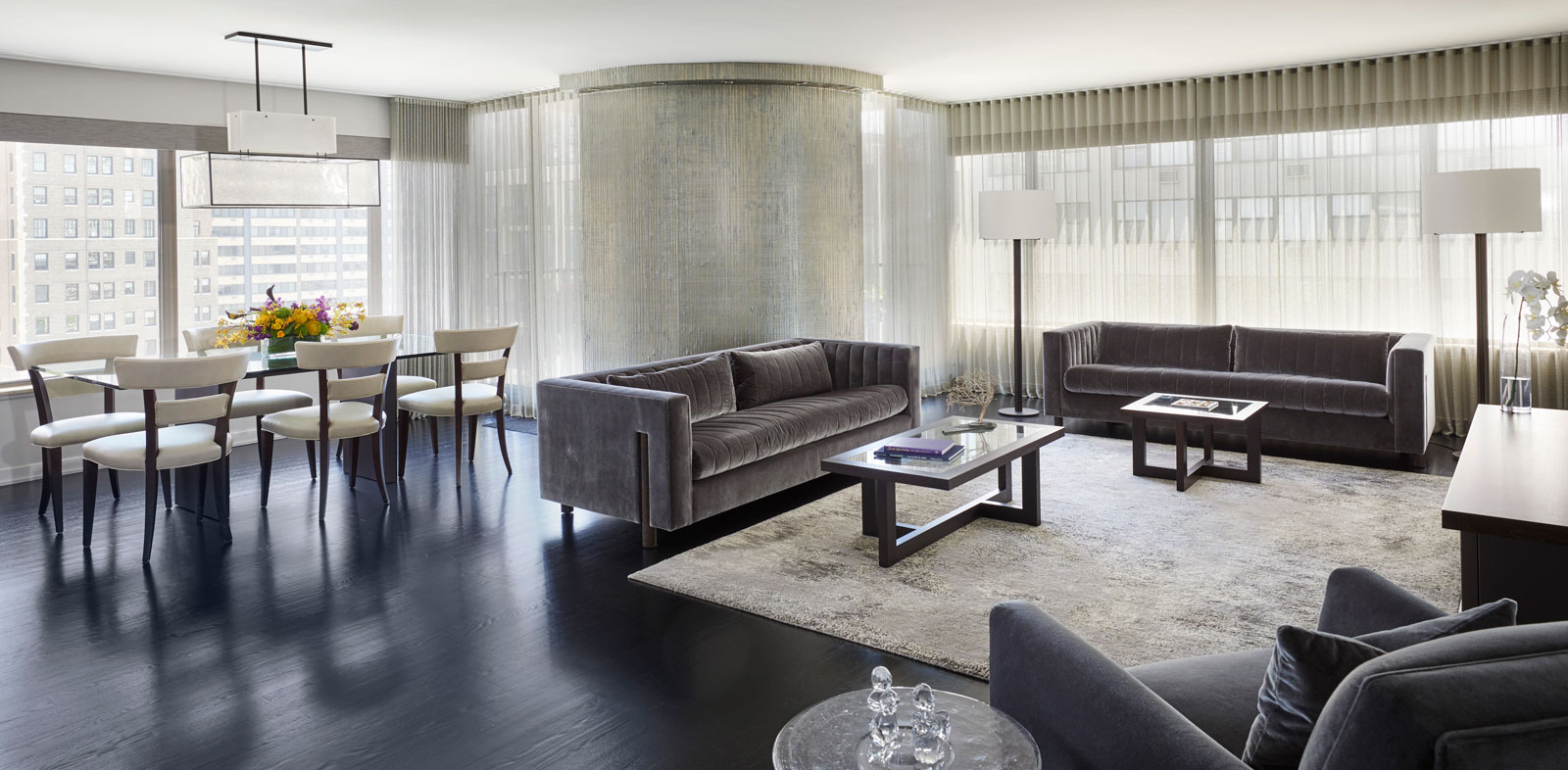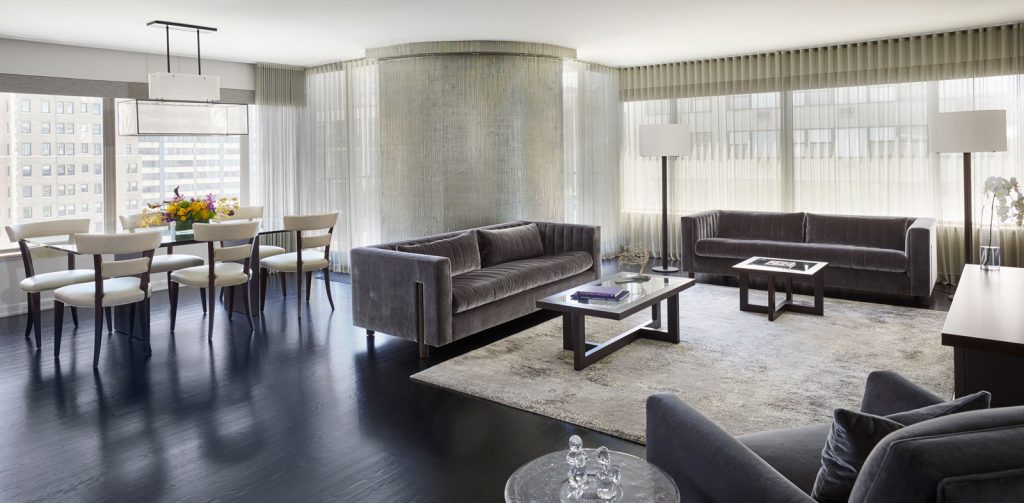 Find Inspiration Near You
Summary
Article Name
Modern Elegance for a Historic Gold Coast High-Rise Remodel
Description
We now highlight a project design story in Chicago. Read about this collaboration for a high-rise remodel on a luxury home in the gorgeous Gold Coast.
Author