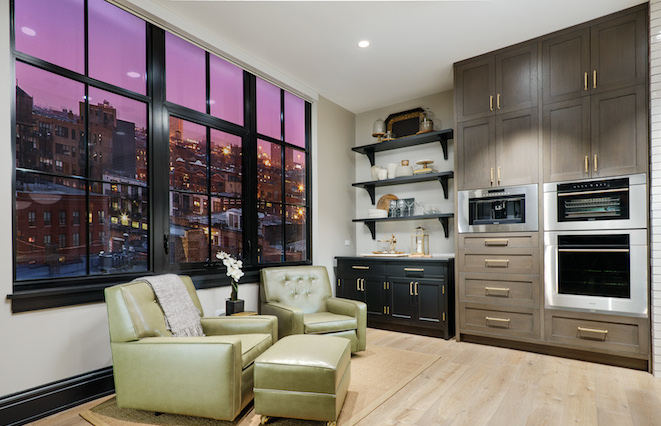 The luxury appliance industry has exploded with modern ranges, ovens, and cooktops, offering many configuration and finish options for today's residential buyers. So, when selecting what's right for your kitchen project, we have highlighted a few favorites we feel are worthy of consideration from today's top appliance manufacturers. Whether you have a small city loft, spacious family home, or a vacation get away, there is a winning combination of modern kitchen cooking appliances for how you live!

Wolf leads the pack in the luxury appliance industry, with an 80+ year history of American innovation and craftsmanship. Wolf is well known for its professional performance, longevity, and recognizable red knobs. With a wide selection of products, sizes and configurations, it is easy to find many options to consider for your new kitchen. Wolf is also the most popular brand in the restaurant industry!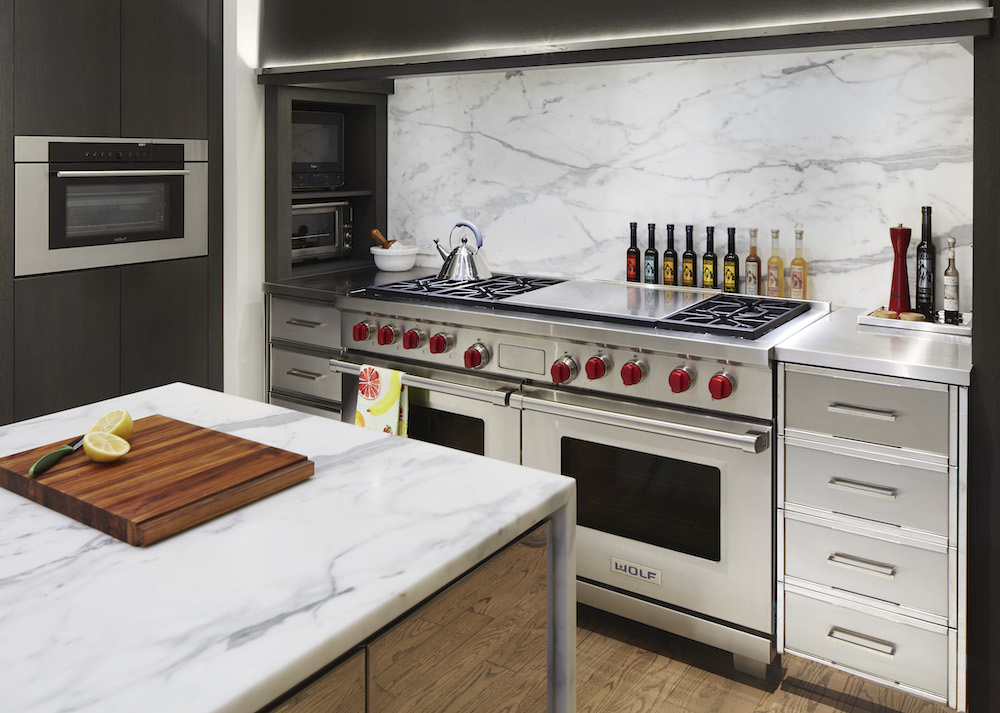 Wolf Dual Fuel ranges unite a gas range top (with professional-grade sealed burners) and an electric convection oven. The finesse of dual-stacked, sealed burners heat to cook at higher highs and lower lows. And the convection ovens control heat and airflow expertly for just the right cooking environment – for everything from Cornish hens to cherry pie. Finally, leaving nothing to chance, the temperature probe alerts you when your dish has reached the desired temperature for worry-free, delicious results.
Wolf Induction Range for Precise Stovetop Cooking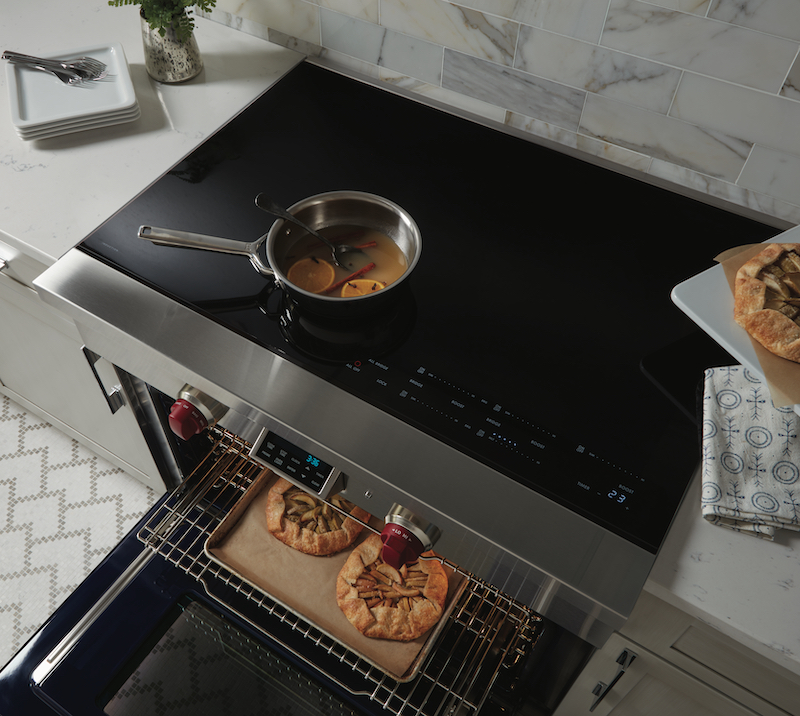 Meet Wolf's most efficient heat delivery system available in the The Wolf Induction Range. This cooktop generates a magnetic field that induces heat directly in the cookware, distributing heat more evenly than gas or electric. Achieve 40 percent faster boils and sears through a four-zone induction power-boost. For the Oven, delicious results are guaranteed with a variety of cooking modes including Convection Roast, Proof, and Dehydrate.
Convection Plus Steam Ovens
Engineered with a climate sensor, Wolf's convection plus steam ovens ensure flavorful results that are guesswork-free. These steam ovens provide the perfect environment of steam heat for vegetables, fish and rice, as well as traditional heating methods for crispy yet tender baked goods and main dishes. Say goodbye to dried out dishes and hello to healthy eating!
Too good to be true? See for yourself how easy oven-cooked ribs can be in the video below!

Made in America since 1880, BlueStar is a favorite brand of home chefs, as their motto invites you to 'unleash your inner chef'.
BlueStar is known for unparalleled function, high-caliber construction, and flexible product configurations. They are the king of color customization which includes more than 750 colors and finishes. Why not create a custom color for your new range and hood? How's that for personalizing your new kitchen!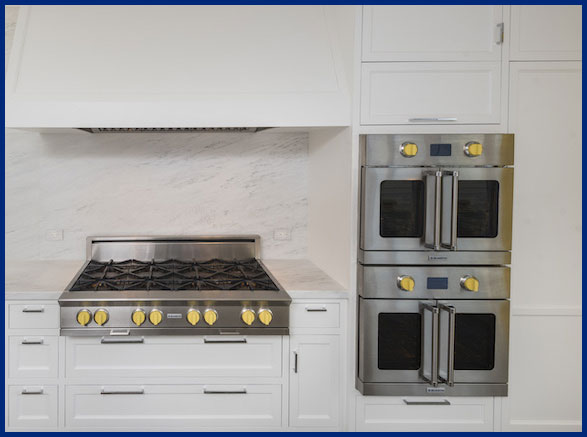 BlueStar: Home Chef Performance
BlueStar ranges have many custom options – just select your preferred model configuration, door swing, and color & trim finish. The cooktop features iconic star-shaped burners as shown below. The UltraNova™ burner provides 22,000 BTUs of cooking power, perfect for a rapid boil, high-heat sear, wok cooking, or precision sauté. Home chefs also love the 36″ oven that can hold a commercial size baking sheet!
Look at the stylish color options below! Your kitchen will be uniquely yours.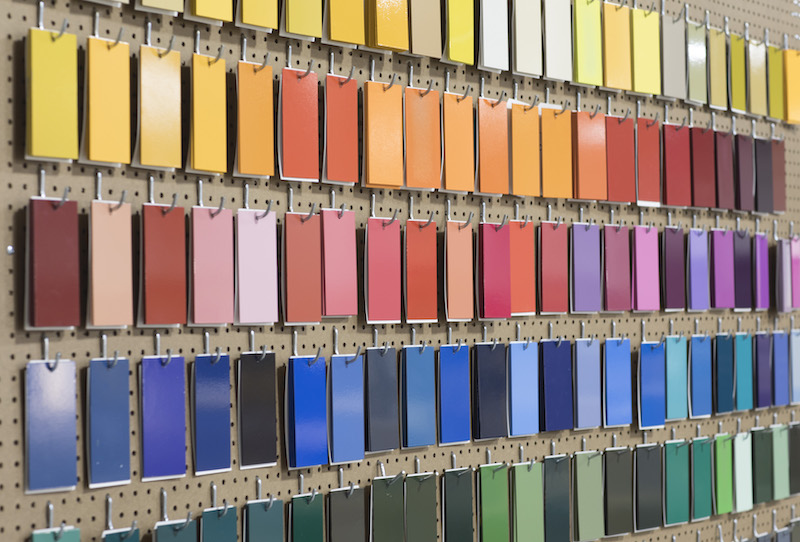 BlueStar cooktops offer model configurations just like the range, with the 8 burner a customer favorite. Other noteworthy features are the full motion grates, gentle 130 degree simmer burner, and removable, dishwasher friendly stainless steel drip trays. Cooktops are available in Natural or Propane gas. Looking for other options than gas? BlueStar has induction cooktops too! Check them out here.
BlueStar's Swing Door Ovens
With aging in place becoming an important part of kitchen design, the selection of door swings – from drop down, to swing, to French Doors – is a great option to consider. A side swing or French door is easier on the back and perfect for tighter kitchen configurations.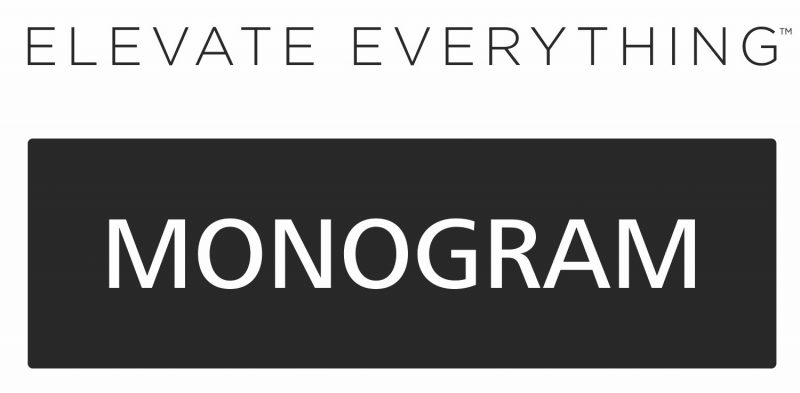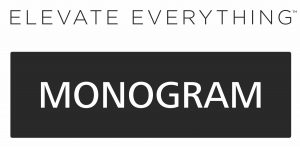 A relatively new arrival to the American luxury appliance market is Monogram, the premium line of GE.  Modern style, superior craftsmanship, and award-winning technology are getting attention in the marketplace. Their ranges, cooktops and convection ovens not only look beautiful, but provide a gourmet cooking experience. After all, their motto is "We are more than luxury appliances — Monogram is the experience. We're inspired by life and the way you live it."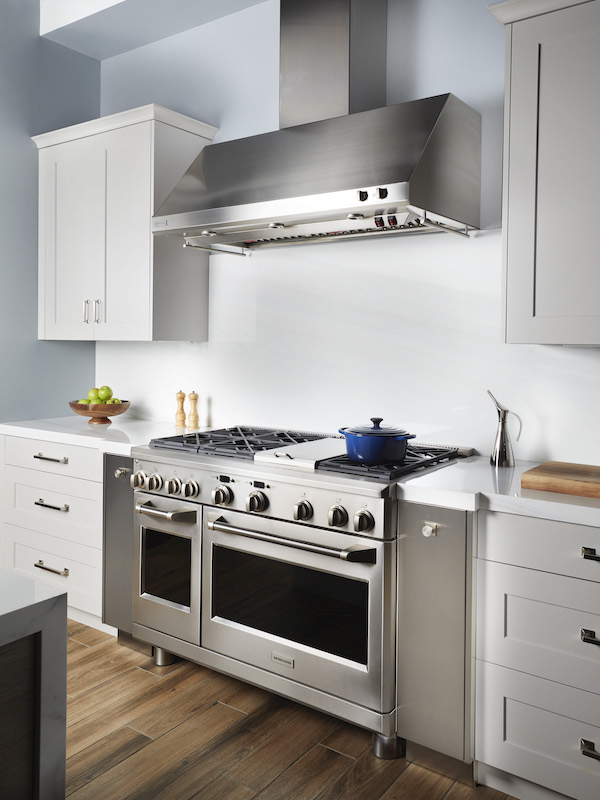 Monogram: Elevated Cooking
The Monogram Pro Range
Monogram ranges come in natural gas, liquid propane, or Duel Fuel options, as well as multiple design options that include specialized LED lighting, touchscreen controls, and heavy-gauge, premium-grade stainless steel construction.
Monogram French Door Oven
Inspired by commercial kitchen designs, the French door allows for one-hand opening of both doors at the same time. The 5.0 cubic foot capacity accommodates the largest meals, while True European Convection with Direct Air rotates heated air from the top of the oven and circulates it around food on all sides for uniform baking and roasting. See it here.
Monogram Induction Cooktops
Monogram induction cooktops are ideal for precision cooking techniques–the sous vide accessory is very impressive! Also featured are smartphone-inspired glide touch controls and griddle-compatible sync burners for restaurant-quality results in your kitchen. Induction cooktops are a perfect choice for high-rise living where gas appliances may not be an option.

Miele features German-engineered products that are renowned for their durability. In business for more than 120 years, Miele's appliances and ranges boast minimal energy consumption and timeless design. Every product is manufactured to the highest standard and testing. They live by the motto, "immer besser", or always improving.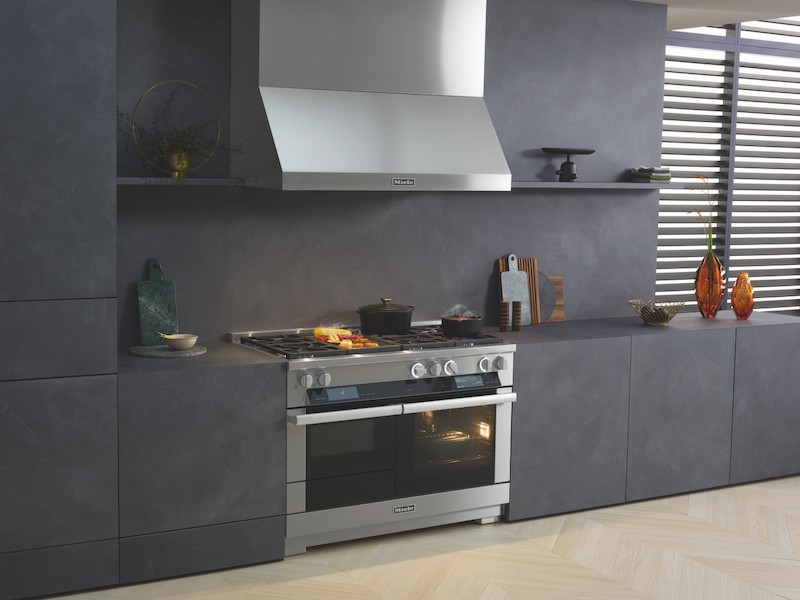 Miele: A Recipe for Precision
Miele Free Standing Ranges
Miele ranges are the only ranges on the market that feature Moisture Plus, which increases the humidity in the oven to optimize cooking a wide array of foods. Miele also offers exclusive MasterChef Plus Automatic Programs, which guide you through over 100 easy-to-use programs for food items and dishes. And finally, a wireless roast probe provides correct-to-the-minute cooking times with no supervision necessary.
Miele range tops feature even heat distribution for superior cooking results via Miele's infrared cast iron rack, and the Miele TrueSimmer function, which achieves the perfect temperature and even heat for simmering sauces, soups, and more! Interested in saving even more energy? Miele Induction cooktops offer the same precise cooking abilities as range tops, but stay relatively cool around the cooking zone. See them here!
The Miele Combi-Steam oven can tackle appetizers, fish, meat, vegetables, and desserts separately – or can handle an entire meal in a single cooking process. The unique external steam generation of Miele MultiSteam technology ensures perfect results, and eight steam inlet ports enable fast steam generation and distribution, short heat-up times, and more uniform cooking results. This is the future of cooking – now!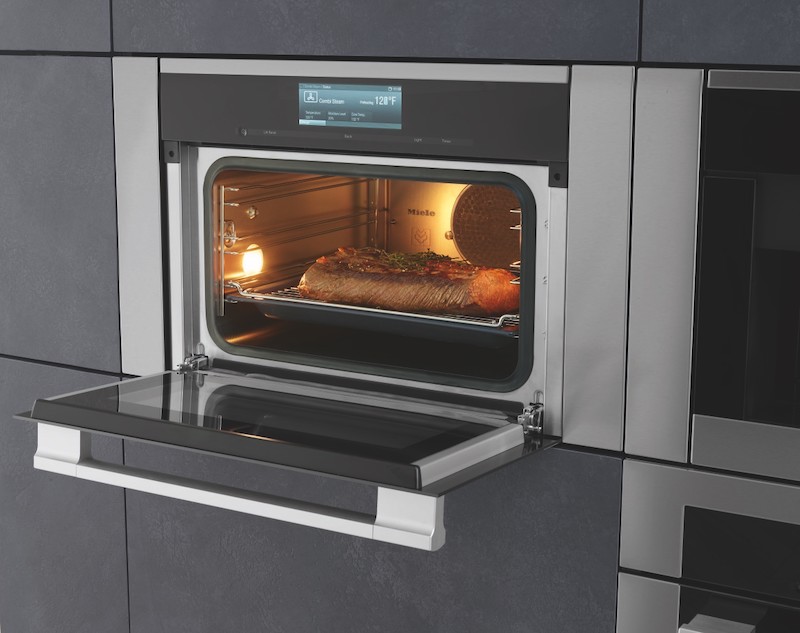 Helpful Hints Before You Purchase
Most appliance experience centers offer chef product demos by category. This is a great way to see appliances live and ask the chefs any cooking questions you may have in a casual environment. Demo Signups are typically found on the appliance dealer location websites.
We suggest talking to your kitchen design team to make sure appliances:
fit your space
have necessary power
provide manufacturer service and support in your area
Find Inspiration Near You
Already inspired to get cooking? Talk to one of our Bentwood Designers who can transform your kitchen into your own cooking sanctuary!
Click here to set up a personal consultation to explore the possibilities for your home. We'll connect you with a designer in your area and get started with your vision right away!
Not quite ready to begin a project? Look through our gallery to find inspiration and discover the beauty of Bentwood.
Summary
Article Name
Modern Ranges, Ovens, and Cooktops Worthy of Consideration
Description
Today we look at our favorite modern ranges, ovens and cooktops coming from the top companies in the U.S. and the world. Time to get cooking with ease and precision!
Author