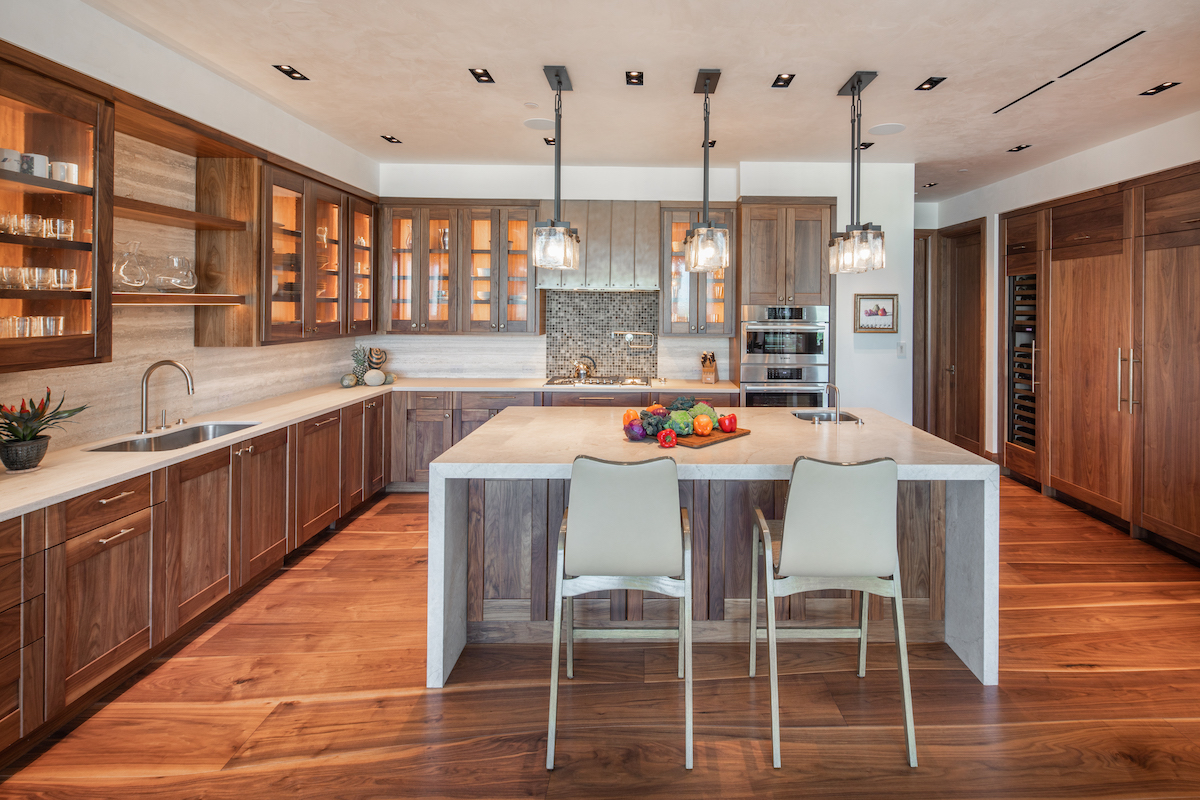 When a Colorado interior design firm needed to connect with a custom cabinetry resource local to their Houston client, introductions were made to Bentwood of Houston. The team from Associates lll Interior Design felt confident Bentwood of Houston could accommodate their special client project where premium walnut was the material of choice! Not only was this material specified throughout the entire residence, but attention to natural finishes and custom furniture grade details were key for executing this Modern design Houston high-rise project.
Celebrating Beautiful Natural Wood in the Kitchen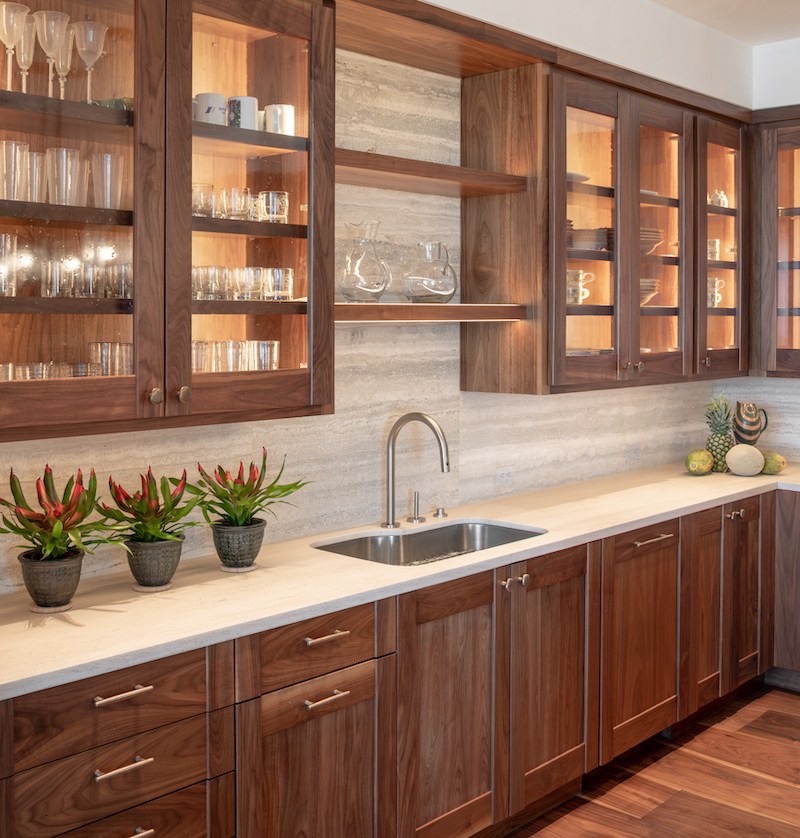 In order to show off the real beauty of natural walnut in the kitchen cabinetry, glass front doors were an important part of balancing all the wood in the design and keeping it light. This allowed for a very practical function—displaying glassware and serving ware– but also achieved visual interest and elegance. The integrated lighting in the shelving and cabinetry further highlights the natural walnut and creates a warm glow for the entire room.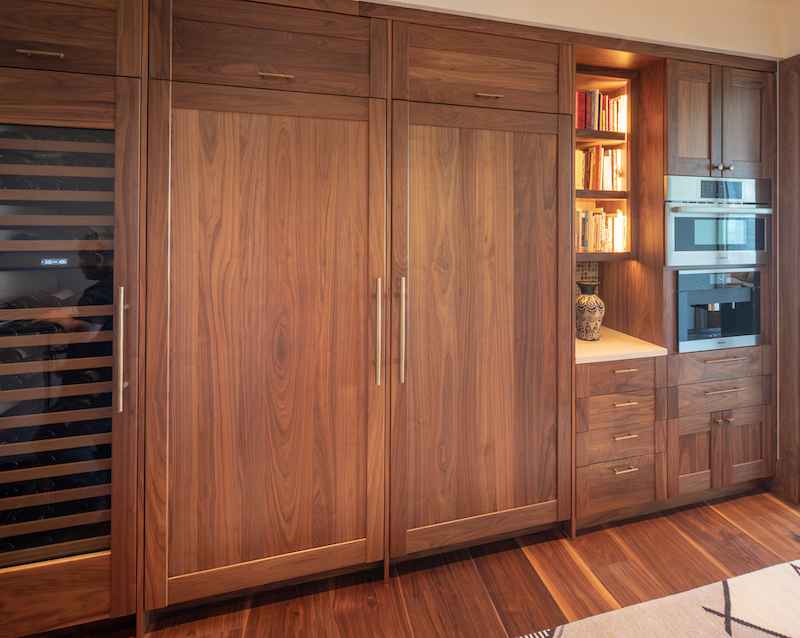 The Beverage Station Wall is quite impressive with large integrated walnut doors on the refrigerator and freezer units. We love the thoughtful landing area right next to the coffee maker and handy open shelving for cookbook storage. Morning thru evening, this space is packed with function and convenience for serving up whatever you like!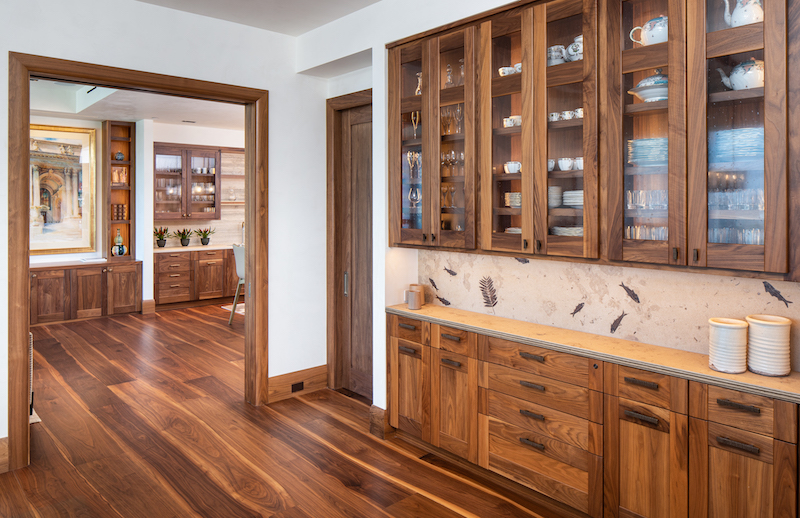 Servicing the Dining Room is this focal cabinetry wall opposite the Dining Area. Here is the perfect place for displaying additional glassware and serving ware for entertaining. The base cabinetry includes felt-lined drawers to store the sterling silver. The natural limestone countertop and splash, including small fossils, is a perfect stone selection for complementing the walnut cabinetry and expresses the client's love of nature.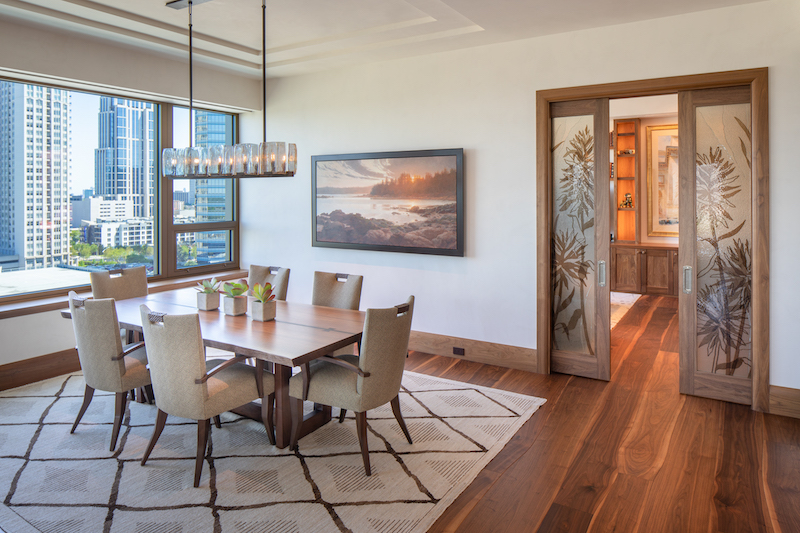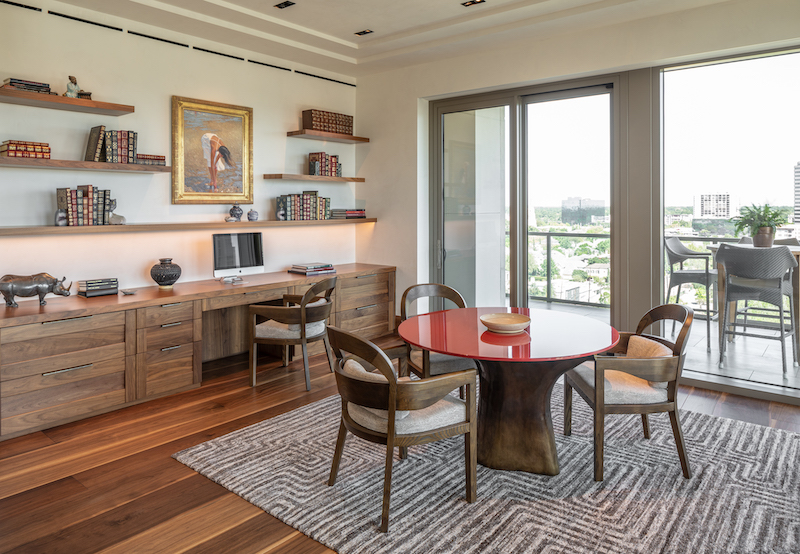 With a view like this, the Sitting Room is the perfect place to be, whether relaxing or working. The open desk area offers a flexible area with large countertop space and seating for one.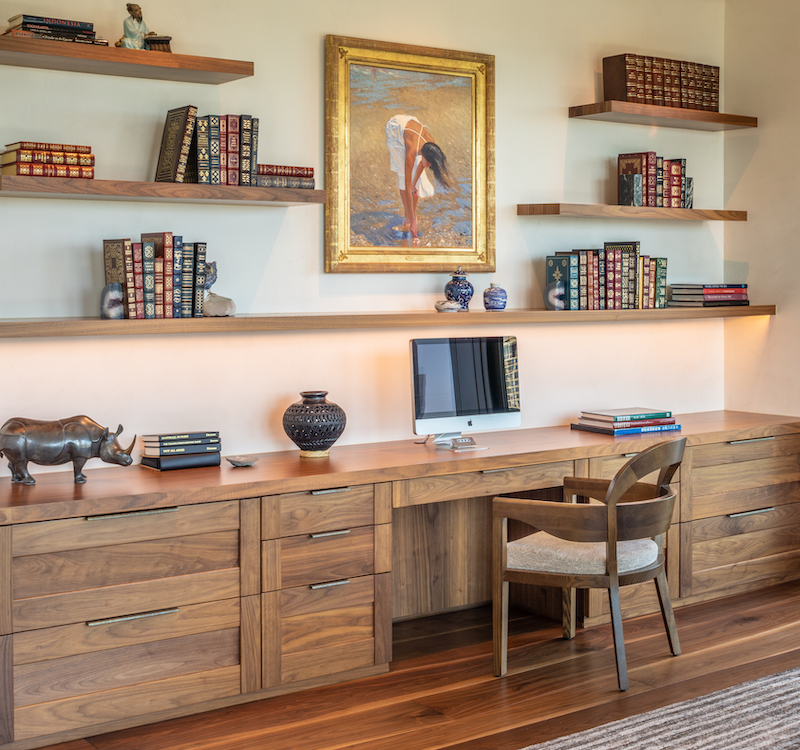 Above the desk area, properly placed Walnut floating shelves and artwork create a lovely composition that still encourages gazing outside. Storage for printer, files, and office supplies are found in the base cabinetry where all is tucked away and organized!
Focal Wall and Shared City Views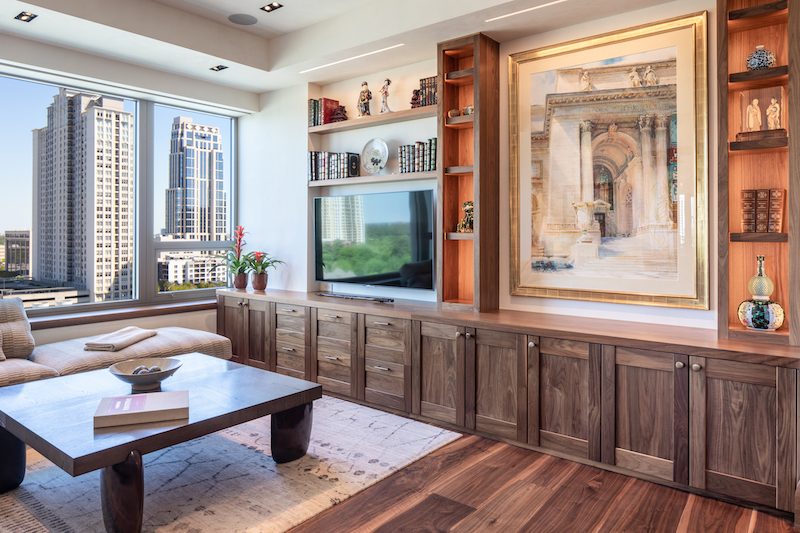 Another area with amazing city views is the Family Room. Furniture grade walnut cabinetry offers storage and shelving on the stunning Focal Wall showcasing large artwork. Integrated lighting shows off the natural wood and creates a dramatic effect against the Houston skyline.
Surrounded by Natural Beauty… in the City Limits
A mindful design with use of natural materials and finishes created a green environment for modern high-rise living. Stunning walnut cabinetry celebrates the real beauty of wood that reflects the client's strong connection to nature. There is no doubt, the client feels comfortable when visiting their Houston home with this organic interior design.
Find Inspiration Near You
Summary
Article Name
Organic Modern Design in Natural Walnut
Description
A new Houston project is ready to showcase our talented team yet again. See how modern design brings together nature and high-rise living with walnut wood.
Author