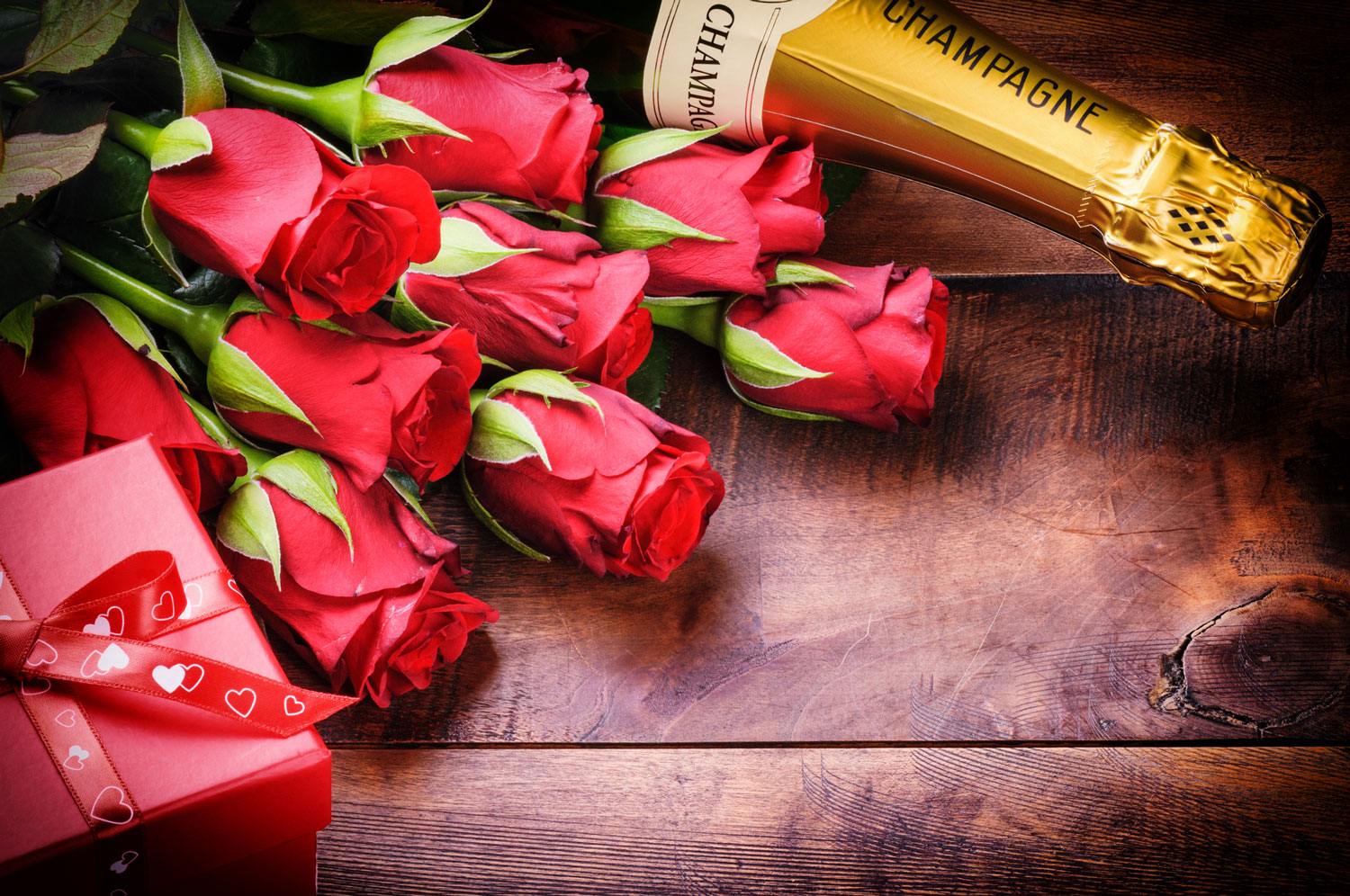 We've talked about our love of entertaining before, here at Bentwood Luxury Kitchens. This time, our passion for cooking leads us into Valentine's Day and sharing some decadent recipes for those special someone's in our lives. Whether you're hosting a gathering or just having an intimate dinner with your loved one, the time shared in your beautiful kitchen is personal and special.
We are often inspired by the stellar chefs on Food Network, and they continue to "bring it" to the table around this time of year. From chocolate-dipped strawberries to a romantic French-inspired champagne cocktail, we think your sweetheart will love these recipes.
But First, a Valentine's Toast
Pomegranate Elderflower Champagne Cocktail
No one inspires romance more than the French, and St Germaine is the perfect liquor to sum up "la saison de l'amour".  Its sweetness paired with the tart pomegranate and topped with bubbly just says "oh la la!"
Recipe: Food Network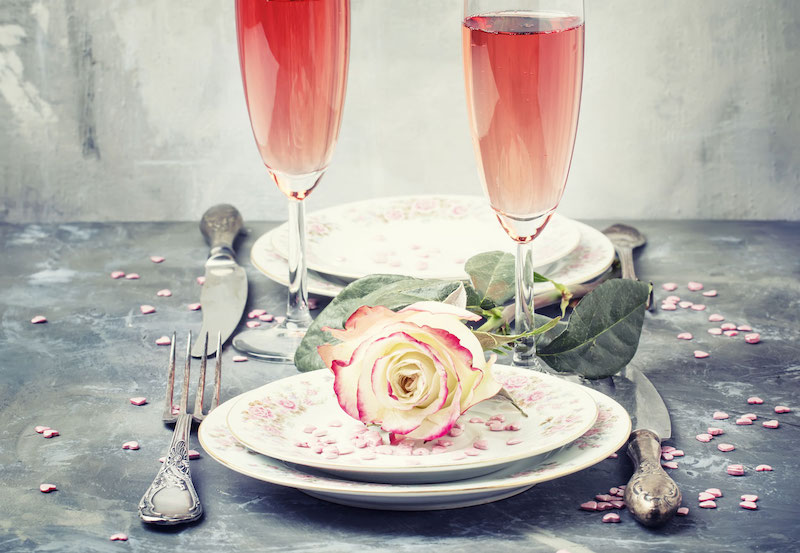 Ingredients
1 ounce St Germain Elderflower Liqueur

1 ounce pomegranate juice

3 ounces champagne or sparkling wine
Directions
In a champagne glass, combine the elderflower liqueur and pomegranate juice.

Top with champagne.
Delicious Treats for Your Sweet
Chocolate-Dipped Strawberries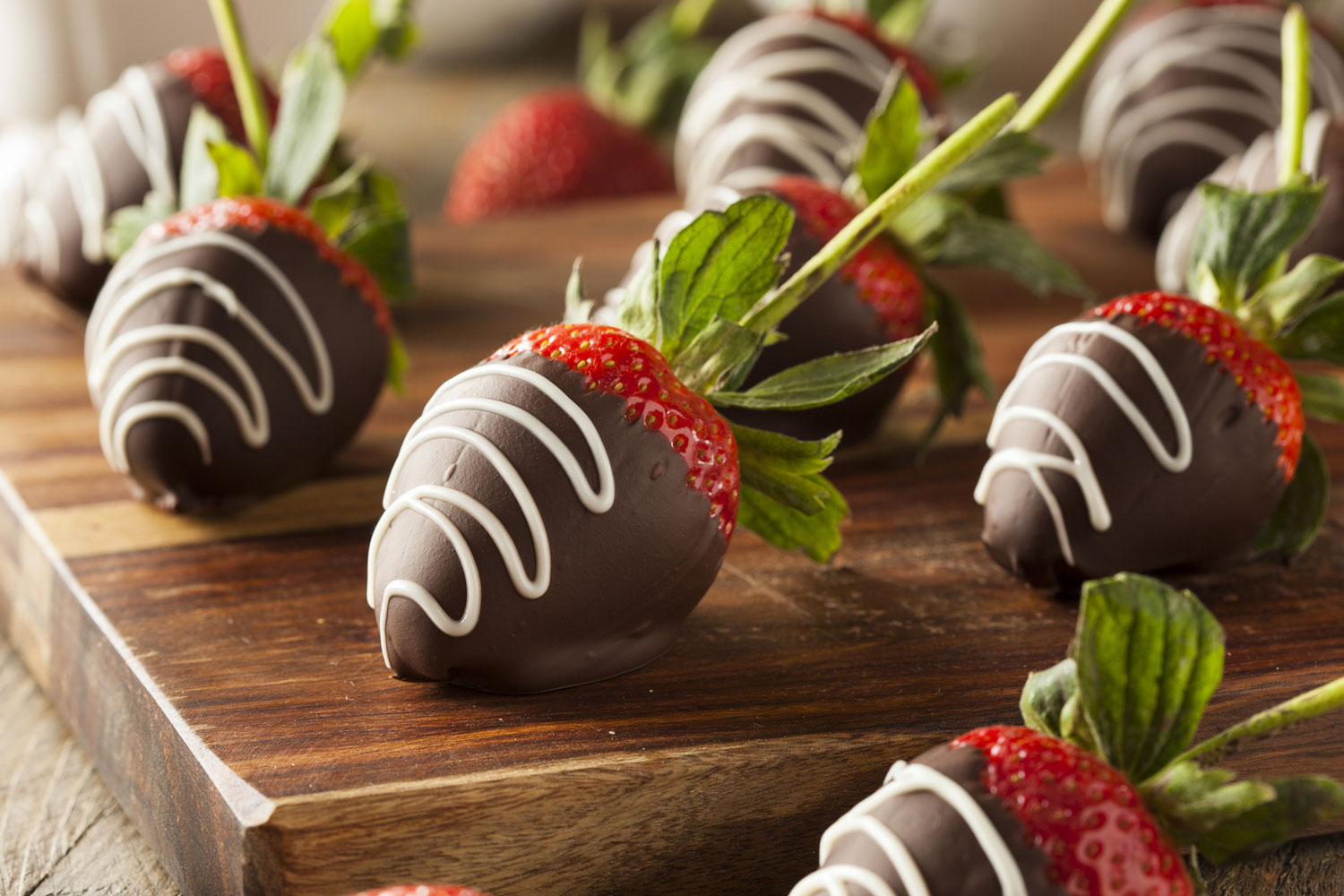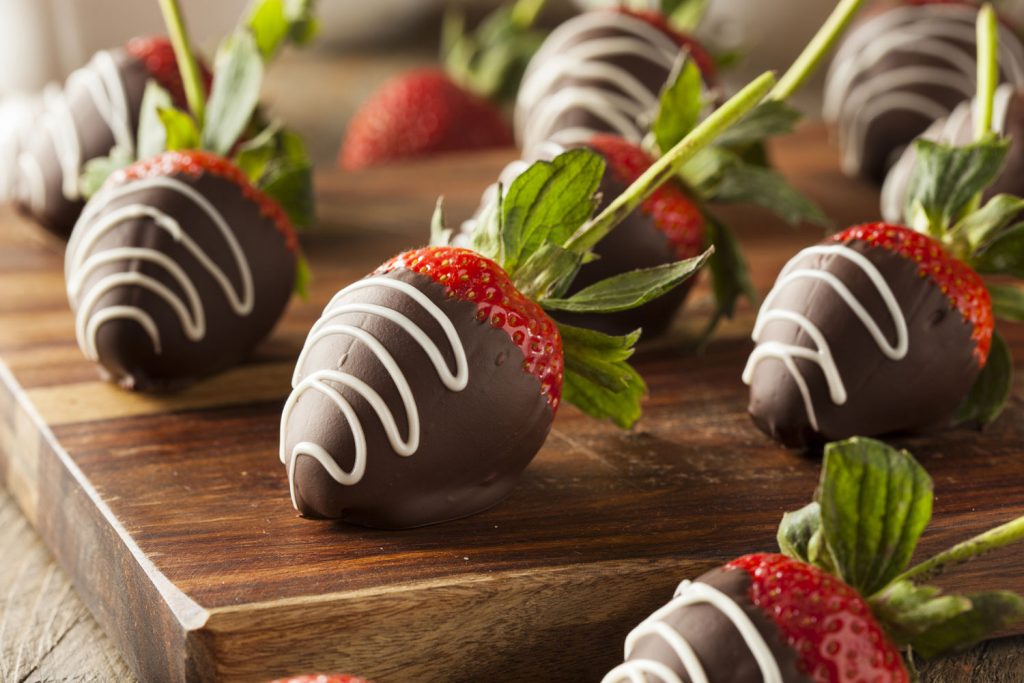 What goes best with a champagne cocktail? Strawberries enveloped in your favorite luxurious melting chocolate! Drizzled with white chocolate for a lovely presentation, these timeless treats are perfect for the ones you love most. You can even package them up for friends or your kids to show how much they mean to you!
Our favorite Pioneer Woman, Ree Drummond, always shows her love through food, and shares her easy and quick recipe below.
Recipe: Food Network
Ingredients
24 ounces good-quality semisweet chocolate chips

6 ounces white chocolate chips or white bar chocolate, chopped

12 to 16 large strawberries with good, sturdy stems
Directions
Special equipment: a small piping bag.
Melt both the semisweet and white chocolate in separate glass bowls set over saucepans of simmering water or in the microwave. Line a baking sheet with parchment paper.

Grab a strawberry and gently lay it on its side in the bowl of melted semisweet chocolate. Hold it by the stem and twist it so that it's mostly covered with chocolate. Gently lay it on its side on the sheet of parchment. Repeat with the rest of the strawberries.

Let the strawberries sit at room temperature to set slightly, about 30 minutes. (If you're in a hurry, you may place them in the fridge.)

Transfer the melted white chocolate to a small piping bag and drizzle stripes all over the chocolate on the strawberries–you can do any designs you like! Then store the strawberries in the fridge to set completely.

Serve them on a pretty cake stand or pack them in a box or small bags for delivery.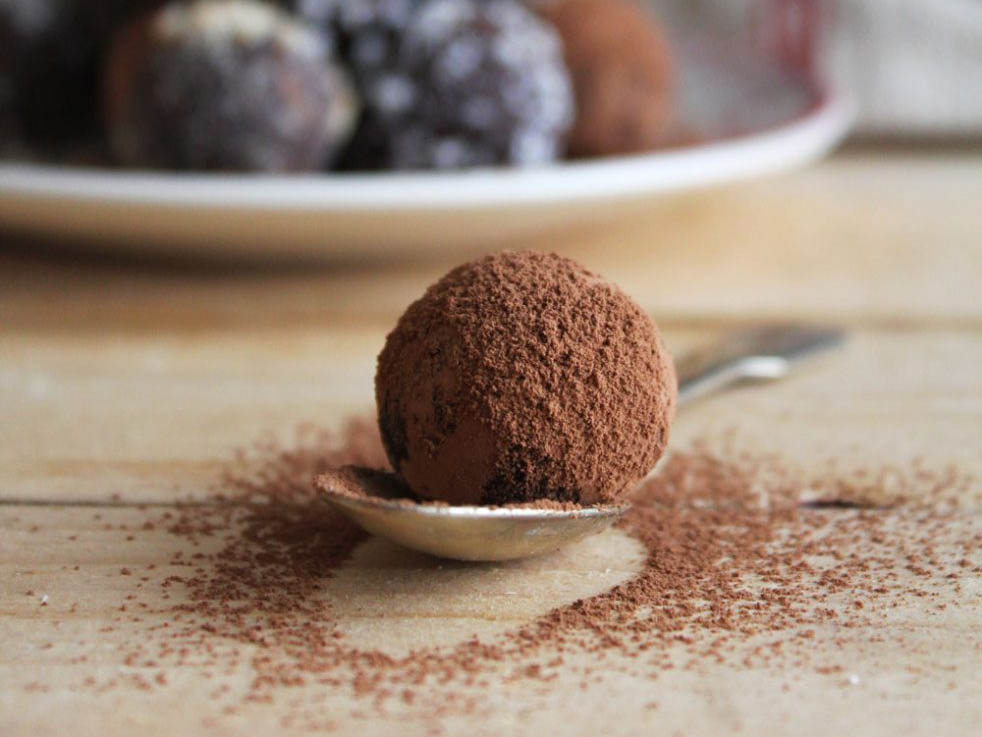 Nothing says decadent treats more than chocolate truffles, especially if you use this recipe from acclaimed French pastry chef Jaques Torres. Another pairing  just the right size to go with your champagne cocktail, these also present beautifully enough to package- if you aren't tempted to eat them all yourself!
Recipe: Food Network
Ingredients
For the Ganache:
21 ounces bittersweet chocolate

18 ounces (generous 2 cups) heavy cream

2 ounces (4 tablespoons) unsalted butter, cut into pieces, softened

2 ounces (1/4 cup) orange liqueur or raspberry vodka (optional)
For the Coating:
3 pounds bittersweet chocolate, chopped

2 cups Dutch-process cocoa powder, sifted

2 1/2 cups shredded coconut, toasted

2 cups nuts, toasted and finely chopped
Directions
Chop the chocolate: Use a chef's knife to chop the chocolate as finely as possible; this will help it melt quickly and evenly. Then place it in a medium glass bowl. (Glass retains heat so that the chocolate will stay melted longer.)
Make the ganache: Heat the cream in a small saucepan over medium heat until bubbles form around the edge. Remove from the heat and add about one-fourth of the chocolate; whisk until smooth. Slowly pour the cream mixture over the remaining chocolate in the bowl and let sit until the chocolate melts, about 30 seconds. Puree the melted chocolate with an immersion blender or beat with a whisk until all the lumps disappear, and the ganache is smooth. Stir in the butter until smooth, then add liqueur, if desired. (Jacques adds the liqueur last, so the flavor doesn't cook off.)
Pour and set: Line a rimmed baking sheet with plastic wrap, leaving a 2-foot overhang on one side. Pour the ganache onto the baking sheet and spread evenly with a rubber spatula. Fold the plastic wrap back over and press directly onto the surface of the ganache. Let cool at room temperature at least 4 hours or overnight.
For the truffles: Using two teaspoons, scoop small mounds of the ganache onto parchment-lined baking sheets. Set aside until firm enough to roll, about 15 minutes in the refrigerator or 2 hours at room temperature.
Roll into balls: Place the chocolate mounds between both palms, squeeze slightly and roll. Refrigerate until ready to coat.
Temper the chocolate: This is a gentle melting and cooling process that gives the chocolate a glossy finish. For the coating, place the chopped chocolate in a heatproof bowl set over a saucepan of barely simmering water and stir until melted, about 40 minutes. Pour into a clean glass bowl; stir to cool to between 88 degrees and 90 degrees, about 40 minutes. (Jacques recommends a laser thermometer for checking the temperature.)
Dip and coat: Spread out the cocoa powder, coconut, and nuts on parchment paper. One at a time, dip each truffle in the tempered chocolate with a two-prong dipping fork (you can buy one at a baking-supply store or break off the middle tines of a plastic fork). Lift the truffle and let the excess chocolate drip off. Roll in toppings and place on a rack to dry. Store in an airtight container for up to 2 weeks.
Share the Love with These Family-Style Desserts
Everyone thinks of a box of chocolates for a Valentine's Day gift, but here at Bentwood we love to make things extra special. Getting the family and friends together for a special Heart Day gathering? We love the idea of individual servings of the oh-so-French crème brûlée, or a fun and festive lava cake for sharing.
Have another glass of champagne, this time with the dessert course!
Giant Chocolate Lava Cake
Here's what you'll need for a family-style Giant Chocolate Lava Cake. It cooks well in a 2 quart round soufflé dish, so that sharing this chocolatey rich delight will be fun for everyone! You can even top with vanilla ice cream (plus sprinkles for the kids) for a finishing touch.
Watch the video above and read along for the recipe and to see how to make the perfect gooey center of the cake for a stunning presentation.
Recipe: Food Network
Ingredients
2 sticks (16 tablespoons) unsalted butter, cubed, plus extra for buttering the ramekin

1/4 cup all-purpose flour, plus extra for dusting the ramekin 

10.5 ounces bittersweet chocolate, roughly chopped 

1/2 cup granulated sugar 

Pinch kosher salt

6 large eggs 

2 chocolate-coated vanilla ice cream bars, such as Klondike 

Confectioners' sugar, for dusting 
Directions
Special equipment: a 2-quart ramekin/souffle dish

Preheat the oven to 350 degrees F. Butter and lightly flour a 2-quart ramekin/souffle dish. Tap out the excess flour. Put the ramekin on a baking sheet.

Combine the butter and chocolate in a large microwave-safe bowl. Microwave in 30-second intervals, stirring in between until the mixture is melted and well combined. 

Combine the granulated sugar, salt, and eggs in a large bowl and beat on high speed with an electric mixer until thick and pale, 1 to 2 minutes. Add the chocolate mixture and flour to the egg mixture and fold with a rubber spatula until well combined. 

Pour 2 1/2 cups of the batter into the ramekin and stack the ice cream bars on top of each other in the middle. Pour the remaining batter around the sides and over the top of the ice cream bars. 

Bake until the cake is set and the center is still jiggly about 45 minutes. Let the cake cool in the ramekin for 15 minutes — dust with confectioners' sugar.
Finally, we turn to Alton Brown who shares the ultimate classic French dessert. Something about breaking up the shimmering "burnt" sugar on top of creamy delight inside is a celebration all its own.
These individual sizes in small ramekins make portions easy to figure out. Since this recipe makes a whole tray, you can pull them out a couple at a time if not enjoying with a crowd. Food torches are ideal for this dessert (remember to torch only just before serving!), so add one to your shopping list for future food adventures!
Watch the video above to see how it all happens.
Recipe: Food Network
Ingredients
1 quart heavy cream

1 vanilla bean, split and scraped

1 cup vanilla sugar, divided

6 large egg yolks

2 quarts hot water
Directions
Preheat the oven to 325 degrees F. 

Place the cream, vanilla bean and its pulp into a medium saucepan set over medium-high heat and bring to a boil. Remove from the heat, cover, and allow to sit for 15 minutes. Remove the vanilla bean and reserve for another use. 

In a medium bowl, whisk together 1/2 cup sugar and the egg yolks until well blended, and it just starts to lighten in color. Add the cream a little at a time, stirring continually. Pour the liquid into 6 (7 to 8-ounce) ramekins. Place the ramekins into a large cake pan or roasting pan. Add enough hot water into the pan to come halfway up the sides of the ramekins. Bake just until the creme brulee is set, but still trembling in the center, approximately 40 to 45 minutes. 

Remove the ramekins from the roasting pan and refrigerate for at least 2 hours and up to 3 days. Remove the creme brulee from the refrigerator for at least 30 minutes before browning the sugar on top. Divide the remaining 1/2 cup vanilla sugar equally among the 6 dishes and spread evenly on top. Using a torch, melt the sugar and form a crispy top. Allow the creme brulee to sit for at least 5 minutes before serving.
Make This Valentine's Day Special with Treats from Your Kitchen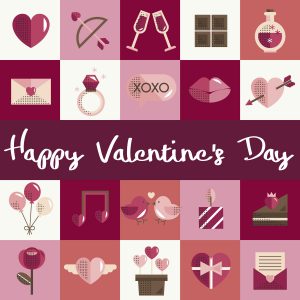 And here's our Valentine's card to you!
We're keeping things extra decadent for our readers this Valentine's Day, and we hope you'll try out some of our favorite recipes above. Sometimes, the best gift from the heart is really the time spent making a loved one's favorite meal and dessert, and the time sharing it together.
From all of us at Bentwood Luxury Kitchens, we wish you a Happy and sweet Valentine's Day! XOXO
Find Inspiration Near You
Already inspired to get cooking? Talk to one of our Bentwood Designers who can transform your kitchen into your own cooking sanctuary!
Click here to set up a personal consultation to explore the possibilities for your home. We'll connect you with a designer in your area and get started with your vision right away!
Not quite ready to begin a project? Look through our gallery to find inspiration and discover the beauty of Bentwood.
Summary
Article Name
Valentine's Day Sweets for Your Sweet
Description
Need some sweet ideas for homemade treats and desserts for Valentine's Day? Get your shopping list ready, we've got some inspiration for you!
Author