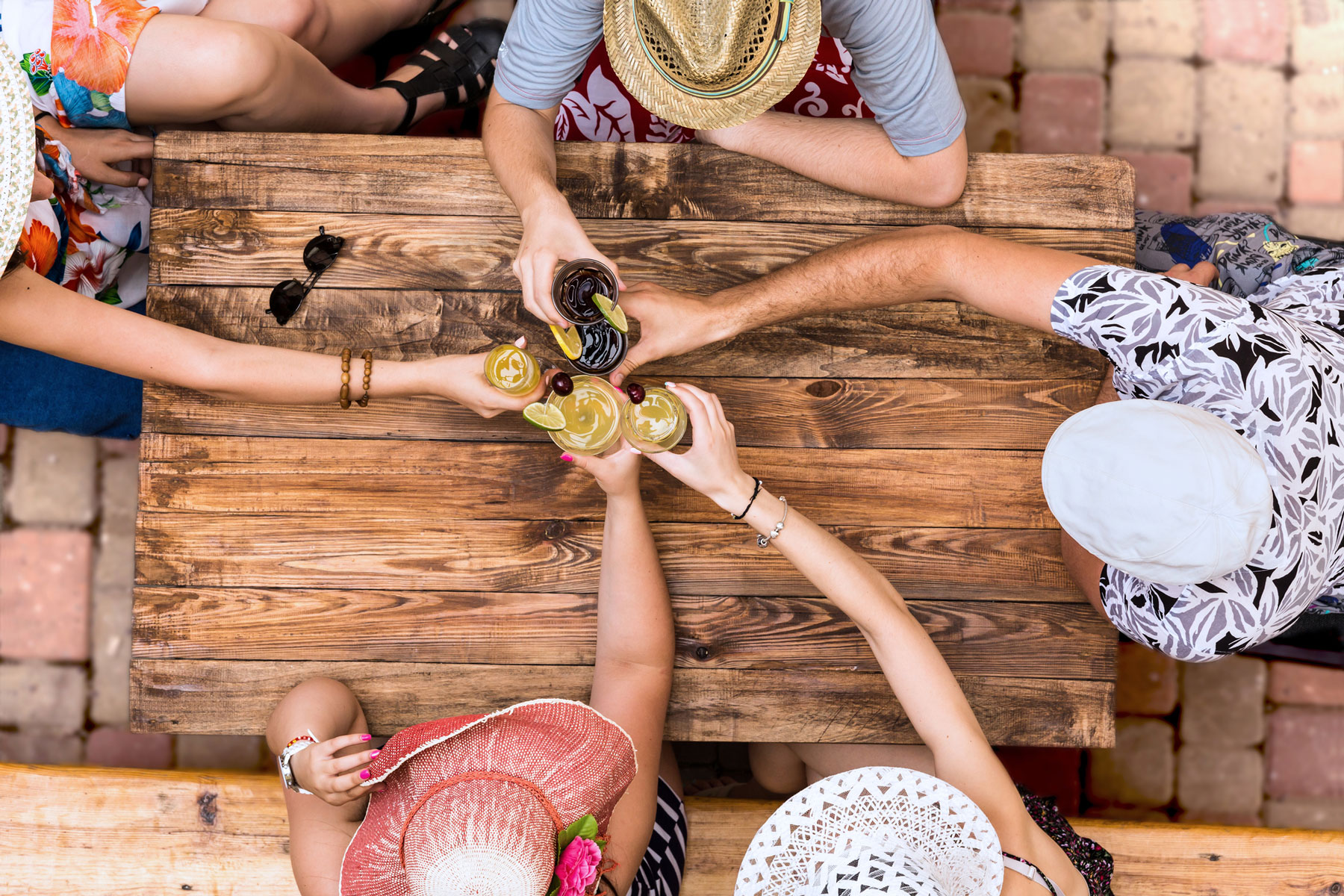 As we approach Labor Day, we want to celebrate outside for as long as possible, stretching our 'al fresco' season! The end of summer is still a great time for outdoor entertaining, especially with refreshing fare to complement the warm and inviting outdoor environment.
At Bentwood Luxury Kitchens, we love to cook, entertain, and enjoy all the seasonal foods of summer. For your last summer gathering, brighten up your menu with these easy recipes and ideas that are a breeze to create while elevating any meal.
Quench Your Thirst with These Refreshing Cocktails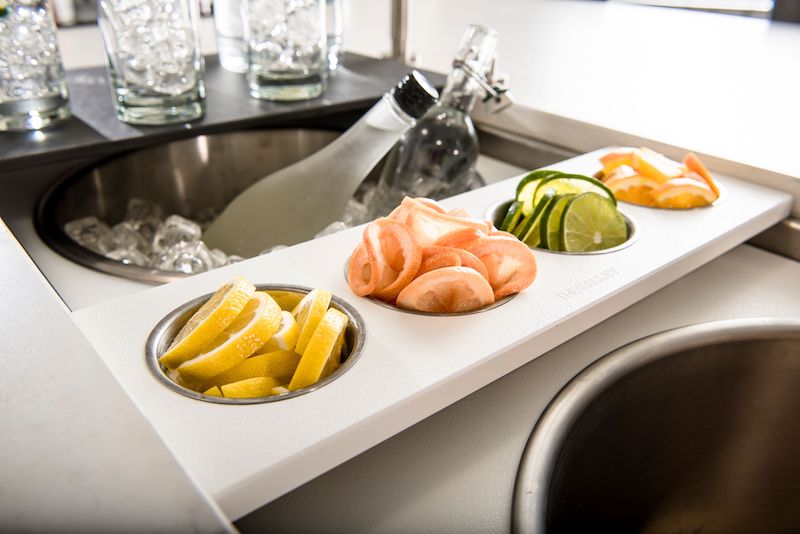 No al fresco gathering is complete without a refreshing late summer cocktail! Try these enticing concoctions that were created by outdoor entertaining expert, Bobby Flay. With the help of a Galley Workstation, you can prep once and get back to relaxing twice as fast!
Mango Ice Tea with Gin
Ingredients:
1 quart freshly brewed tea, chilled
2 cups fresh mango juice, chilled
1/2 cup gin
1/4 to 1/2 cup simple syrup (you can make your own)
Ice cubes, as needed
Fresh mango slices, for garnish
Mint sprigs, for garnish
Method:
Combine the iced tea, mango juice, gin and simple syrup to a pitcher. Stir and refrigerate until chilled. Serve over ice and garnish with fresh mango slices and mint.
Pineapple Chile Margarita
Ingredients:
1 cup fresh pineapple juice
1/2 cup chopped fresh pineapple
1 Fresno chile, chopped
3 ounces tequila (recommended: Hornitos Reposada)
Ice cubes
Pineapple, for garnish
Method:
Add the pineapple juice, pineapple, chile, and tequila together in a blender and blend until smooth. Serve over ice in tall glasses, and garnish with a pineapple wedge before serving. Add the ice to the blender mix for frozen margaritas!
Set a Lovely Buffet Station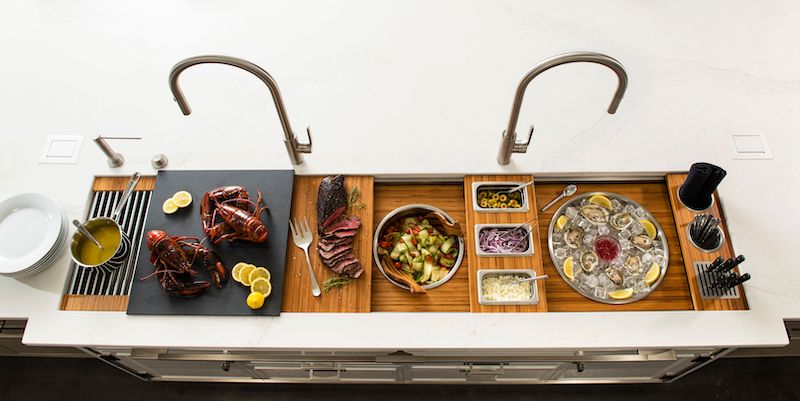 At Bentwood, we love beauty and functionality, making the perfect combination to our designs. The Galley Workstation is a prime example of this combination. They make setting up a buffet a snap! Spend less time in the kitchen and enjoy more time with your guests on late summer evenings!
Make an Impression with This Farmer's Market Late Summer Recipe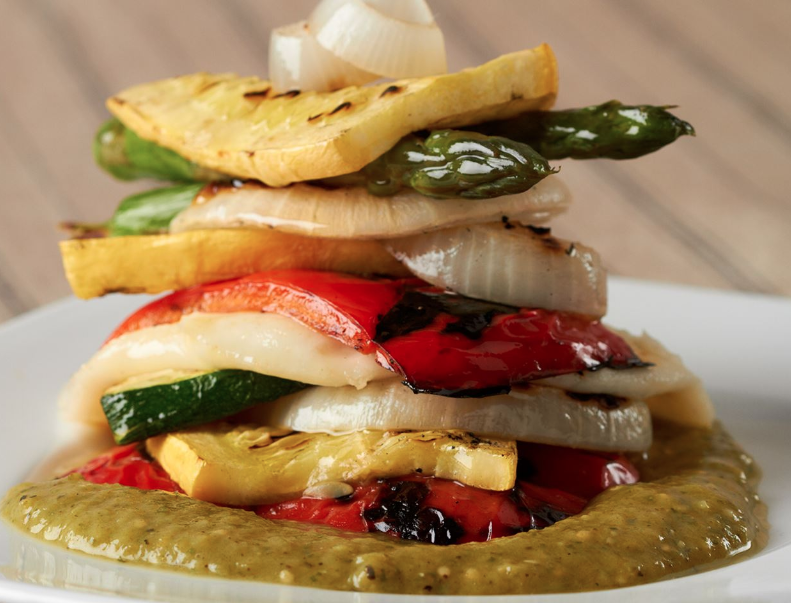 Ingredients:
2 small zucchini
2 small yellow squash or pattypan squash
1/2 pound asparagus spears, trimmed into 4-inch pieces
2 bell peppers, stemmed, seeded, cut into quarters
Salt and freshly ground black pepper
2 sweet yellow onions, sliced ½-inch thick, skewered to keep rings together
3 tablespoons olive oil
12 ounces Oaxaca or mozzarella cheese, sliced 1/2" thick
For the sauce:
3 tomatillos, husked
1 clove garlic
Juice and zest of 1 lime
1/2 bunch cilantro, parsley, or combination of both
1 avocado, cut into 8 pieces
3 to 4 tablespoons water
Salt and freshly ground black pepper
Method:
Preheat Wolf charbroiler for 15 minutes. Position oven rack to rack position 4, and preheat Wolf oven in CONVECTION at 375°F.
Cut zucchini and squash lengthwise into eight 1/2-inch slices. Toss asparagus, zucchini, squash and peppers with 2 tablespoons olive oil and salt and pepper. Remove the peppers, and grill the asparagus, zucchini and squash 2 to 3 minutes per side before setting aside. Brush the remaining 1 tablespoon of olive oil and salt and pepper on the onion slices. Grill the peppers and onions 4 to 6 minutes per side, and also set aside. Stack the pepper quarters, zucchini, squash, cheese and asparagus in eight individual stacks on a baking sheet, and heat in the oven for 5 to 10 minutes, or until the cheese is melted.
For the sauce:
Combine all ingredients in a blender or food processor and puree 1-2 minutes until well blended. Add water ahead of time, as well as salt and pepper, and dab about three tablespoons to each plate.
Pro Tip: You can make this recipe a full day ahead! When doing so, cover the grilled veggies tightly and place in your Sub-Zero refrigerator until you are ready to reheat in the oven.
Late summer entertaining can be both elegant and easy with the right combination of ingredients, creativity, and outdoor appliances. Toast the end of summertime with style, compliments of fresh cuisine that is miles away from ordinary.
Already inspired to get cooking? Talk to one of our Bentwood Designers who can transform your kitchen into your own cooking sanctuary!
Click here to set up a personal consultation to explore the possibilities for your home. We'll connect you with a designer in your area and get started with your vision right away!
Not quite ready to begin a project? Look through our gallery to find inspiration and discover the beauty of Bentwood.
Summary
Article Name
End of Summer Entertaining
Description
At Bentwood, we love summer entertaining outside! Discover a delicious recipe from market to grill and how a Galley Workstation eases meal preparation
Author