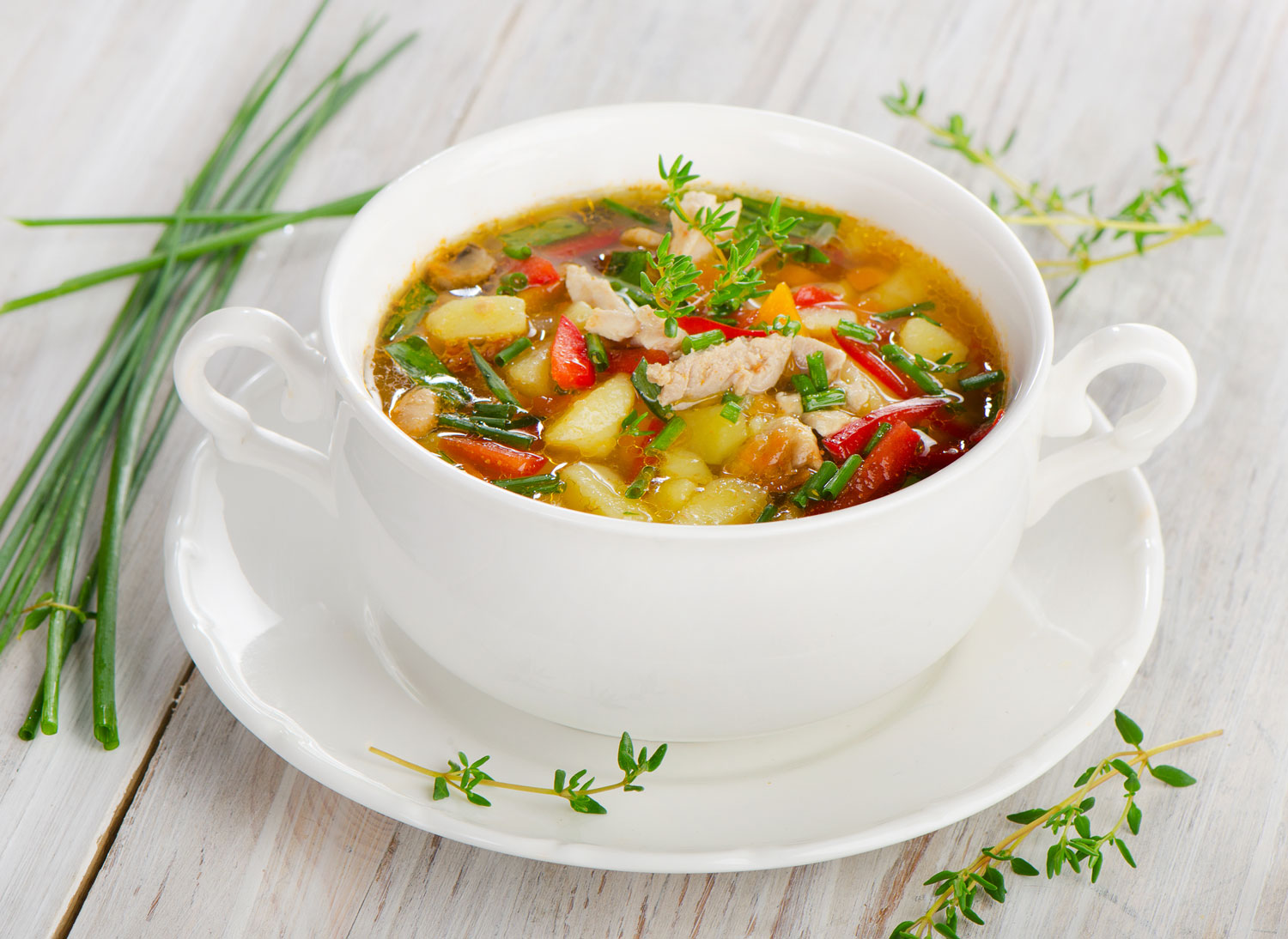 This time, we're excited to have Stephanie Karp with Ingrid Baltasi, both from Bentwood of Chicago share their knowledge of cooking and experience in making great home-cooked meals. Let's dig in: Like many of you now, I am working from home today and for the foreseeable future. And since we have gained a couple of extra hours by not commuting, how could we spend that time? For me, the answer is always cooking. It's my happy time. Making a homemade meal is very satisfying, and right now, this is something positive I can offer up. Best of all, pantry items are a great go-to for the home cook to get dinner on the table with ease!
So, whether you did a big shop to fill the pantry or have a plan to shop by need, there are some wonderful staples that most of us have in the pantry, freezer, or fridge. Soups, stews, and pasta dishes are the ultimate comfort food, and although Spring is on the way, there is still a little chill in the air. Here are a few of our favorites we would like to share with you!
Homemade Stock – Yes, There Is a Difference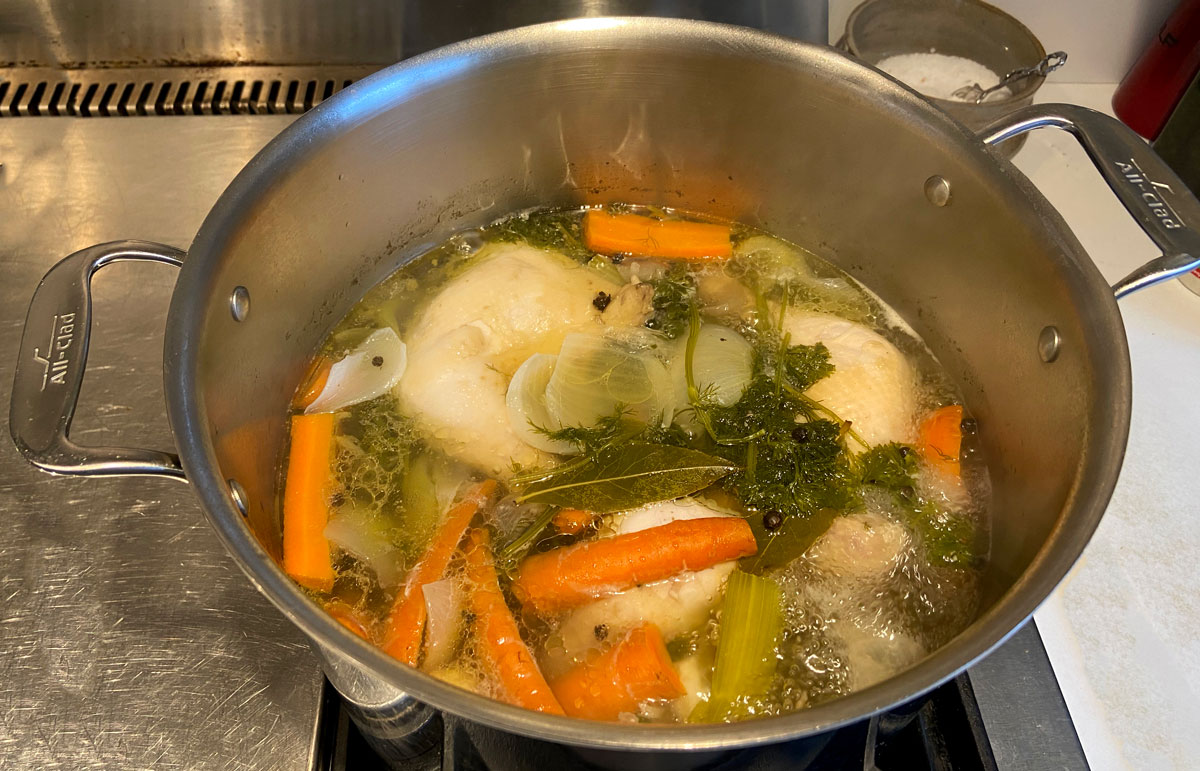 Chicken stock, the basis of so very many favorites, is easy to make. Keep the carcass of your rotisserie chickens in the freezer, and you'll always have the main ingredient at hand. I often supplement that with some drumsticks for additional flavor. Don't stress if you don't have fresh dill, etc. This is a great way to use those last stalks of celery and leaves, random carrot, and onions. Let is simmer for a few hours, and your home will smell delicious!! When it's done, you can do anything with it – add some frozen tortellini, shred the chicken and have a great bowl of soup. This is therapeutic, healing, and wonderful to share with friends and neighbors.
Food Network's Tyler Florence shares his recipes for basic chicken stock and chicken noodle soup below.
Tyler Florence Makes Chicken Noodle Soup | Food Network
For a strictly vegetable stock, just use the same ingredients minus the chicken.  Additional vegetables to consider would be mushrooms, asparagus, celery root, potato, and Swiss chard, for extra flavor.
Legumes and Beans – OH so Good!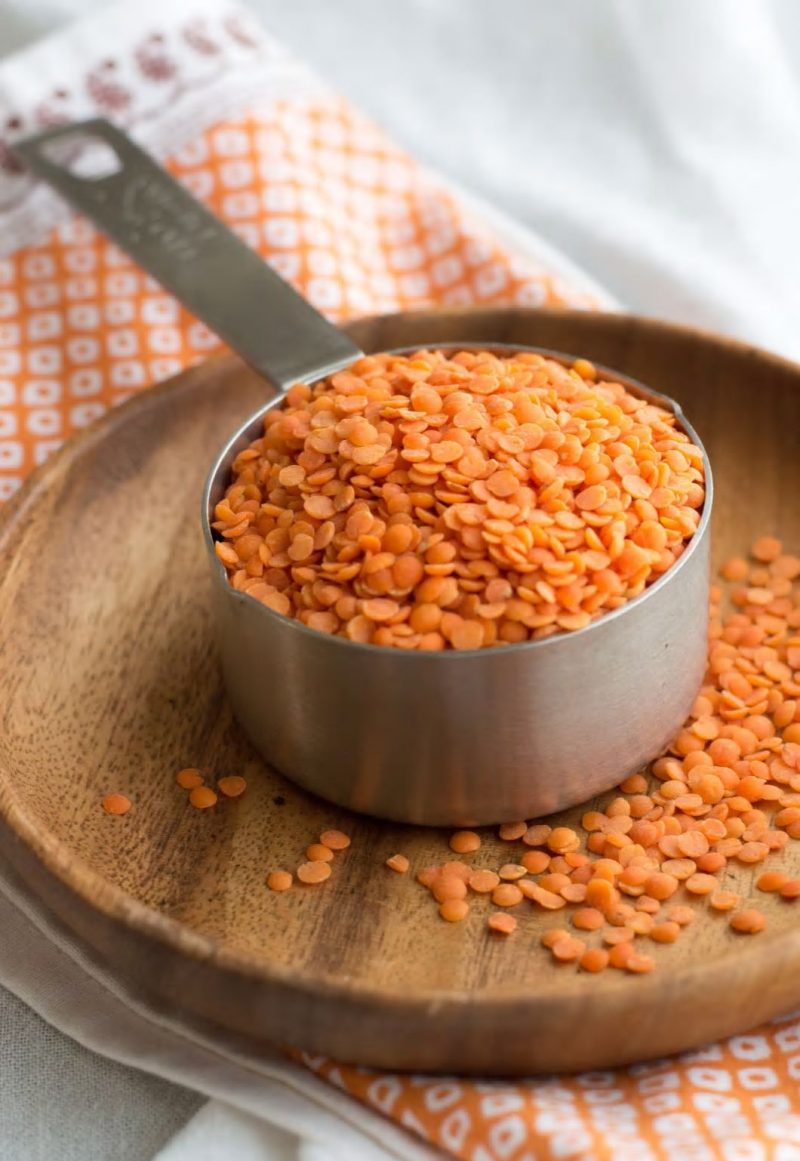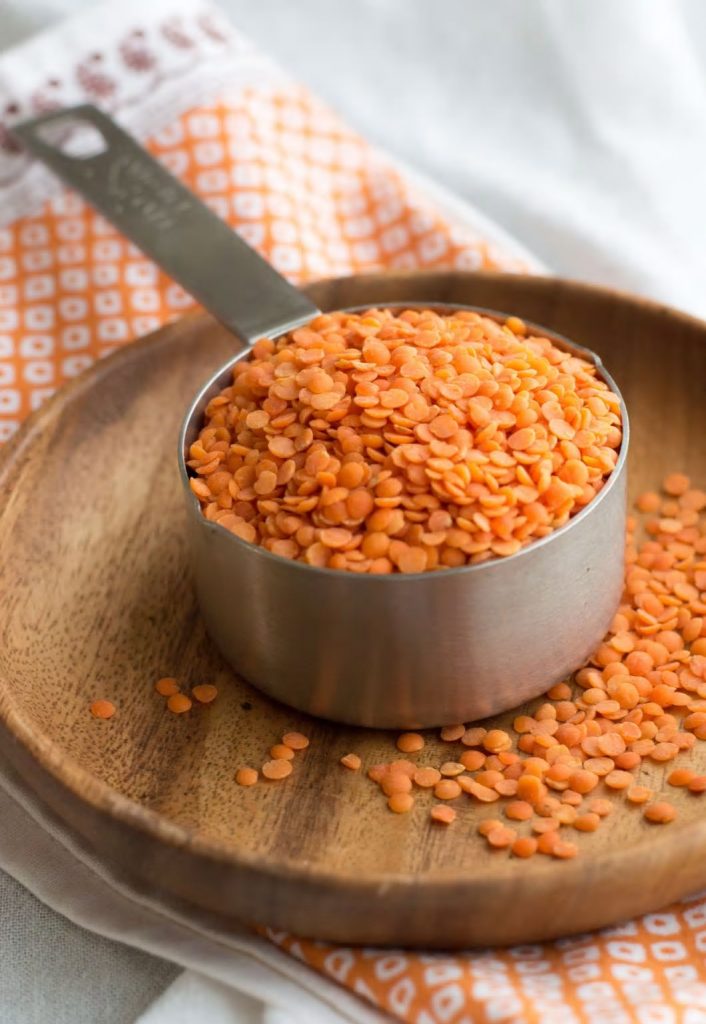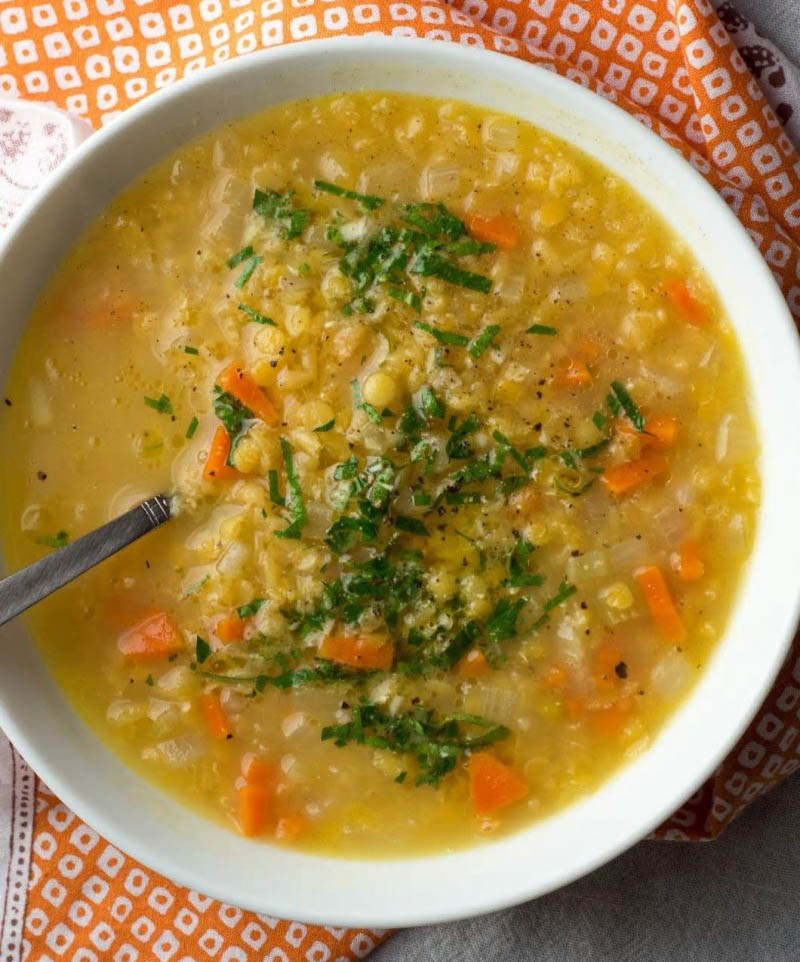 Lentils are another pantry staple with tremendous versatility and substantial nutritional value. You can flavor these for whatever flavor profile you like and use those spices that are sitting in the cabinet. Coco Morante from the website Kitchn has a great recipe that you can adjust as you like. This soup, like the stock, freezes very well, so if you are cooking for 1 or 2, you can freeze the leftovers for another meal.
Recipe: The Kitchn
INGREDIENTS
1 tbsp. olive oil

1 large carrot, diced

2 large stalks celery, diced

1 small yellow onion, diced

1/2 tsp. kosher salt, plus more as needed

1 cup dried red lentils

4 cups water or low-sodium broth

1 whole bay leaf

2 tbsp. freshly squeezed lemon juice (from 1/2 large lemon)

For serving: 

Olive oil, yogurt, or other toppings (optional)
INSTRUCTIONS 
Heat the olive oil. In a medium (2- to 3-quart) saucepan or Dutch oven over medium heat until shimmering. Add the carrot, celery, onion, and salt and stir to combine. Cover and let the vegetable sweat, occasionally stirring, until the onions are soft and translucent, about 5 minutes.
Add the lentils, water or broth, and bay leaf and bring up to a boil. Reduce the heat to low and let simmer, covered until the lentils begin to fall apart for about 20 minutes.
Turn off the heat and stir in the lemon juice. Taste and season with salt as needed. Ladle into bowls and serve with toppings if desired.
Vegetarian Black Bean Soup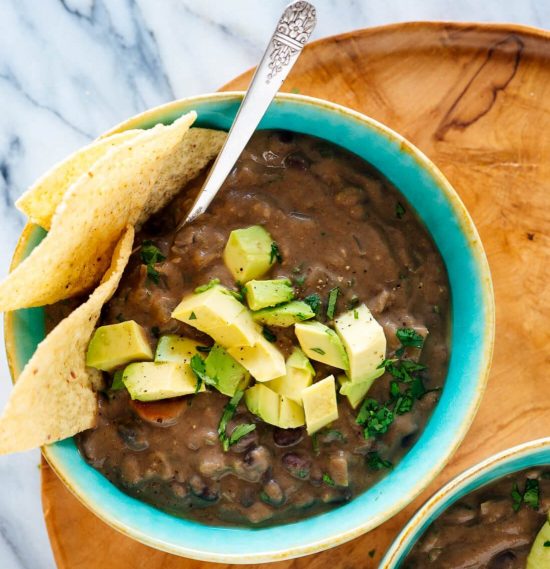 Beans are awesome, whether dried or canned. Canned black beans can quickly yield a pretty spectacular result, as this Spicy Black Bean Soup on the blog Cookie and Kate exemplifies. Garnish as you like and enjoy a great meal!
Recipe: Cookie and Kate
INGREDIENTS
2 tbsp. extra-virgin olive oil
2 medium yellow onions, chopped
3 celery ribs, finely chopped
1 large carrot, peeled and sliced into thin rounds
6 garlic cloves, pressed or minced
4 ½ tsp. ground cumin
½ tsp. red pepper flakes (use ¼ tsp. if you're sensitive to spice)
4 cans (15 ounces each) black beans, rinsed and drained
4 cups (32 ounces) low-sodium vegetable broth
¼ cup chopped fresh cilantro (optional)
1 to 2 tsp. sherry vinegar, to taste, or 2 tbsp. fresh lime juice
Sea salt and freshly ground black pepper, to taste
Optional garnishes: diced avocado, extra cilantro, thinly sliced radishes, tortilla chips.
INSTRUCTIONS 
Heat the olive oil in a 

large Dutch oven

 or soup pot over medium heat until shimmering. Add the onions, celery, and carrot and a light sprinkle of salt. Cook, occasionally stirring, until the vegetables are soft, about 10 to 15 minutes.

Stir in the garlic, cumin, and red pepper flakes and cook until fragrant, about 30 seconds. Pour in the beans and broth and bring to a simmer over medium-high heat. Cook, reducing heat as necessary to maintain a gentle simmer until the broth is flavorful and the beans are very tender for about 30 minutes.

Transfer about 4 cups of the soup to a stand blender, securely fasten the lid, and blend until smooth (never fill your blender past the maximum fill line, and beware the steam that escapes from the top of the blender, it's very hot). Or, use an immersion blender to blend a portion of the soup.

Return the pureed soup to the pot, stir in the cilantro, vinegar/lime juice, and salt and pepper, to taste. Serve.
Pasta Plus Freezer Selections = Delicious Dishes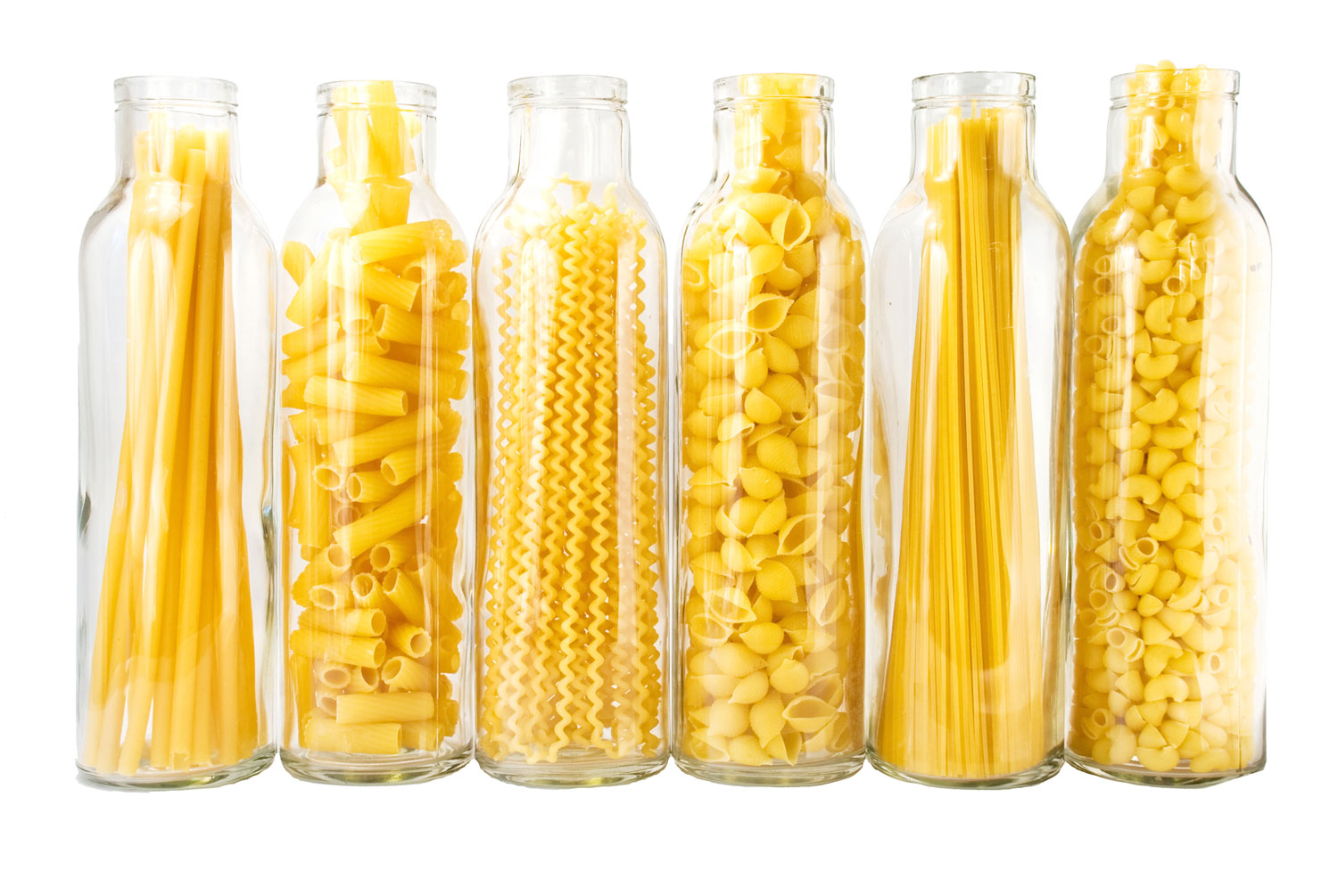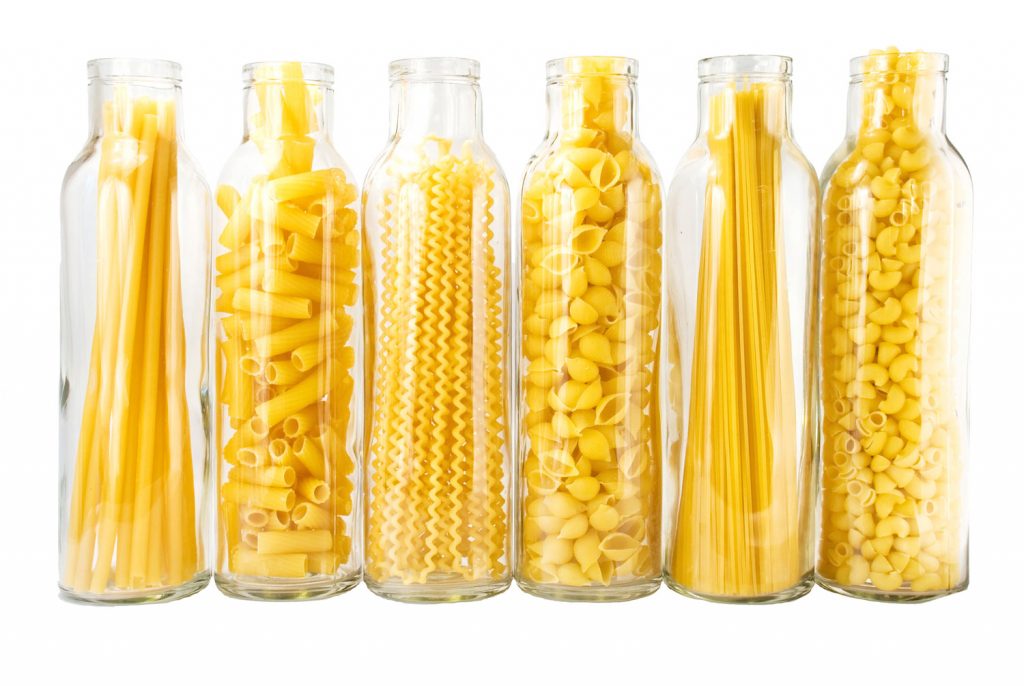 Pasta is always in our pantry, and for a good reason. It is adaptable and delicious. Sitting in your freezer may be great options like fish, bacon, and vegetables ready for creating an outstanding meal. Remember, frozen vegetables are frozen very soon after they are picked and retain much of their nutritional value.
This Garlic Shrimp Pasta is quick, easy, and delicious! You can use frozen shrimp and vegetables and achieve great results while saving prep time. You can kick up the heat level with some red pepper flakes or switch up the pasta to ravioli. Finish with a squeeze of lemon and grated parmesan cheese and enjoy with a glass of white wine after your workday. And share it with a friend – Yummm!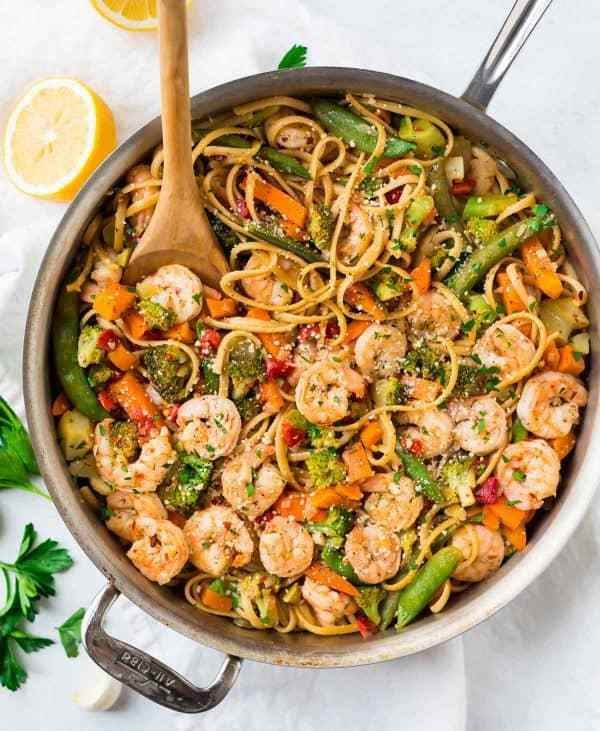 Recipe: Well Planted
INGREDIENTS
8 ounces 

whole-wheat linguine

 

1 pound fresh or frozen raw shrimp, peeled, tails removed 

2 tablespoons extra-virgin olive oil, divided

1 shallot, peeled and diced

5 cloves garlic, minced

1/2-1 teaspoon crushed red pepper flakes, divided 

1 teaspoon kosher salt, divided

1 teaspoon black pepper, divided

24 ounces mixed vegetables 

1/4 cup dry white wine 

Zest and juice of 1 large or 2 small lemons

3 tablespoons freshly grated Parmesan cheese

2 tablespoons chopped fresh parsley 
INSTRUCTIONS 
Bring a large pot of salted water to a boil and cook the pasta until al dente, according to package directions. Reserve 1/4 cup pasta water, drain remaining water and then toss with a bit of olive oil to prevent sticking. Set aside.
Meanwhile, rinse the shrimp and pat dry—heat 1 tablespoon olive oil in a large skillet over medium-high heat. Add the shallot and cook until fragrant, about 2 minutes. Add the garlic and cook 1 additional minute. Add the shrimp and then sprinkle with half the amount of red pepper (1/4 or 1/2 teaspoon depending upon your desired spice level), 1/2 teaspoon salt, and 1/2 teaspoon black pepper. Sauté, stirring to coat with garlic, just until cooked through (both sides will be pink and opaque), about 3 to 4 minutes. Remove to a plate and set aside.
Heat the remaining 1 tablespoon olive oil over medium-high. Add the vegetables and the remaining 1/4 or 1/2 teaspoon red pepper, 1/2 teaspoon salt, and 1/2 teaspoon black pepper. Cook until the vegetables are hot and lightly sautéed, 4 to 5 minutes. Add the white wine and return the shrimp to the skillet—Cook for 2 minutes, allowing the wine to reduce. Stir in the lemon zest and juice and remove from heat.
Add the pasta to the skillet and toss. If the pasta is too dry, add a bit of the reserved pasta water. Serve warm, topped with Parmesan and parsley.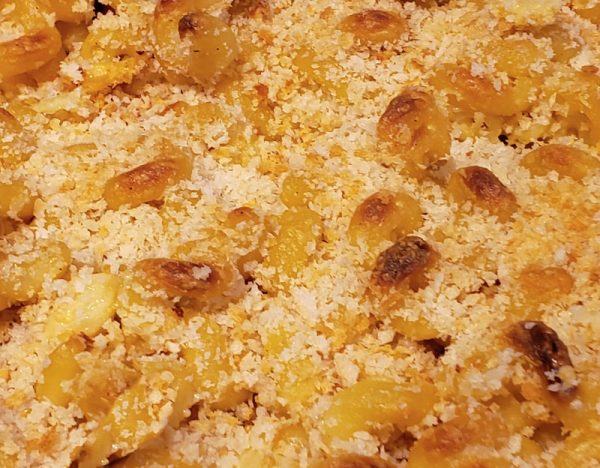 If your house has kids of any age, I highly recommend making a tray or two of macaroni and cheese.
This is always a winner at my house and you can dial it up many ways: classic breadcrumb topping, drizzle w/truffle oil and add mushrooms to pasta or add in some lobster for a special bit of goodness!
Recipe: Melicia Philips from 'Sides' Cookbook
INGREDIENTS
½ pound elbow uncooked macaroni
4 tbsp. (1/1 stick) unsalted butter
3 tbsp. All-purpose flour
1 tsp. Minced garlic
2 cups milk
A few gratings of nutmeg
A few grinds of black pepper
1 ½ cups grated extra-sharp cheddar cheese
Salt to taste
½ tsp. Dry mustard
Squeeze of fresh lemon juice
INSTRUCTIONS
Preheat the oven to 400° F
Drop the elbow macaroni 3 quarts of boiling salted water and cook, stirring occasionally for 7 minutes. It should still be underdone at this point. Drain.
In a heavy-bottomed, nonreactive 3-quart saucepan, melt 3 tbsp of the butter over medium-love heat. Whisk in the flour and continue whisking for 3 minutes or until the roux gives off a faint nutty aroma. Turn the heat down if the mixture starts to brown.
Add the garlic and whisk for 30 seconds or until the garlic becomes fragrant. Whisk in ½ cup of the milk to form a smooth, thick paste with the roux.
Add another ½ cup and whisk until it is also smooth. Add the rest of the milk, whisking until there are no lumps left. Add the nutmeg and black pepper. Bring the sauce to a gentle simmer and cook, stirring often, for 15 minutes.
Add the grated cheddar, salt and dry mustard and stir until the cheese has melted and is fully incorporated. Add a squeeze of lemon juice, taste and adjust the seasonings. Check the sauce for thickness—it should be fairly thick, like hollandaise. Thin it with a little milk, if necessary.
Stir in the cooked macaroni. Pour the macaroni and cheese into a greased 6-cup-role or gratin dish. Sprinkle bread crumbs evenly over the top and dot with the remaining tbsp. of butter. Cover with foil and bake for 20 minutes. Remove the foil and continue baking for 10 to 15 minutes or until the top has browned nicely and the casserole is bubbling.
More Time to Make Memories
Enjoy the preparation of your meals, and things will taste even better. If the kids are home, let them participate, and create wonderful memories while learning some skills. Or invite someone to chop while you sautee. Food memories are some of the strongest we have! Let's make the best of our nesting phase and share the joy of a nice meal. In the words of Jacque Pepin, "Happy Cooking"!
Let us also continue to support our local restaurants and order our favorites for delivery or curbside pick-up. It's all about the community! Together we are better.
Find Inspiration Near You
Already inspired to get cooking? Talk to one of our Bentwood Designers who can transform your kitchen into your own cooking sanctuary!
Click here to set up a personal consultation to explore the possibilities for your home. We'll connect you with a designer in your area and get started with your vision right away!
Not quite ready to begin a project? Look through our gallery to find inspiration and discover the beauty of Bentwood.
Summary
Article Name
Hunkering Down at Home – Cook from Your Pantry and Feel Good!
Description
We are all experiencing a new normal, but still have to feed our loved ones! Check out these recipes to cook much of your dinner from pantry staple items!
Author