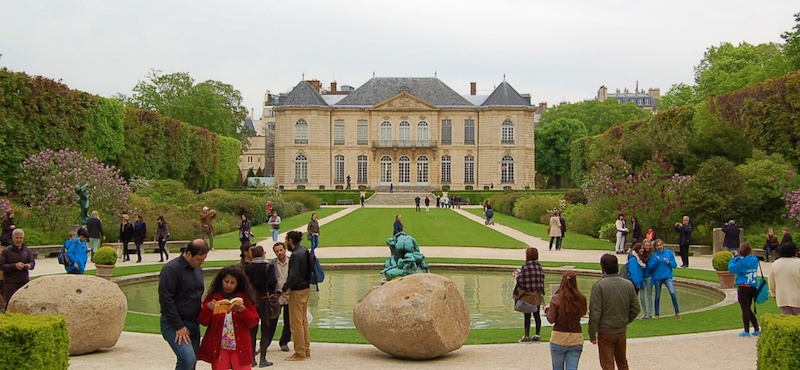 Musée Rodin- Paris
Don't you love Paris in springtime? We do, too! Not only do the sight and smell of cherry blossoms fill your senses, but the scenes of lingering afternoons with locals enjoying the fares of street cafés fill your mind. And those cafés sit in the world-famous architectural masterpieces that fill Parisian streets. The French have mastered the art of effortless refinement in interior design, from relaxed chalets to Haussmann-style Parisian apartments. Never ostentatious, their designs perfectly combine the "old" and the "new" by integrating different styles, periods, and functionalities to achieve brilliant results.
So take a cue from the French by incorporating these timeless elements that resonate around the world, from the streets of Paris to suburban homes, here in the U.S.
Honor the History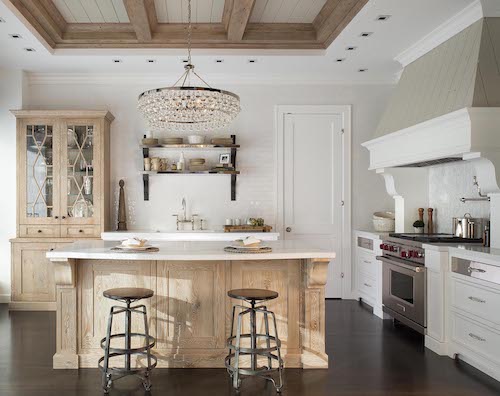 You may not live in the Latin Quarter or St-Germain historic districts of Paris, but you can still use these French inspired features to let your own design shine through. If you are replicating French design in a newer residence, consider architectural elements like hardwood floors, larger scale moldings, and detailed ceilings that reflect this European graciousness.
Our Dallas kitchen project is a lovely example of French influence in an updated design.
Special details include:
Mirror polished drawer fronts
Contemporary chandelier
Aged patina finish on open shelving & counter stools
Marble countertops
These are perfect complements to Bentwood's traditional cerused oak cabinetry with classic French profiles and furniture detail.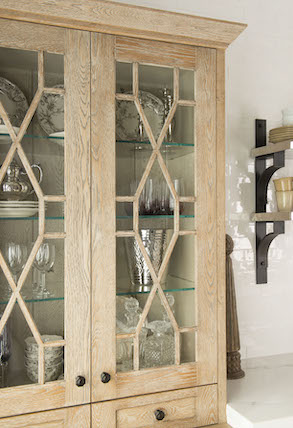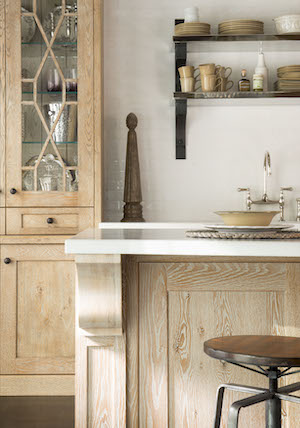 Mix Your Modern and Antique Touches
The most coveted French interiors tend to combine a mixture of different periods for refreshing results.
Vintage fixtures and furnishings with subtle signs of oxidation provide interest. And contemporary artworks add a pop of color to an otherwise soft interior. Though it seems counterintuitive, this juxtaposition creates a stunning space. Modern lighting fixtures, clean line furnishings, and textured accents all make for a winning design.
Embrace A Relaxed and Natural Palette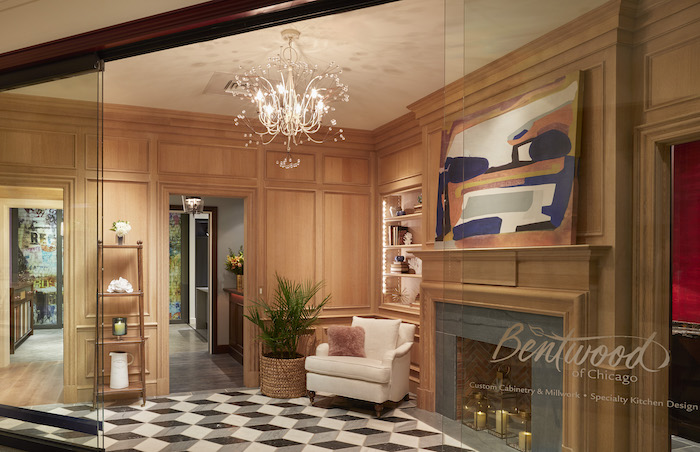 A mixture of creams, soft grays, and natural wood will go a long way in creating an inviting space. These colors allow little décor touches to draw attention – like intricate fixtures and stand-alone artworks – while creating a welcoming atmosphere that still feels refined.
Our Chicago Library project is a lovely example where custom details show a timeless elegance in interior design. A subtle cerused finish applied to hand selected oak paired with marble fireplace surround and a replicated antique Parisian floor are a beautiful combination.
There's a reason why international designers take cues from generations of French style. With a flair for elegance that combines centuries of history with modern tastes, an infusion of French influence can create an inviting space that's both refined and enticing.
Explore our gallery for more inspiration on a global scale, and create a space that dabbles in European influences, but always feels like home.
Summary
Article Name
Interior Design Style Inspired by Springtime in Paris
Description
For interior design that feels refreshingly effortless, take a cue from the French. See how the French inspiration charms us with its informal rules.
Author