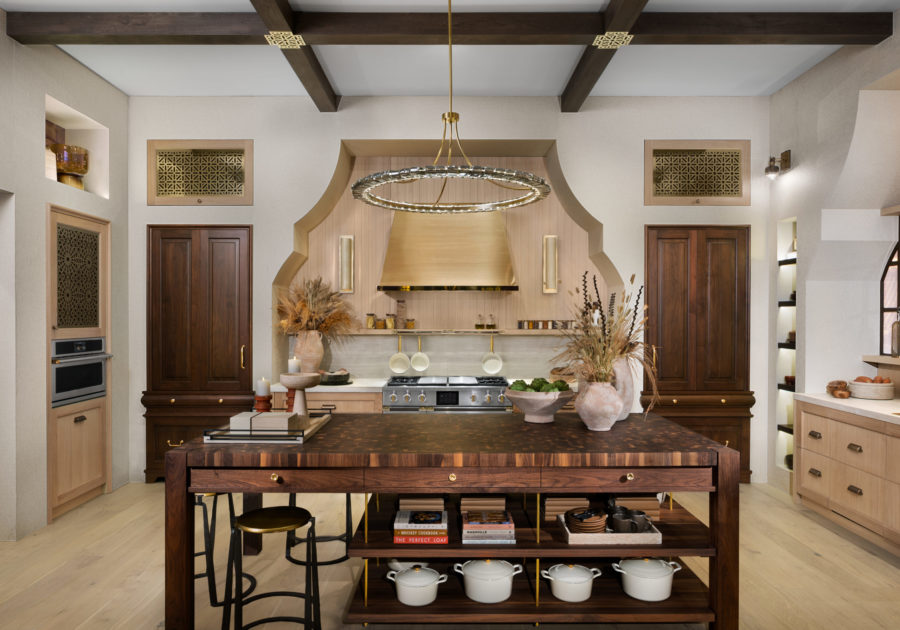 Photo Courtesy of Monogram
At Bentwood Luxury Kitchens we are extremely fortunate to work with some of the finest people in the kitchen and bath industry.  Over the years we have developed a special relationship with the team of Monogram Appliances and watched this company gather much attention and traction in the luxury appliance world.   
We also have had the pleasure of working with Monogram's Creative Director, Richard Anuszkiewicz, in developing Bentwood custom cabinetry perfect for the Monogram KBIS Booths over the last four years. Richard's designs exude the luxury lifestyle of today that has earned him top praise and awards from the industry.  
We are honored to be a part of a select group of partner vendors bringing the teams' design visions to life.      
KBIS

Monogram Osteria—A

Fan-Favorite

Experience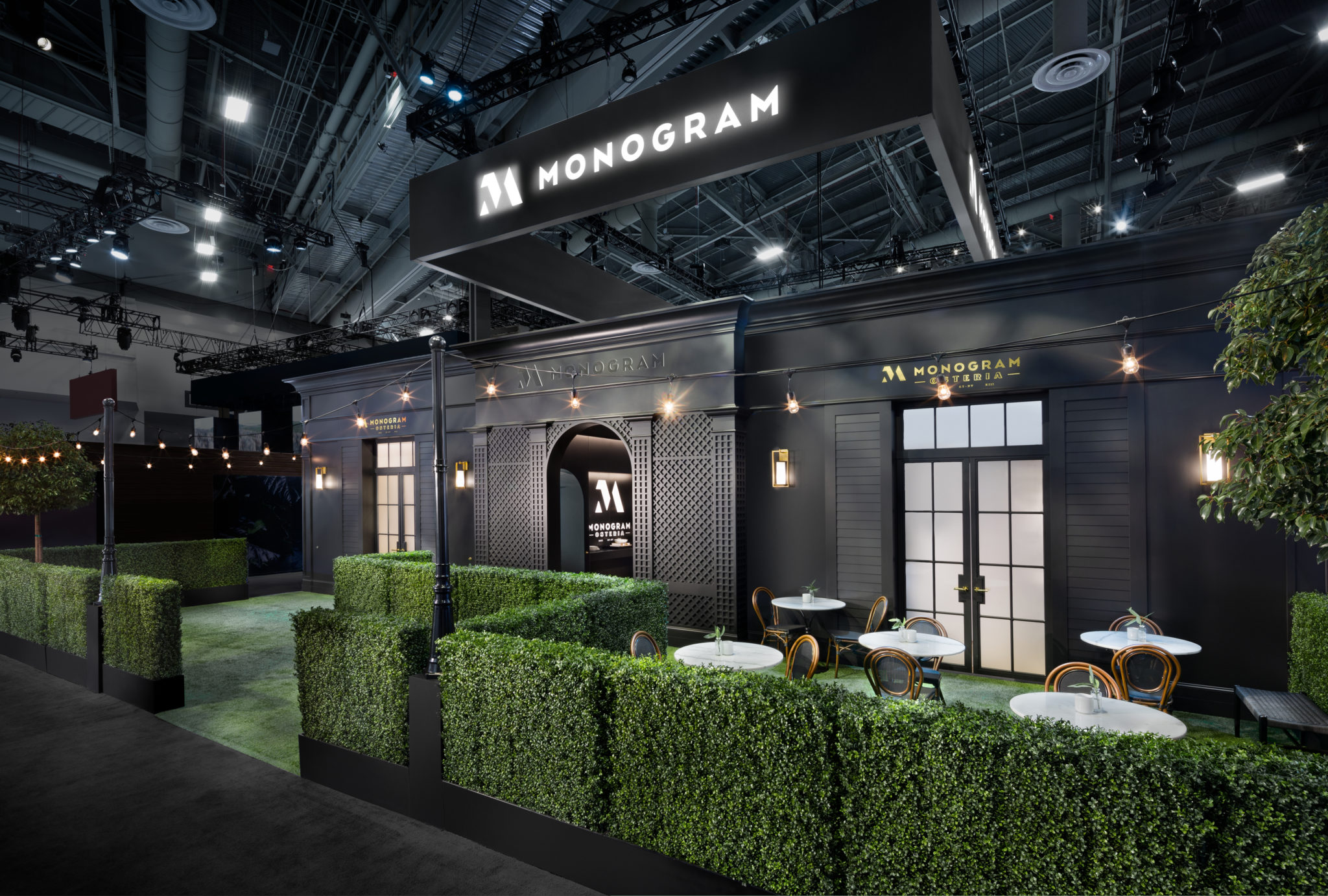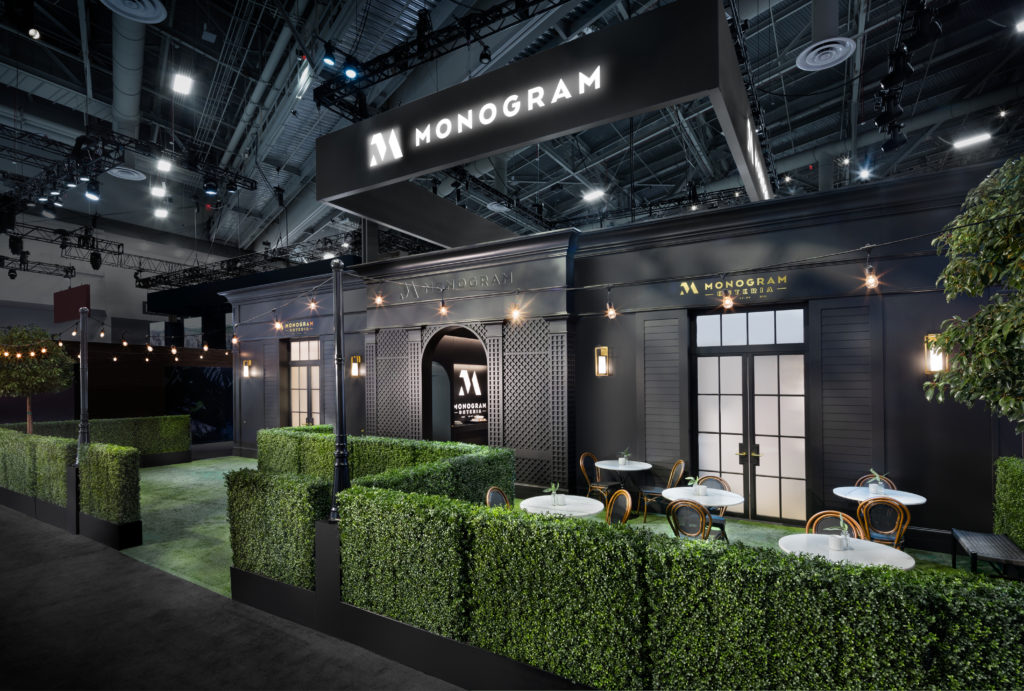 This year's Kitchen and Bath Industry Show in Las Vegas hit record attendance with 40,000 guests and 500 featured exhibitors. And it was no surprise that Monogram's 2023 booth was a fan favorite again!   
Monogram's Osteria theme pulled inspiration from the luxury world traveler and celebrated fine dining restaurant experiences. Richard and the Monogram team produced another luxury guest experience and product feature like no other! Congratulations to all!
Bentwood custom cabinetry was on full display in the Monogram Luxe and Lucid Kitchen environments.  What an impressive experience it was for those who were able to see our cabinetry integrated into full kitchen spaces.  
The overwhelming response from our Bentwood dealers was clear–how can we order this cabinetry?    
So let us make some proper introductions to the newest Bentwood door styles and finishes. 
Introducing the Villa Door Style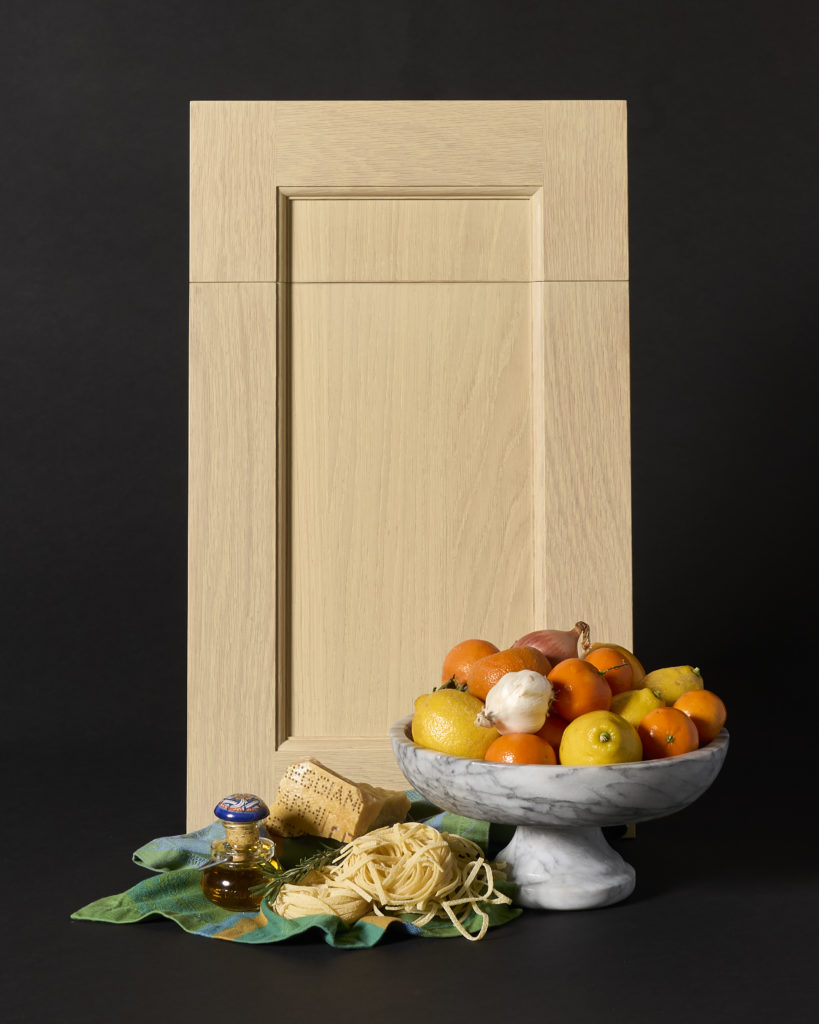 The Monogram Luxe Kitchen included a palette of warm, rich hues along with brass metal details creating European elegance.  
The Bentwood "Villa" door style played beautifully into this theme with substantially deeper profiles reflecting a Tuscan genre.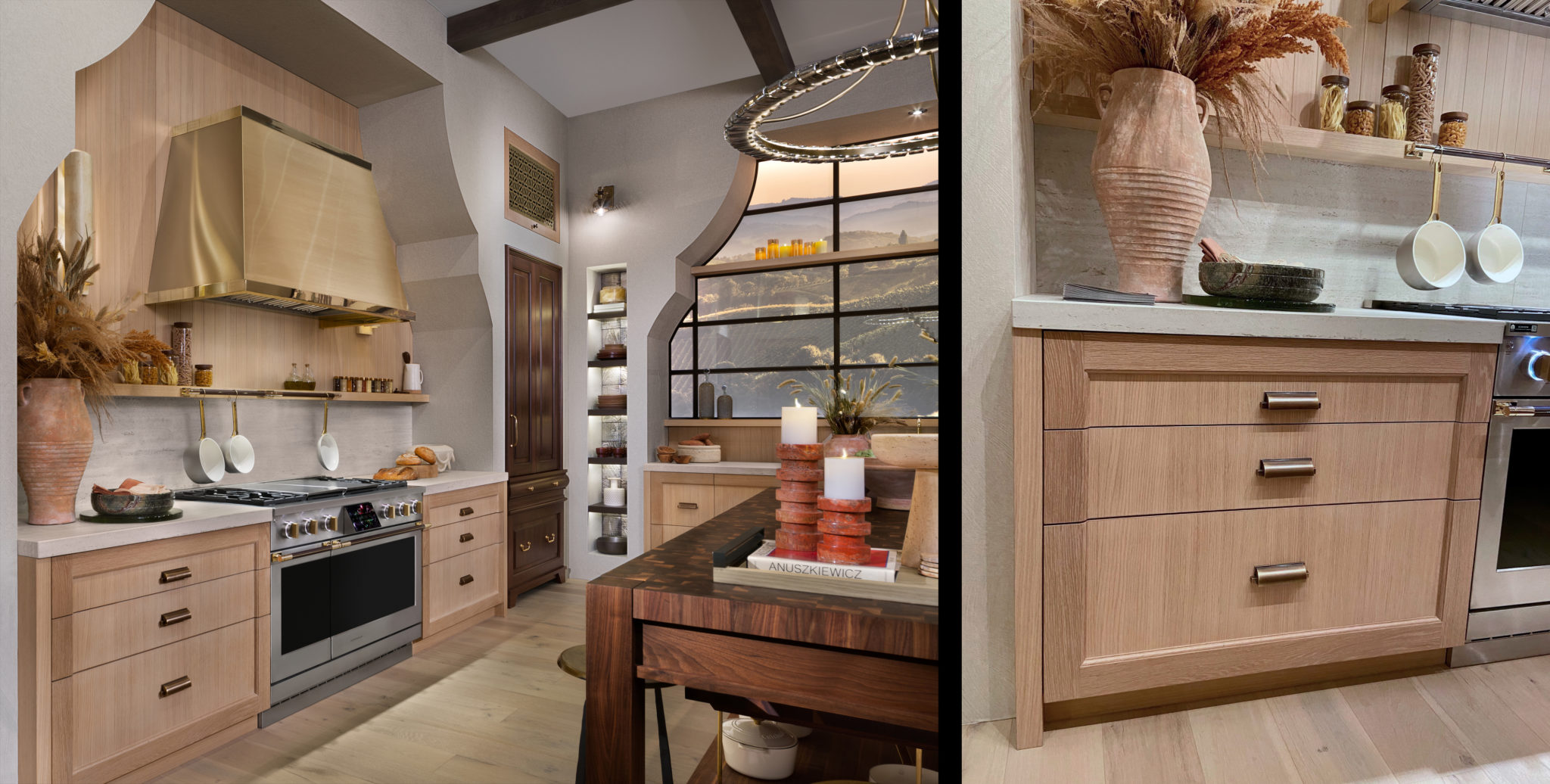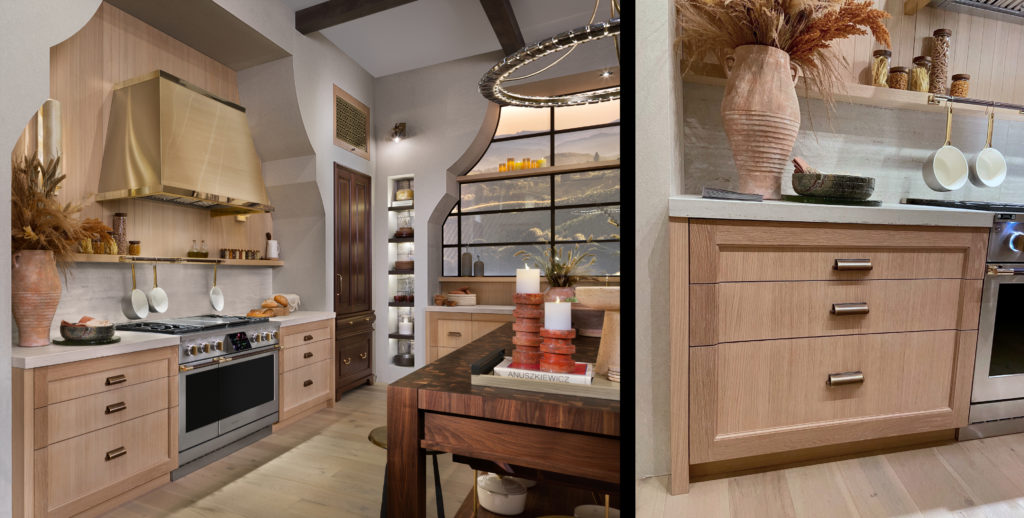 A continuous frame around the cabinetry offers a furniture detail that is both luxurious and estate worthy. The Plain Sliced white oak with "Seagrass" stain has us thinking of an Italian Villa by the sea.  
Introducing the Venetian Door Style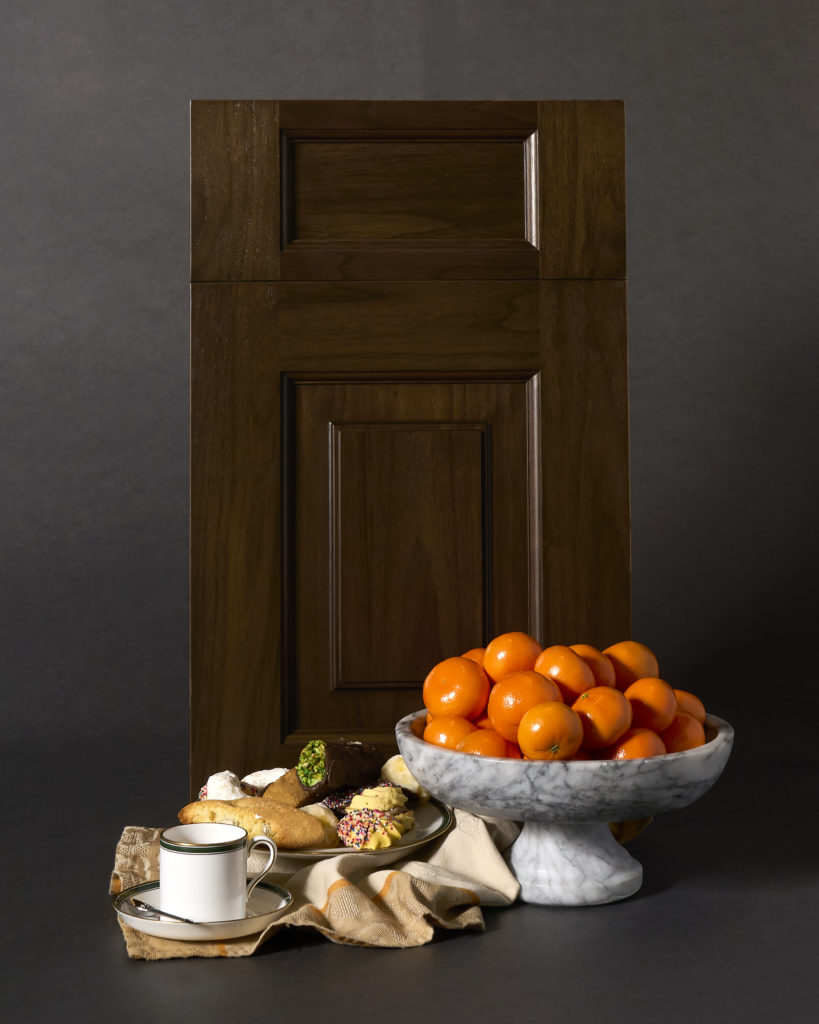 Another Bentwood door style included in the Monogram Luxe Kitchen was the "Venetian" displayed on the new 36-inch Integrated Bottom Freezer Refrigerators.  The timeless raised panel cabinetry door in handsome walnut with dark "Dolci" chocolate stain was a real showstopper.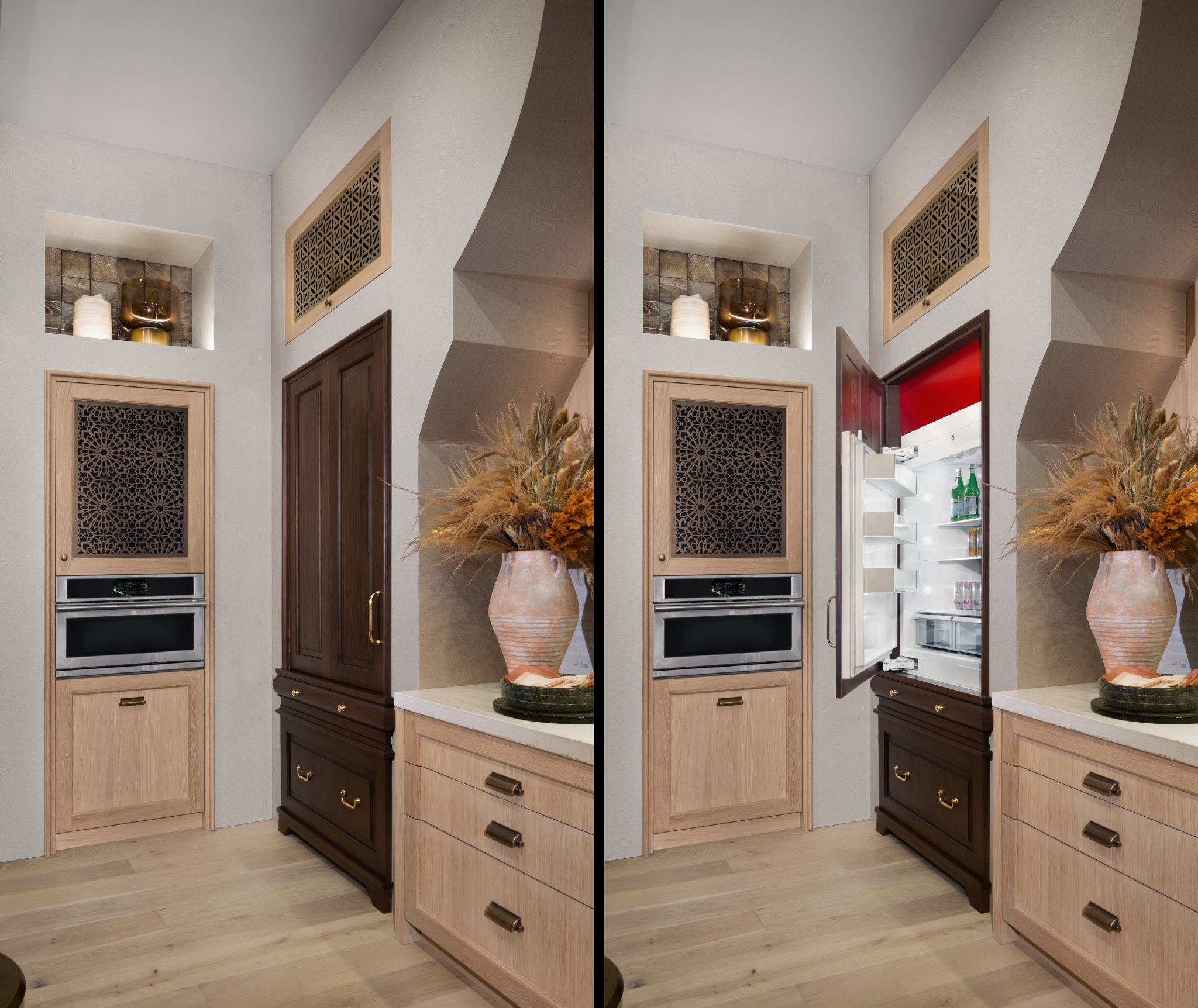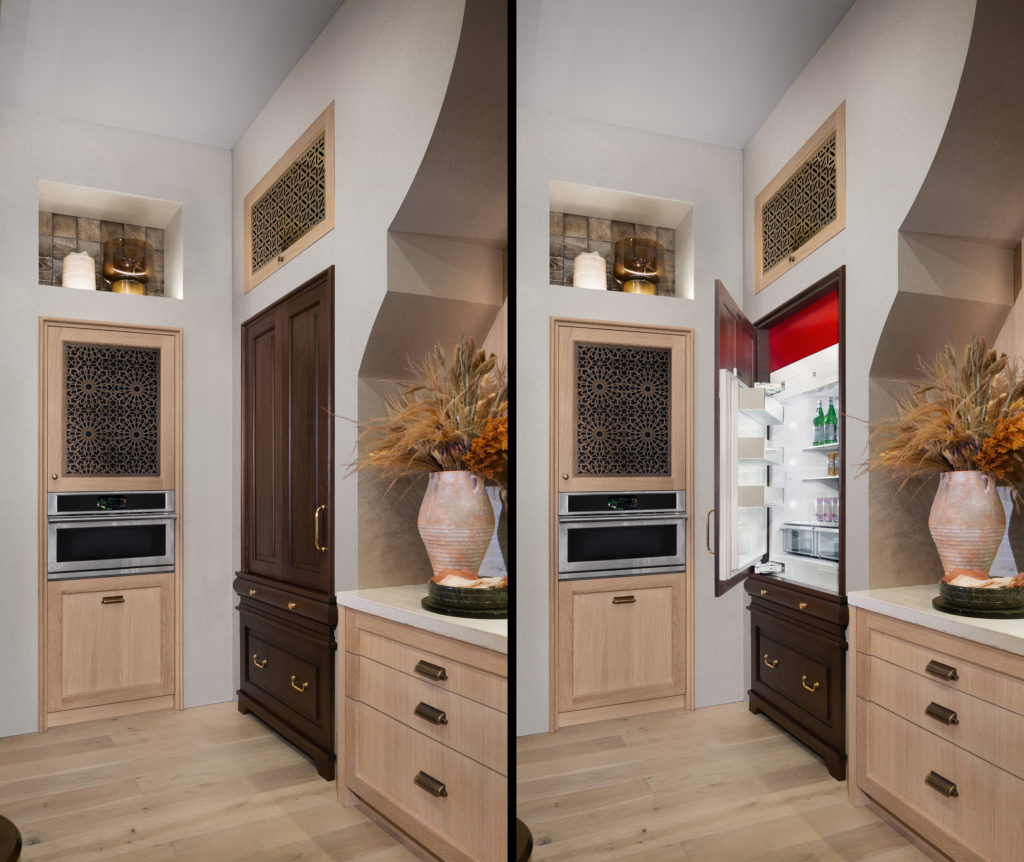 The refrigerator armoires featured furniture profile drawers and decorative brass hardware for a grand statement!   
Richard's signature red cabinetry interiors were another detail that continued to delight guests.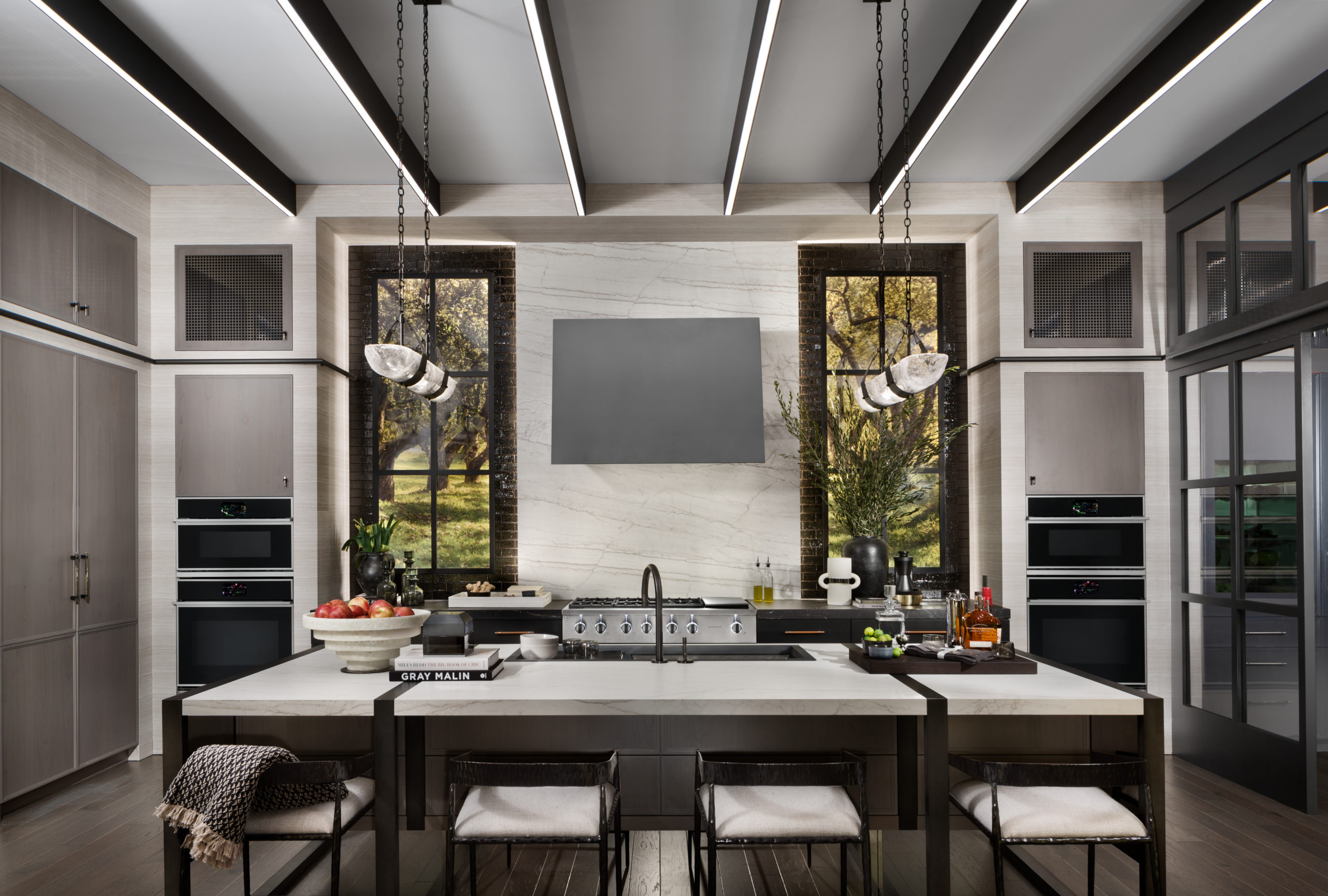 For the Monogram Lucid Kitchen, Richard's modern point of view focused on minimalist geometry and cooler sophisticated tones. Dark metals included the new Titanium Designer Collection adding to the striking theme.    
The Bentwood "Giorgio" door style was a perfect fit in this custom-tailored space with clean lines and updated styling.     
Introducing the Giorgio Door Style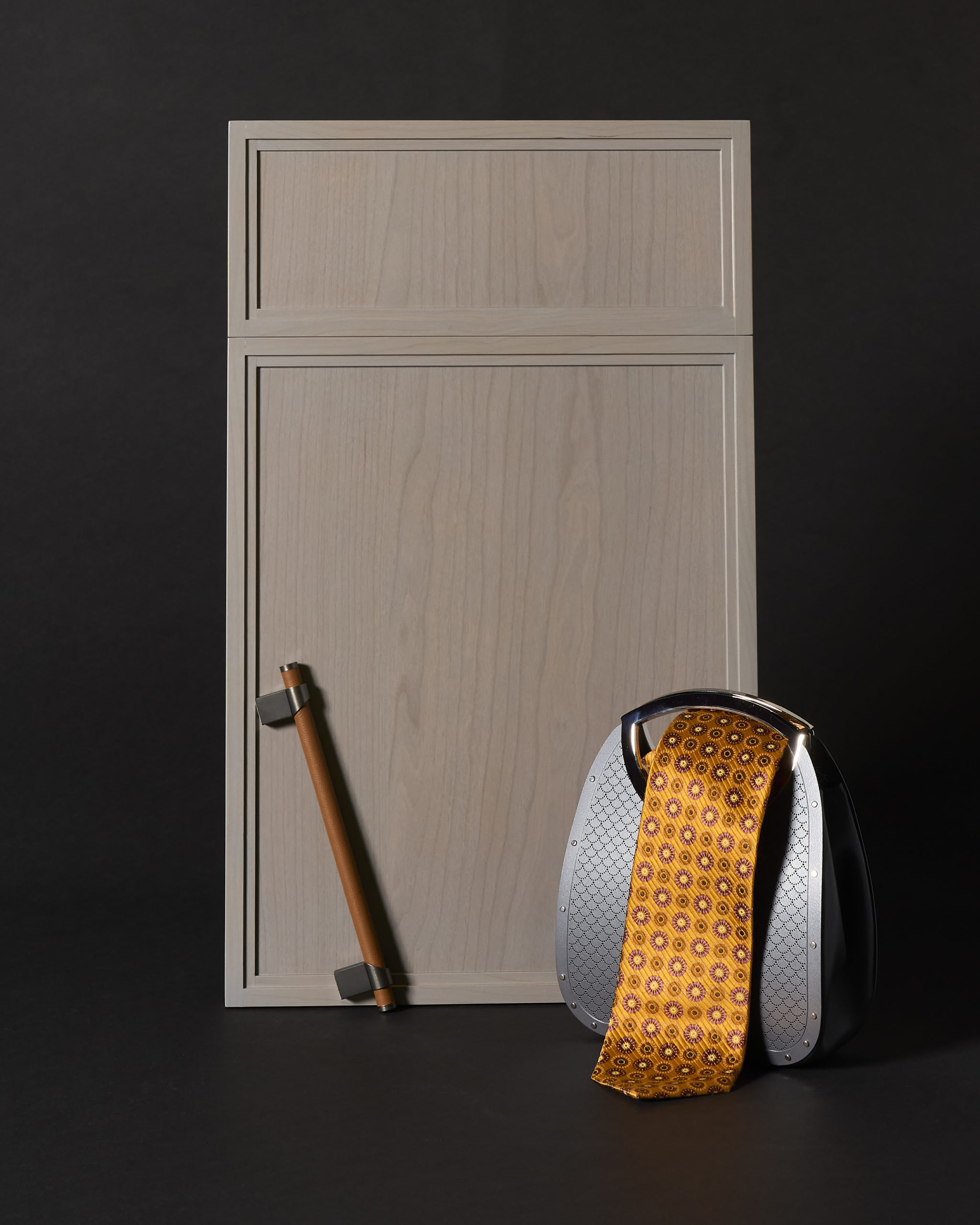 This elegant door exudes high style with architectural framing details.  Cherry wood is an unexpected star and lets the real beauty of the wood shine through with a "Platinum" stain finish.     
Above, the "Giorgio" cabinetry has a perfectly modern furniture appeal and blends effortlessly with interior furnishings.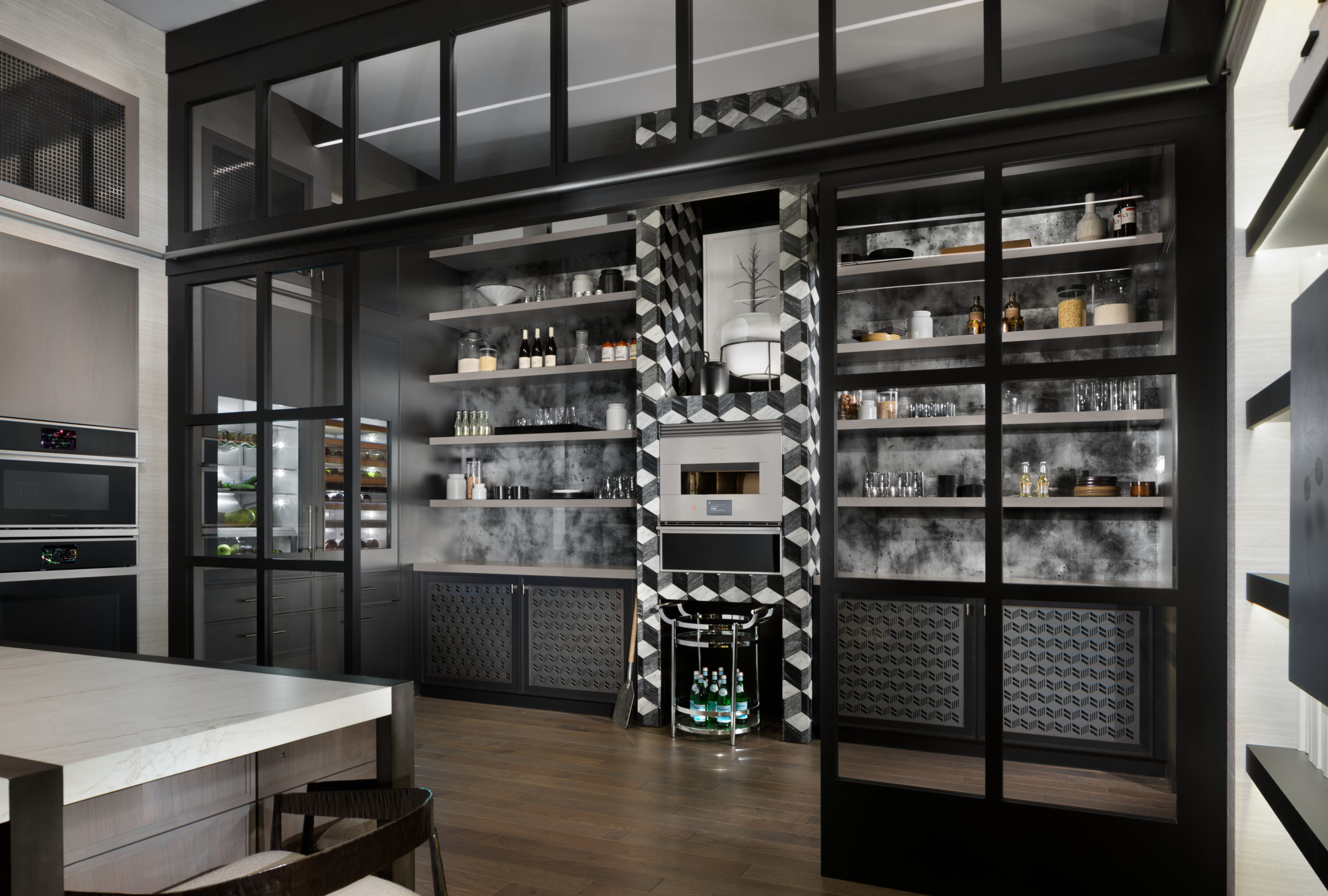 In the Lucid Pantry, custom black-painted "Giorgio" cabinetry acts as a modern stylish backdrop. 
Bentwood

Products

Available Now through Dealer Network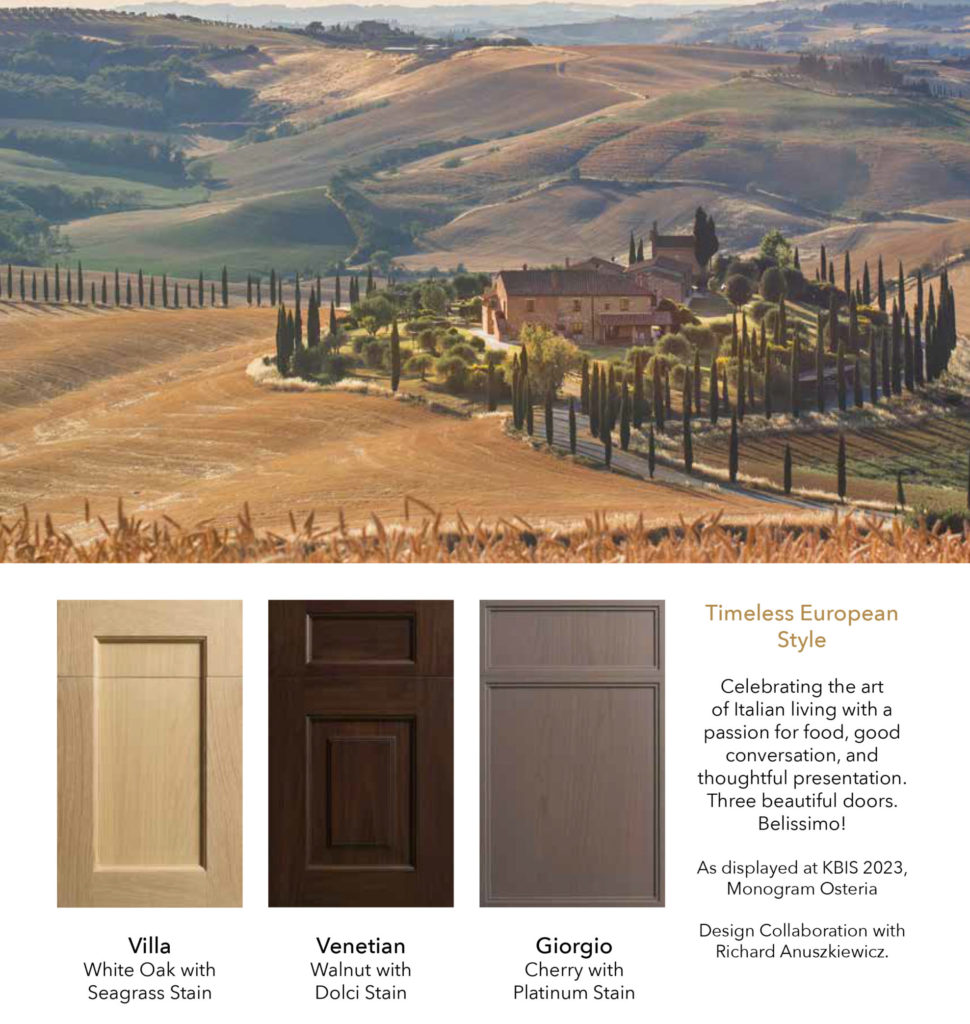 We hope you had the chance to experience KBIS 2023 and visit Monogram Osteria which included Bentwood cabinetry. We invite you to work with your local dealer to explore these new door styles and finishes for your next project consideration.   
Find Inspiration Near You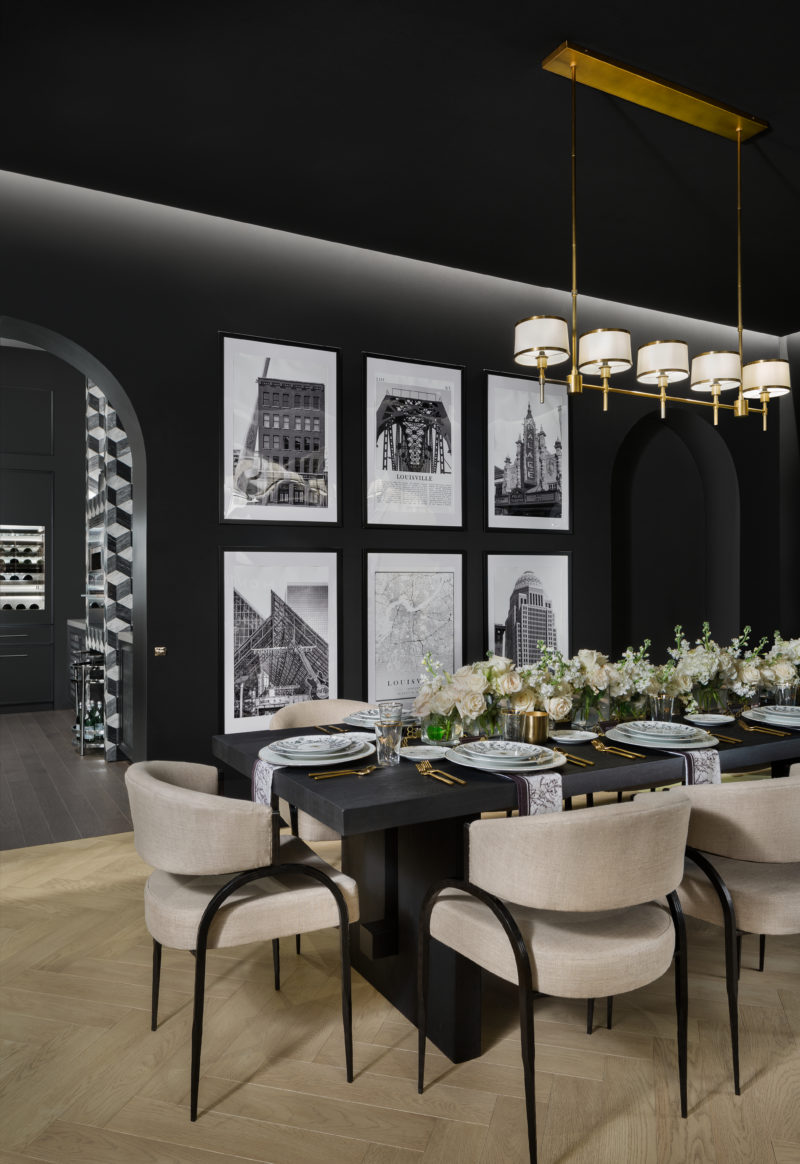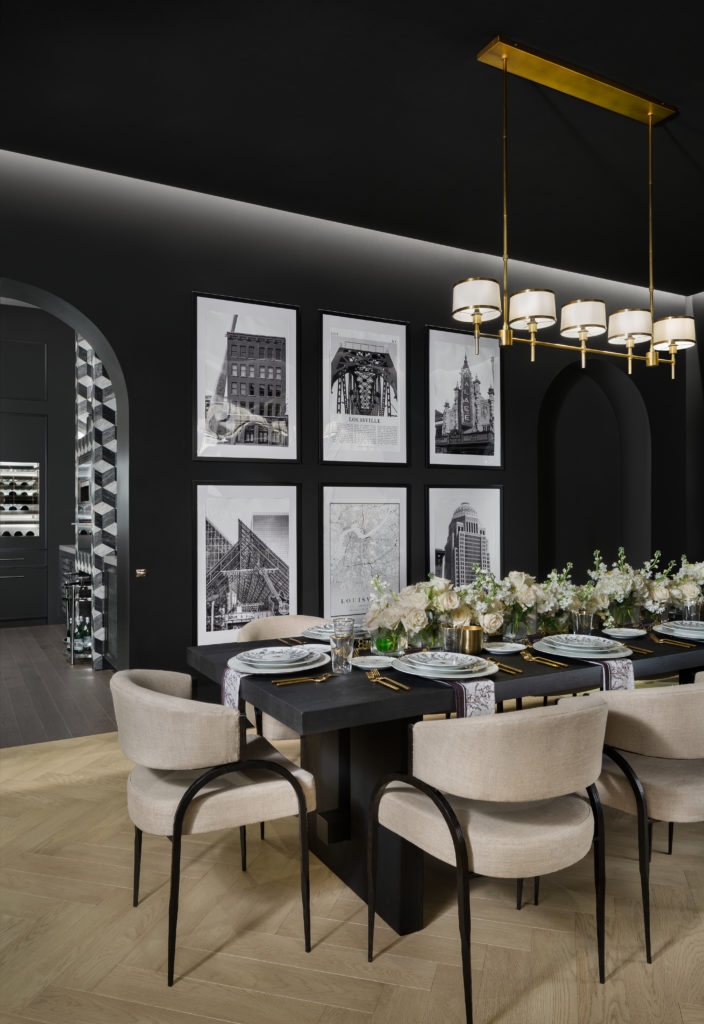 Summary
Article Name
Introducing Bentwood Cabinetry Full of European Elegance
Description
Bentwood Luxury Kitchen is honored to work with Monogram Appliances and Richard Anuszkiewicz in developing custom cabinetry perfect for the Monogram KBIS Booths. Here's a look at 2023.
Author