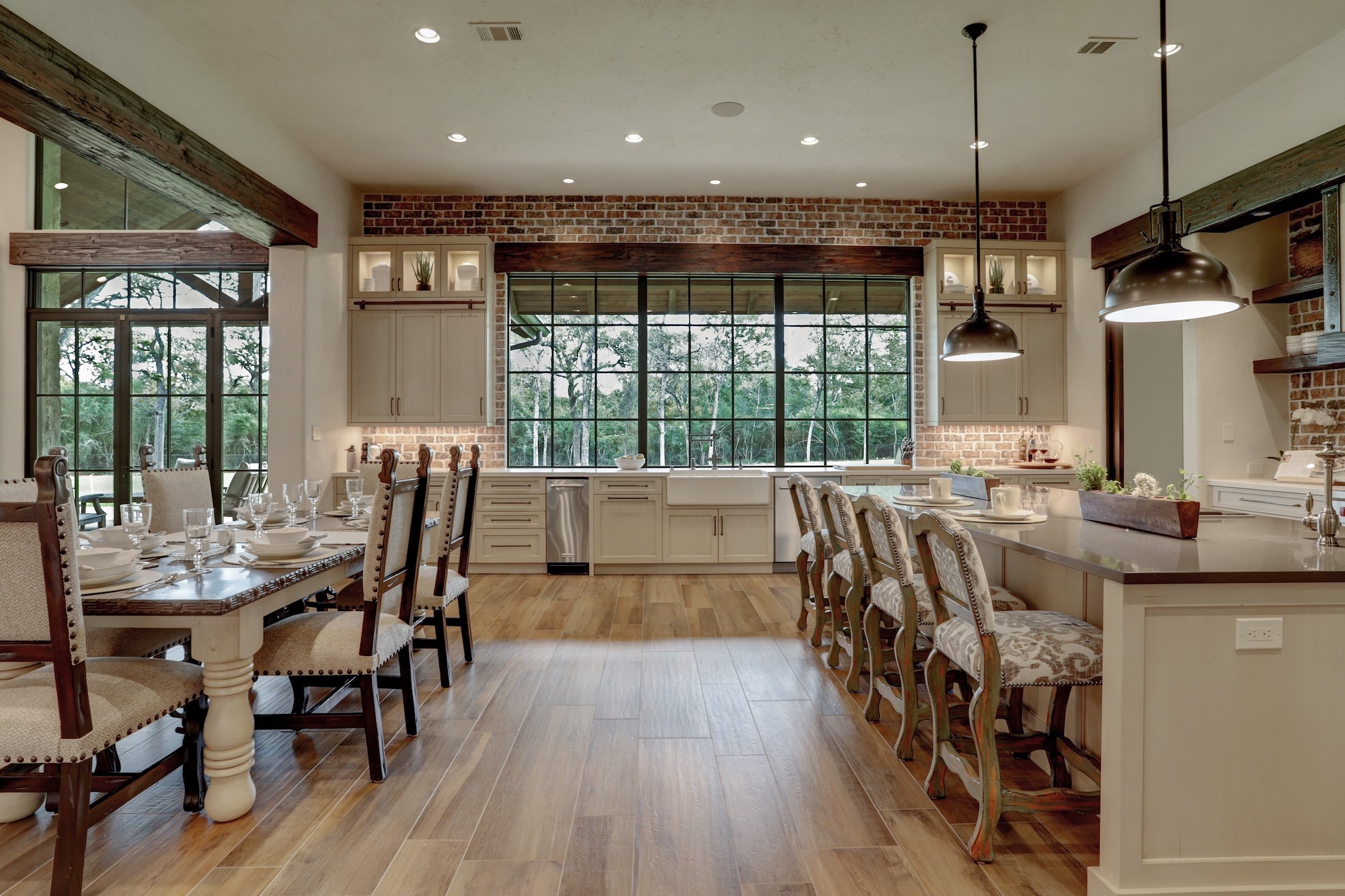 Professional photography by: Craig Vance of TK Images
When a special new construction project in the Houston area was developing, local interior designer, Julie Goudie of Julie Goudie Interiors talked with Shawna Roorda at Bentwood of Houston about the project vision. Julie was impressed with the wide range of custom cabinetry and finishes available for her client's expansive project. So, when the time came to enlist the full team of creative professionals, Shawna was asked to be part of the project team. Winchester Architects had been busy creating the spacious estate home the clients desired over the last couple of years and Ellis Custom Homes was now ready to start the build. The large-scale open-space home with sweeping views creates a great connection with the outdoors on this beautiful property.
Defining Space for a Grand Scale in This Estate Home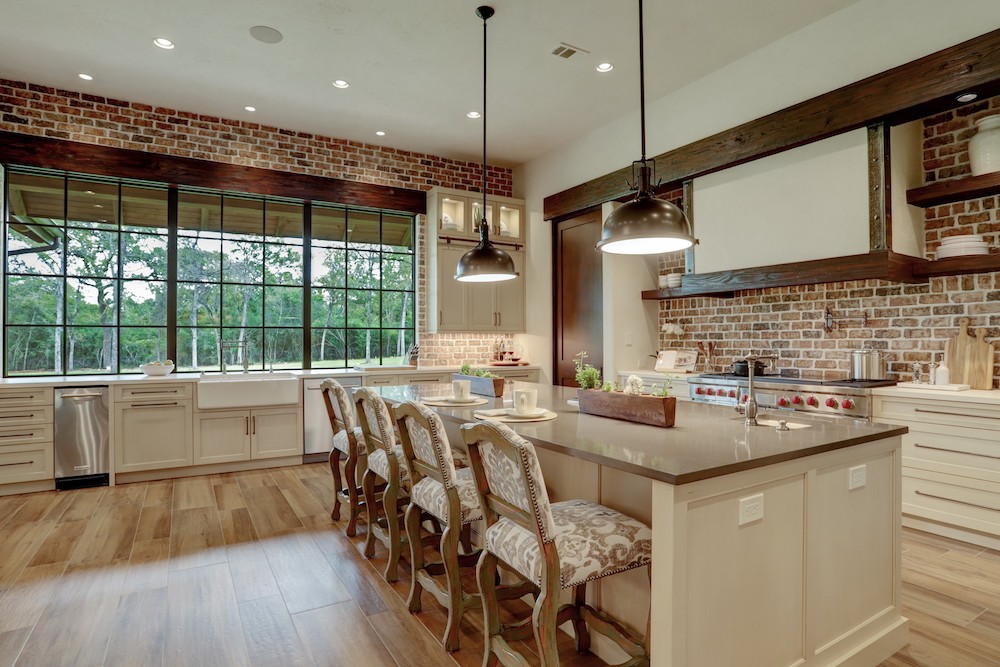 With such large spaces, the design challenges presented were proper scale, function, and defining zones so that all works together beautifully and effortlessly– easier said than done! In the kitchen, a gracious dining table provides comfortable seating; plus additional seating at the island makes sure everyone gets to be in the kitchen! There is plenty of space between seating areas and great circulation to the cooking and clean up zones. And did we mention that amazing view?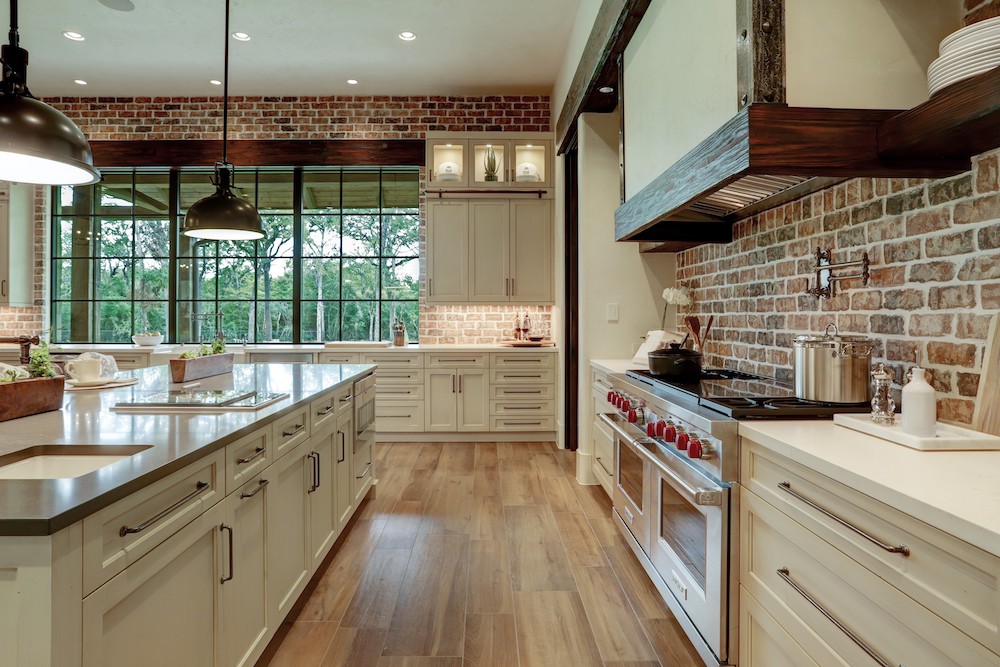 On the working side of the large island, a prep sink and Wolf ™ countertop steam unit allow for friends and family to join in the meal making. And with the professional 60" Wolf™ Range located on the focal wall, there will be endless menu selections that our clients can whip up for themselves or for any number of guests! Keeping the cook and prep zones together maximizes efficiencies for the cook while not feeling crowded.
Rustic Beauty—a successful mix of materials and finishes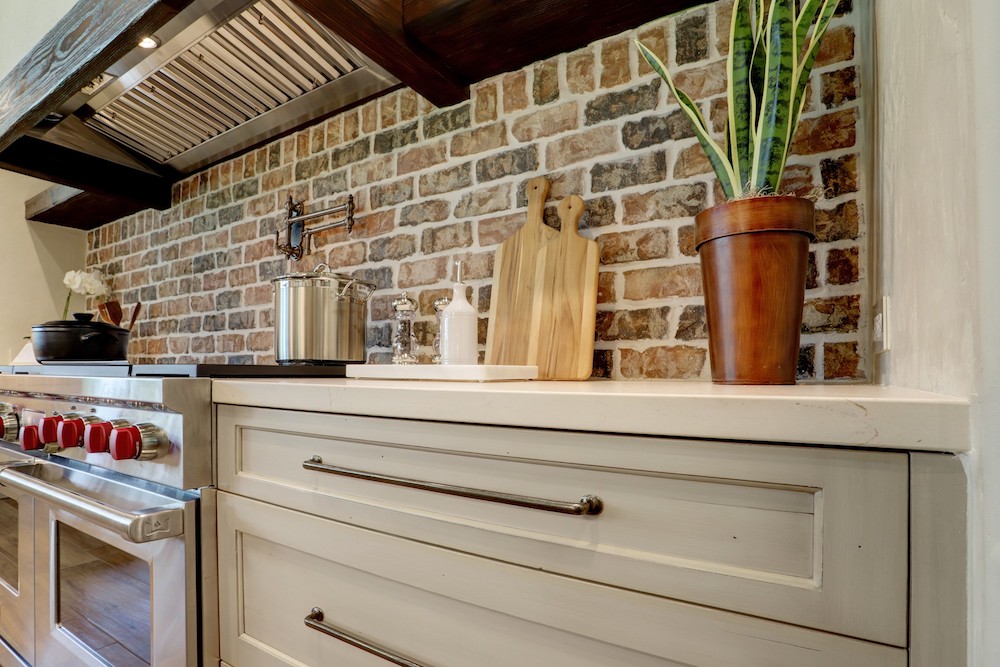 Exposed wood beams and brick plus the venetian plaster walls and ceiling give old world character and texture throughout the home. So, the custom cabinetry needed to complement these defining elements. The solution shown above in the kitchen is the Bentwood 'Lancaster' door, in a warm paint and glaze 'vellum' finish.  And the result is a lovely selection, giving a level of sophisticated refinement that looks gracious in the kitchen space.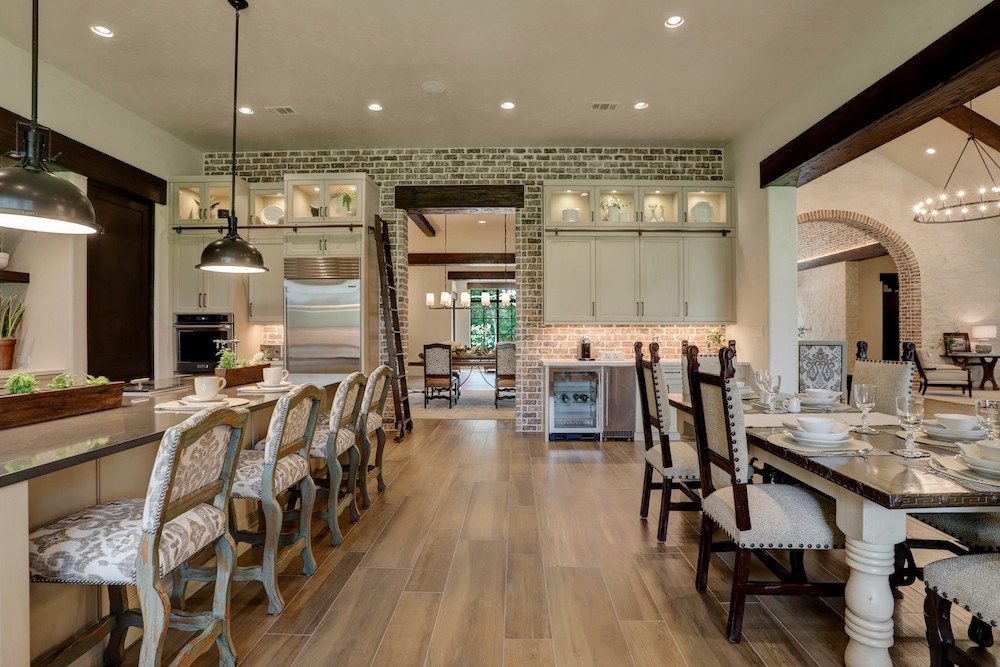 One of our favorite design details of the kitchen is the rolling ladder shown above for accessing additional serving ware. That it is not only accessible, but also neatly parked out of the circulation zone is a real winner!  We also love the Subzero™ refrigeration on this wall right before entering the formal dining room. The countertop space above the Subzero™ wine keeper is a perfect landing spot to open a bottle of wine or mix a cocktail for your guests. Designating secondary space around the perimeter of the kitchen allows for flexible zones–a must for entertaining comfortably.
Pantry Storage and More– A lot More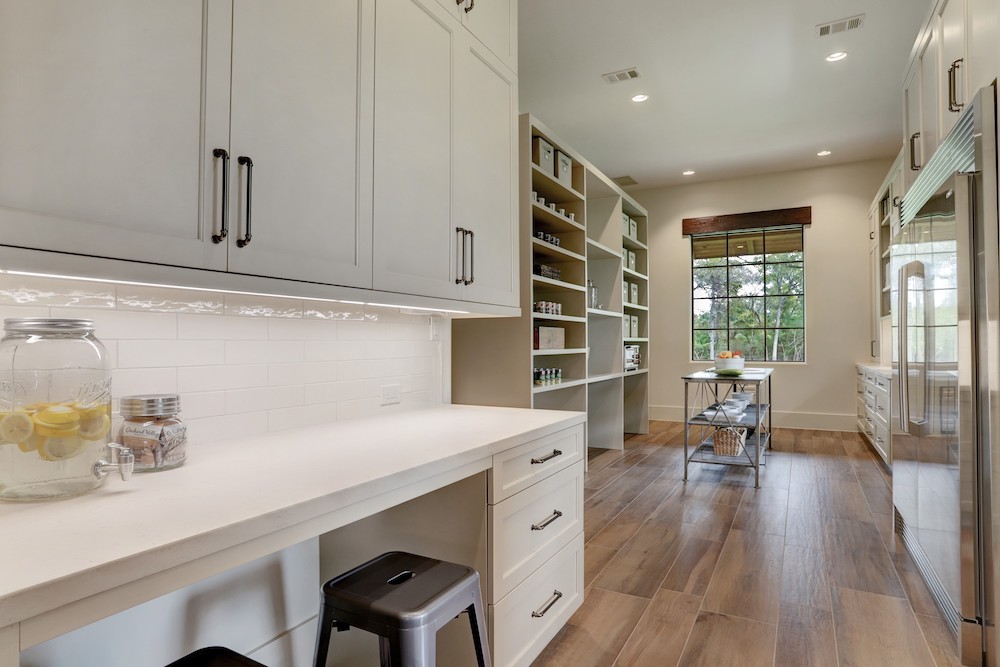 Talking about more storage—how about these useful spaces that support the kitchen and outdoor entertaining! Shown above is a flexible area for a beverage station or a quiet seat away from the action.
In these scullery areas, a hand painted finish with Sherwin Williams™ 7529 Sand Beach custom paint color was selected for storage cabinetry and shelving.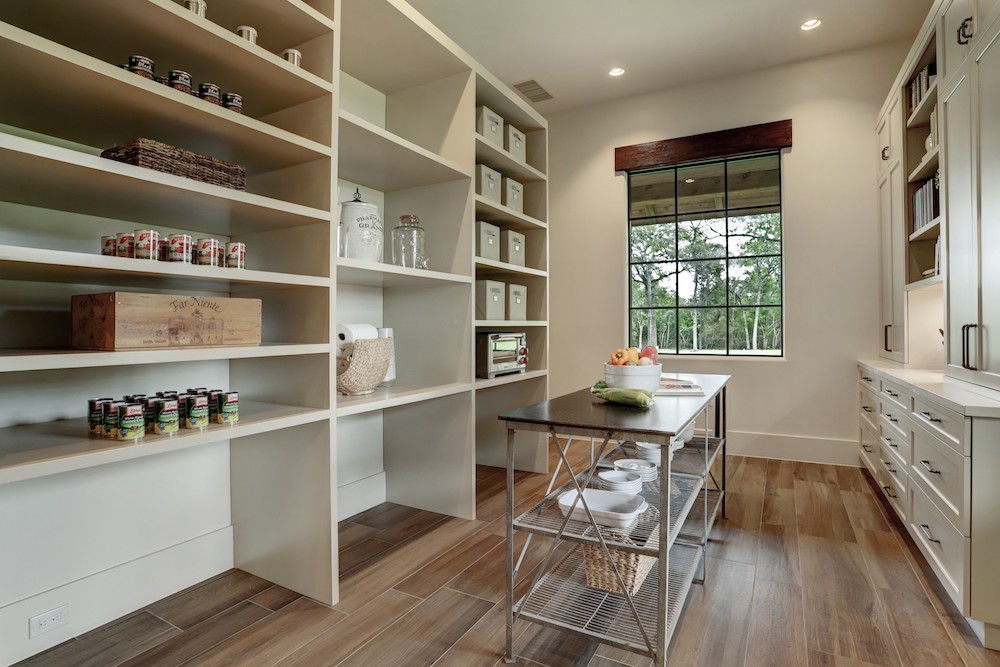 Imagine having this beautiful pantry for canned and dry goods– Neat, organized and accessible!
For additional cookware and chef equipment, a dedicated pots and pan storage space was created, along with cookbook library. The worktable provides a convenient landing and prep area. All we can say is WOW!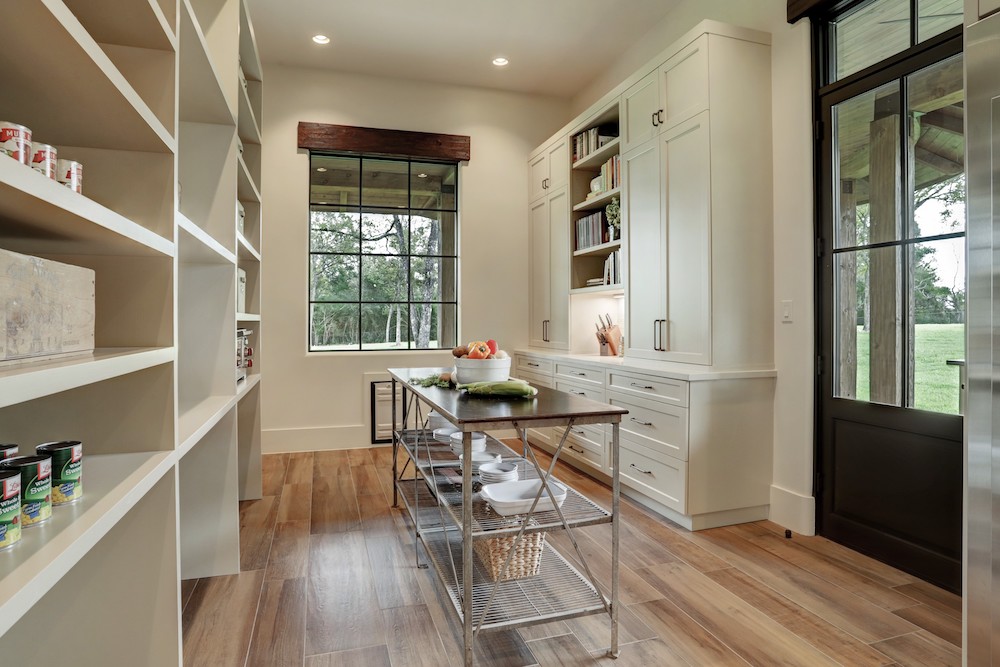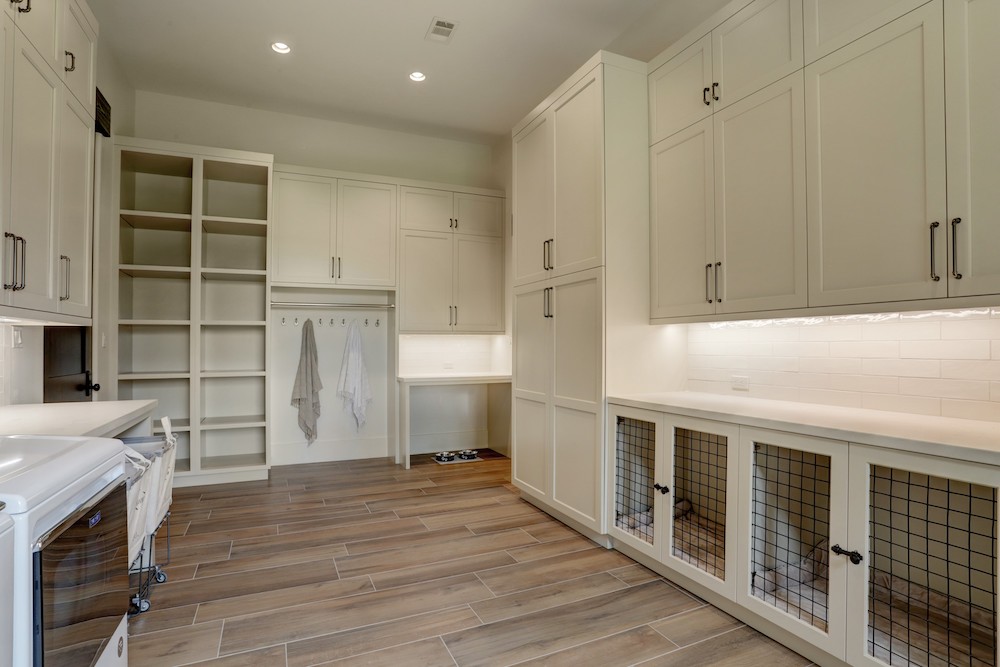 Living away from the city on this beautiful property allows plenty of room for this couples' pack of pups.
The custom laundry room is of course a terrific area for laundry, but is extra spacious for storing dog supplies, feeding area, wiping down paws, and providing comfortable sleeping crates.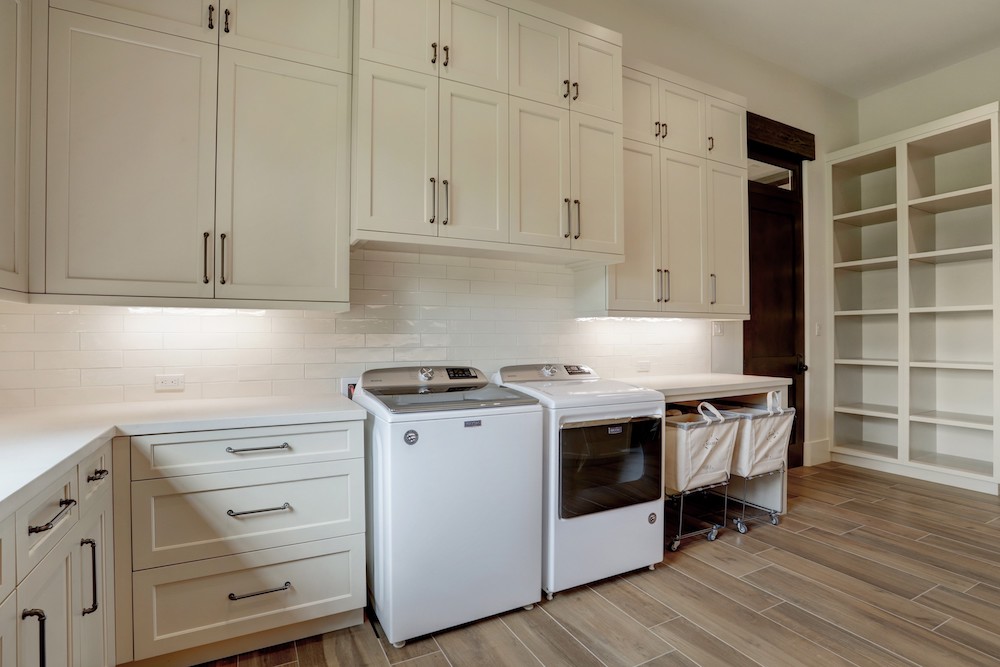 Celebrating a Gracious Lifestyle in This Beautiful Estate Home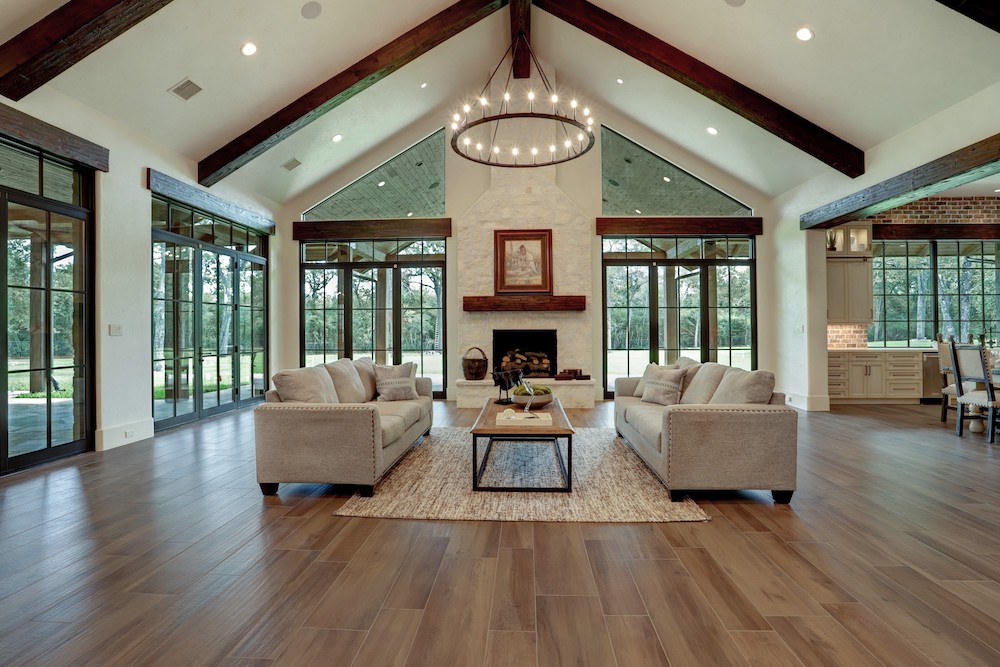 From the design team, we can agree that this was a successful collaboration, and each professional utilized their expertise to attend to the details in fusing beauty with function for this enormous space. Cheers to a 'mission accomplished' in creating an estate home with timeless style, spaciousness, and gracious point of view, that the clients will enjoy for many years to come!
Find Inspiration Near You
Summary
Article Name
Rustic Opulence for a New Estate Home
Description
New homes are always a fun project, but the key is using the space well. See how design and function came together in a beautiful Houston area estate home.
Author