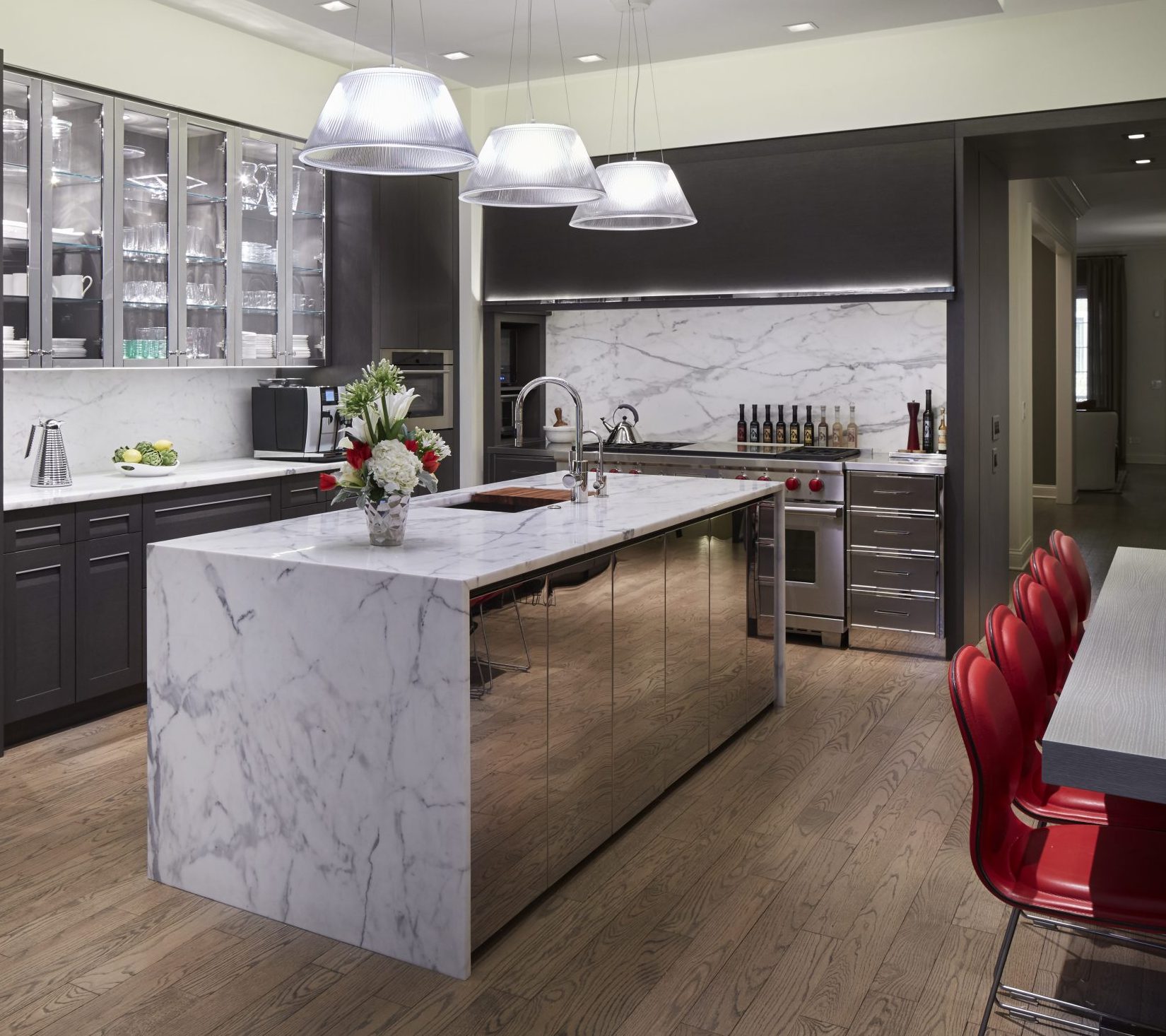 Natural stone is a beautiful choice for kitchen countertops, bathroom vanities, and backsplashes. Stone slabs showcase Mother Nature's artistry, as every rock quarried from the earth has its unique color, veining, and pattern. Plus, natural stone has manageable maintenance, exceptional durability and is the gold standard in a luxury kitchen or bath.
At Bentwood Luxury Kitchens, we want to share our experience designing with natural stone, as this is an important component of a project, which includes overall aesthetic and cost.
So, today we are highlighting the most popular types of natural stone, their characteristics, and level of care that should be considered when making your final selections.
Marble- Queen of Natural Stone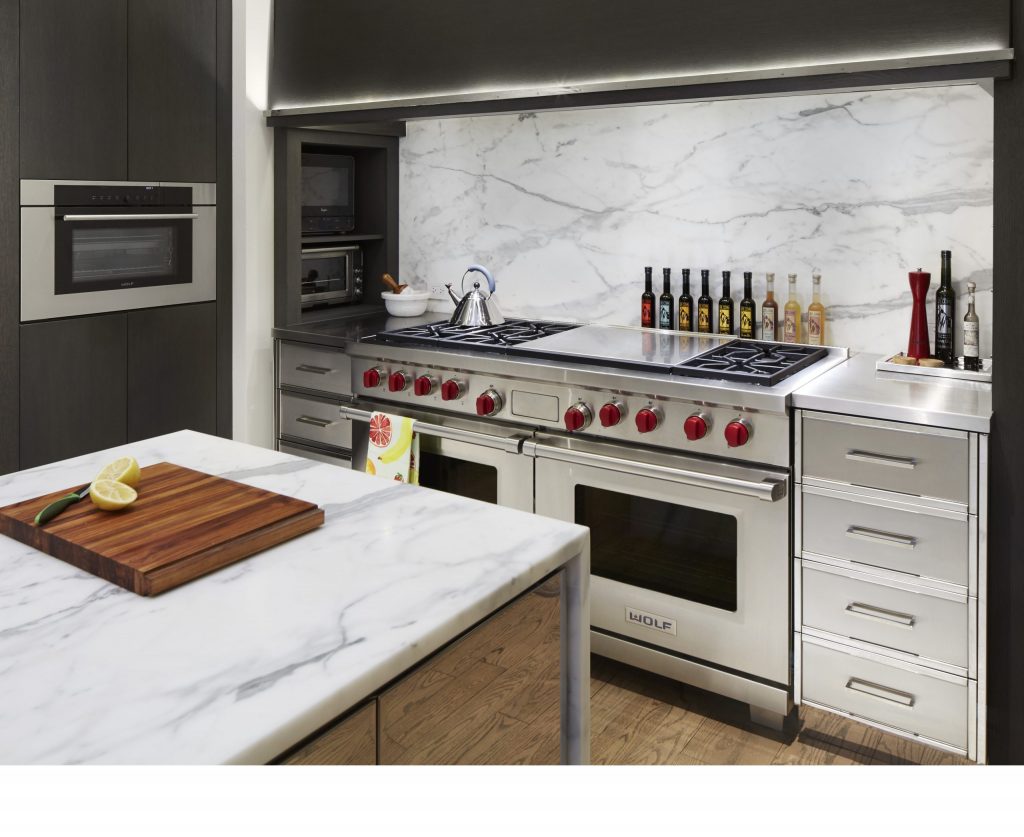 Marble is timeless, elegant and has a long history in interiors. The mere mention conjures images of classic sculpture, cathedrals, and all things luxurious. Unique veining patterns add character to any décor, whether classic, traditional or farmhouse. Marble is the height of luxury in finish and feel. It is also the top choice for bakers as it has a naturally cool temperature.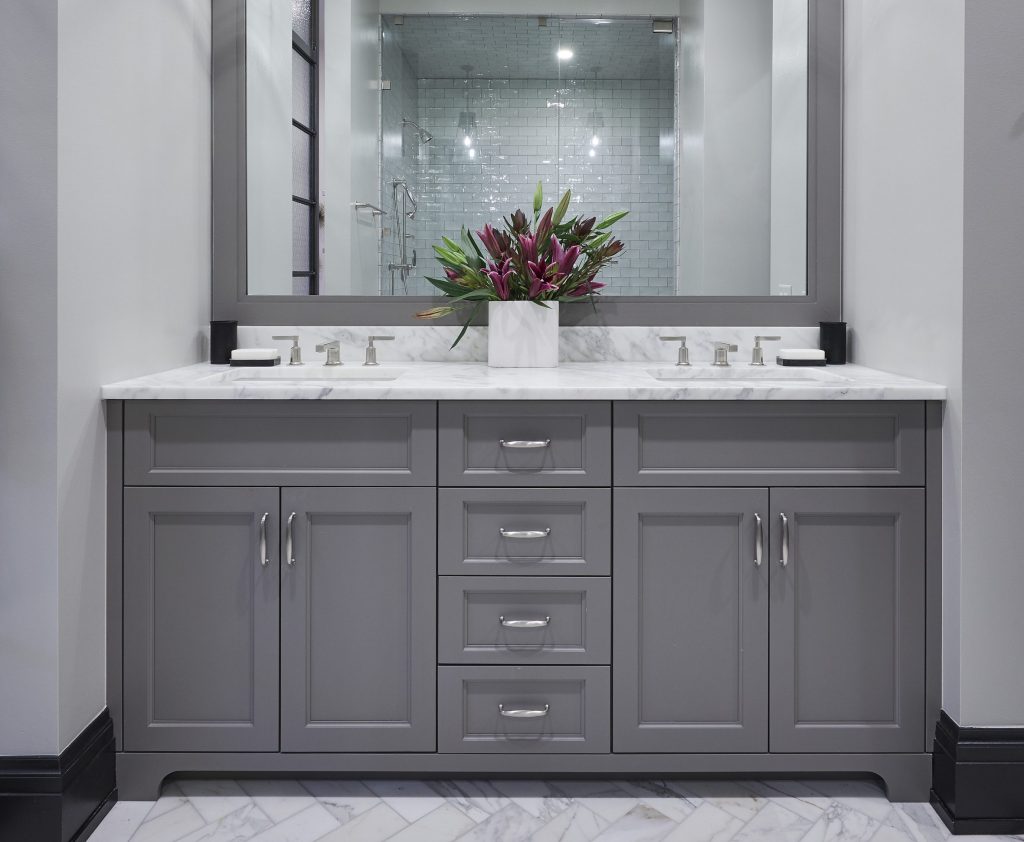 There are some practical considerations to keep in mind when considering marble countertops. While good quality marbles, such as the renowned products from Carrara, Italy, are dense and relatively nonporous, they also have some weaknesses. Marble is composed of calcium carbonate or magnesium carbonate, both of which react to acids.  It is therefore vulnerable to staining and etching from kitchen acids like citrus, wine and vinegar. Finishing with a penetrating sealer and regular maintenance are essential for long term performance.
Honed Finishes and Azerocare™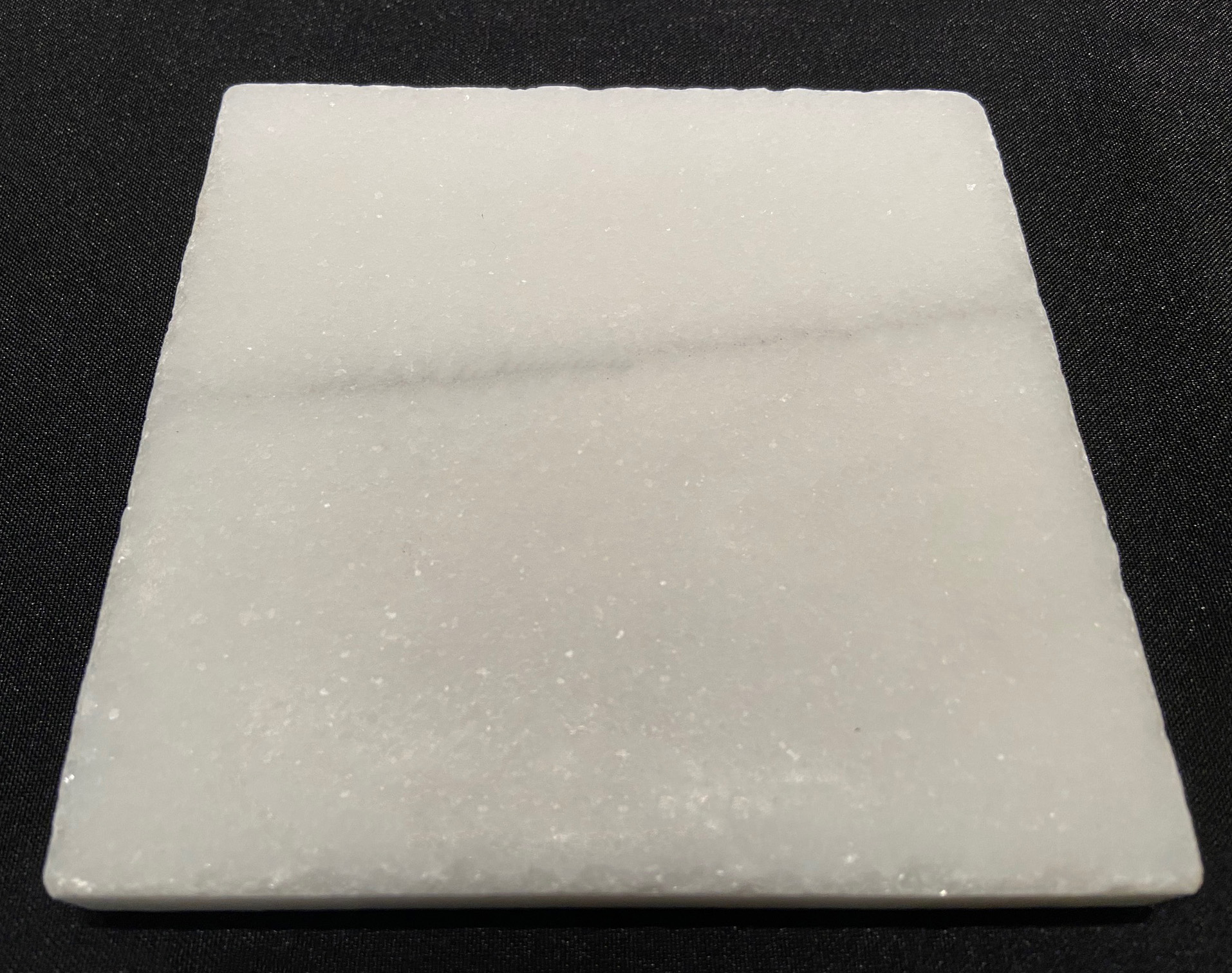 We often visualize a high-gloss polished shine when thinking of marble, and that is indeed one of the most popular finishes available.
For homeowners concerned with acid etching, a honed finish may be the optimal choice as it is matte and muted, and therefore a bit more forgiving.
From Antolini Italy– a premium stone supplier in Italy—is an exciting treatment for polished marbles, onyx and quartzite called Azerocare™.   It is the first to offer full protection from etching and staining caused by contact with acid-based food elements. Azerocare™ also provides water-repellant and oil-repellant protection from staining and etching caused by oil, fat, and greasy elements.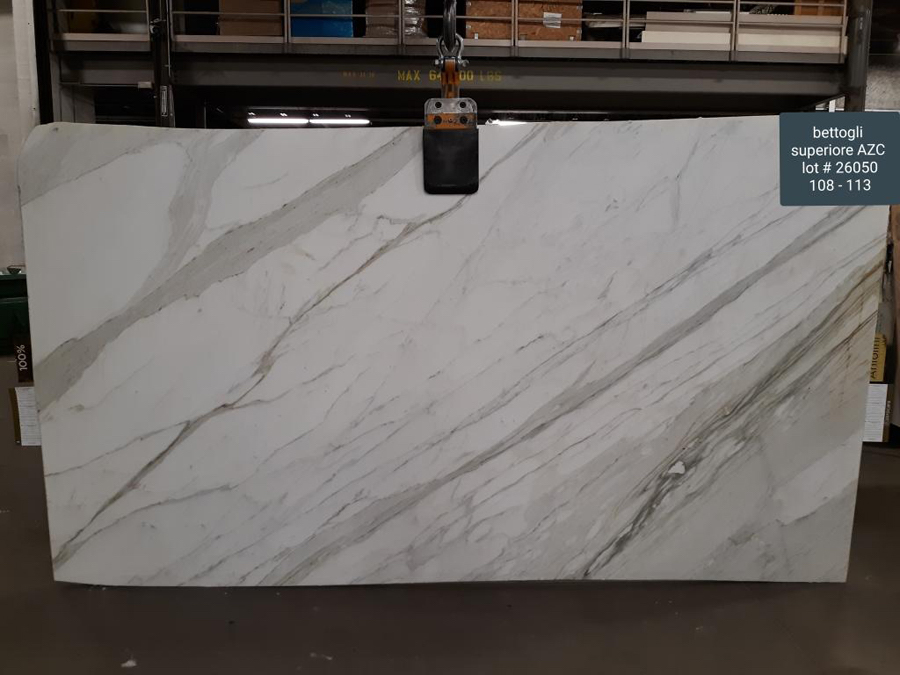 Marble is a softer, porous stone that requires regular maintenance.  Sealing is imperative and recommended every 6 months. For daily cleaning, wipe up spills as soon as possible, and use a mild dish detergent and warm water for a "wash". Never use vinegar, glass cleaner with ammonia or any type of harsh cleaner. For deep stains there are poultices available; or just call a professional marble maintenance company.
Granite- The Beautiful Workhorse of Natural Stone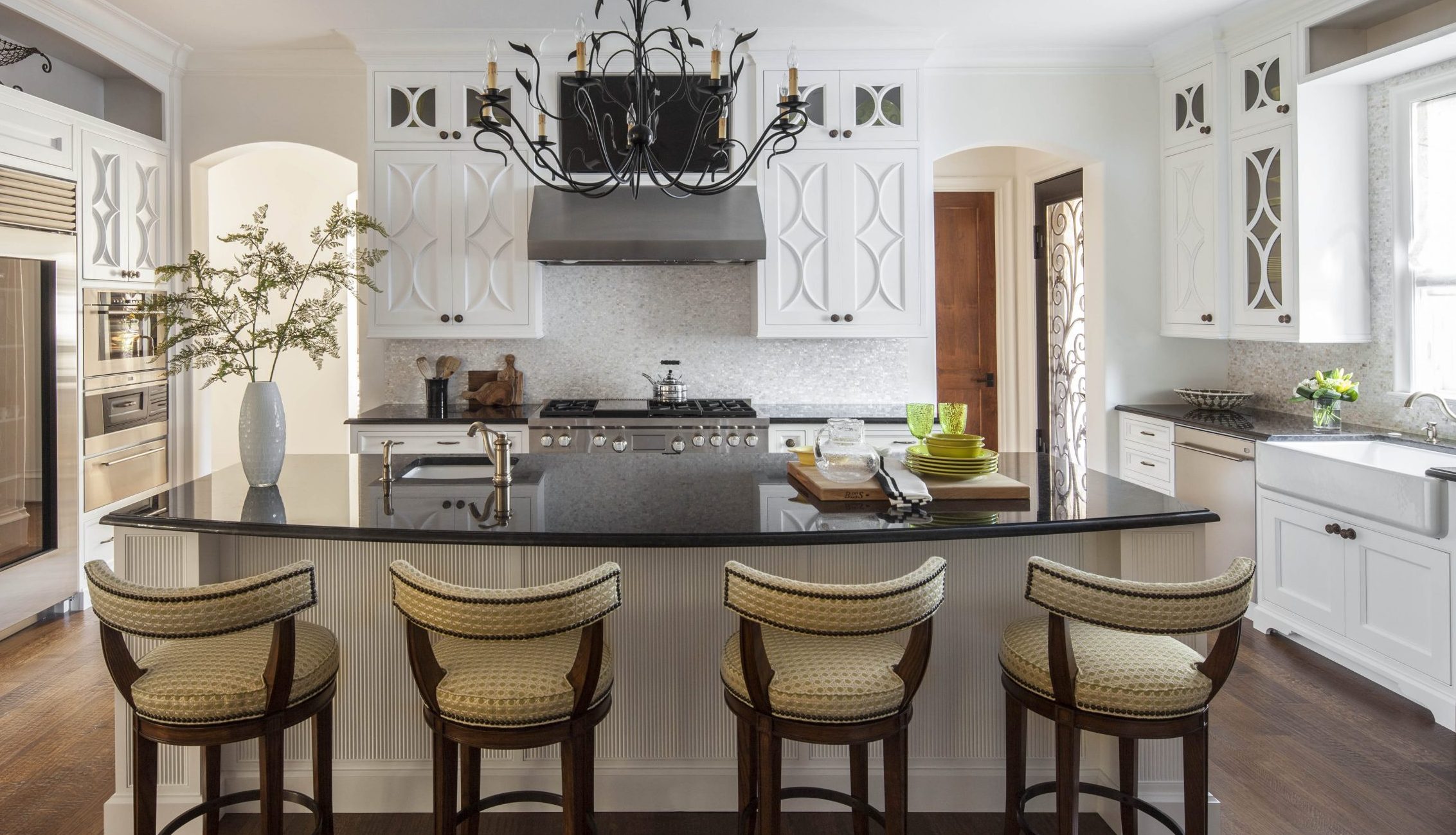 Granite is one of the Earth's oldest building blocks, existing as far back as Ancient Egypt. It has been a popular and desirable selection for countertops for many years and offers a vast range of color and pattern. With updated finish options, there are many fresh selections offering excellent durability and affordability.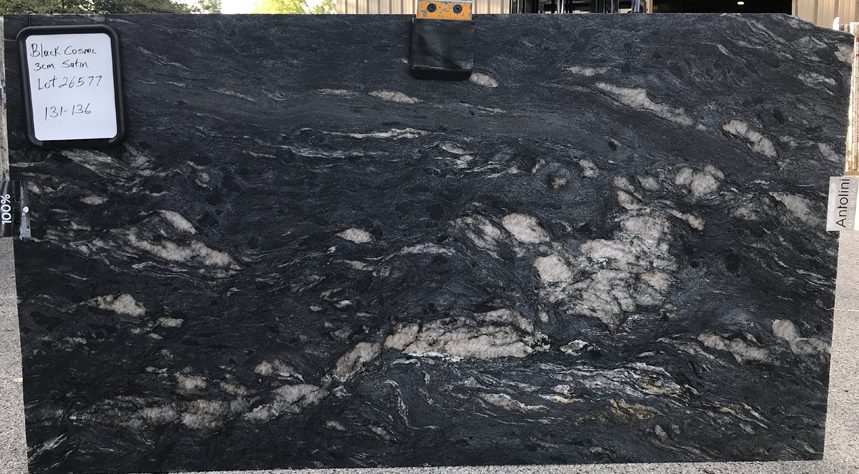 Granite is an igneous rock formed naturally deep in the Earth's crust, where extreme pressure and temperature cause small particles of quartz and feldspar to fuse together.  This not only gives granite its signature speckled/mottled appearance, it also helps conceal seams and contributes to its hardness and heat resistance.  Each slab is truly one of a kind, and a beautiful design element.
Leathered, or a brushed finish is a newer finish that has a beautiful hand and wonderful durability.  It is created by taking a honed surface and running diamond-tipped brushes over it to add texture with subtle dimples.  Leathered countertops often keep the color of the natural stone, unlike with a honed finish.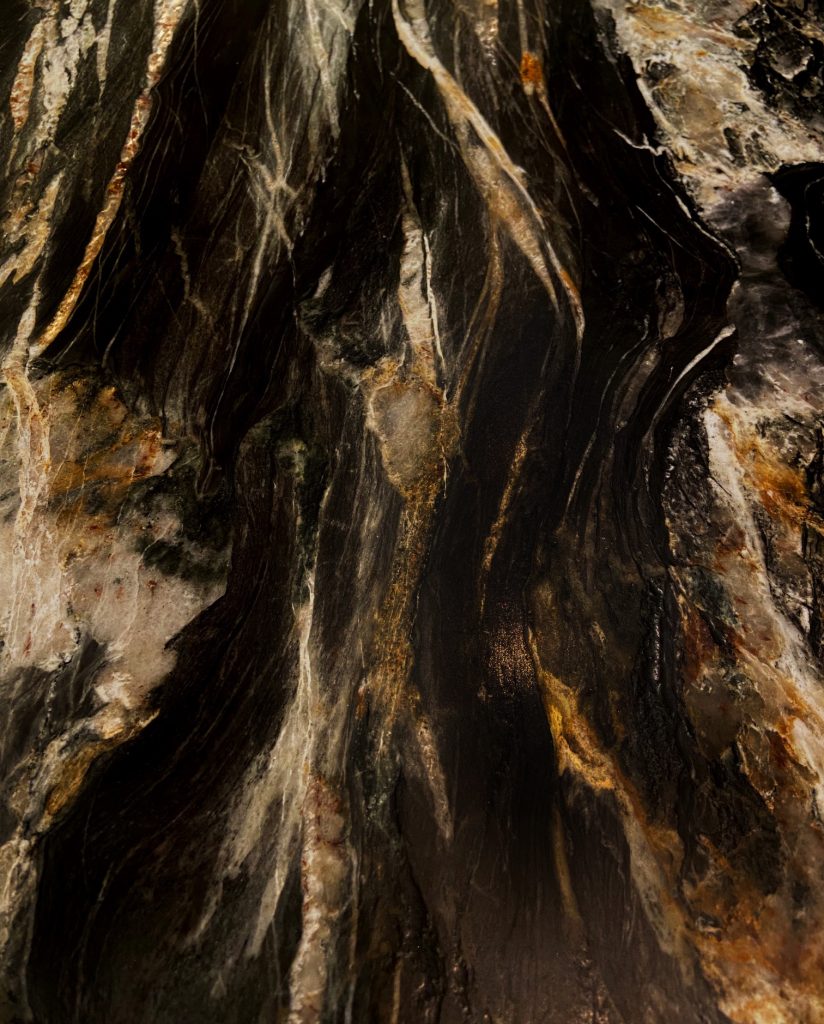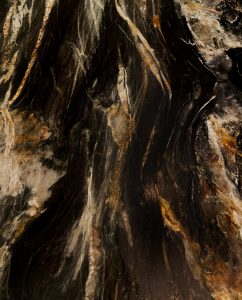 Granite slabs should be sealed, and annual re-sealing is recommended. For daily cleaning use a mild dish detergent with warm water. Like marble, do not use any harsh cleaners, vinegar, lemon or other acids that can dull the finish.
Quartzite Natural Stone – Not to Be Confused with Quartz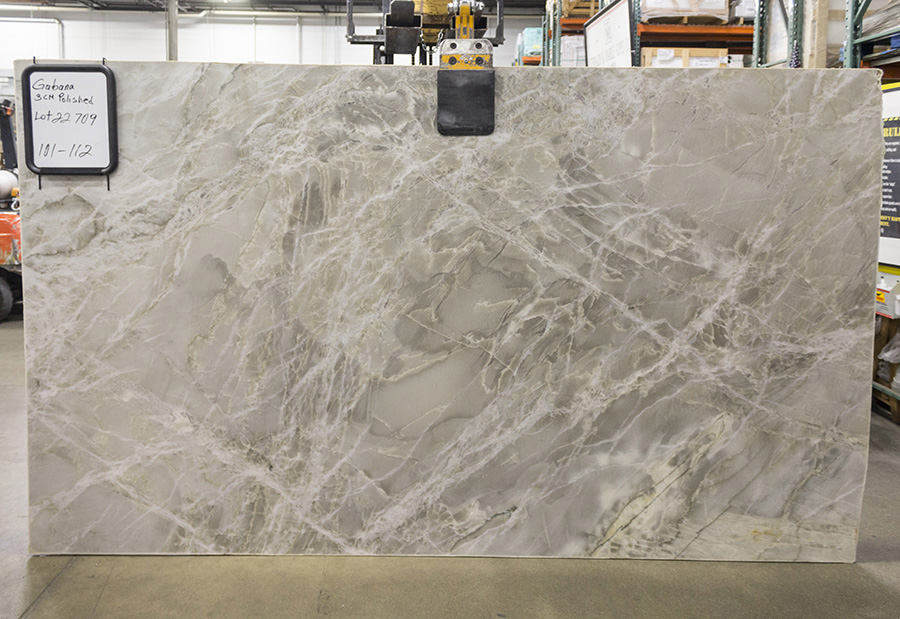 Quartzite is a natural stone that is very durable and contains veining resembling the luxe look of marble. It is a metamorphic rock that is naturally formed from sandstone after undergoing years of extreme heat and pressure, just like granite. However, quartzite has greater density than granite. And with so many beautiful varieties, it's a popular material choice for today's projects.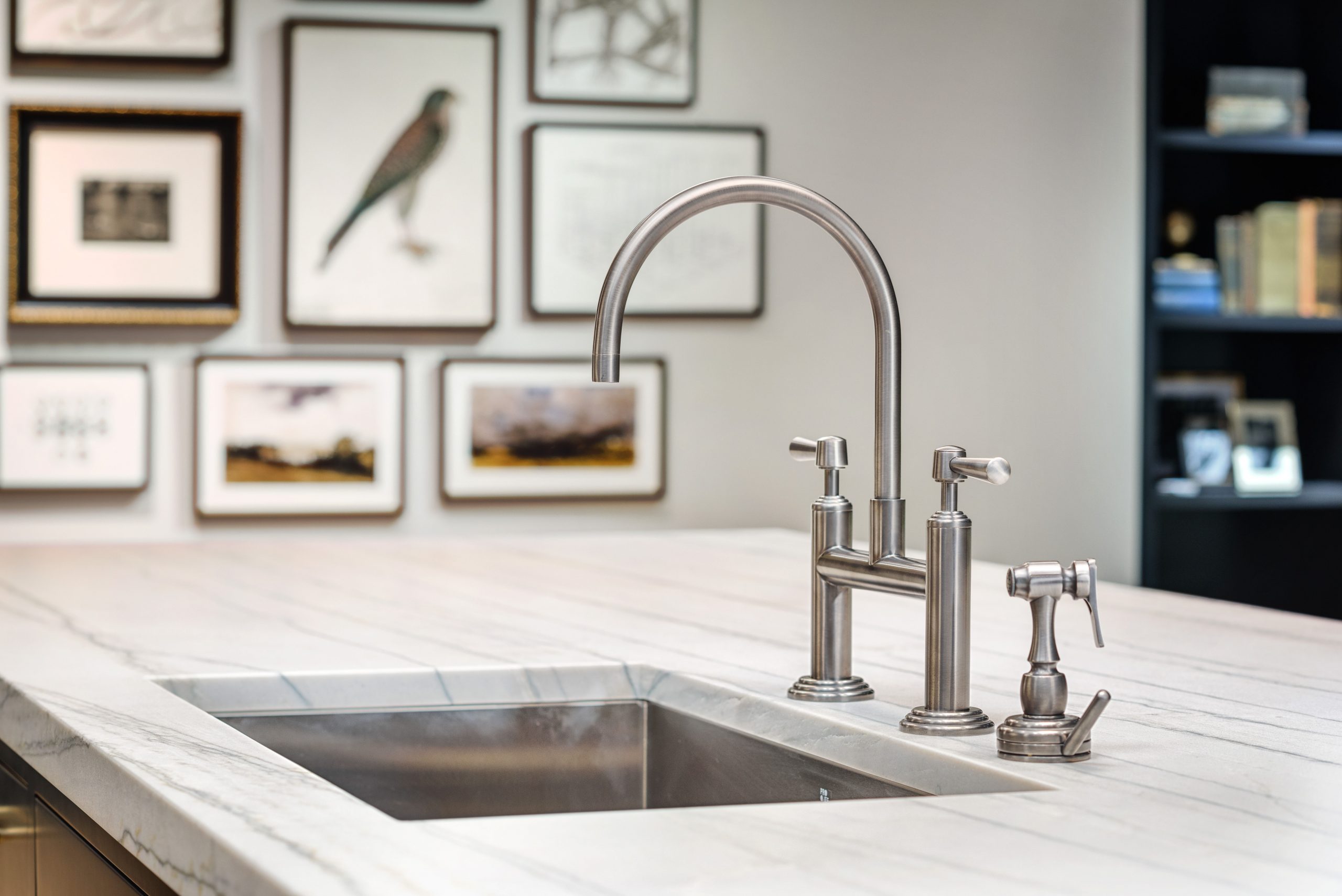 Quartzite comes is an array of colors and has a fine-grained, elegant appearance. In fact, it resists acid and scratches–a significant advantage over marble.   These characteristics make it a popular choice for clients looking for an updated luxurious countertop option.
Like other natural stone, quartzite is available in polished and leathered finishes. Shown here is Taj Mahal in polished finish as an updated look that is durable and has a wonderful tactile quality.
As for caring for your quartzite, this stone should be sealed and treated similarly to granite.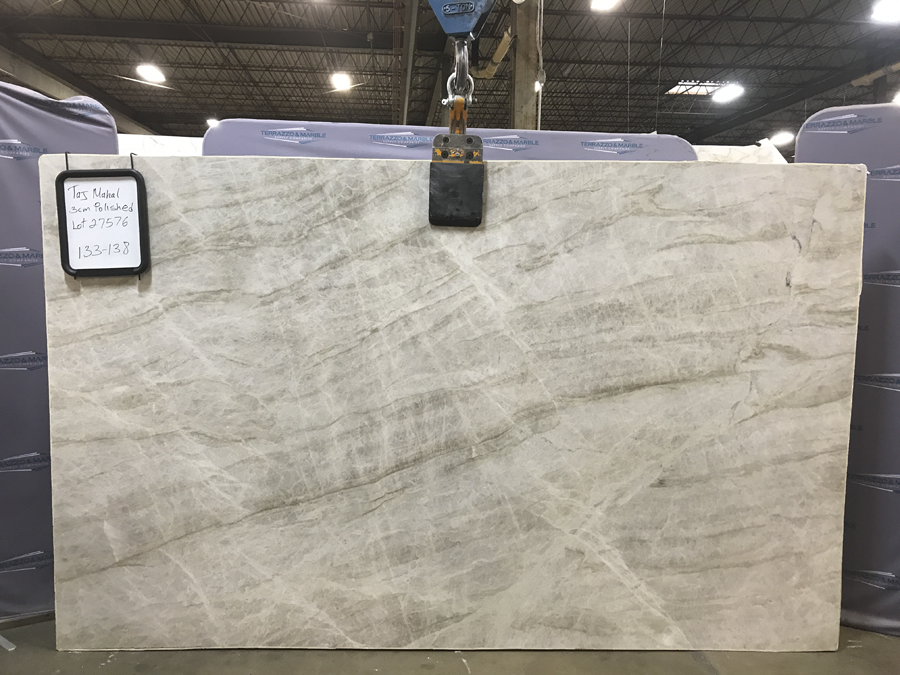 Semi-Precious Natural Stone- When You Want to Make a Statement!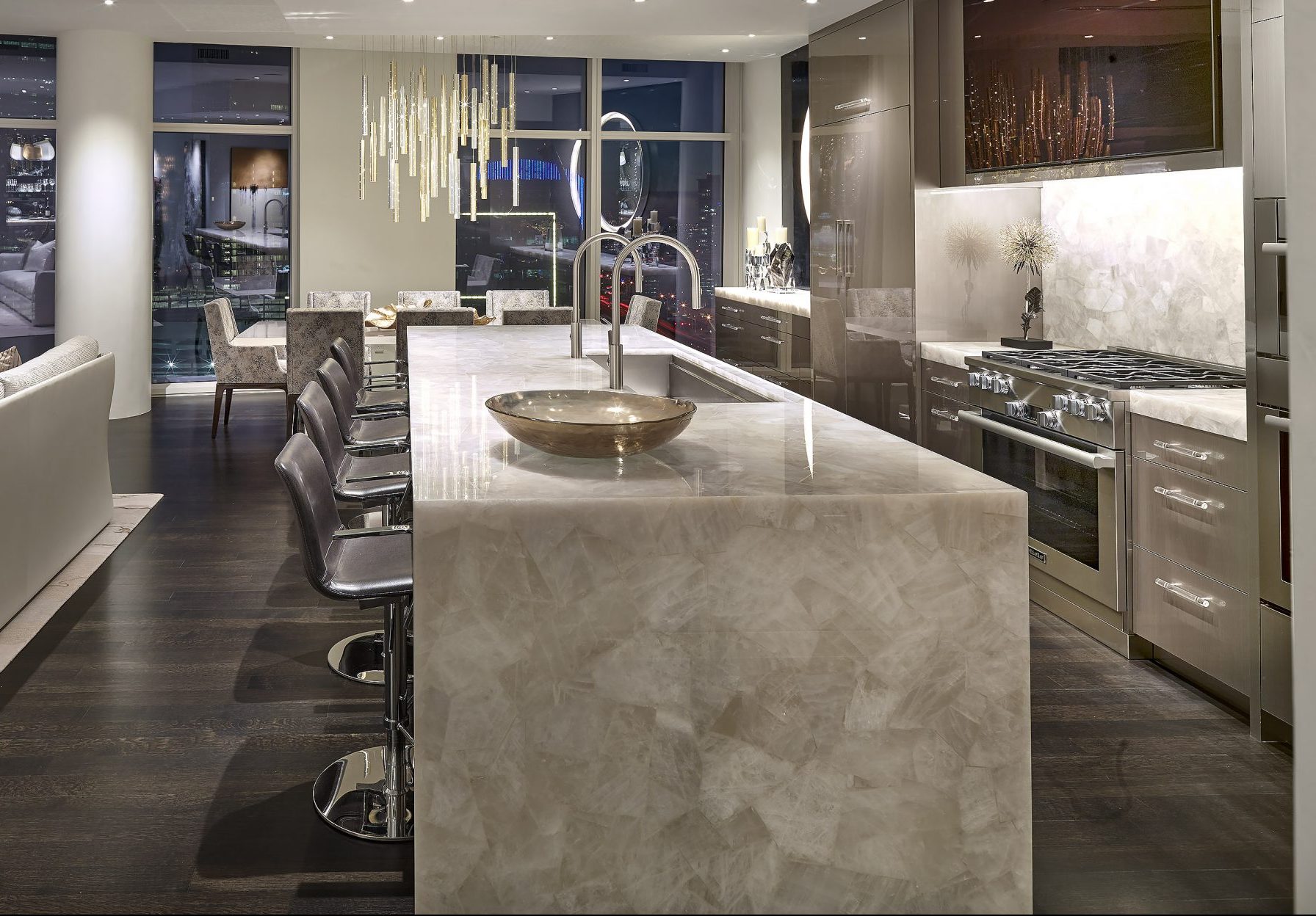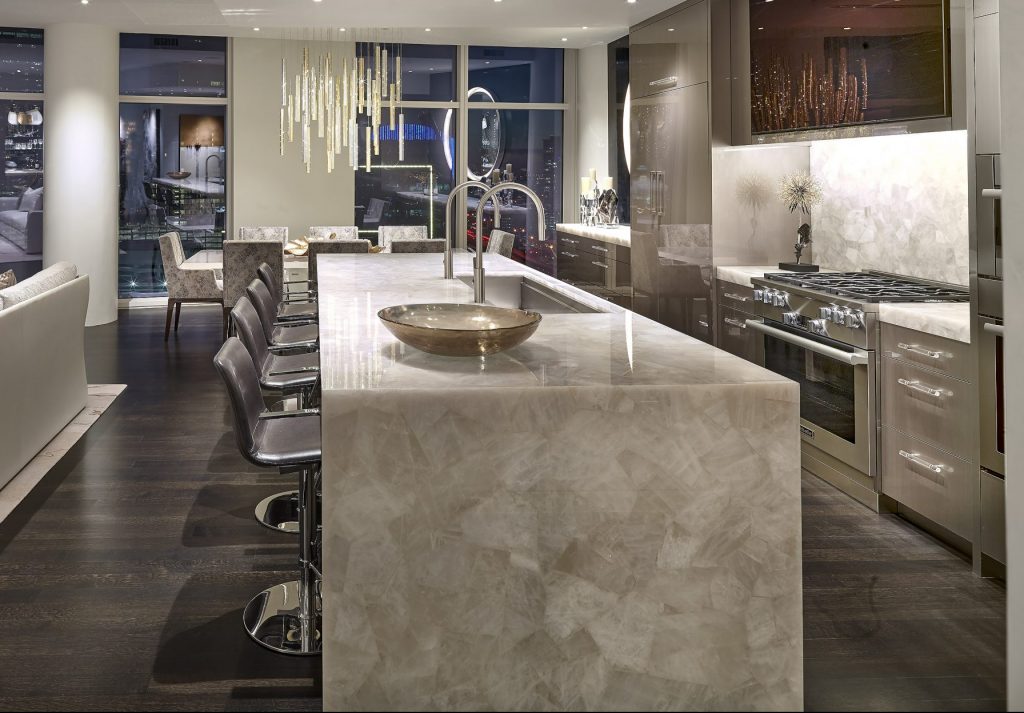 Semi-Precious stone countertops are the pinnacle of luxury stone design, and a stunning example of nature's beauty combined with man's craftmanship. Individual stones such as agates, gems and crystals are hand-selected for beauty, purity, and homogeneity; they are laid out, hand assembled and combined with resin to create a solid surface. These are true works of art and a perfect focal opportunity for a room.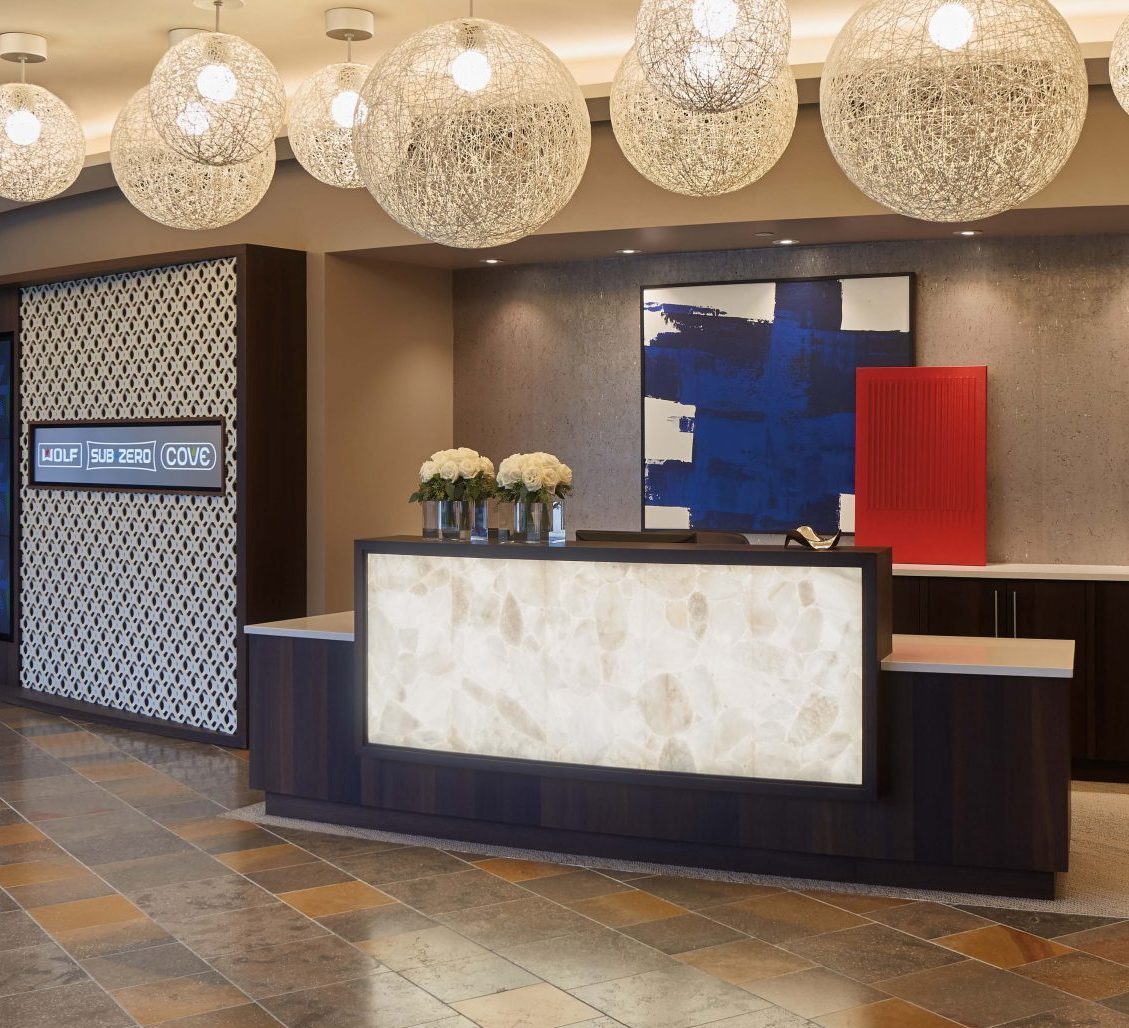 Semi-Precious stone slabs are highly resistant to impact, heat, staining, or UV fading making it one of the most durable materials.  In addition, you can backlight these slabs, for an extra dramatic effect.
Caring for Your Semi-Precious Stone
These countertops should be wiped with a microfiber cloth and neutral cleaner.  Do not use abrasive or acidic cleaners.
When Selecting Natural Stone- Get Up Close and Personal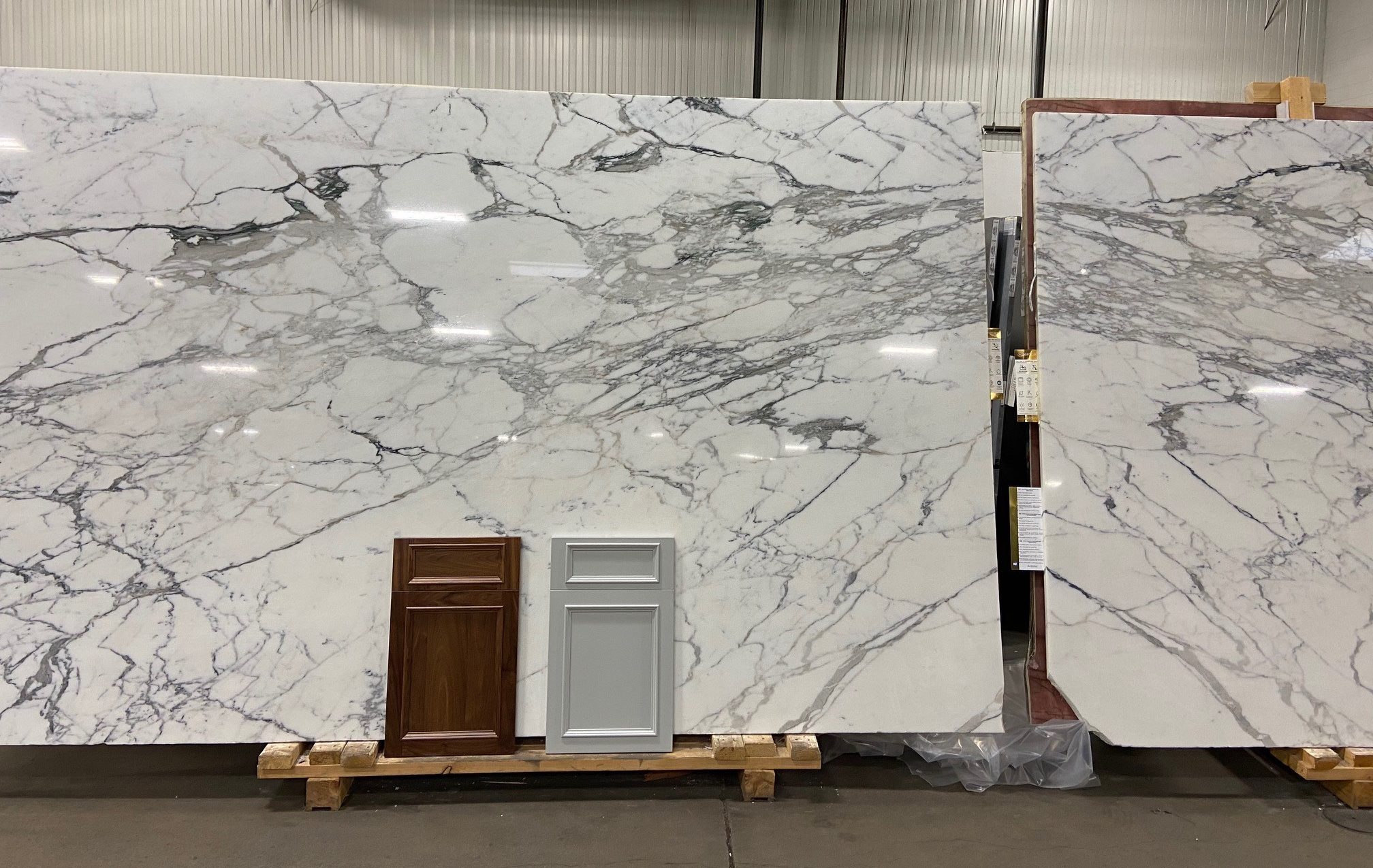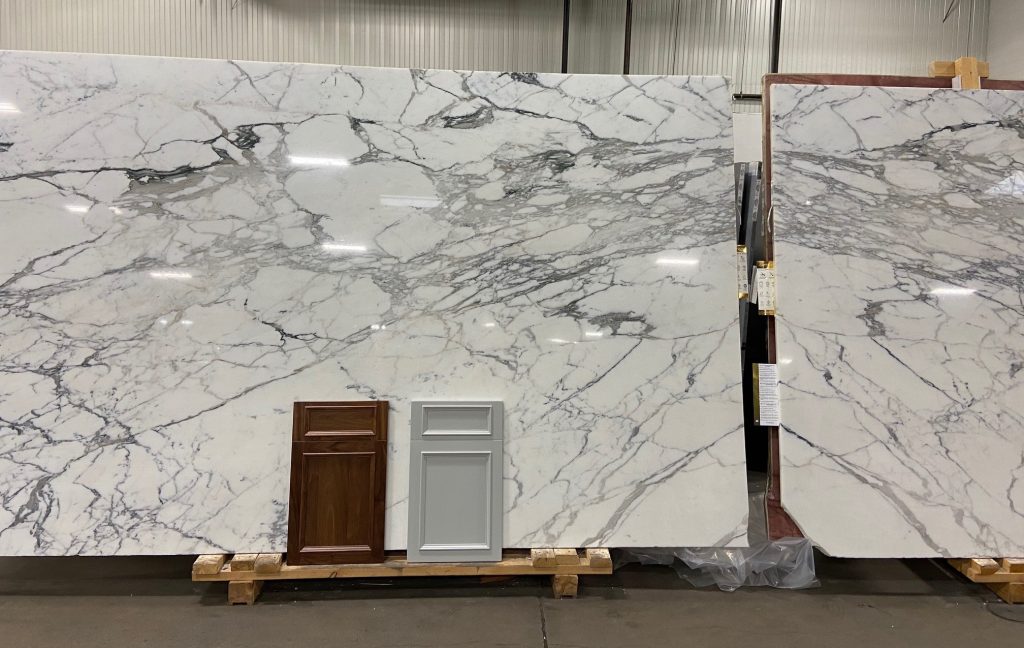 Every stone slab is slightly different in coloration and pattern, so it is important to select your materials in person at a reputable stone supplier. Your Kitchen Designer will set up an appointment at the warehouse and have slabs pulled for viewing. Have your cabinet door sample, flooring, and any other key samples with you to confirm all materials work together.
Look for book-matched slabs when covering a large area, these adjacent pieces have a mirrored veining pattern. This is perfect for a focal area and shows off the stone's real beauty.
Fabrication and Installation of Natural Stone- Hire a Professional
After selecting your beautiful natural stone slabs, you want the experts when it comes to fabrication and home installation.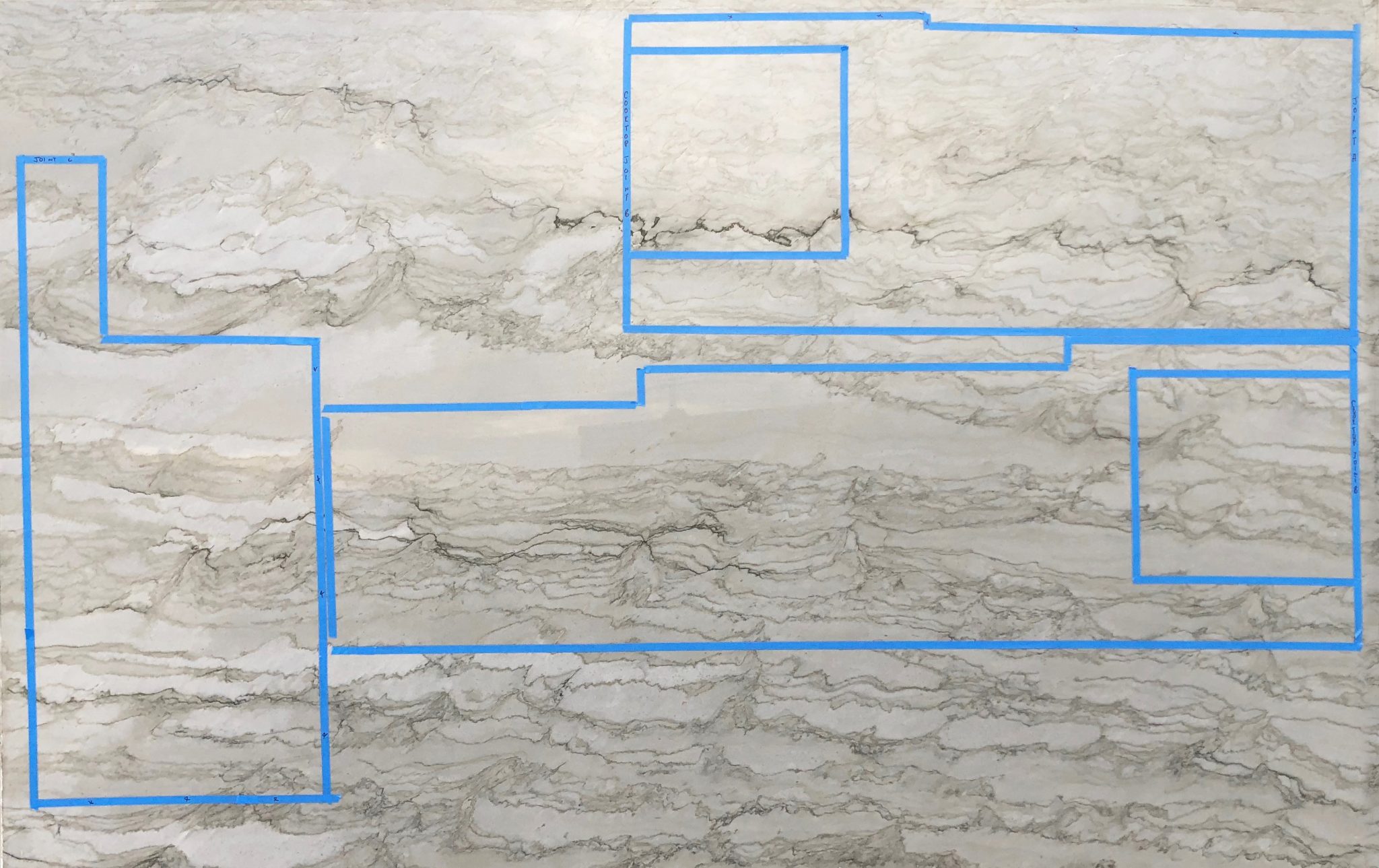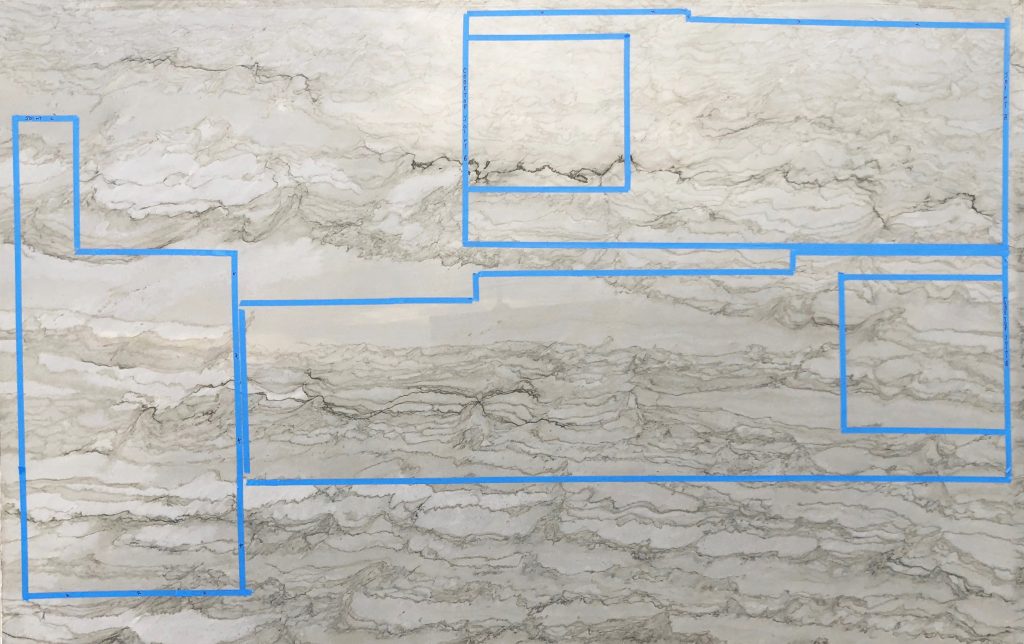 Your fabricator will assist with a preliminary layout of the slabs to minimize seams and match the graining and direction of veining before they are cut. You and your Kitchen Designer will want to review everything as part of the process including all edge details. The installation team will also field measure and create a template for the stone, which will be digitized into a computerized drawing.
To see more about fabricating these beautiful stones, watch this informative video.
With today's CAD/CAM software, water jets or diamond disks are used to fabricate stone with high precision. Master Stone Engineers are skilled technicians that drill, cut, profile, polish, carve and sculpt the stone to your project specifications.
Design Tips for Natural Stone Countertops and Splash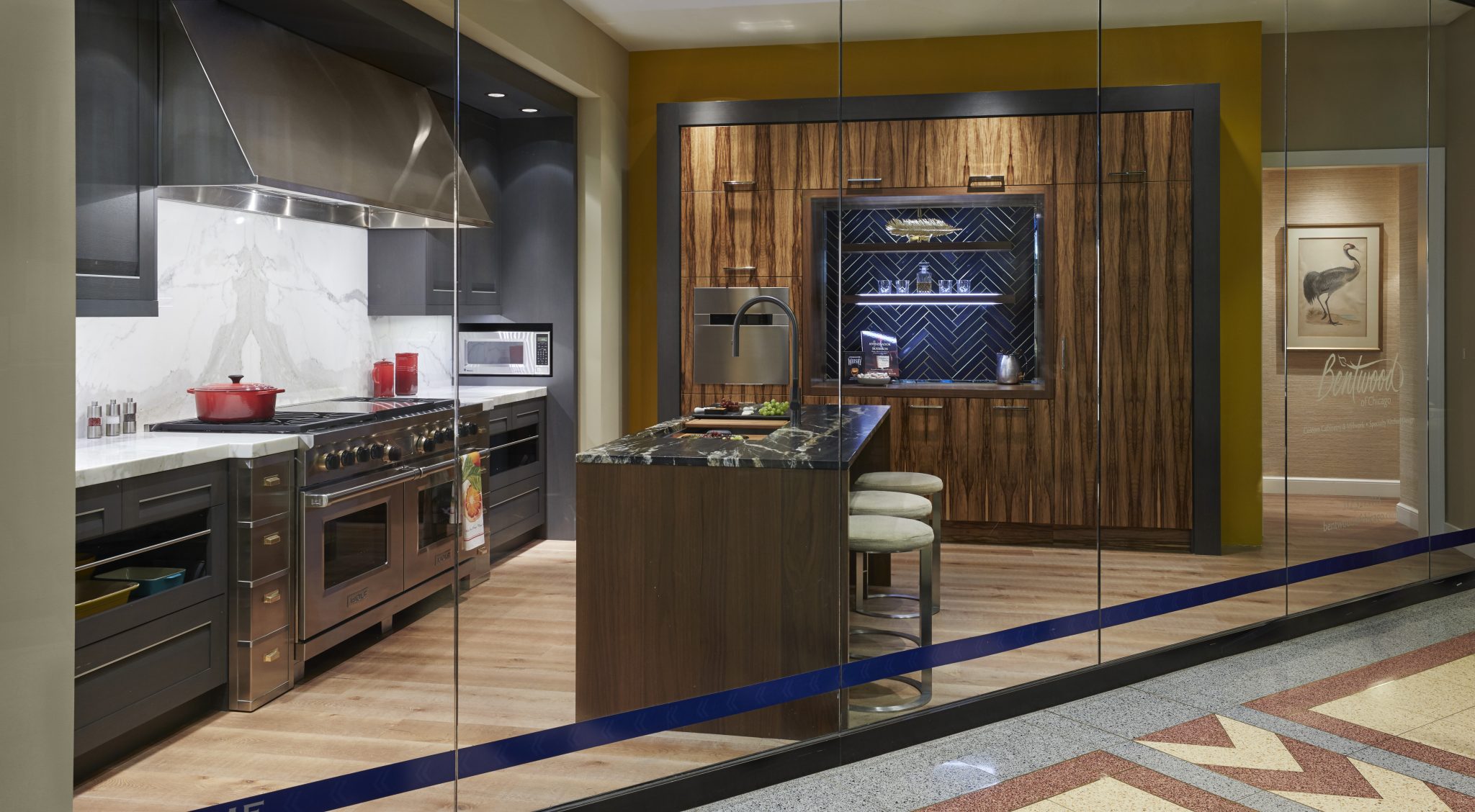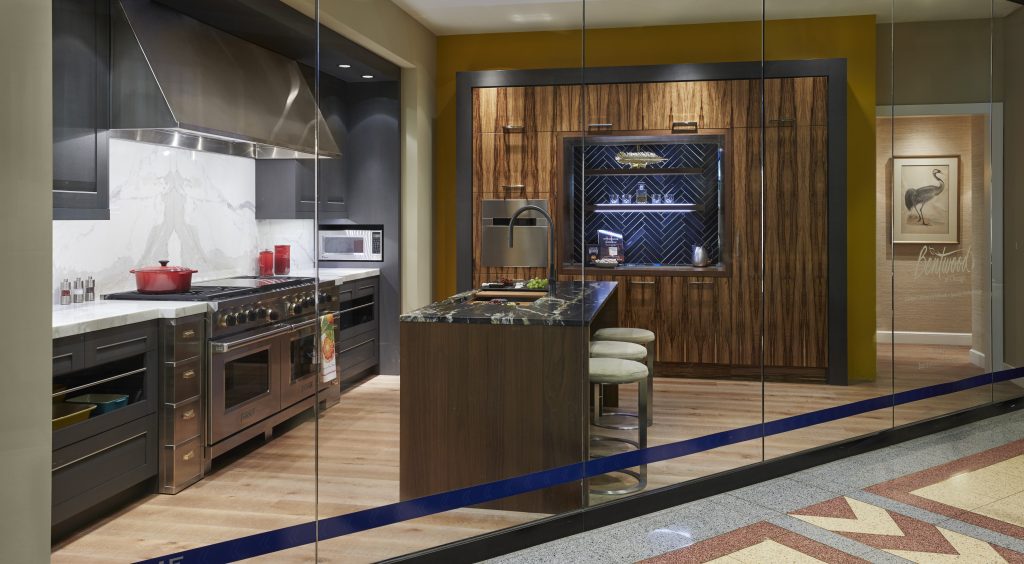 You don't have to use the same material for every counter space. Be deliberate about what material goes on what work zone.  The island is a great place for a complementing material.
Be in love with your countertop – it has a huge impact on your overall color palette.
For an updated clean design take the same countertop material and use as your backsplash. There are often 2cm thick slabs for the wall.
Create a dramatic look with lighting; for example, back light an onyx or semi-precious slab for incredible effect.
Use cutting boards & Trivets – your countertop will thank you.
As you can see, there are many great options for natural stone for your kitchen and bath projects. Choosing stone slabs is part of the fun and truly adds that level of luxury and customization our clients love for their newly designed spaces.
Find Inspiration Near You
Are you looking for some inspiration and creative ideas for your space? Look through our gallery to discover some of our finished projects.
Summary
Article Name
Selecting Natural Stone for Your Kitchen and Bath Projects
Description
If you have a kitchen or bath remodel coming up, read our best info and tips on selecting and caring for beautiful, luxurious natural stone for your home.
Author