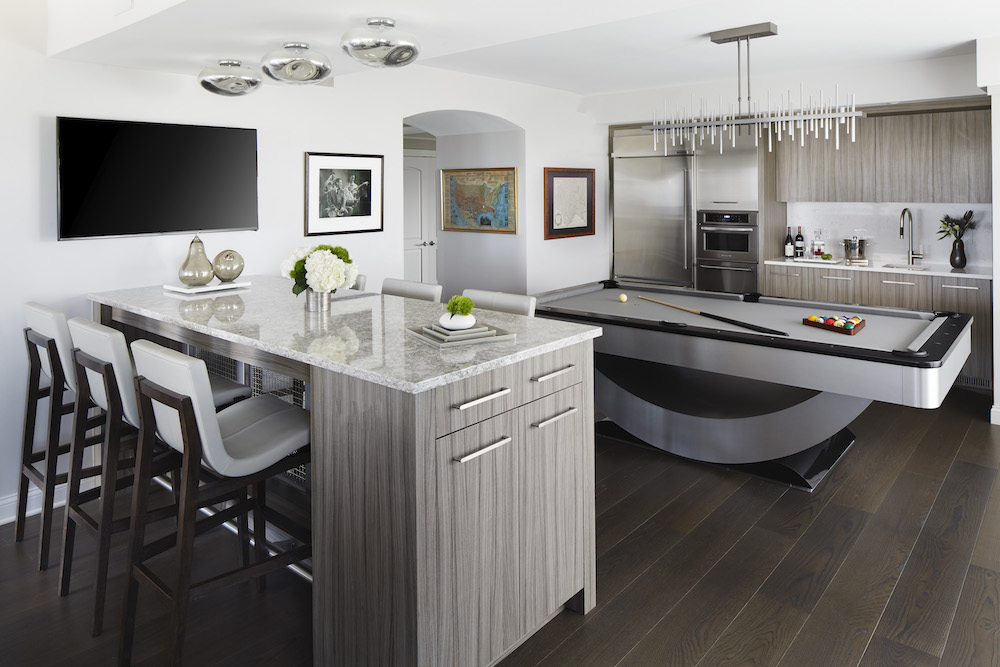 We wanted to share a timely project that celebrates entertaining at home that will have you thinking about updating your own recreational space in the future. When Interior Designer Debra Moore stopped by the Bentwood of Chicago showroom at the Merchandise Mart and met Senior Kitchen Designer Steve Karp, she was impressed and quickly set up a client introduction meeting. Debra's special client project involved taking an existing penthouse located on the beautiful shores of Michigan and transforming it into an Empty Nester Sanctuary. After a successful design collaboration like this, all we can say is 'WOW'.
An Entire Floor for Home Entertaining? Yes, Please!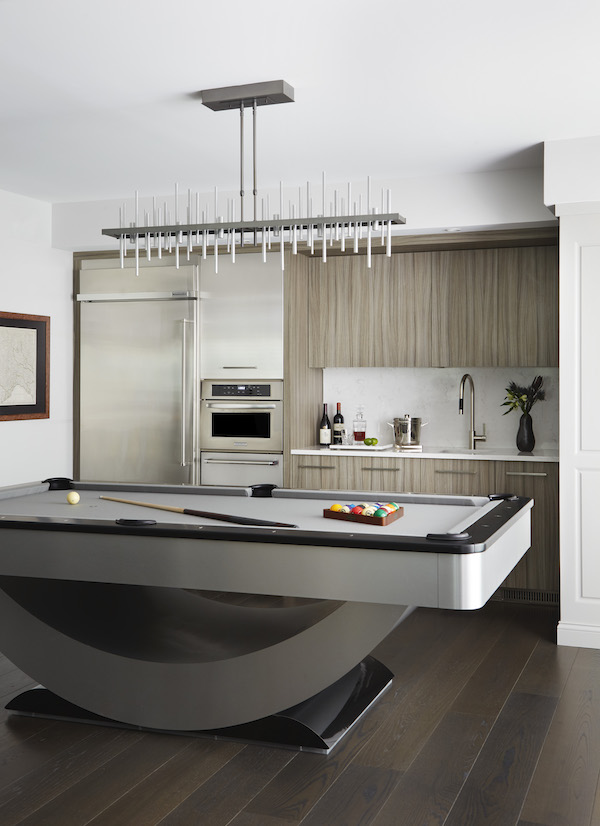 The client's 'Must Haves' included a dedicated place for guest entertaining, packed with all the amenities, yet separate from the private living quarters. So, the entire second floor brought together everything you could want for home recreation: a custom pool table, Bar and Kitchenette, large island and a wine cellar! Let the fun begin!
Island + Bar Seating = Genius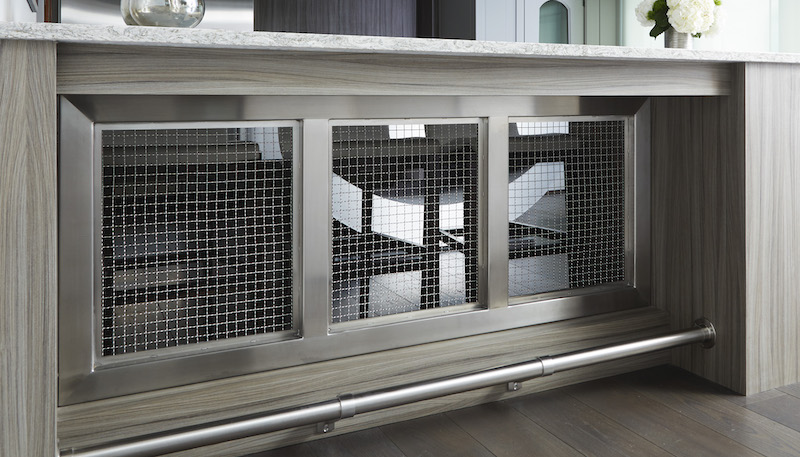 One design challenge was to offer a landing spot for guests playing pool whether they were standing or seated.  The custom island is bar-height to accommodate comfortable seating for six, and provides a great place to watch the pool game or catch a show on the wall mounted TV. A clever design element is the stainless-steel foot rail and custom metal base screens that keep guests' feet supported, comfortable and contained from opposite side guests. The metal screens add visual interest and repeat room finish components for a look of luxury.
Custom Staircase Opportunity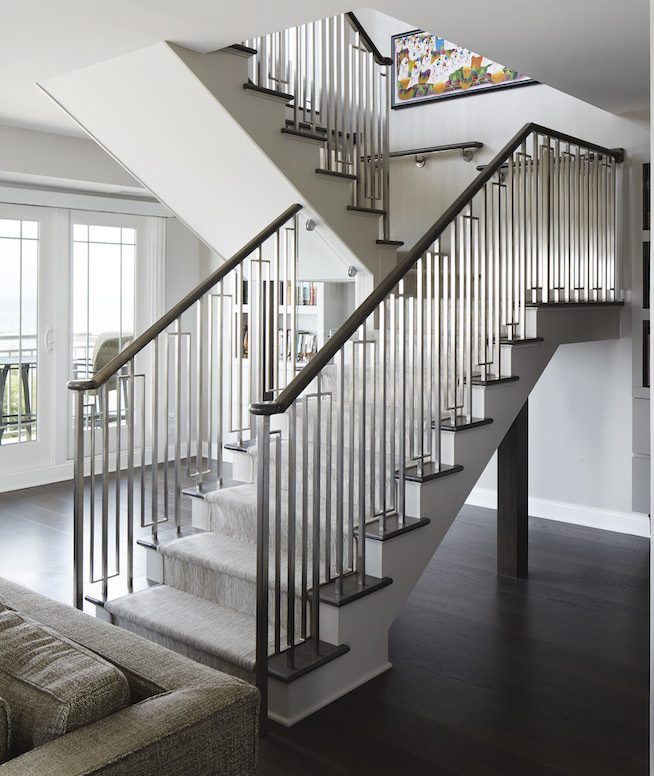 Often in renovation projects, there is that 'something has come up' moment. In this instance, a traditional wood staircase was not up to code and needed to be replaced. This provided an amazing opportunity to create a custom focal element that became a superstar. Debra took her sketches to Steve and a new Contemporary staircase was designed and engineered! Modern Stainless-Steel Balusters combined with dark wood treads and handrails offered a grand entrance for homeowners down to the second floor.
Relaxing with an Amazing Water View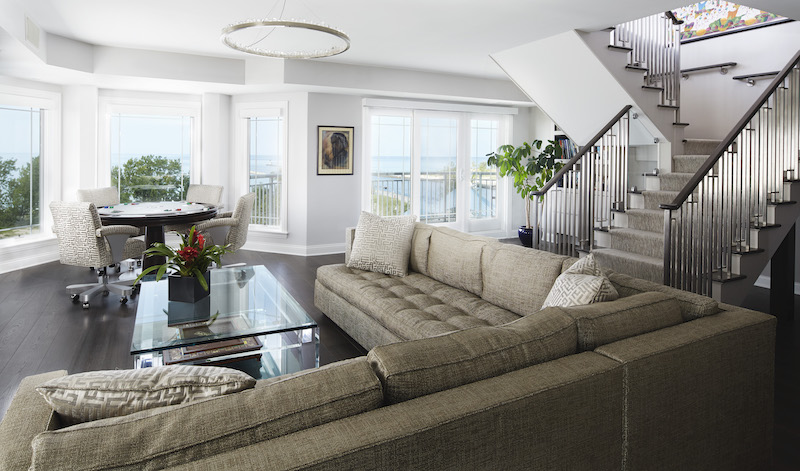 Everything about this space makes guests feel comfortable and offers a variety of ways to relax, enjoy time with friends and just take in the beautiful Michigan Shoreline. The large TV, gaming table, and access to the deck really complete the room. The color palette of soft warm neutrals is inviting, and luxe trimmings and metal finishes add to the updated Contemporary style.
After this great team collaboration, our clients can enjoy the ultimate entertaining package: comfort, functionality, and fun ways to relax during the well deserved retirement years, including a lovely view! We love helping clients achieve their goal, and this project proved yet another creative way to use space while elevating design. We say "cheers" for a job well done!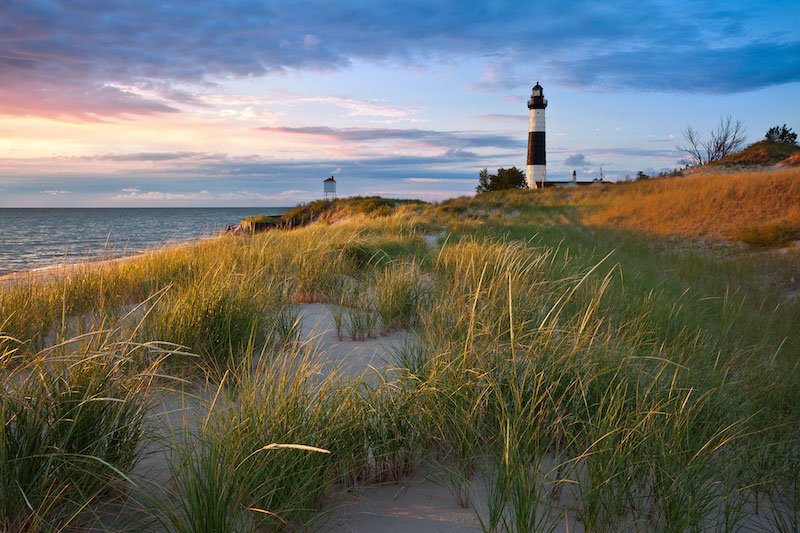 Find Inspiration Near You
Summary
Article Name
Ultimate Entertaining Space for Empty Nesters
Description
The later years are meant to be a time to relax after working hard and raising children. See this transformed space for use and ultimate entertaining!
Author