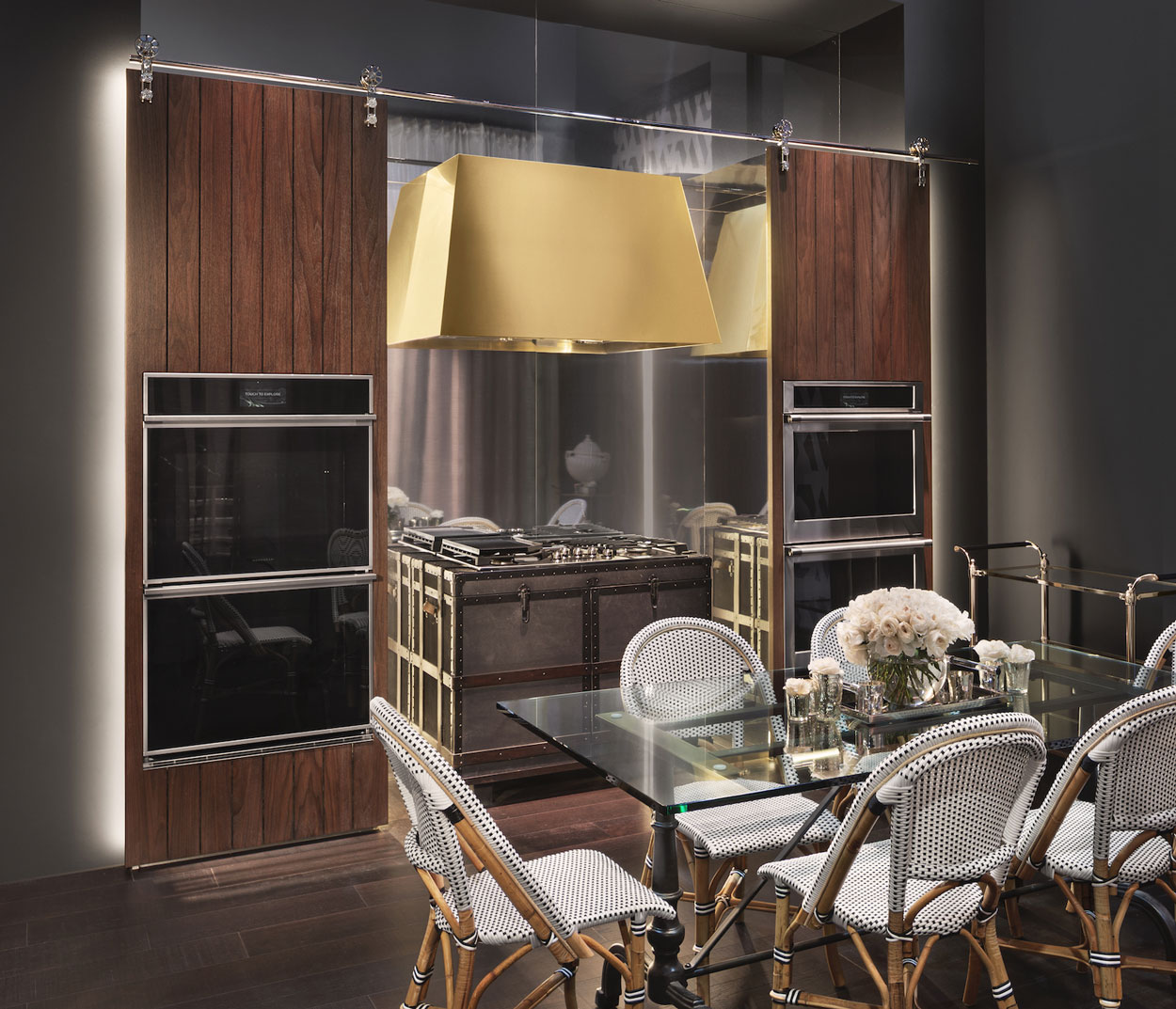 GE Monogram KBIS 2020, Las Vegas GE Appliances, Richard T. Anuszkiewicz Padgett and Company Job#4339
Finding the right hood with proper ventilation is a necessary key to the success of any kitchen project, and particularly important in today's open concept environments. Kitchen ventilation options may not seem all that luxurious, but keeping your beautiful home free from odors, smoke, and grease doesn't have to be drab. Here at Bentwood Luxury Kitchens we can explore the best options for your project, making sure both function and aesthetic work together in your kitchen design.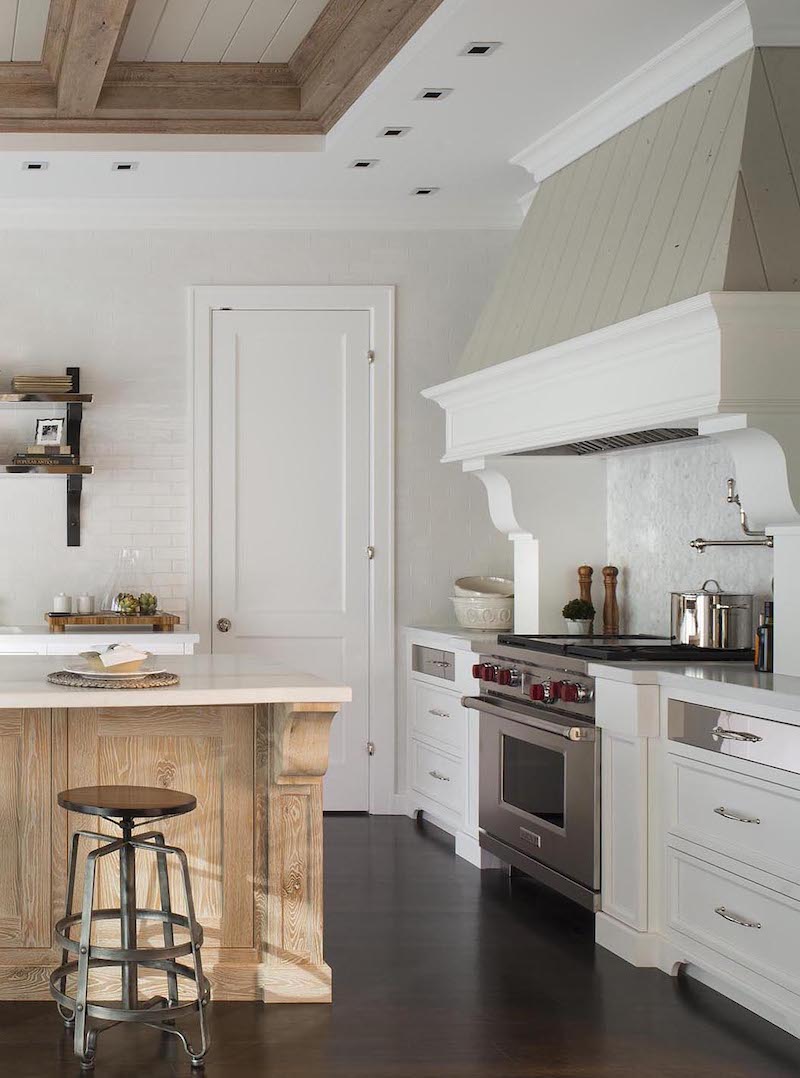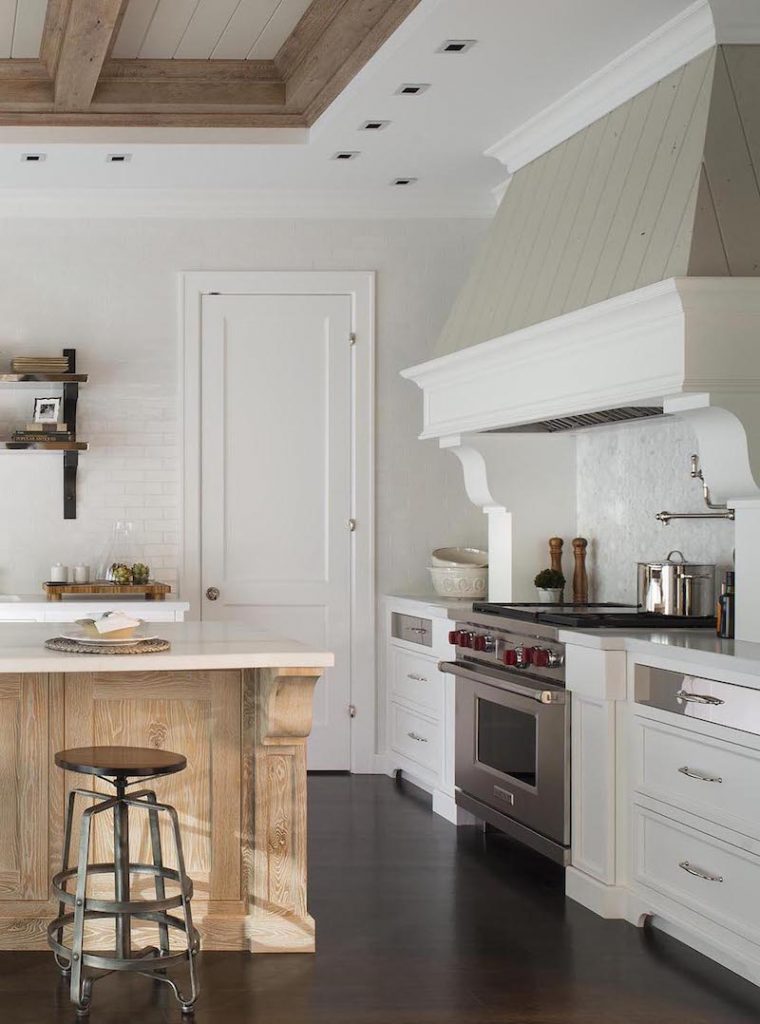 Before getting into the different types of hood styles we should discuss the two types of ventilation. A ducted ventilation system is one that leads outside and truly extracts from the cooking area. This is most common in single family homes, and sometimes in multi-unit buildings via a main trunk-line on each individual floor. It is by far the most effective and efficient.
The other kitchen ventilation option is a ductless or non-vented hood. This is also called recirculating because air is pushed through a filter and then emptied back into the kitchen.
This is the situation for most multi-unit or high-rise buildings. The key to keeping recirculating hoods efficient is to clean or change the filters regularly. Most of the key manufacturers have stainless steel filters that can be put into the dishwasher so that maintenance is easy.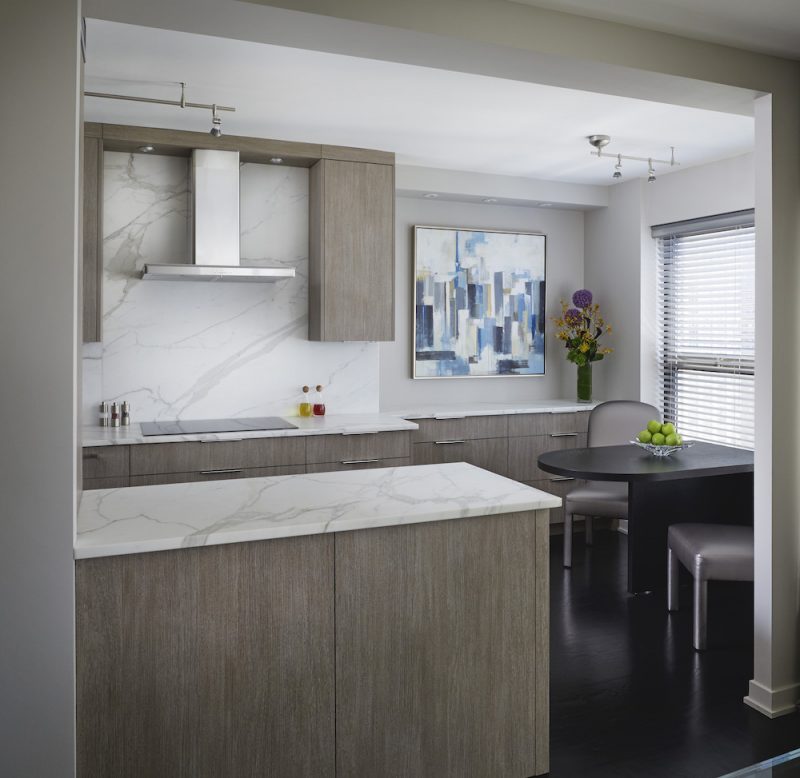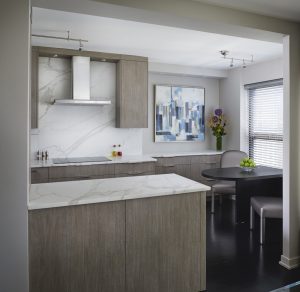 Determining Factors When Selecting Ventilation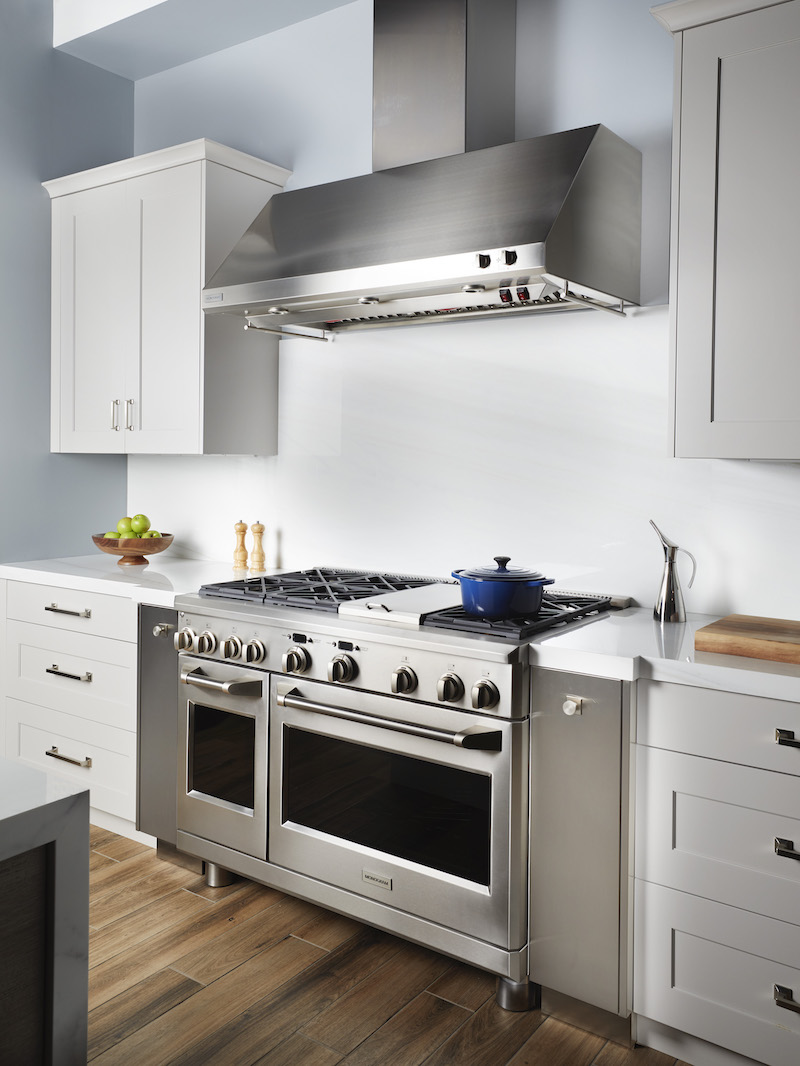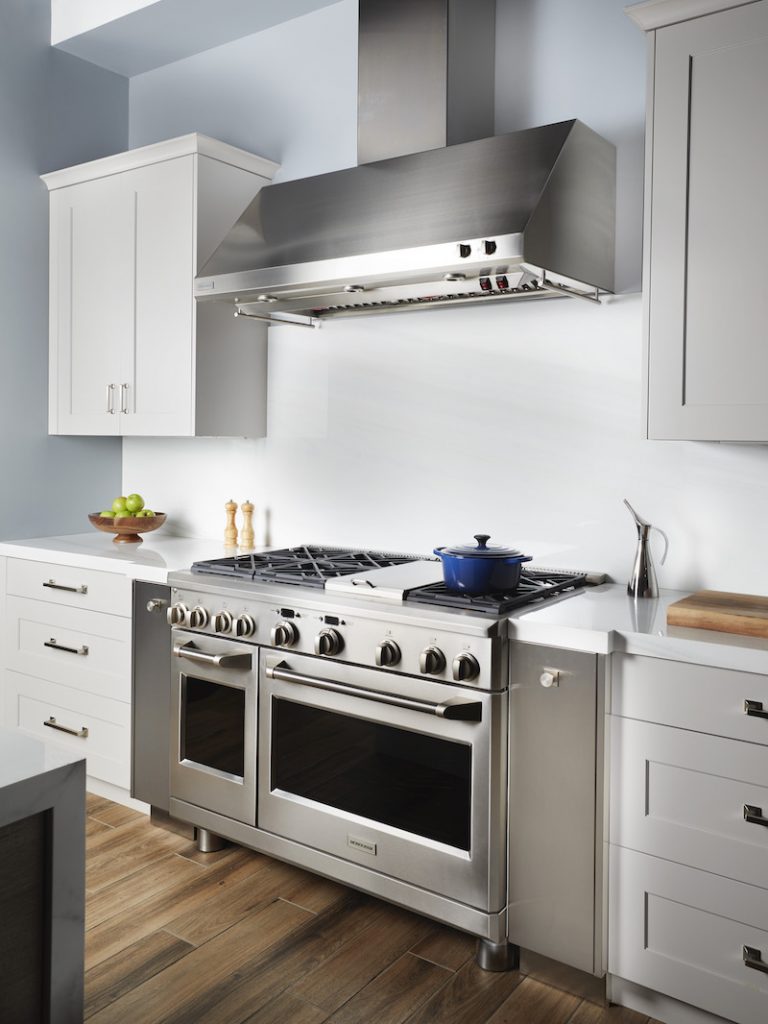 Your cooking appliances determine your ventilation needs. So, when considering new appliances, ask about ventilation details for the appliances you are interested in purchasing. Hood components must be able to handle the heat output of the cooking equipment, measured in BTU's for gas and Watts for electric.
Size and placement are both important to the efficiency, overall look, and performance, of your hood. Ultimately, your hood should be slightly wider than your range/cooktop and placed 32"-36" above the cooking surface. This allows for the best capture of grease and smoke and will keep adjacent cabinets and surfaces clean. At a minimum, hoods should be as wide as the cooking equipment below, and cover half of the front burners.
Hood Styles and Custom Opportunities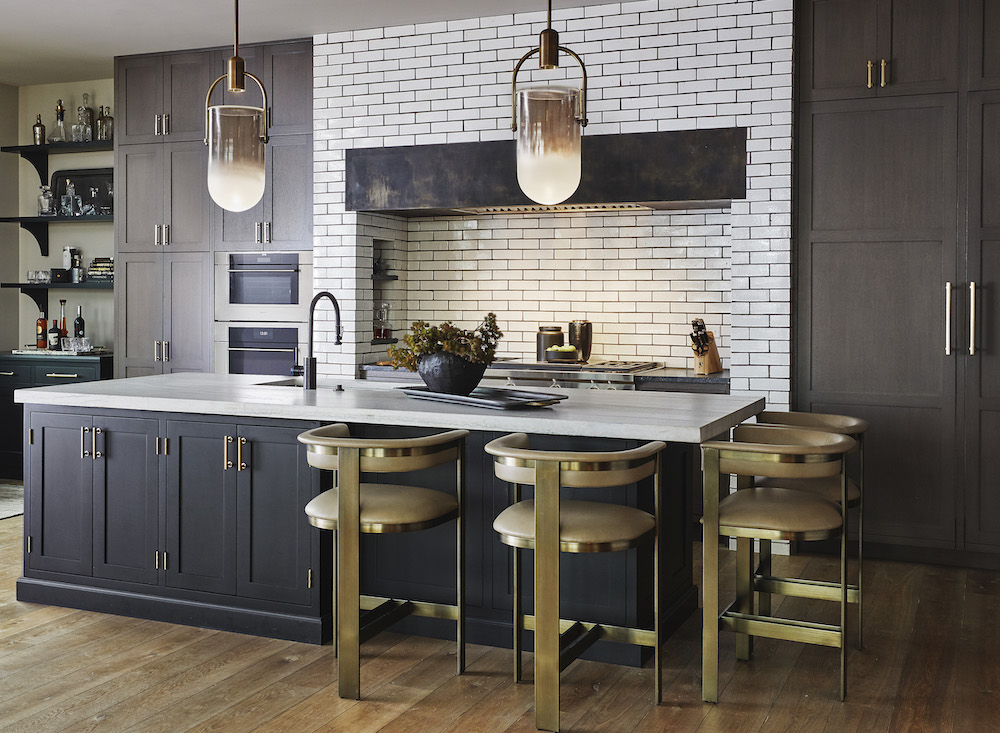 When exploring your kitchen ventilation options, the look of your solution can be as individual as your kitchen! The major luxury appliance manufacturers offer models that include a stainless Pro look, chimney style, or glass hoods. Wolf, Miele, Bluestar, Thermador, Monogram, Gaggenau, and Bosch have sizes and blowers to coordinate with their ranges and other cooking products that are standard and well-equipped models worthy of your consideration.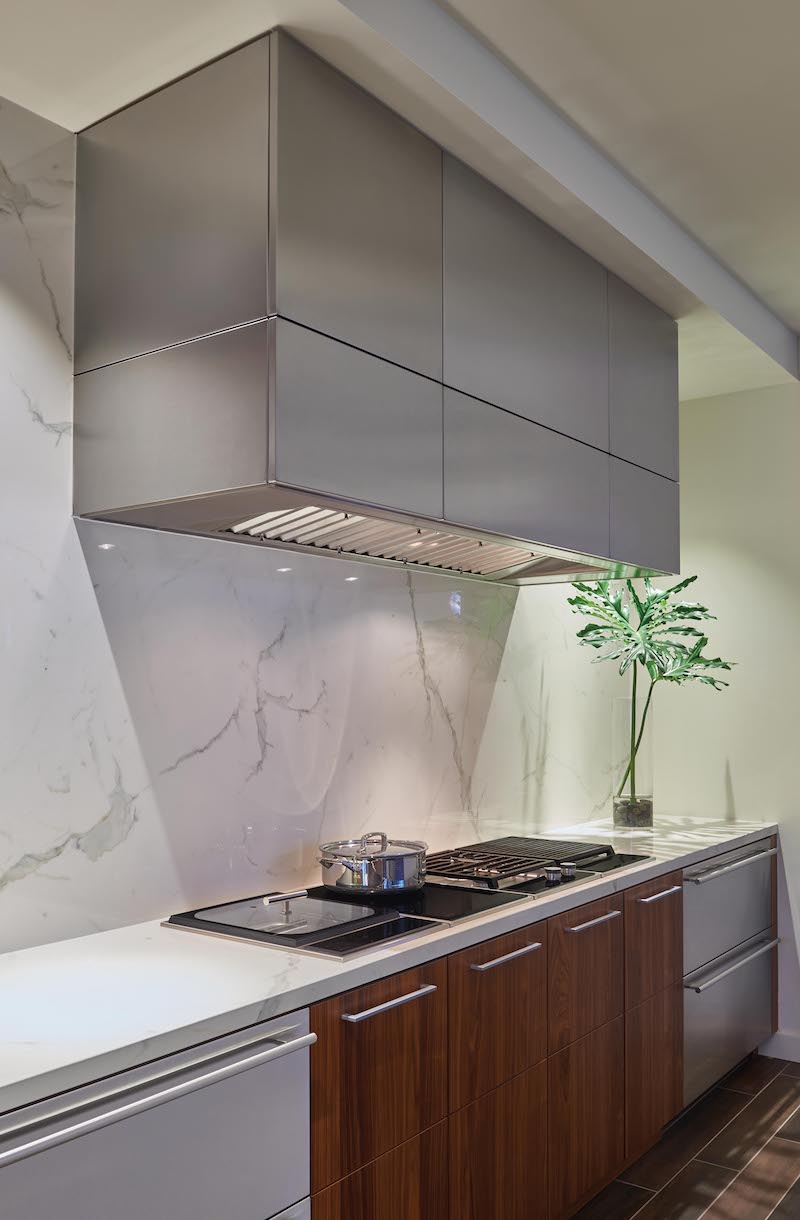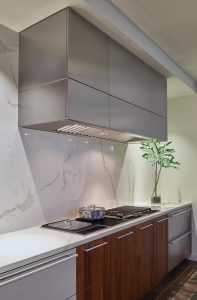 If you are looking for a focal opportunity to express your style, a custom hood may offer that unique component to your kitchen design.  Scale, proportion, and materials are key to a successful custom hood design—something for you and your Kitchen Designer to discuss. 
Alternatively, you can integrate a hood into a sleek wall of cabinetry, so the function is there allowing for a clean modern design. For both options, you will need a blower motor for the hood liner that is placed inside of your custom hood or surround. Vent-a-hood and Best Range Hoods are the go to resources here.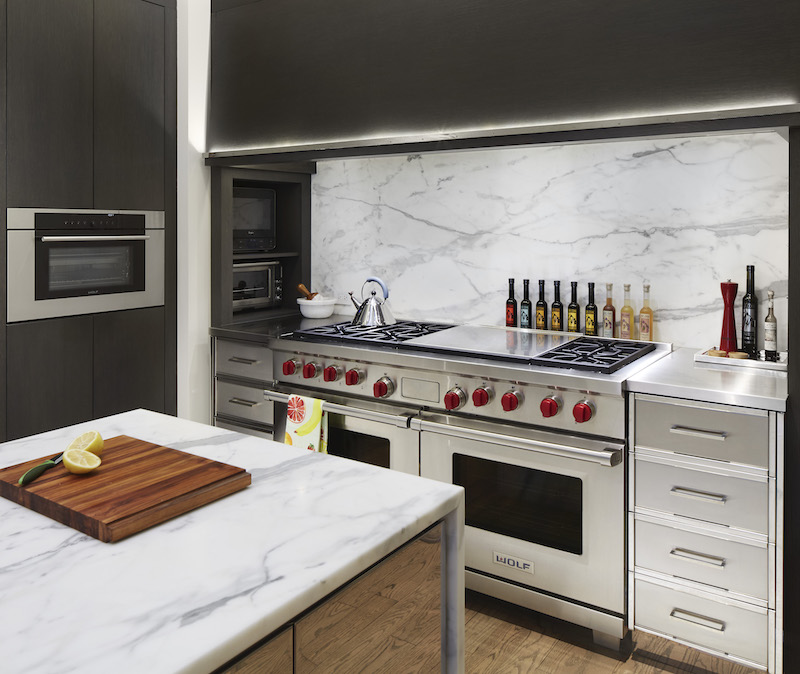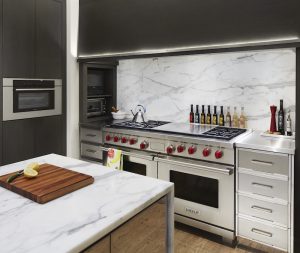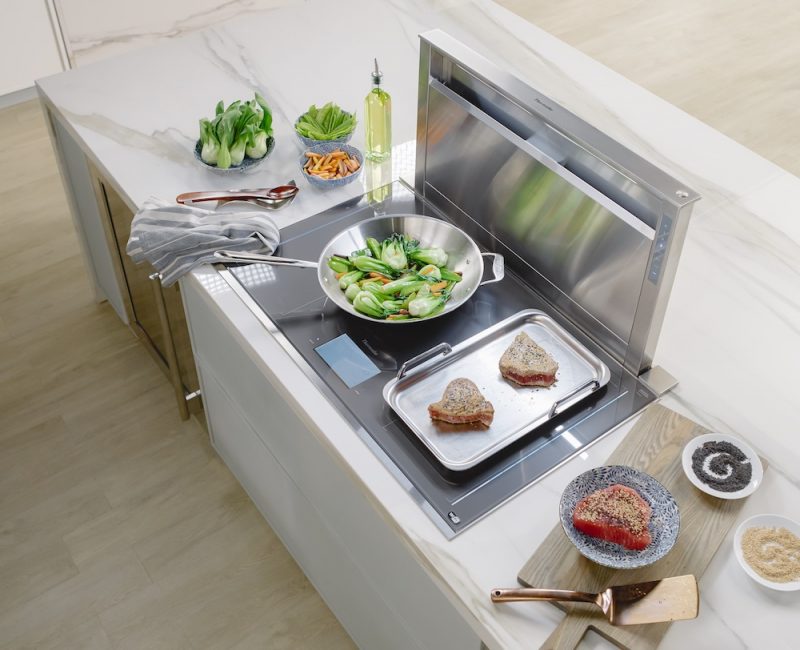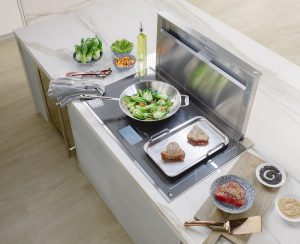 When cooking on the island, Down draft or telescoping ventilation is a good solution. These units can vent out or be fitted for non-ducting installations. .
In addition, hoods can be mounted from the ceiling and placed directly above the island cooktop, as shown here.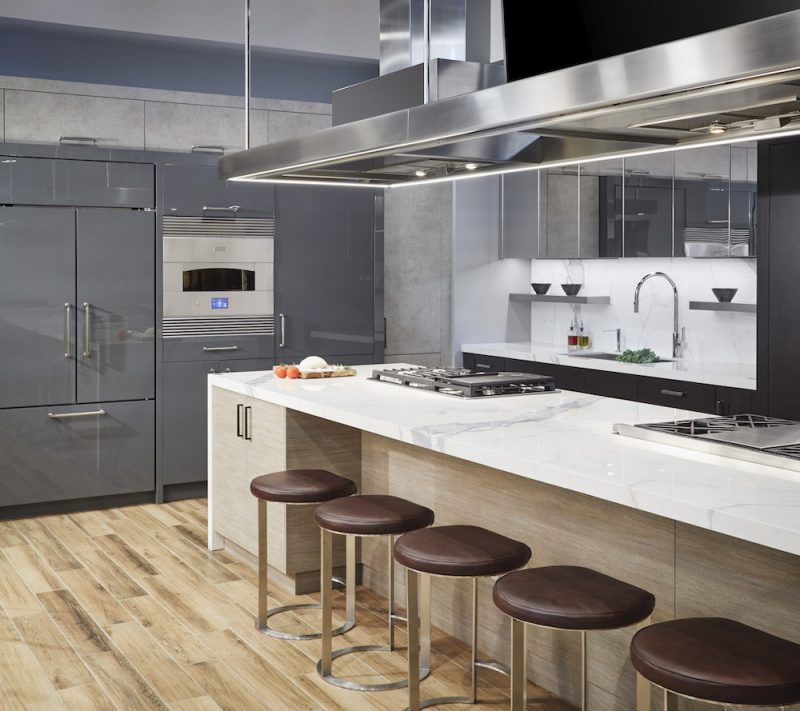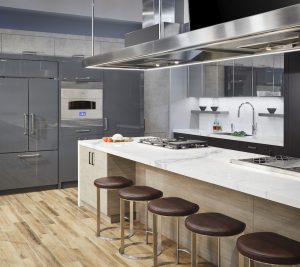 There are also in-ceiling units that keep sight lines open and are great for islands or cooking beneath windows. They are flush with the ceiling, requiring quite a bit of advance preparation for integrating into the ceiling, and therefore should be considered in the early stages of a project.
Consult Your Professional Team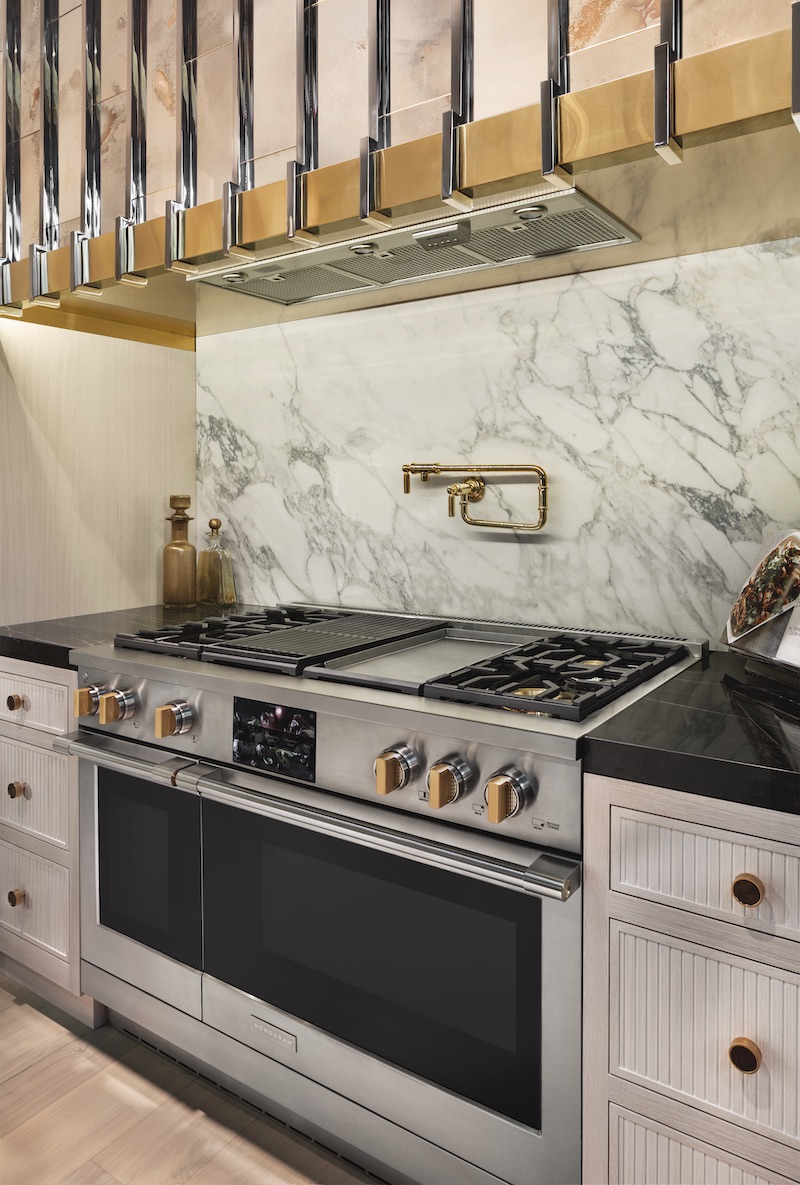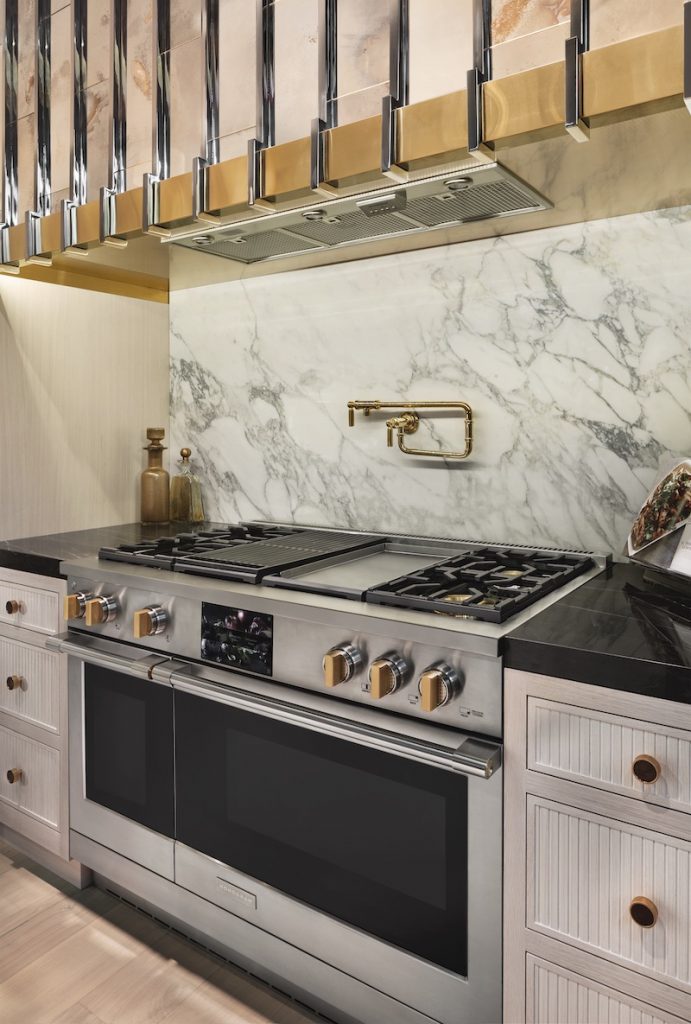 Selecting the right hood and ventilation options for your kitchen should be part of your appliance shopping and research. Enlist professional assistance from your Kitchen Designer, General Contractor and HVAC Contractor who will offer the best ventilation solutions for your kitchen. As you can see, beauty and function can work together while providing an essential task.
Most importantly, once you are ready to cook in your new kitchen – always turn the fan on before you start cooking.
Find Inspiration Near You
Already inspired to get cooking? Talk to one of our Bentwood Designers who can transform your kitchen into your own cooking sanctuary!
Click here to set up a personal consultation to explore the possibilities for your home. We'll connect you with a designer in your area and get started with your vision right away!
Not quite ready to begin a project? Look through our gallery to find inspiration and discover the beauty of Bentwood.
Summary
Article Name
Custom Hoods and Ventilation Basics
Description
A major part of kitchen remodeling is integrating quality ventilation. At Bentwood, see how we combine function and beauty for the right look for your home.
Author