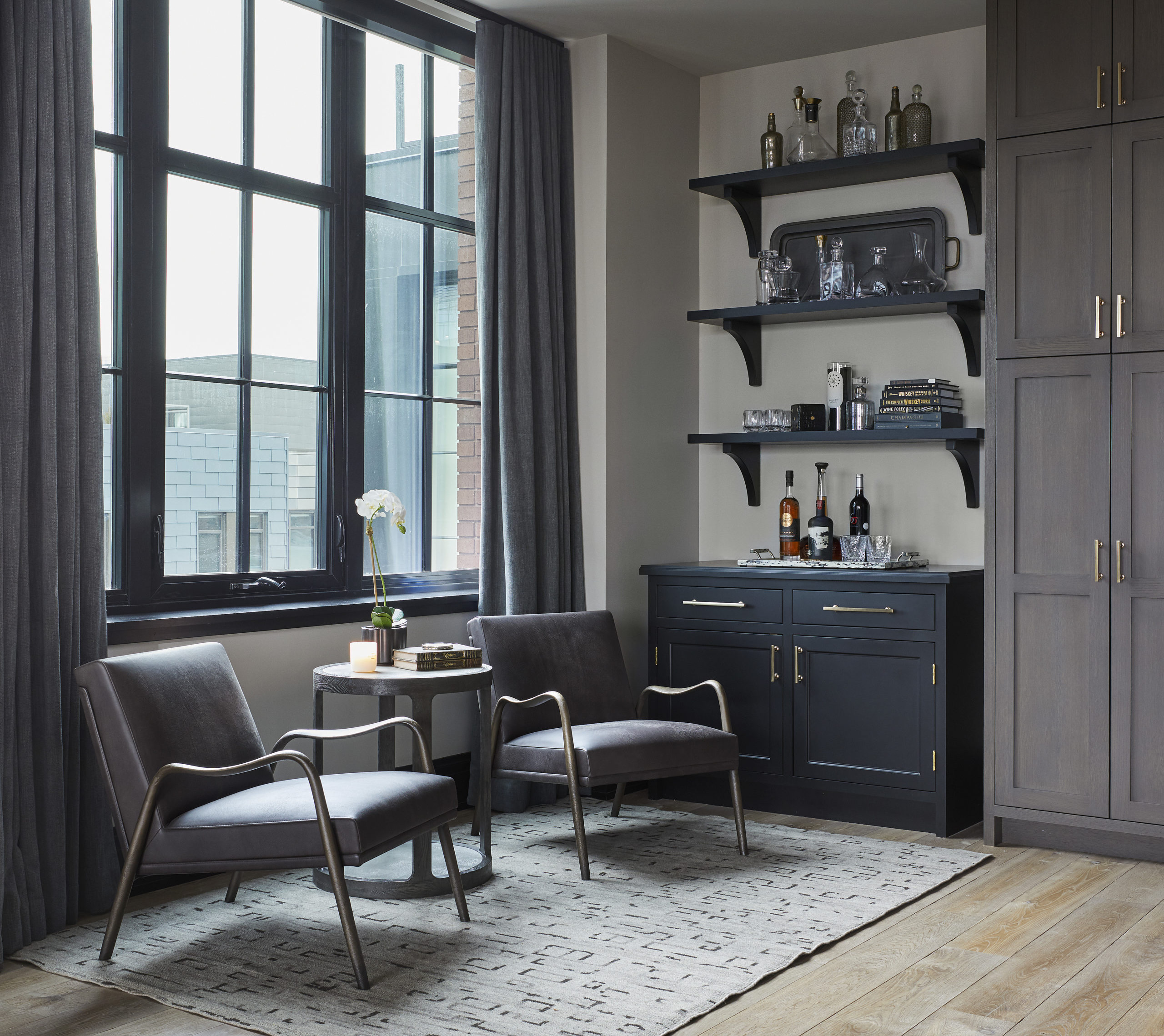 Werner Straube Photography
A hot topic in the custom cabinetry world continues to be open shelving. What's the best way to integrate open shelving into today's residential designs? As a popular design element, we wanted to share some of our current projects with custom shelving designs to spark inspiration.  At Bentwood Luxury Kitchens, we explore the best options for your project. It's our goal to make sure both function and aesthetic work together beautifully.
Open Shelving in Kitchen Design
The most popular custom shelving options are stained wood. In addition,  painted wood, metals, and combinations of metal & stone are also versatile choices. Creating a seamless look through a combination of open and closed millwork/cabinetry provides a balanced design for many interior styles.
In our featured transitional kitchen design above, the stained open shelving offers a luxurious element to this Galley kitchen.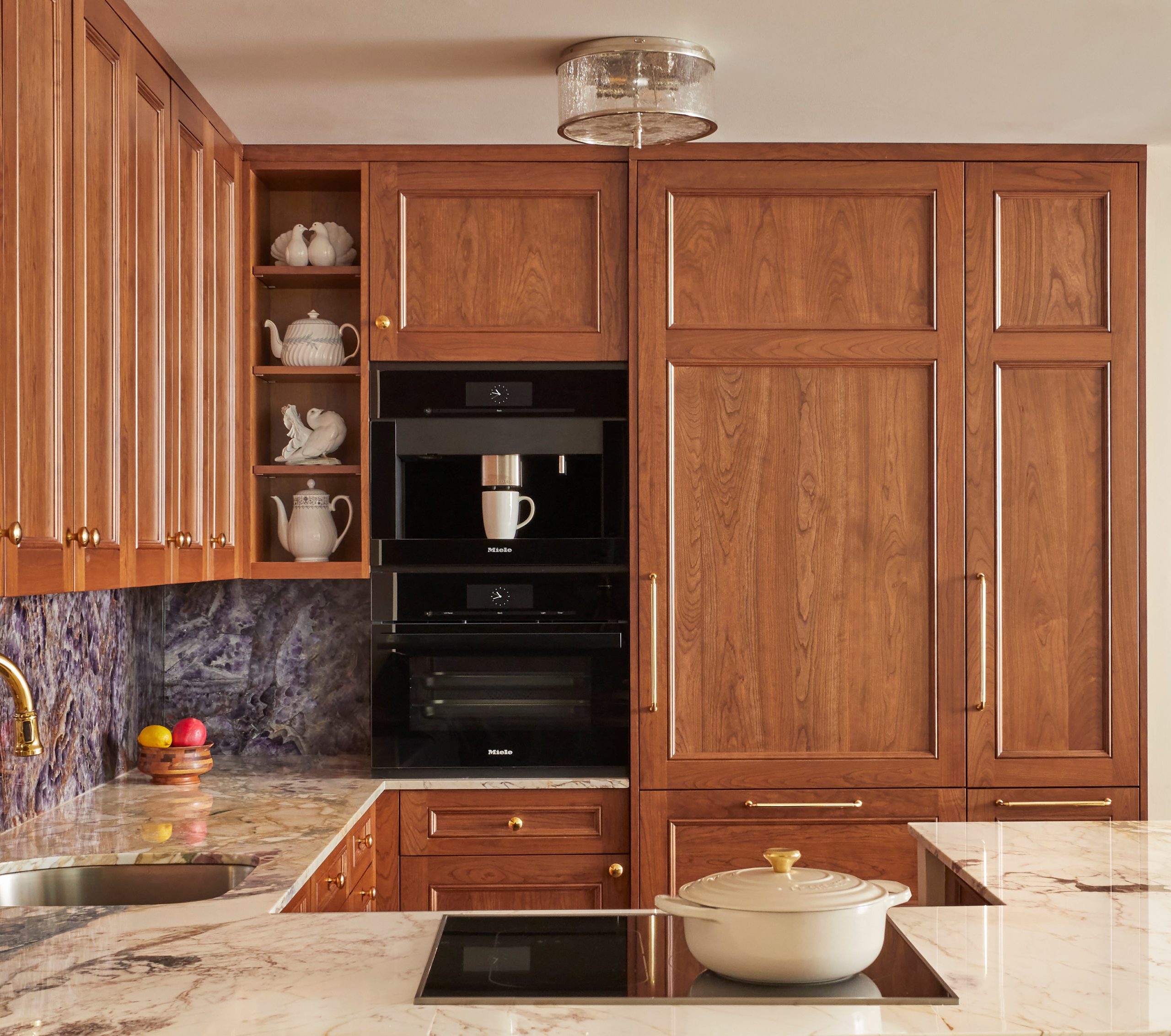 For one of our traditional kitchen designs, open shelving provided a display element that enhanced the design for this hi-rise kitchen space.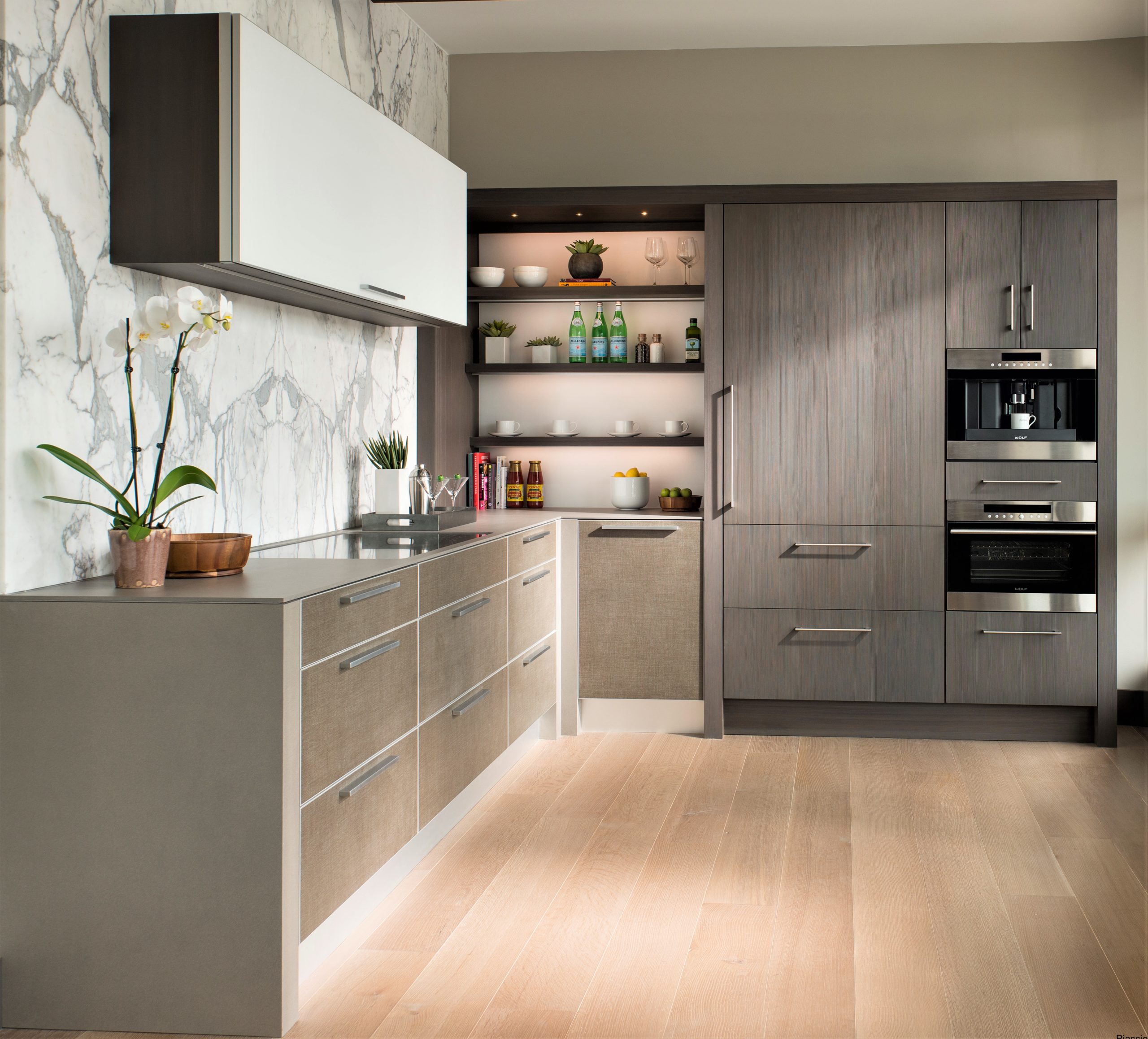 This contemporary kitchen design integrated open shelving into a functional and fresh composition.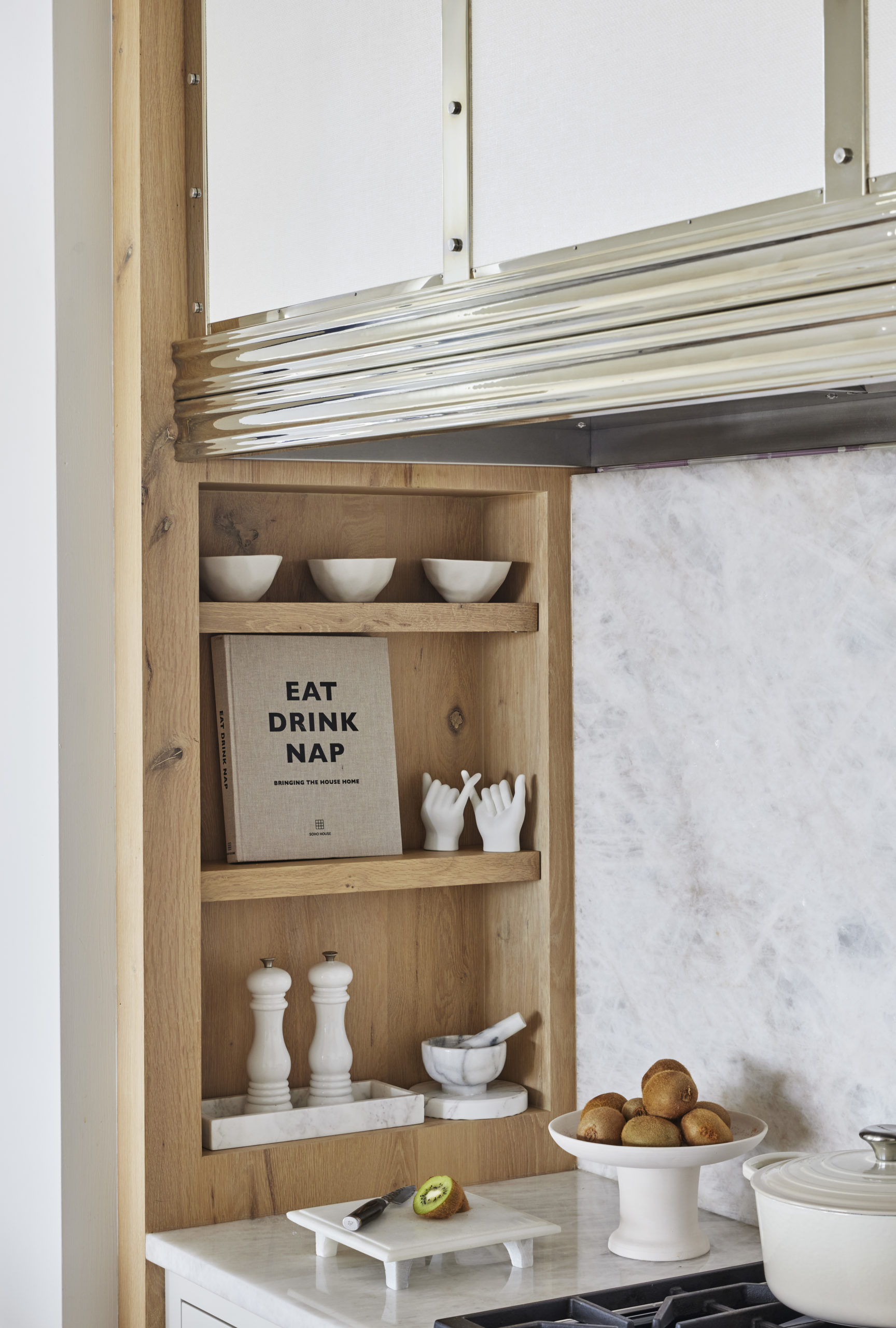 Placing open shelving in a busy work zone can add function and visual interest. It can also assist with keeping items off your countertop.  In this range cooking area, wood shelves house essentials like salt & pepper for convenience and ease when preparing meals.
Decorative metal shelving above this prep sink literally creates a perfect spot for your favorite coffee mugs.
Important Note: Plan for weight of items stored on shelving. You will need additional blocking in the wall to support the shelves. Be sure to discuss this with your Kitchen Designer and General Contractor.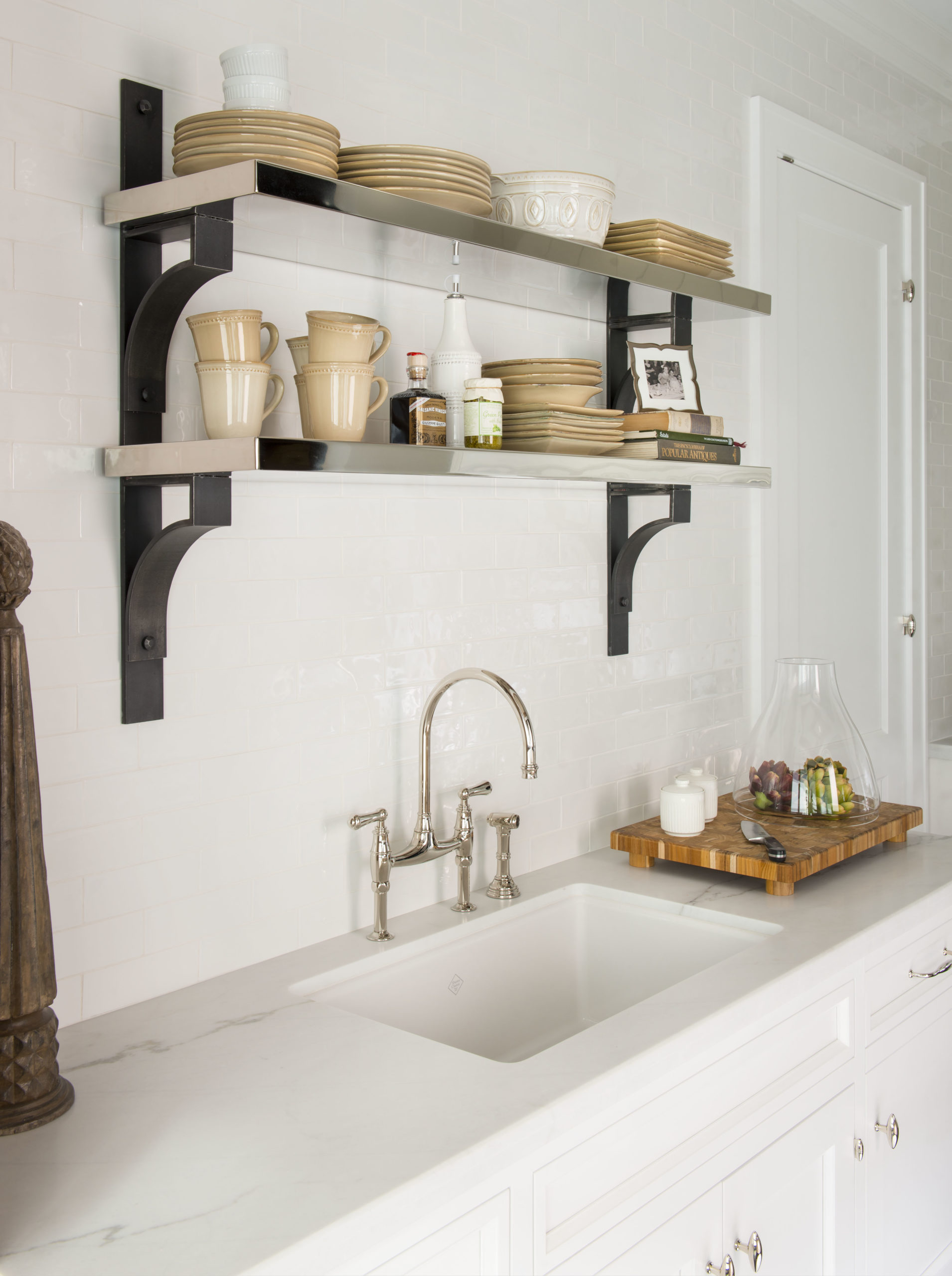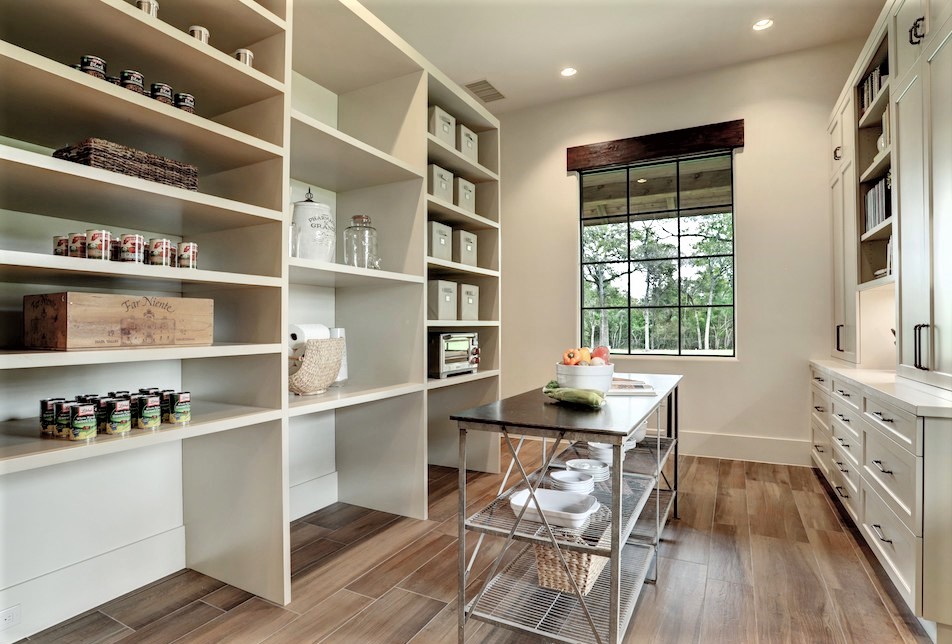 One of the most popular uses of open shelving is for the Butler's Pantry.  Here, you have the convenience of seeing your supplies & equipment. In addition, it provides easy access to all of your items.
Painted wood is an easy choice for a classic, clean look in this functional area.
In this project, the Butler's Pantry is a visible extension of the kitchen design. Not only does it provide a separate workspace, but it continues the design story. Integrated lighting is a nice upgrade as shown in the project above.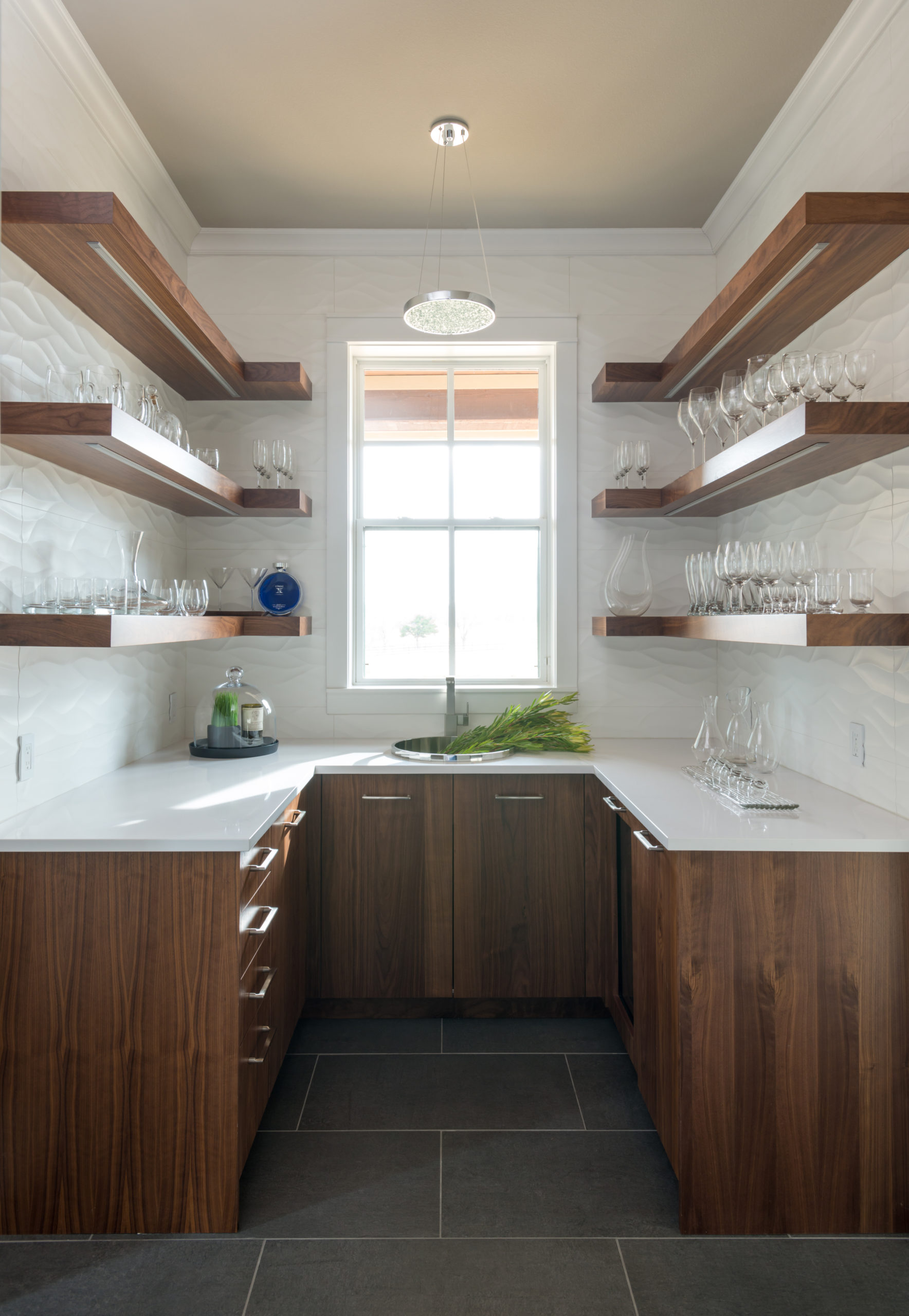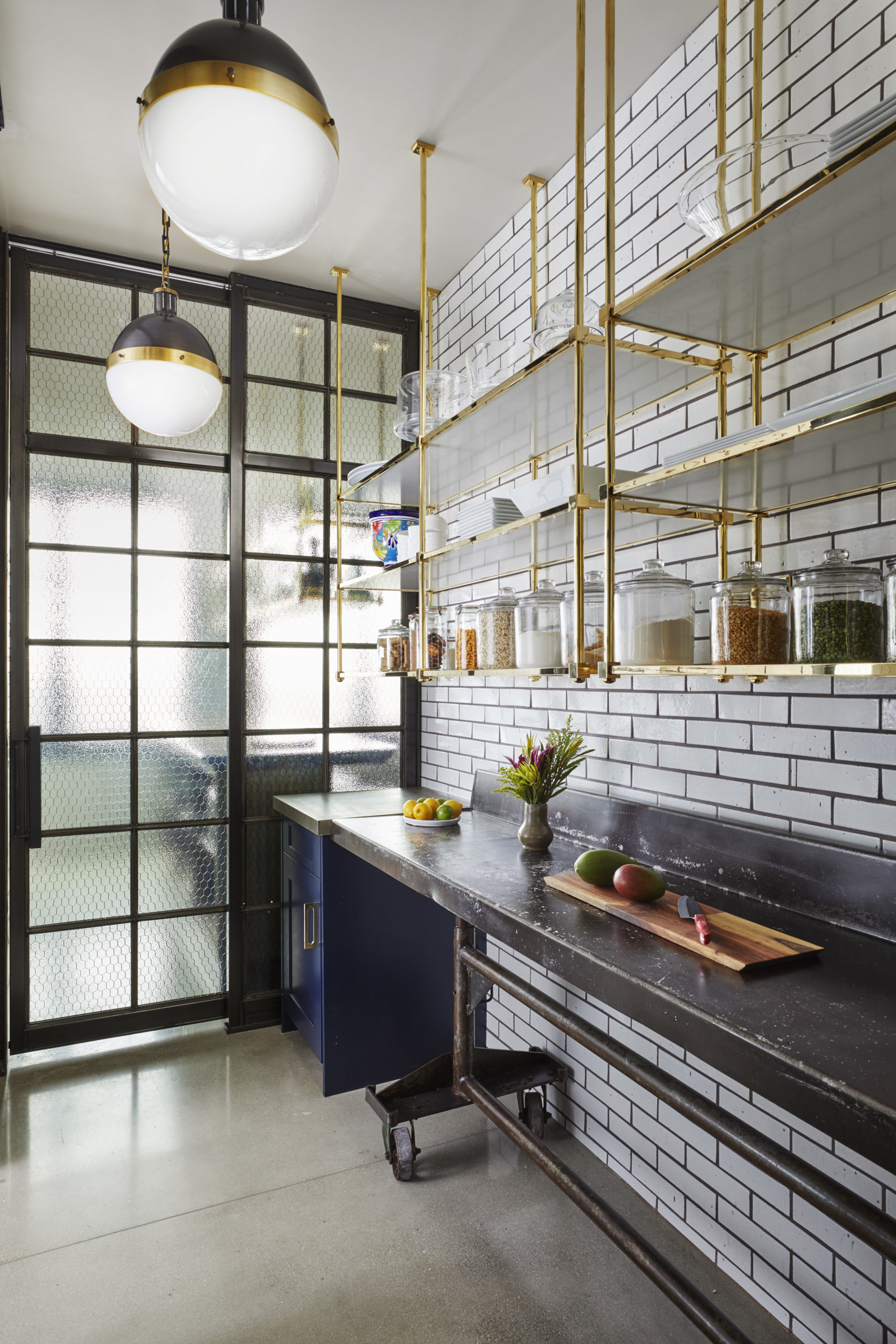 For those who love decorative design, how about this custom polished brass and marble shelving?
Open Shelving for the Home Bar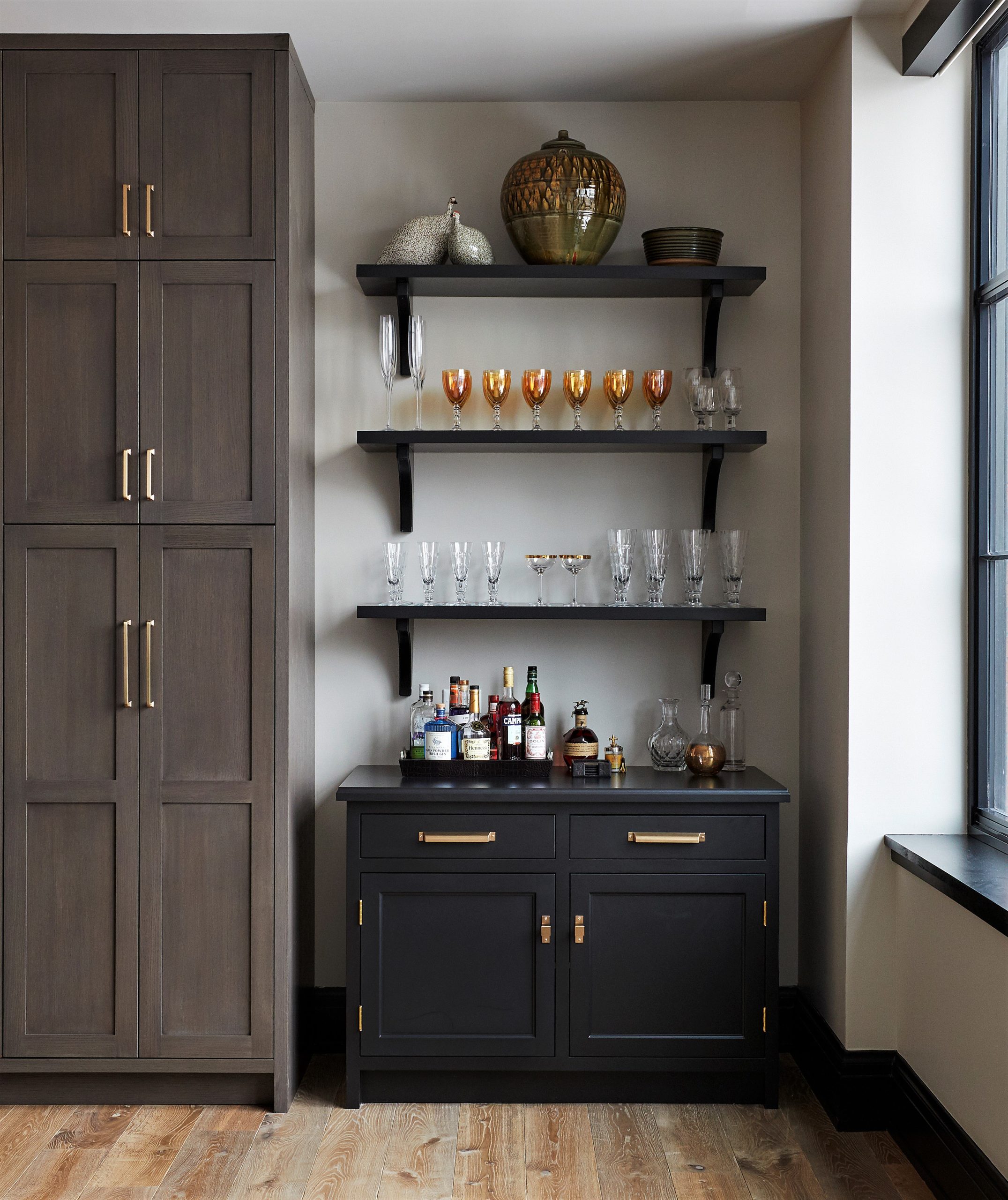 The bar is back, and open shelving works beautifully for creating a designated area or complete home bar. This is a perfect design for Loft living. Here, floating shelves match the custom base cabinetry. Plus, this dark and handsome design shows how to successfully address those extra tall ceilings.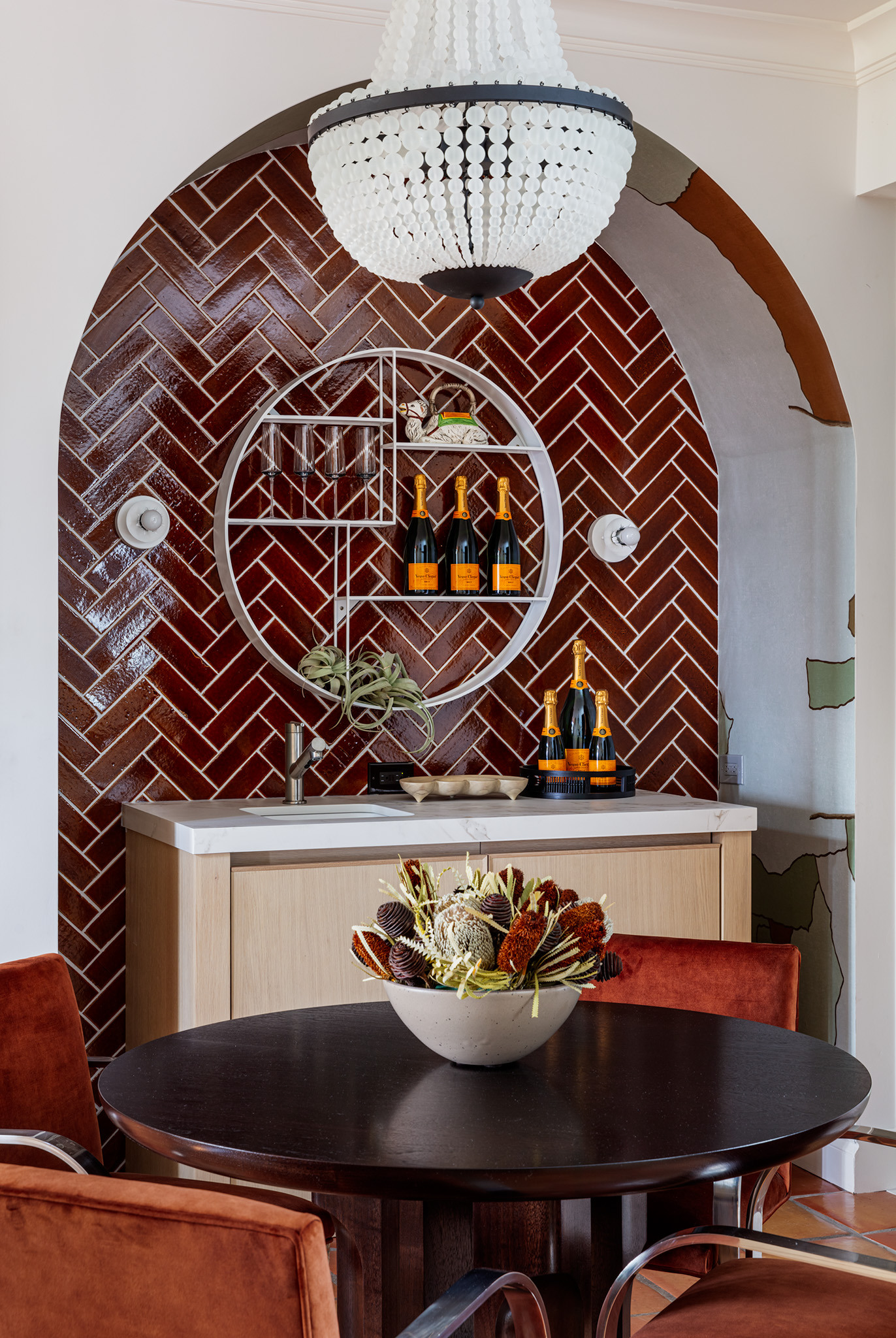 This bar niche with bold Fireclay tile allows for decorative shelving and creates a statement element that is both functional and fun!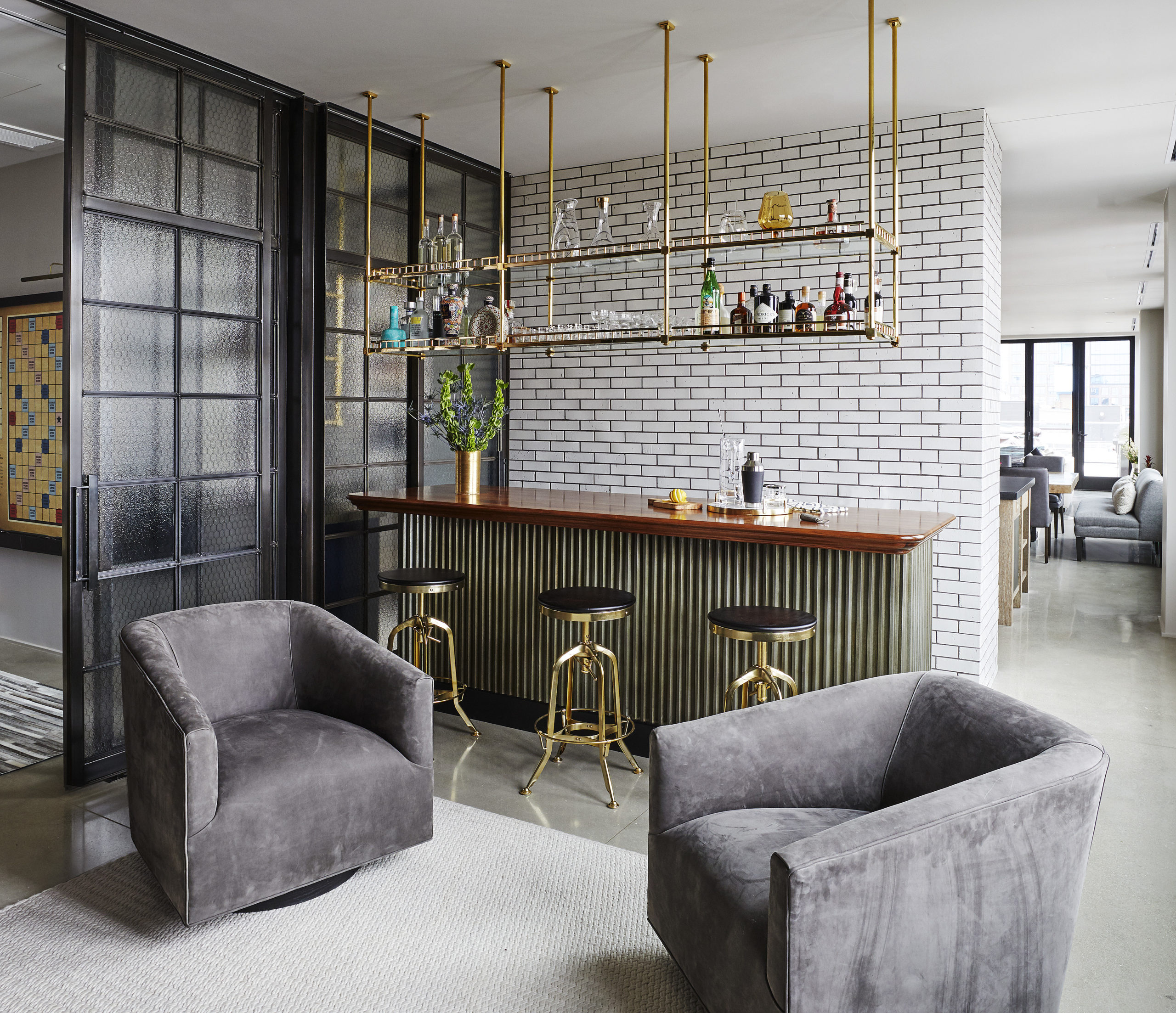 Do your clients love to entertain? Custom polished brass bar shelving could be the perfect choice for this luxurious bar design. Please note, specialty shelving like this requires careful design, engineering, and extra structural support. However, we think it's worth the extra team effort!
Family Rooms Elevated with Open Shelving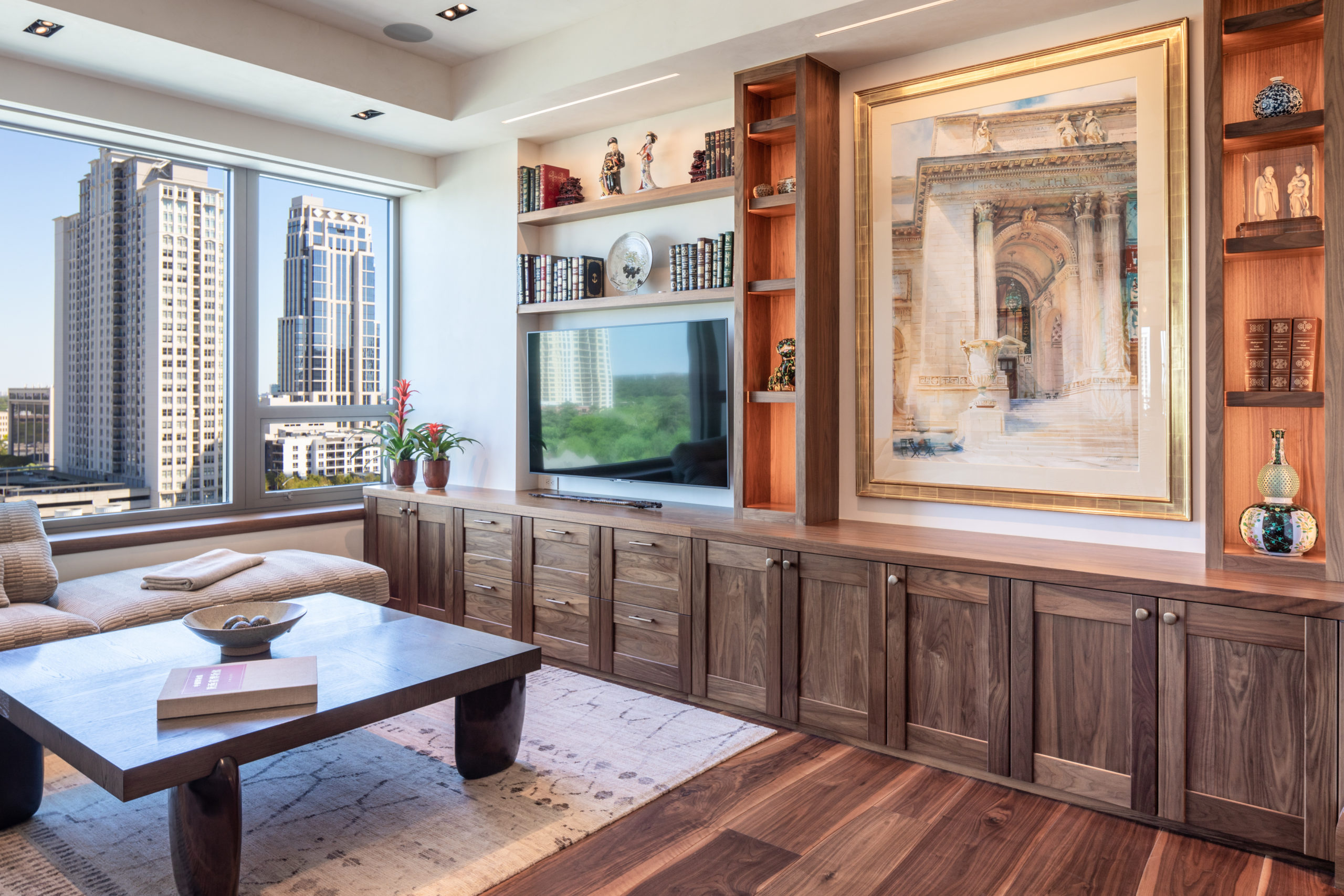 Furniture grade millwork and cabinetry is a way to elevate your room. Plus, it provides much needed storage and display function. It also creates focal opportunities that reflect your personal style.
When designing a family room or office including open shelving, think about what you will be displaying. Also, don't forget to consider lighting and weight requirements.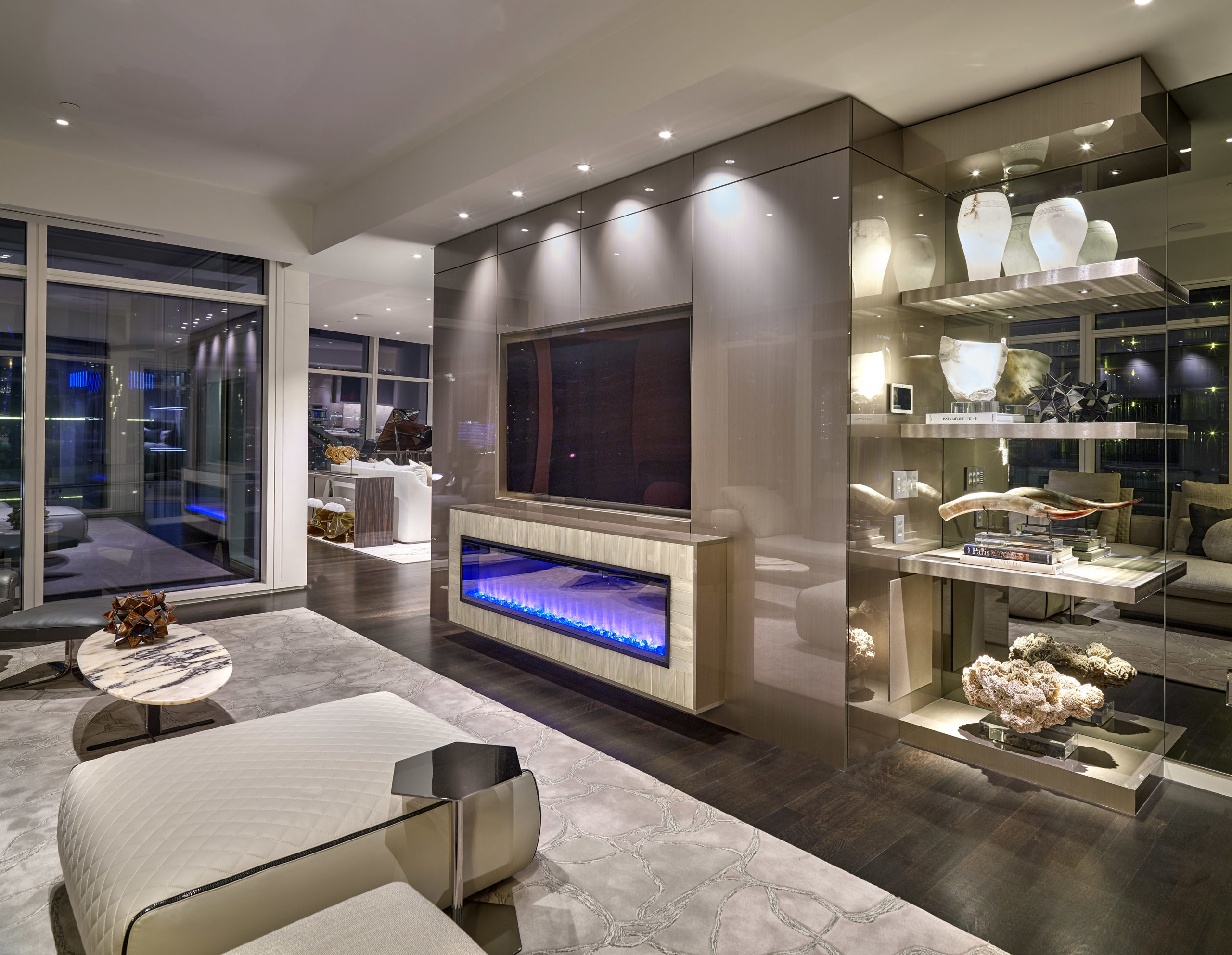 Above is a contemporary project feature where open shelving integrates beautifully for this modern design.
Consult Your Professional Team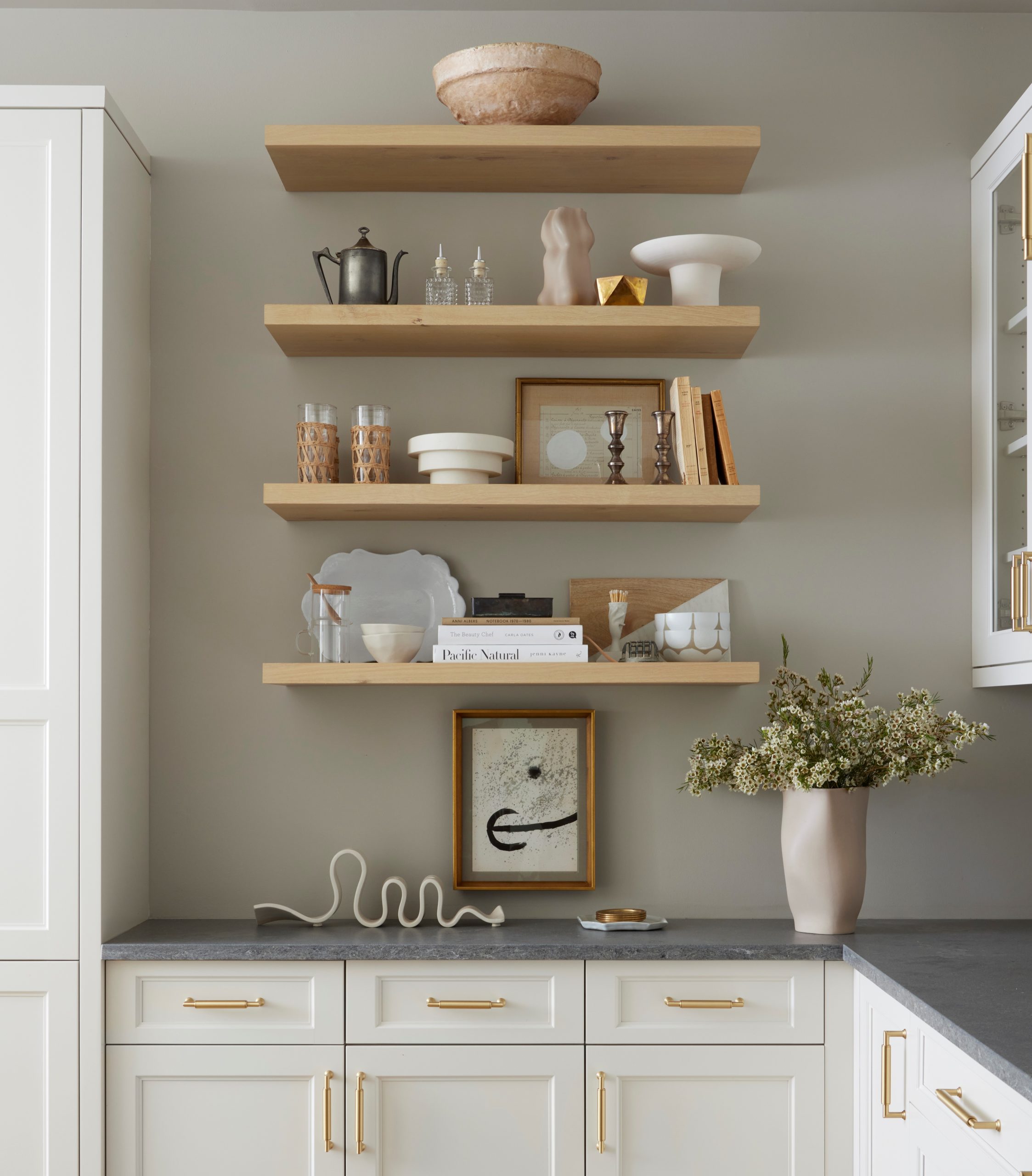 As you can see, there are many successful designs where utilizing open shelving created function and an updated aesthetic.
If you are planning a home project in the near feature and seek updated design elements, we may be a good fit for your project.  Most importantly, be sure to consult with industry professionals. Find people who will properly design and execute your home project so it lasts well into the future.
Find Inspiration Near You
Summary
Article Name
Winning Designs Utilizing Open Shelving
Description
Bentwood Luxury Kitchens has created numerous designs with open shelving cabinetry. Scroll through to see how it can fit into your home.
Author