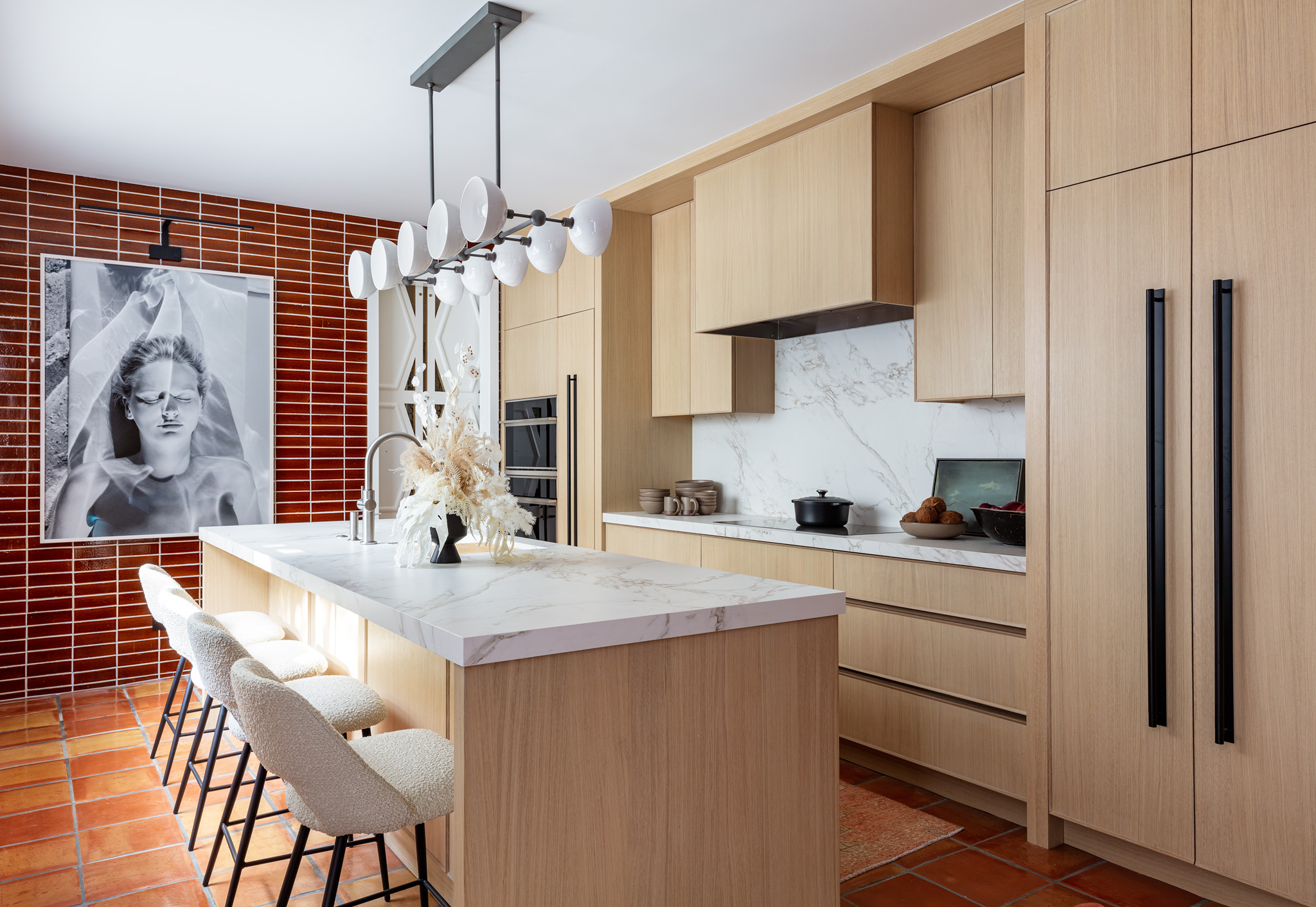 Nickolas Sargent Photography
Looking over the last couple of years, there have been certain cabinetry door styles and finishes that were real standouts and part of some amazing luxury home projects.  We wanted to share some of the stories behind these doors and how it translated into real life.   
At Bentwood Luxury Kitchens we explore the best cabinetry options for your project making sure both function and aesthetics work together beautifully. There is no shortage of beautiful cabinetry selections worthy of your consideration no matter if your project is located on the coast or in the mountains, a high-rise condo, or a sprawling suburban home.   
Here are some of our current projects across the country that may lend some inspiration to your next project.
Contemporary Beauty

: Vaugh

a

n Door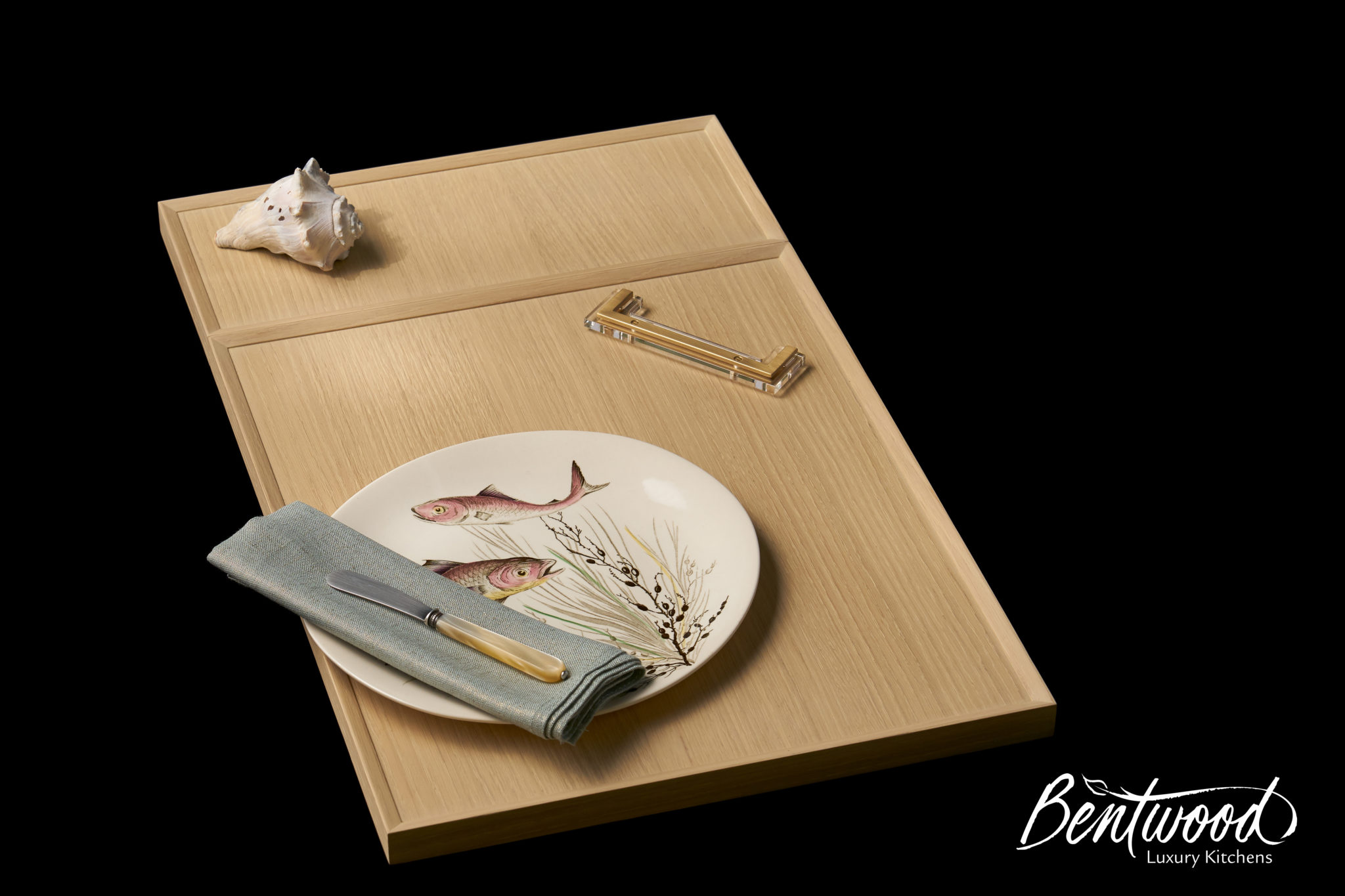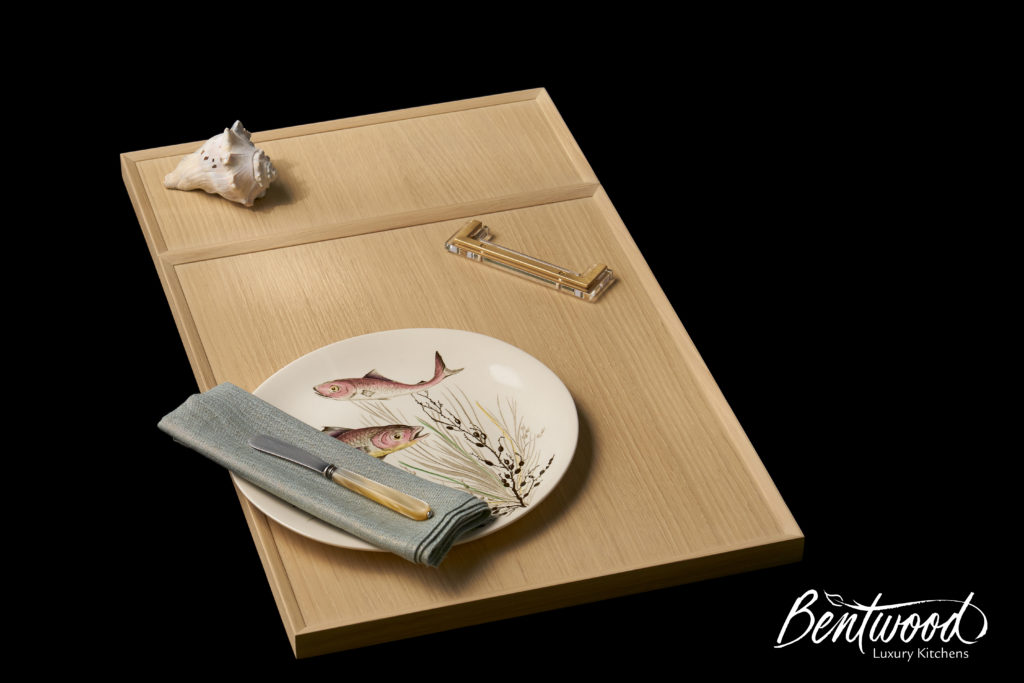 When Designer, Mark Williams of MWD was selected for the 2021 Kips Bay Palm Beach Decorator Showhouse and assigned the kitchen space, he called Steve Karp of Bentwood of Chicago.  The opportunity was accepted by the entire Bentwood team to support Mark and the Kips Bay organization by producing something show-worthy under tight deadlines! For the Modern Kitchen, Mark's vision included stylish cabinetry that could stand on its own without hardware to achieve a contemporary clean design. The wood and finish would need to support the coastal narrative and appeal to the exclusive Palm Beach audience.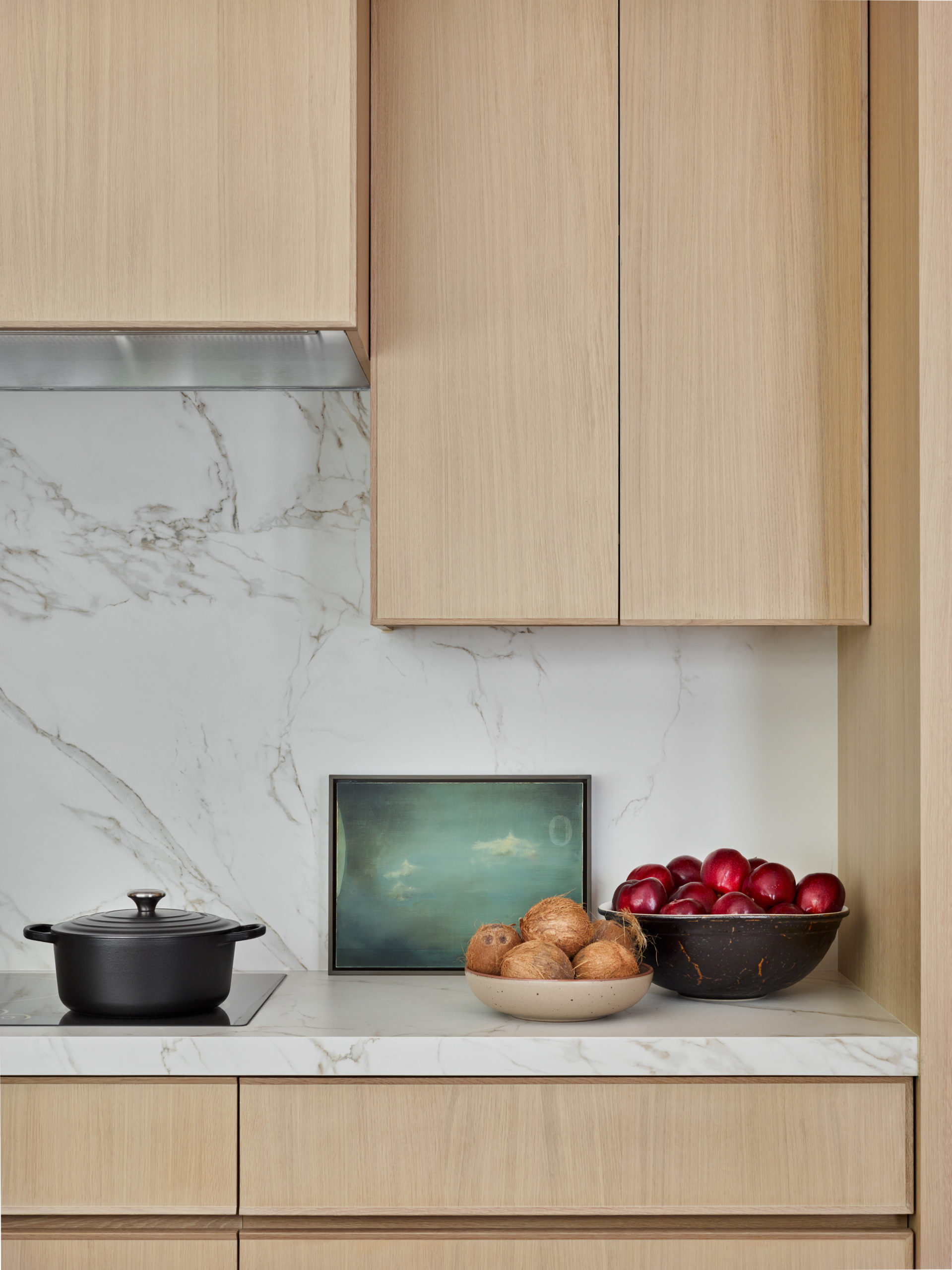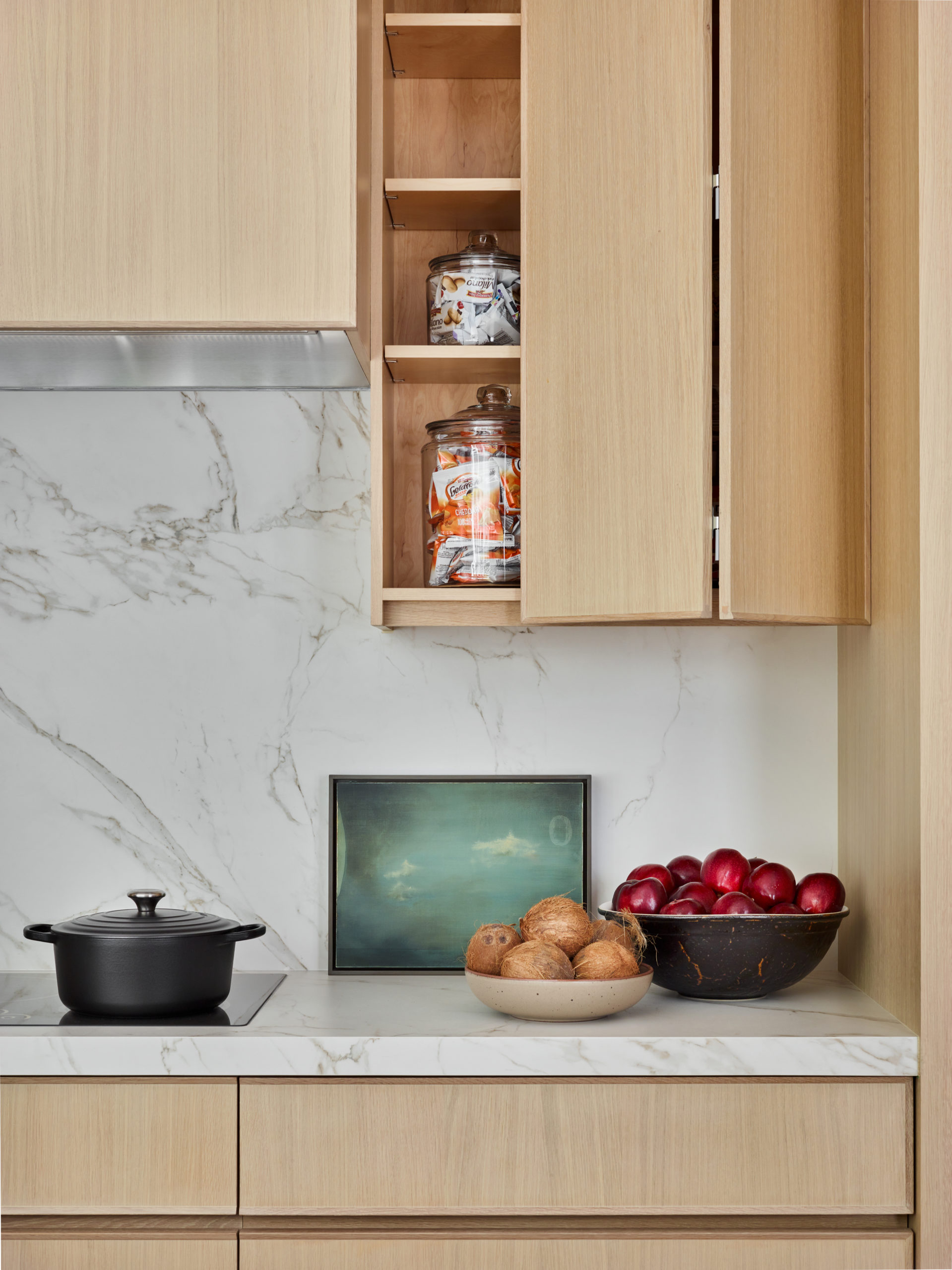 Rift Cut White Oak was the perfect straight-grain wood and a lighter stain called "Seagrass" was developed for the beachy point of view.  The Vaughan cabinetry door was created and included an architectural framing detail that was both minimal and yet visually striking.  Because the existing kitchen space was very compact, the custom cabinetry was a large element in this successful overall design that was well received. See more of this award-winning Palm Beach project!  
Refined

R

ustic

F

ull of

C

haracter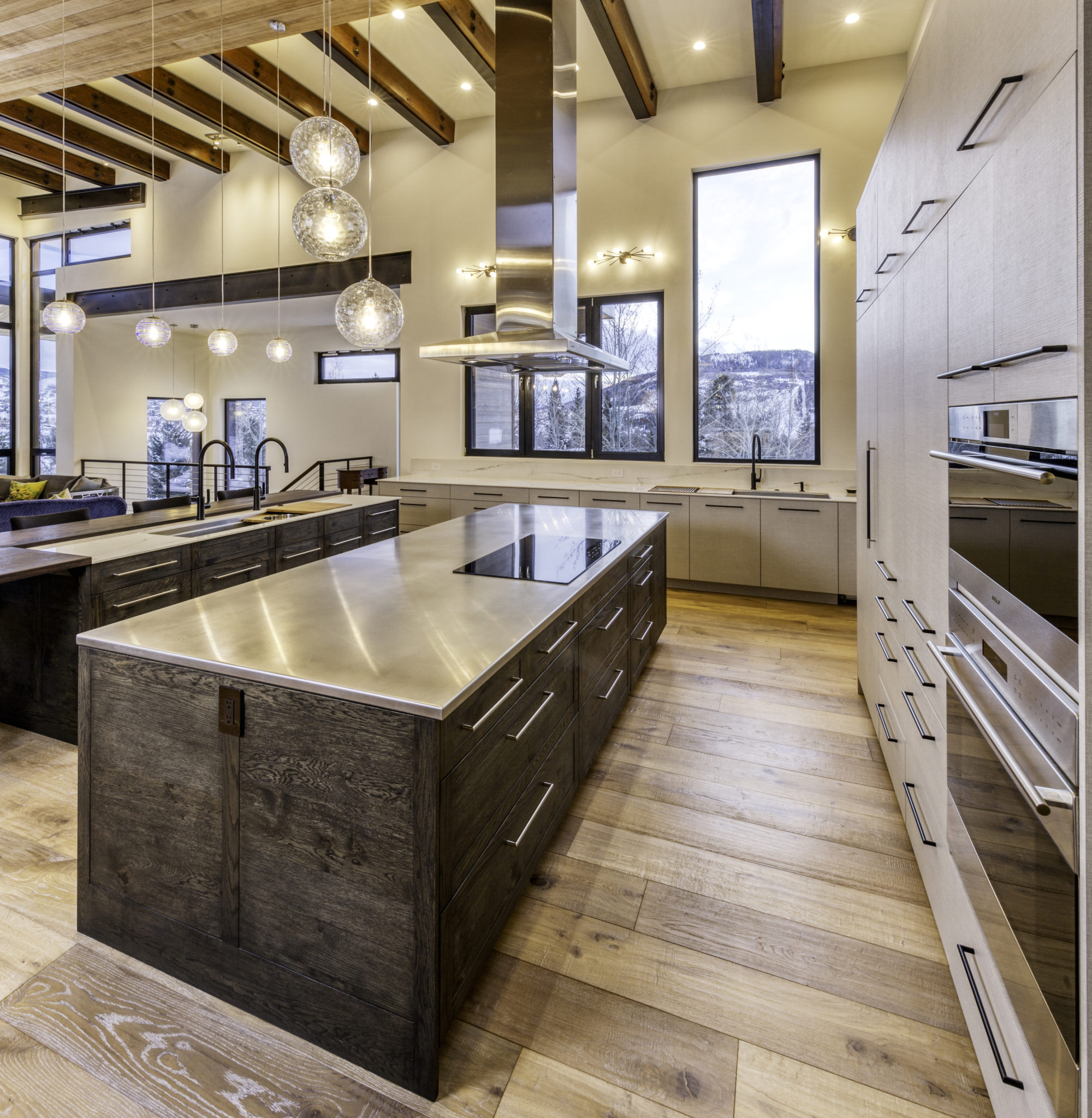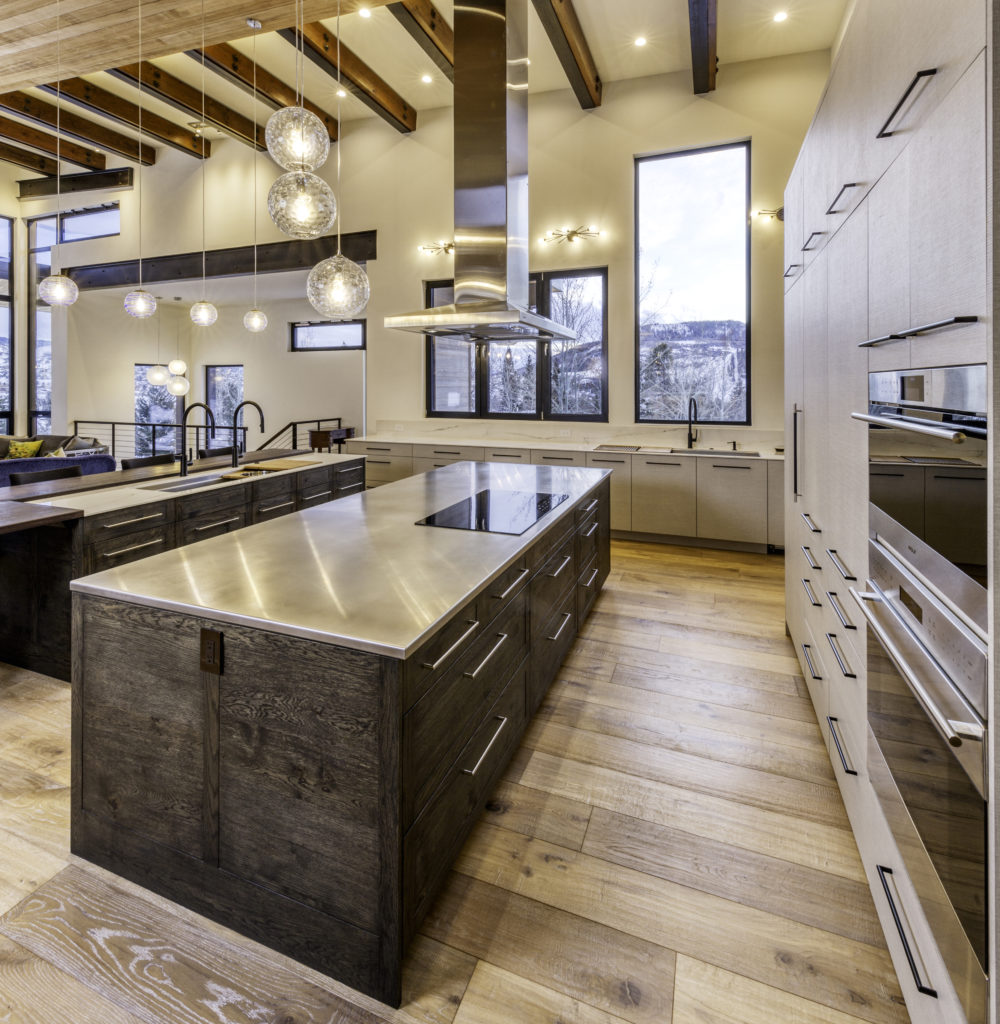 With many of our clients purchasing mountain getaways and embracing the outdoors, the need for more luxury cabinetry selections that embrace the rustic life increased.  At KBIS 2019, several new door styles and finishes were presented and displayed in our Harmoni™ booth space.  One of our own dealers was looking for modern cabinetry selections for his personal mountain home that offered something different.   
Mountain Modern

: 

Bonn Door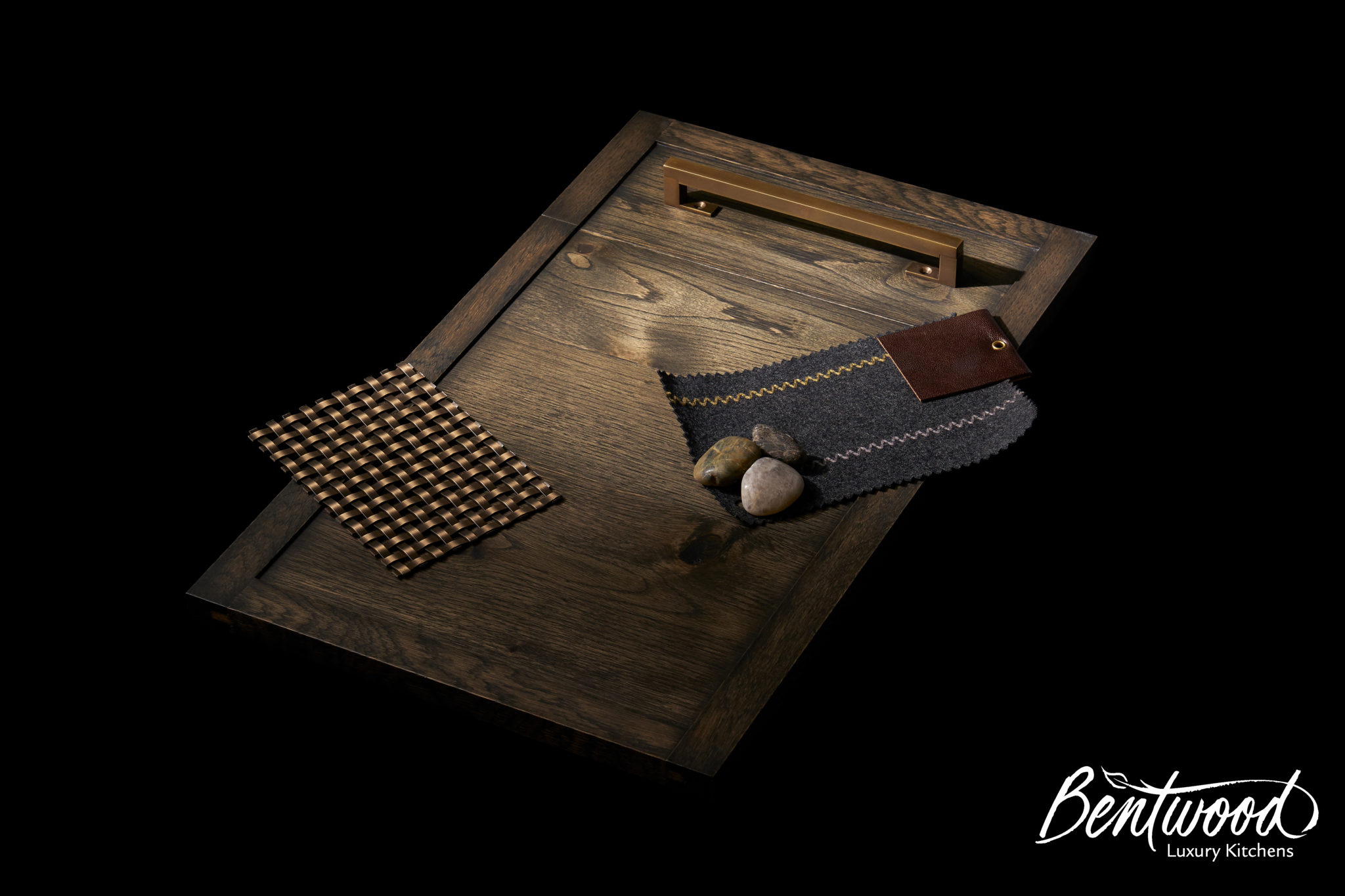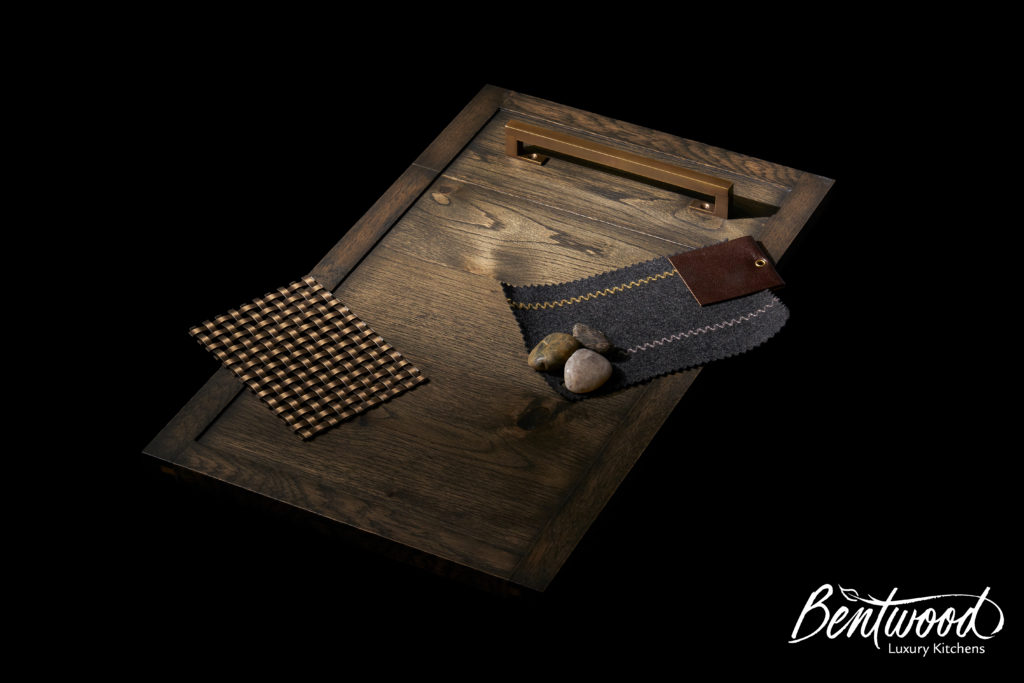 The newly crafted "Charred Oak finish" on Chestnut Oak had the depth and character he was looking for as the perfect material to highlight the double islands in his kitchen design. The handsome hue contrasted nicely with the lighter perimeter cabinetry and wood floors. Instead of a repeating slab door, the "Bonn Door" was an easy choice with slightly raised frame detail to showcase the large islands.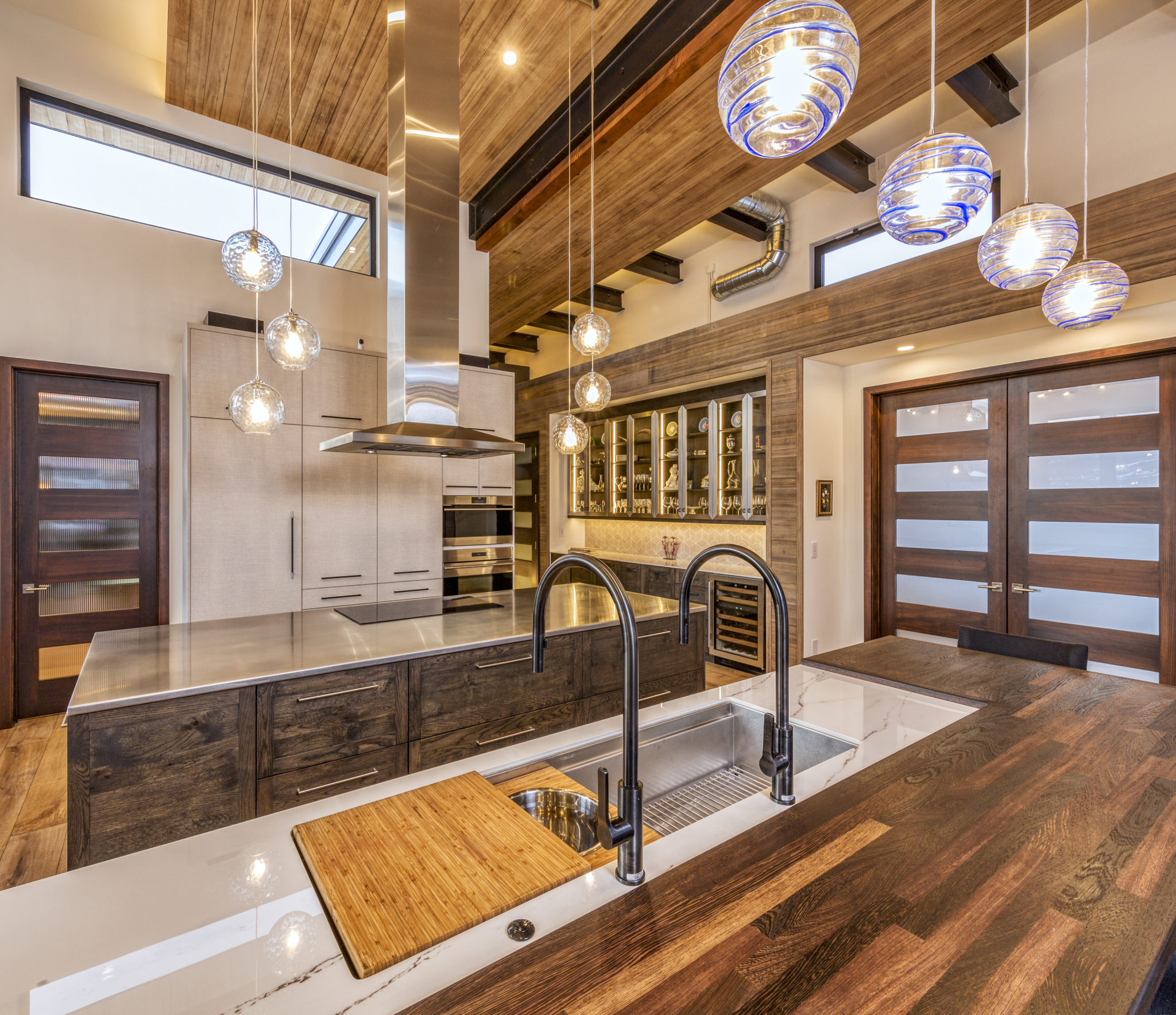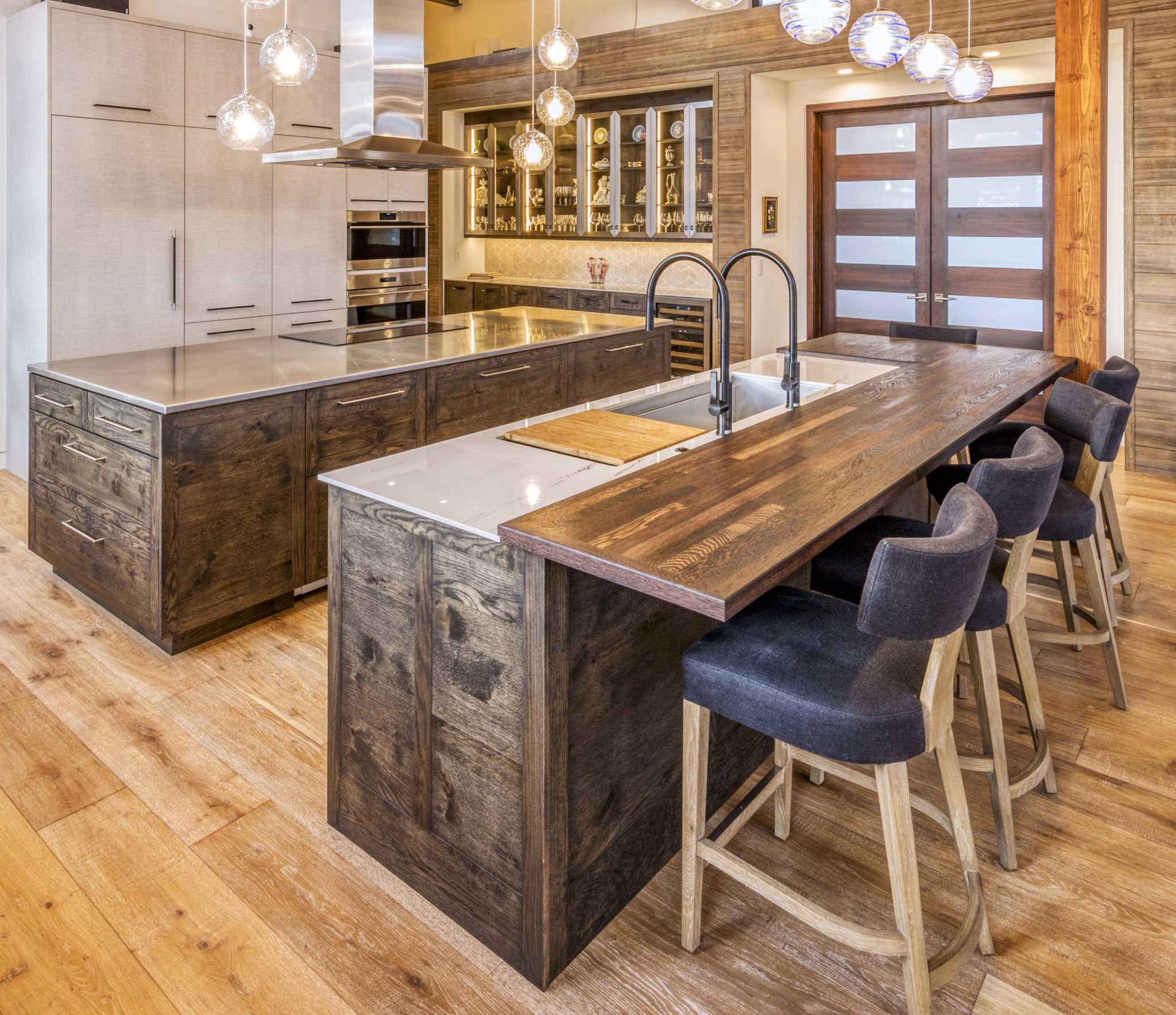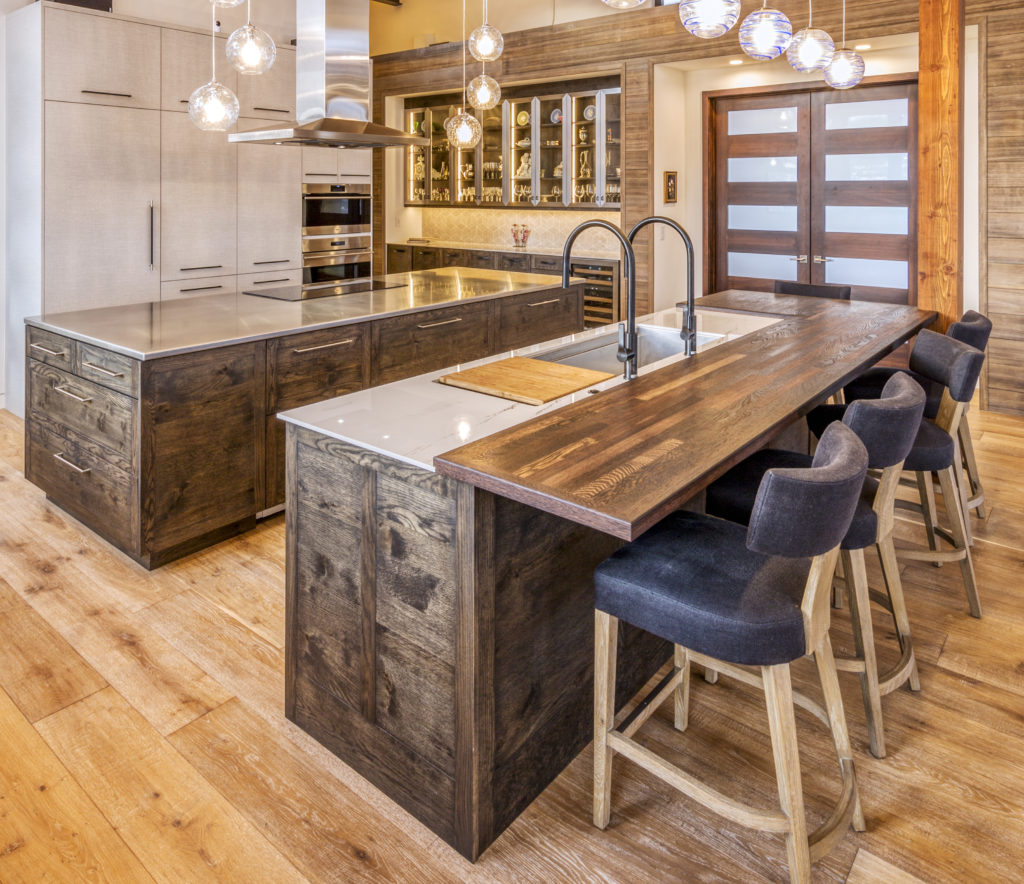 With the large open floor plan, the custom cabinetry selected for the double islands becomes a focal element that celebrates this entertaining kitchen.  There is no doubt that everyone will be gathered in this kitchen.  See more of this mountain contemporary project!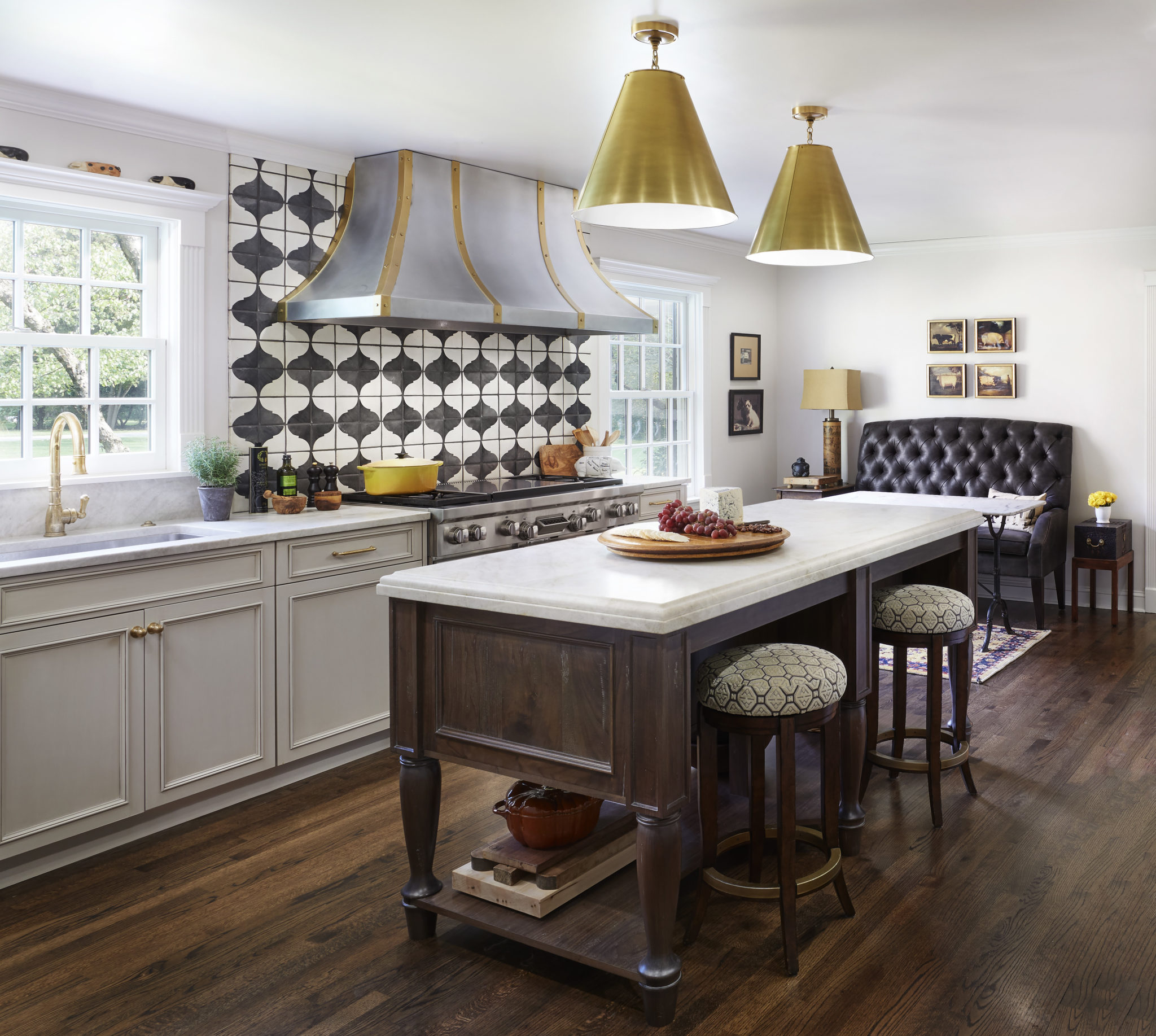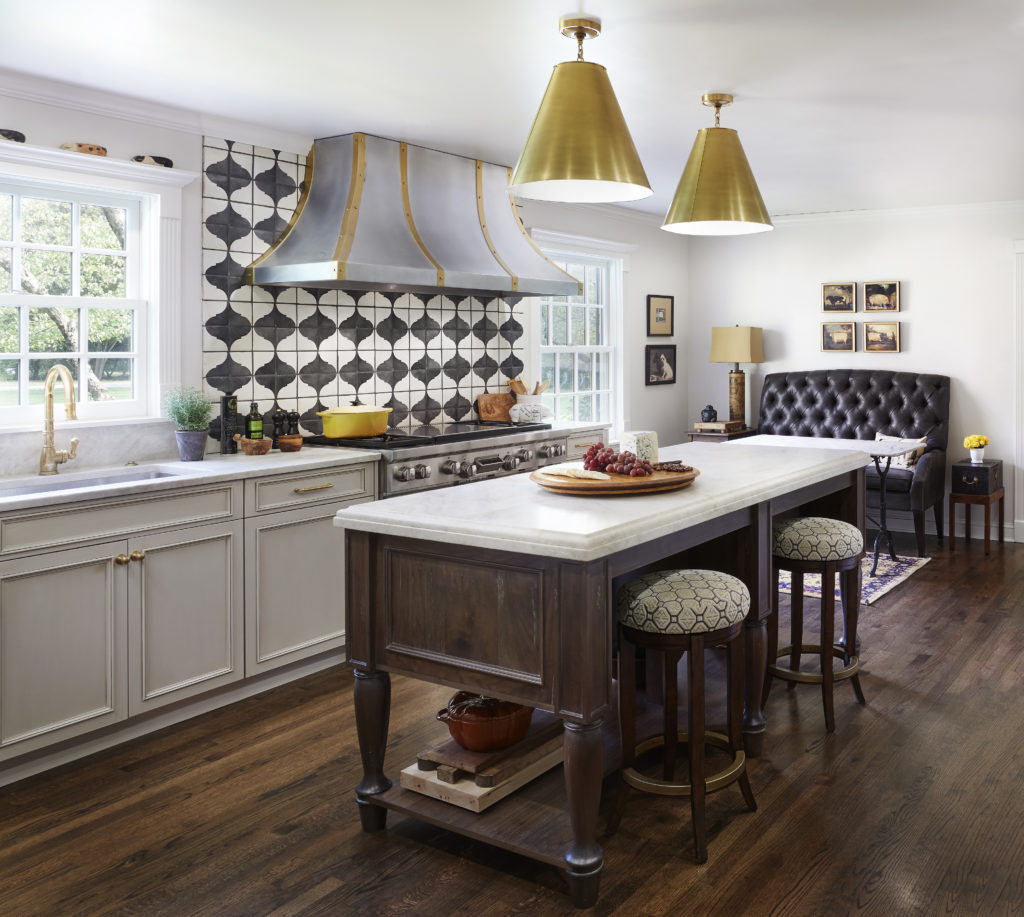 We find many kitchen and bath projects today are remodels in well-established neighborhoods with a more traditional architectural style. Luxury homeowners are looking for cabinetry that has been updated beyond the white shaker door, yet has some detail and style fitting these estate style residences.
One door continues to be a standout and has stood the test of time.  
French Elegance: 

Orleans

Door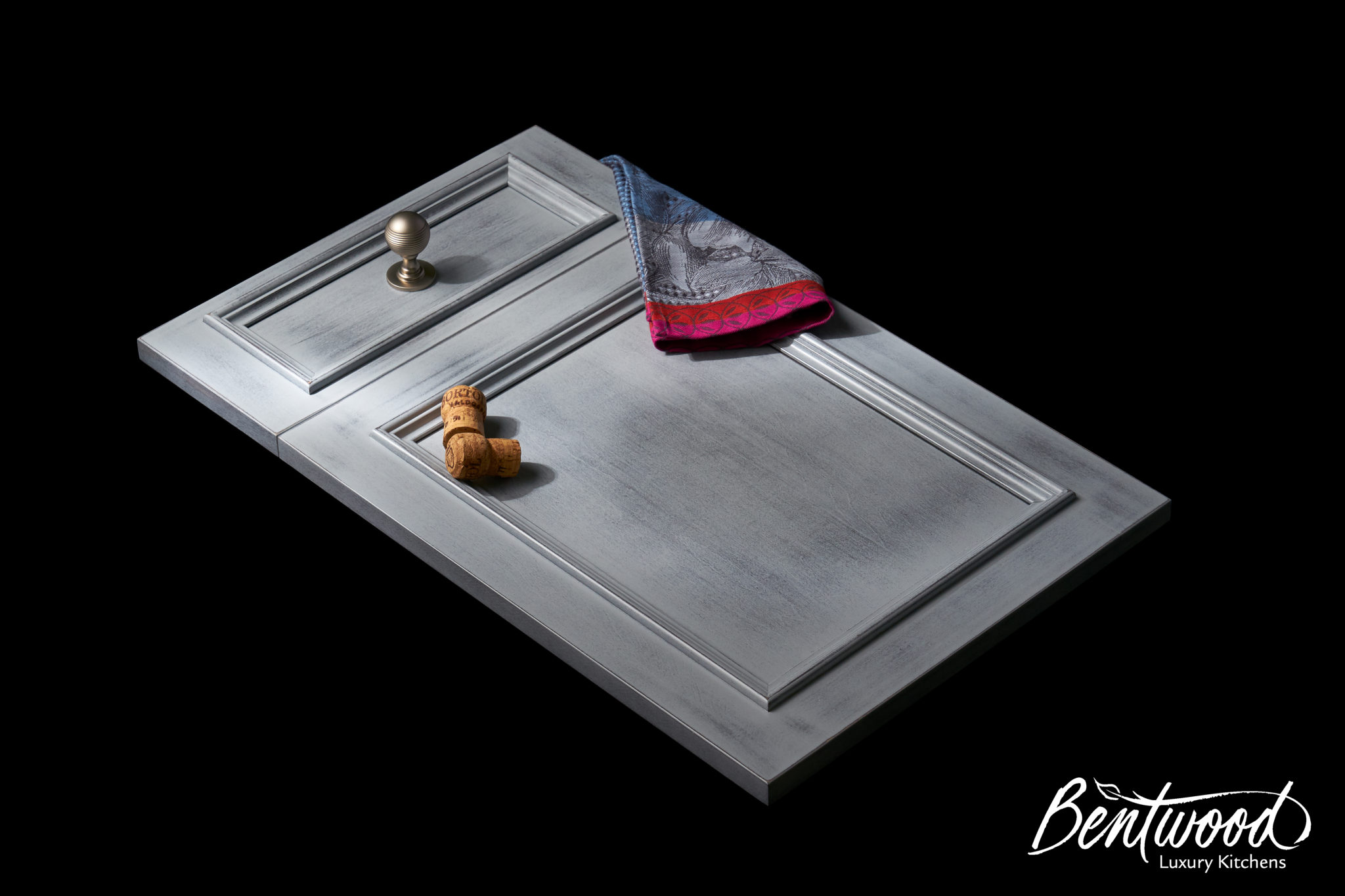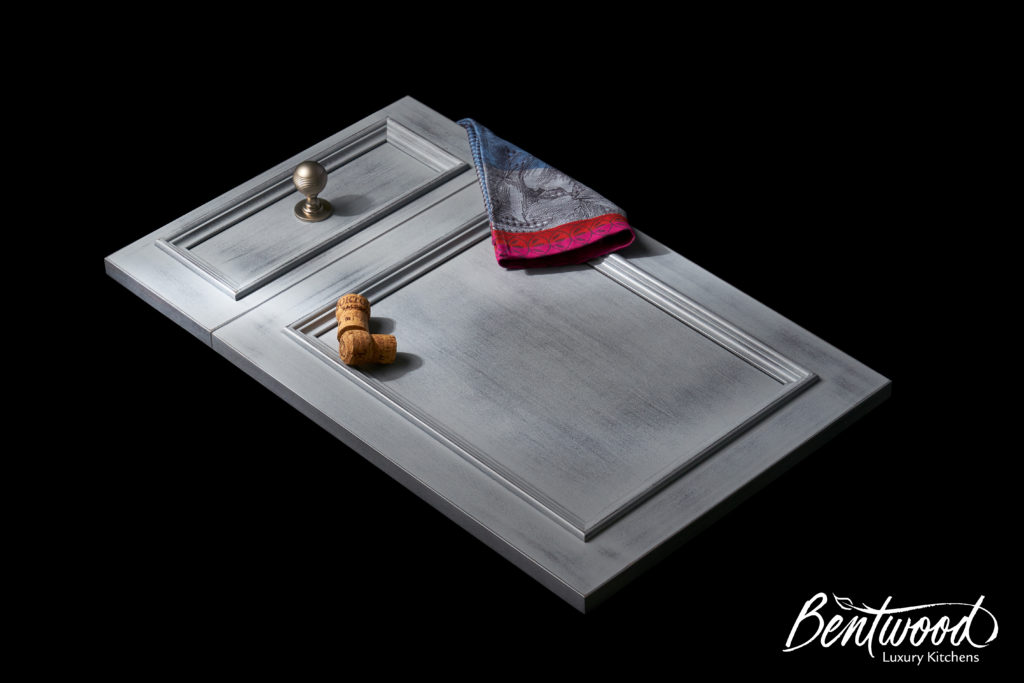 The "Orleans Door" style continues to rank as one of our top-selling doors for good reason.  It offers causal French elegance that is both timeless and stylish. A perfect selection that blends effortlessly with room furnishings and architectural details found in older homes. With the applied molding detail, a paint and glaze finish looks especially luxurious on this door style.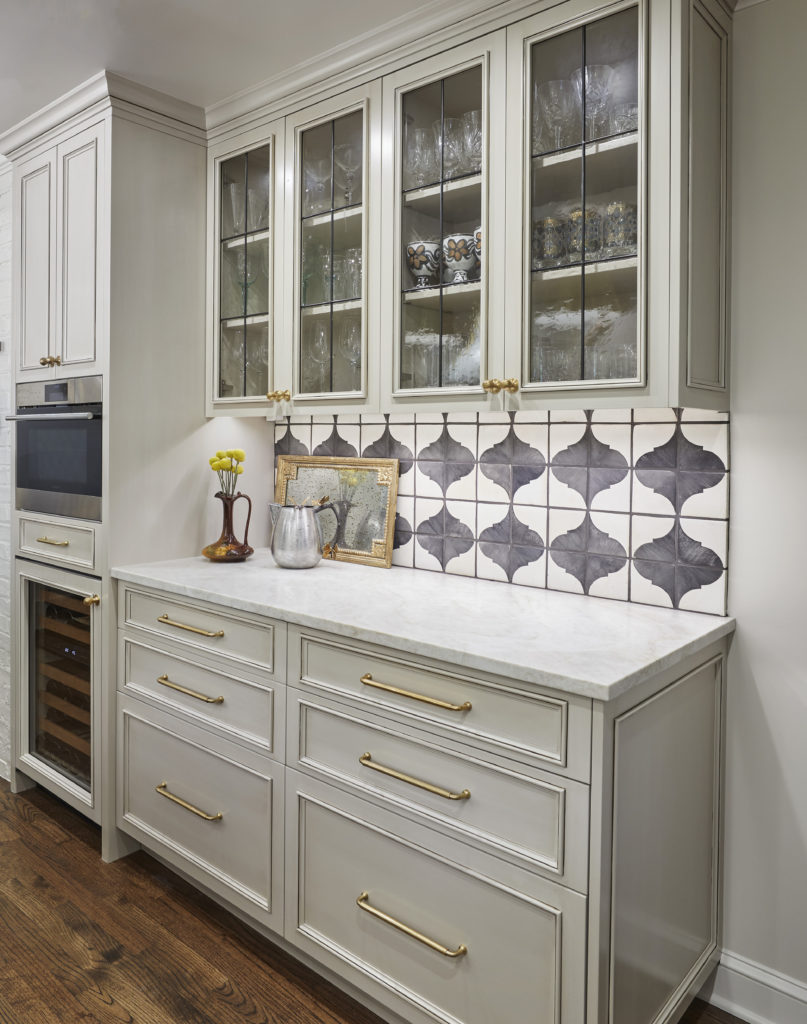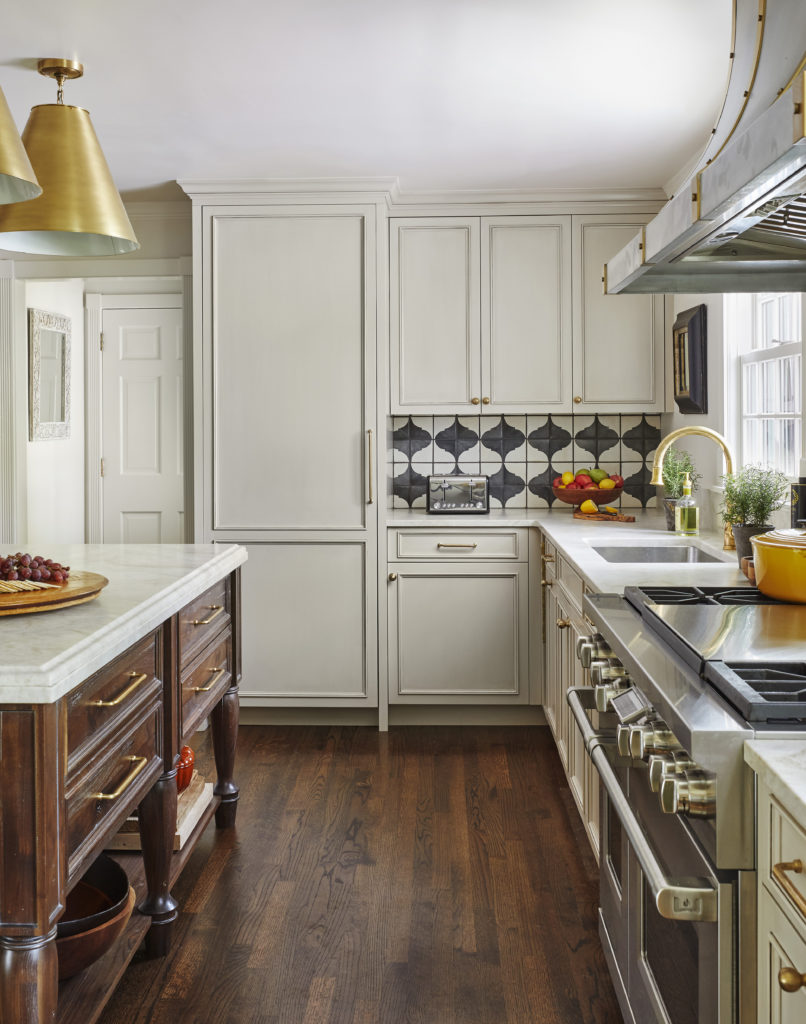 Here the custom paint and glaze finish on perimeter cabinetry is a lovely choice alongside the statement tile and range wall with zinc and brass hood. The custom furniture island was created using the same "Orleans Door" but made of walnut with light crafted ceruse finish for an antique look. What a great example of a personalized design that delivers big results both functionally and visually.  See more of this stunning French Kitchen project!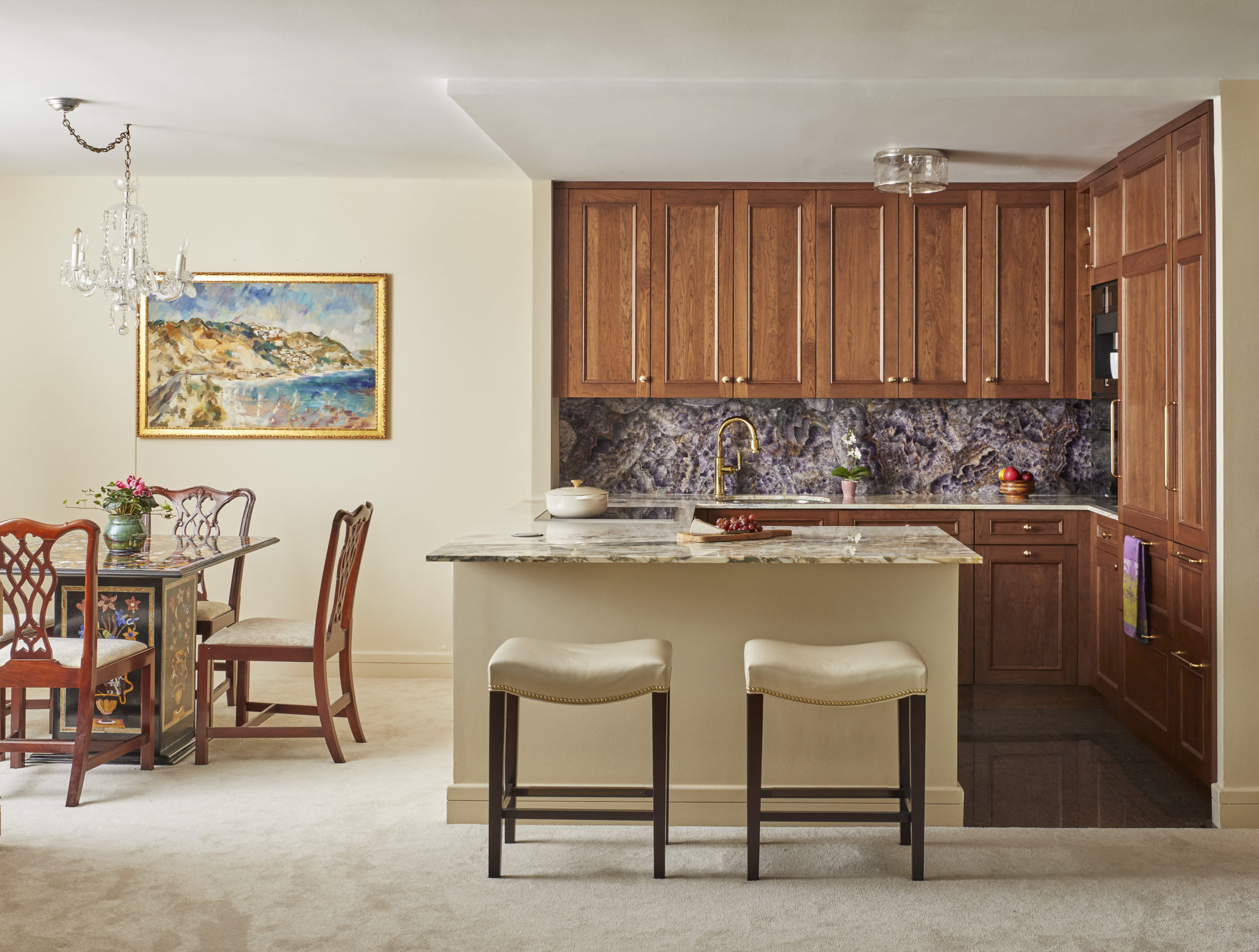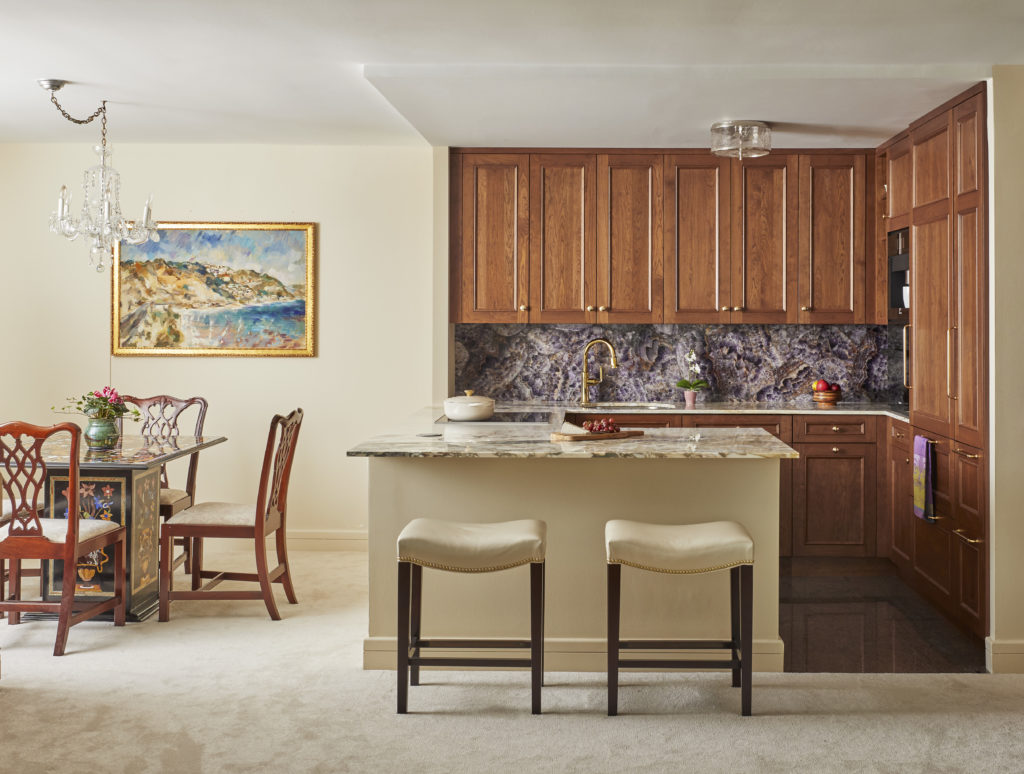 Bentwood's full range of traditional cabinetry includes styles appropriate for smaller scaled projects that are furniture inspired. Custom cabinetry is often essential in smaller spaces and good design is critical to the overall function and aesthetic.
Here is another door style that is gaining increasing popularity.  
Petite Beauty:

Rouen

Door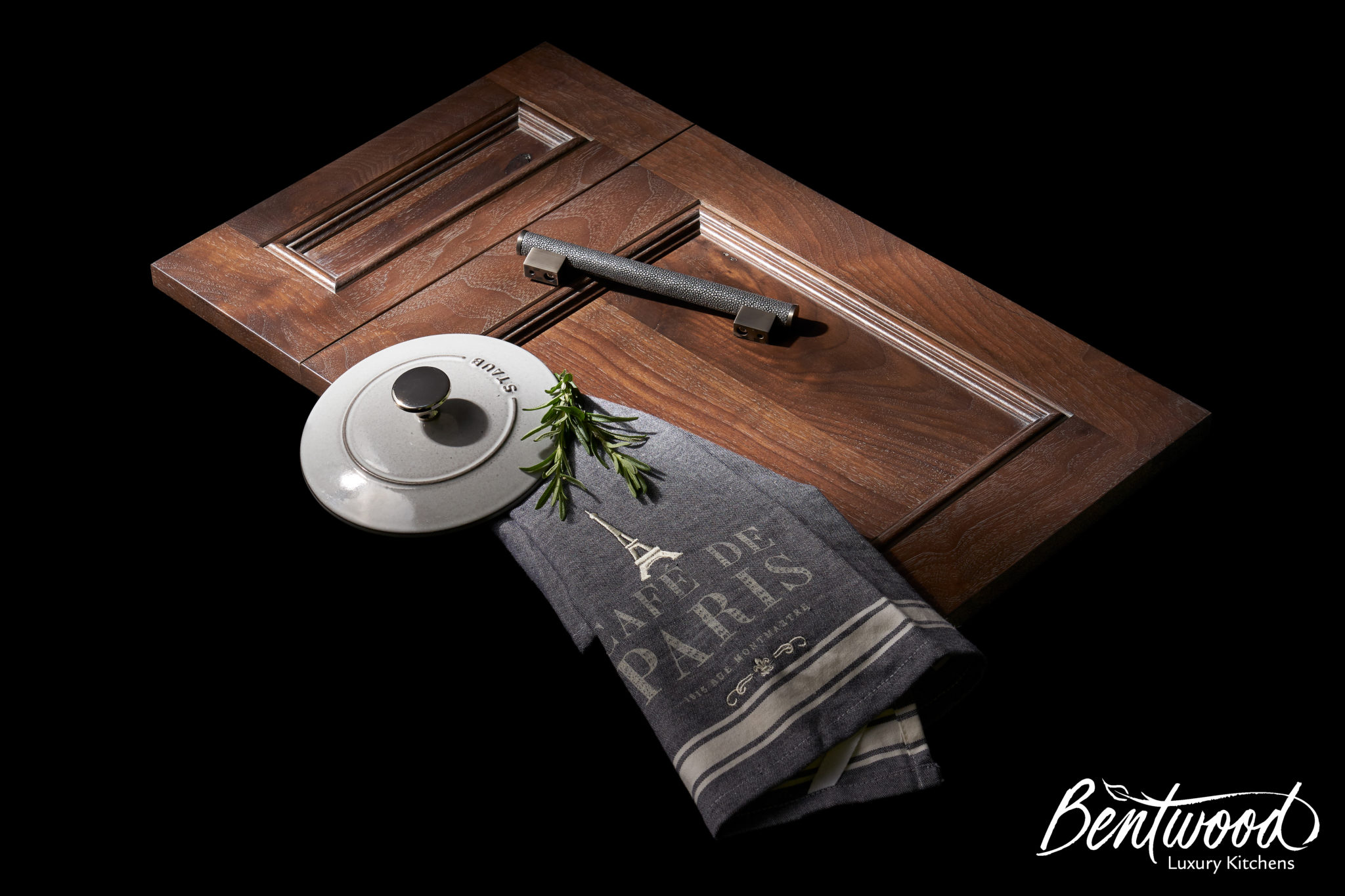 The "Rouen Door" is another timeless door style that continues to be popular, especially for smaller-scale traditional projects.  With classic French influence, it has just the right detail that is casually elegant and easily blends with interior furnishings.  This door style looks especially lovely in wood and stain combinations showing off the real beauty of wood.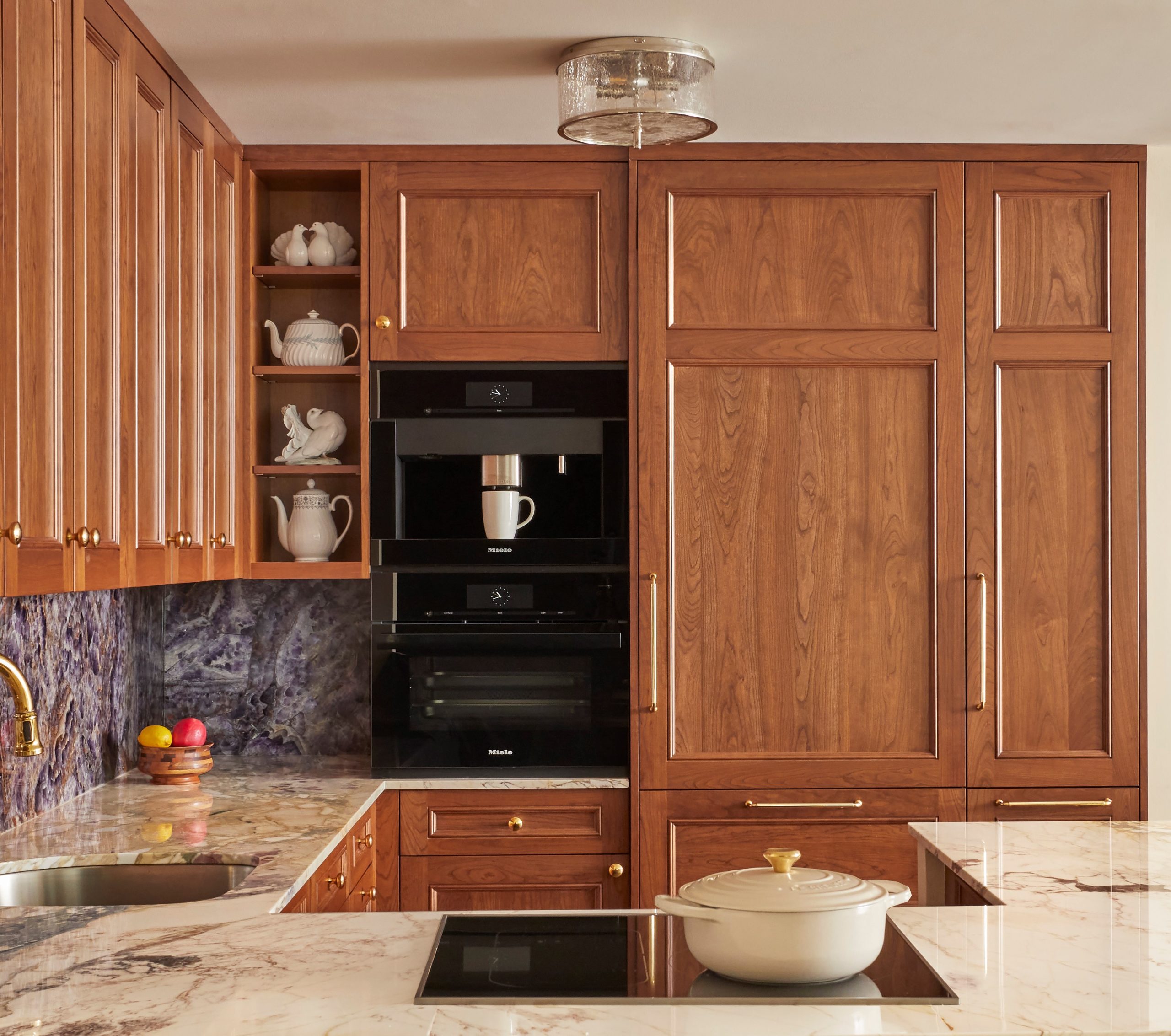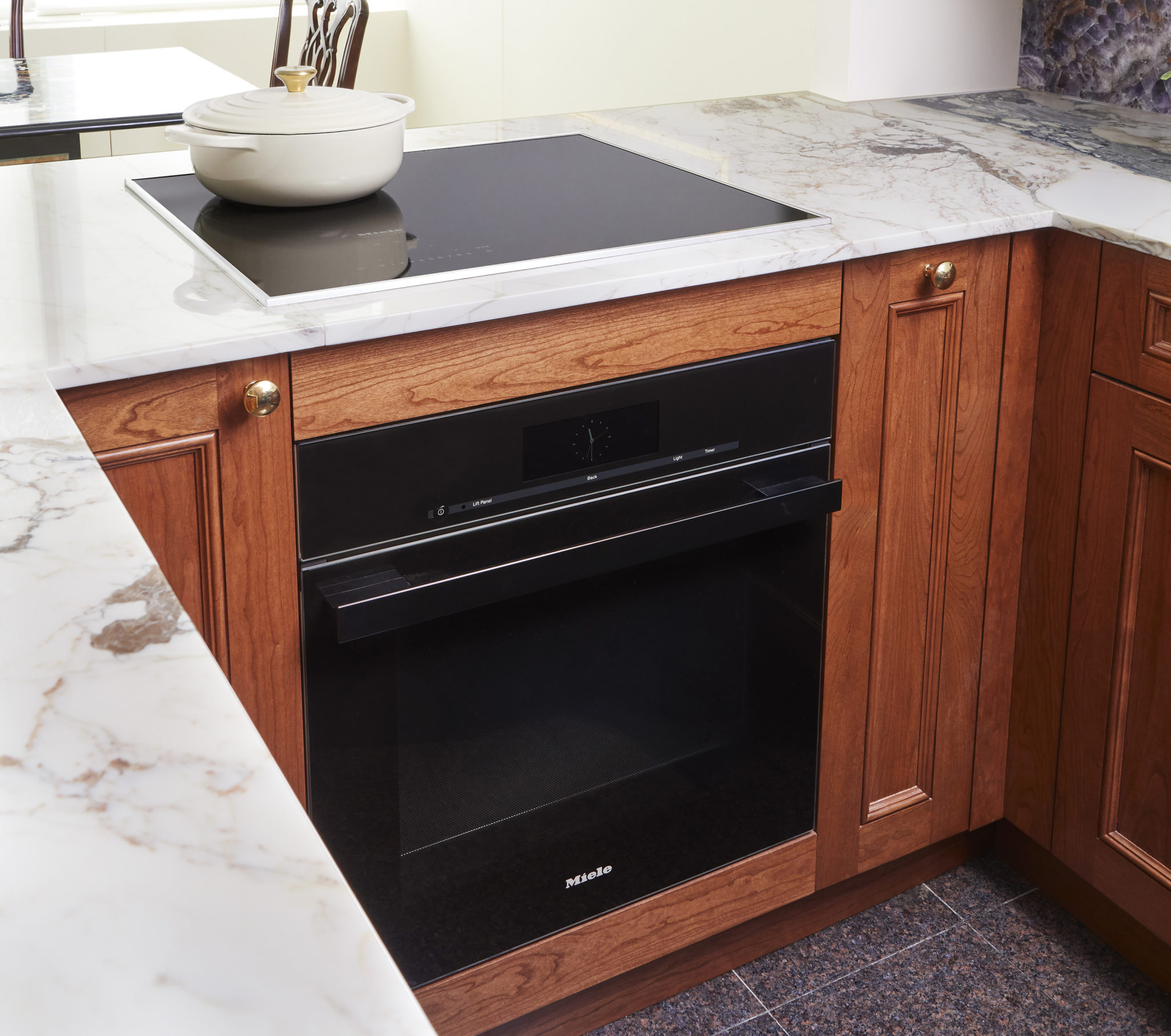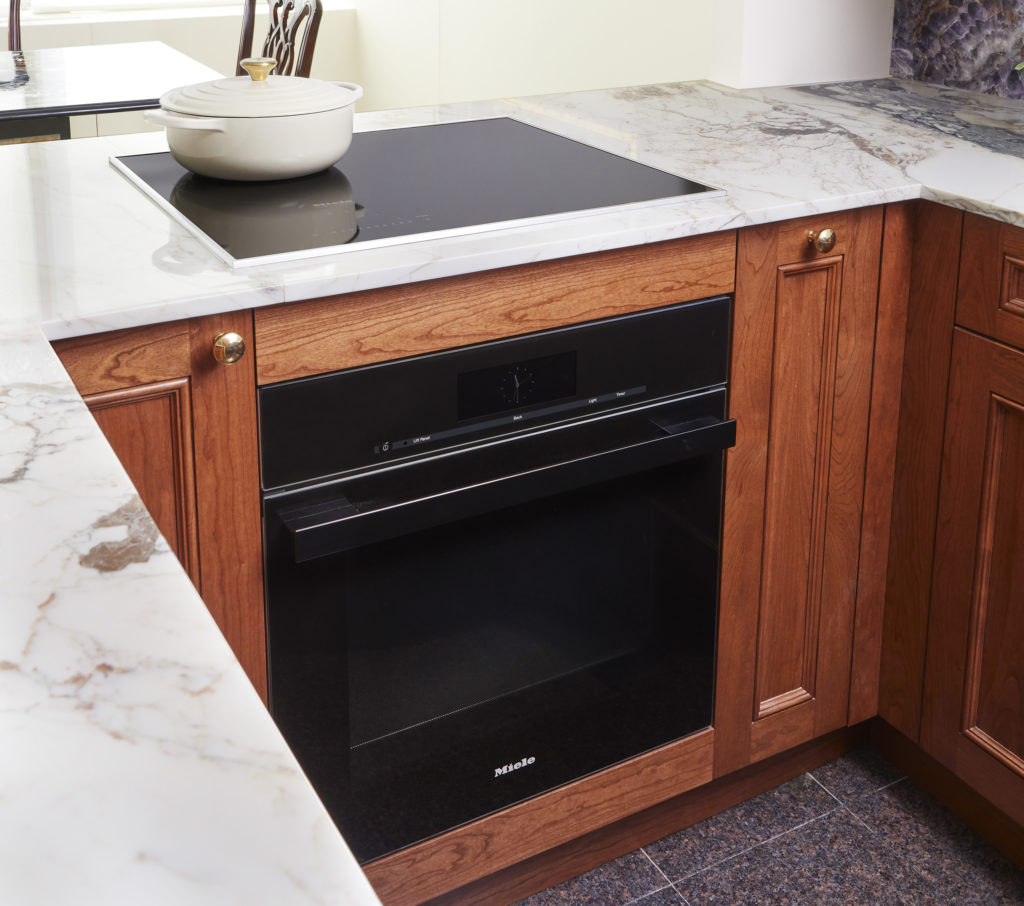 For this high-rise condo remodel project, the "Rouen Door" brings overall elegance to the kitchen and compact floor plan. The classic cherry wood and stain give a custom furniture element that integrates beautifully with the luxury residence furnishings. See more of this Gem of a Traditional Kitchen!    
Custom Cabinetry Beyond the Ordinary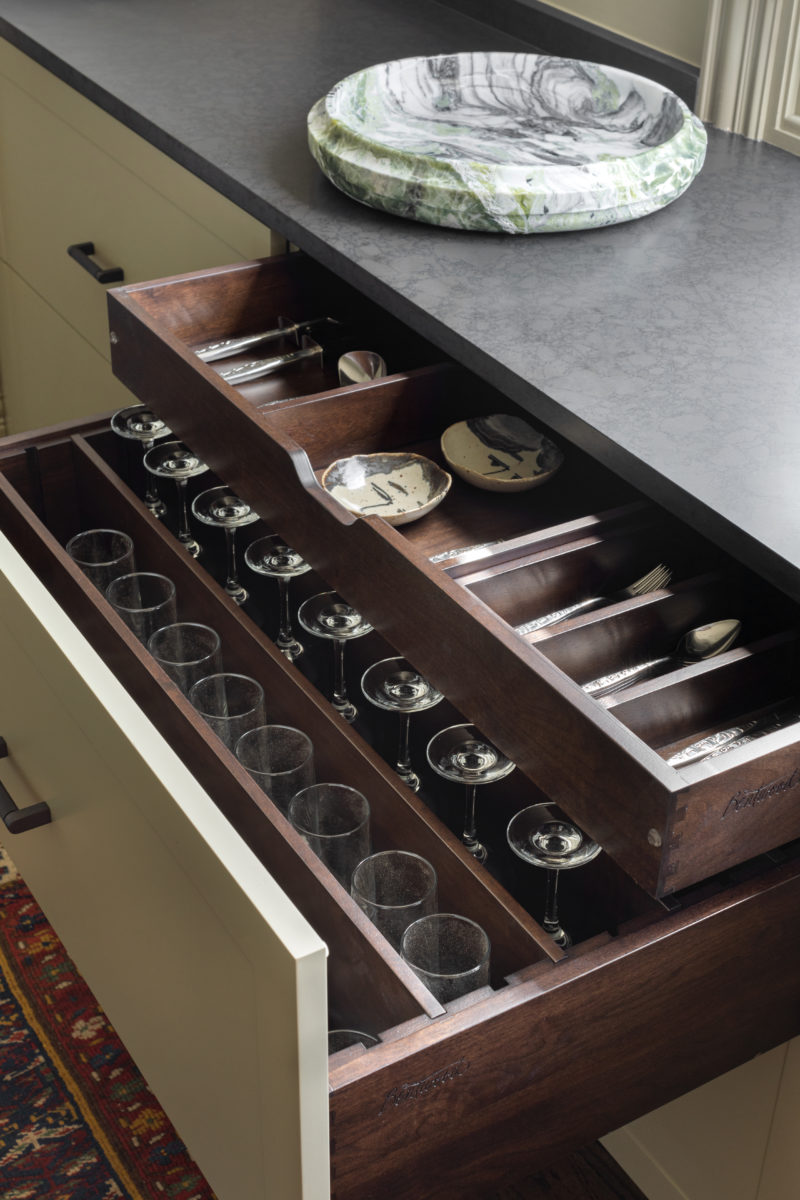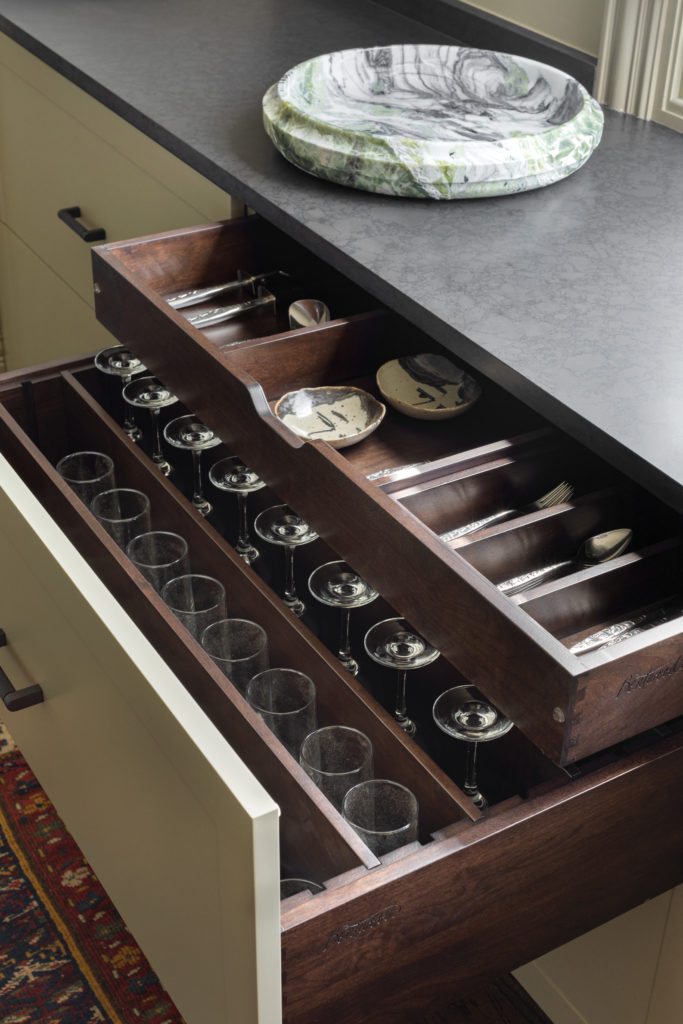 We hope you've enjoyed seeing how four different cabinetry door styles translated into real-life projects that each have their own story and personality. In today's world of custom cabinetry and residential luxury design, one thing is certain at Bentwood Luxury Kitchens– we go beyond the ordinary to make projects extraordinary. We invite you to work with your dealer to explore what door styles and finishes are worthy of your consideration.     
Find Inspiration Near You
Summary
Article Name
Cabinetry Door Styles & finishes for Luxury Home Projects
Description
At Bentwood Luxury Kitchens we explore the best cabinetry options for your project making sure both function and aesthetics work together beautifully. There is no shortage of beautiful cabinetry selections worthy of your consideration.
Author