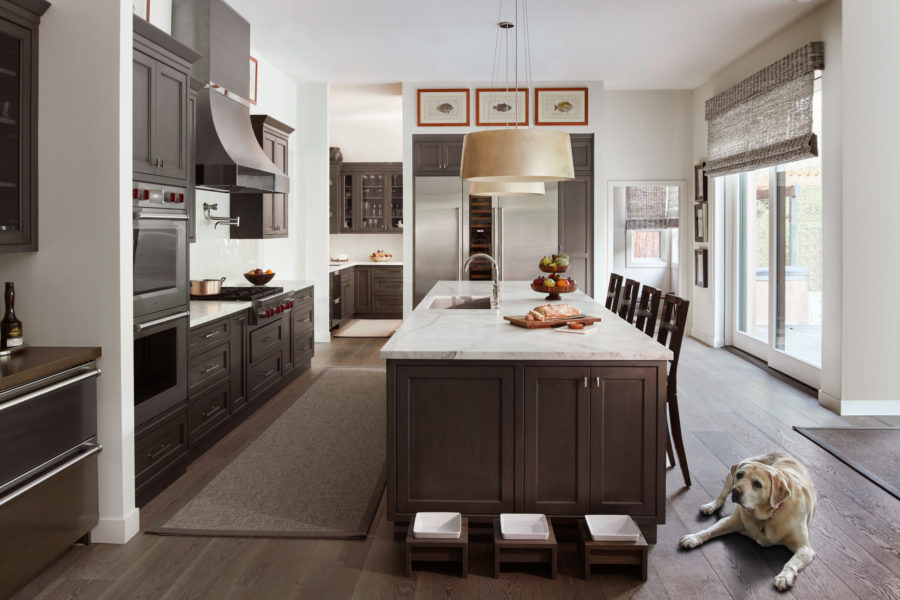 Photo courtesy of Douglah Design
As kids head back to school, families quickly understand what home organization is needed so their households can run smoothly. This busy time of the year is filled with new routines, activities, and responsibilities for both students and parents. Having a place for everything is essential along with making it convenient for family members to navigate their part—especially in the kitchen.  
At Bentwood Luxury Kitchens, we assist with manufacturing cabinetry that stores, organizes, and functions, for the real world. Supporting families so they have more time together and less time trying to find things is what personal design is all about. 
Kitchen Islands and Banquette Seating are Popular Design Elements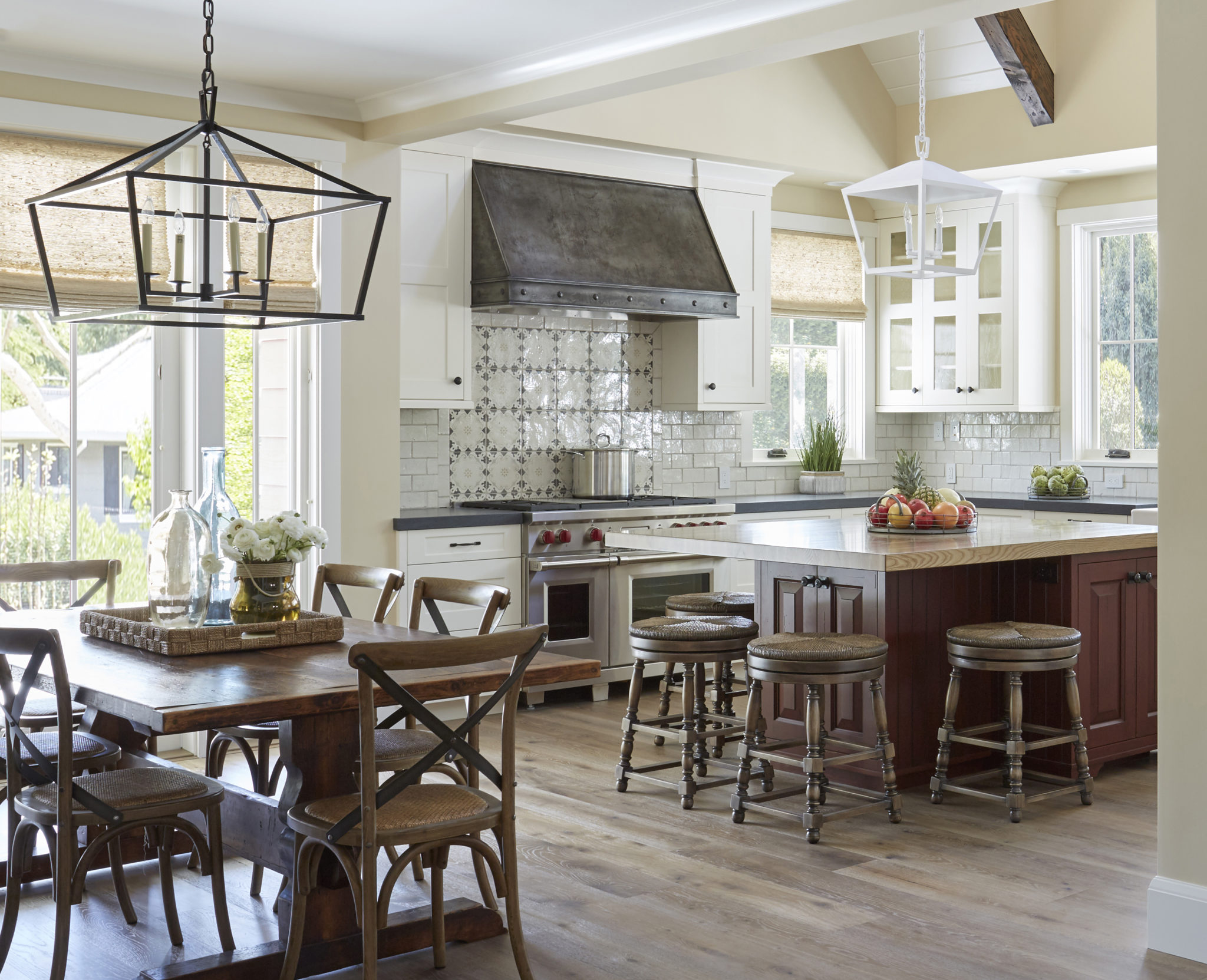 There are several key elements to consider when designing a family kitchen for today's busy life.  Whether a remodel or a new construction project, the goal is to create a space that supports all functions of a modern kitchen including just a place to hang out. The kitchen is still the "heart of the home" but in a more casual way.  A kitchen island and banquette design elements provide these social areas where families can stay connected. 
Below are some dealer kitchen projects showing real-life design solutions that support family living.   
Leila Douglah of Douglah Design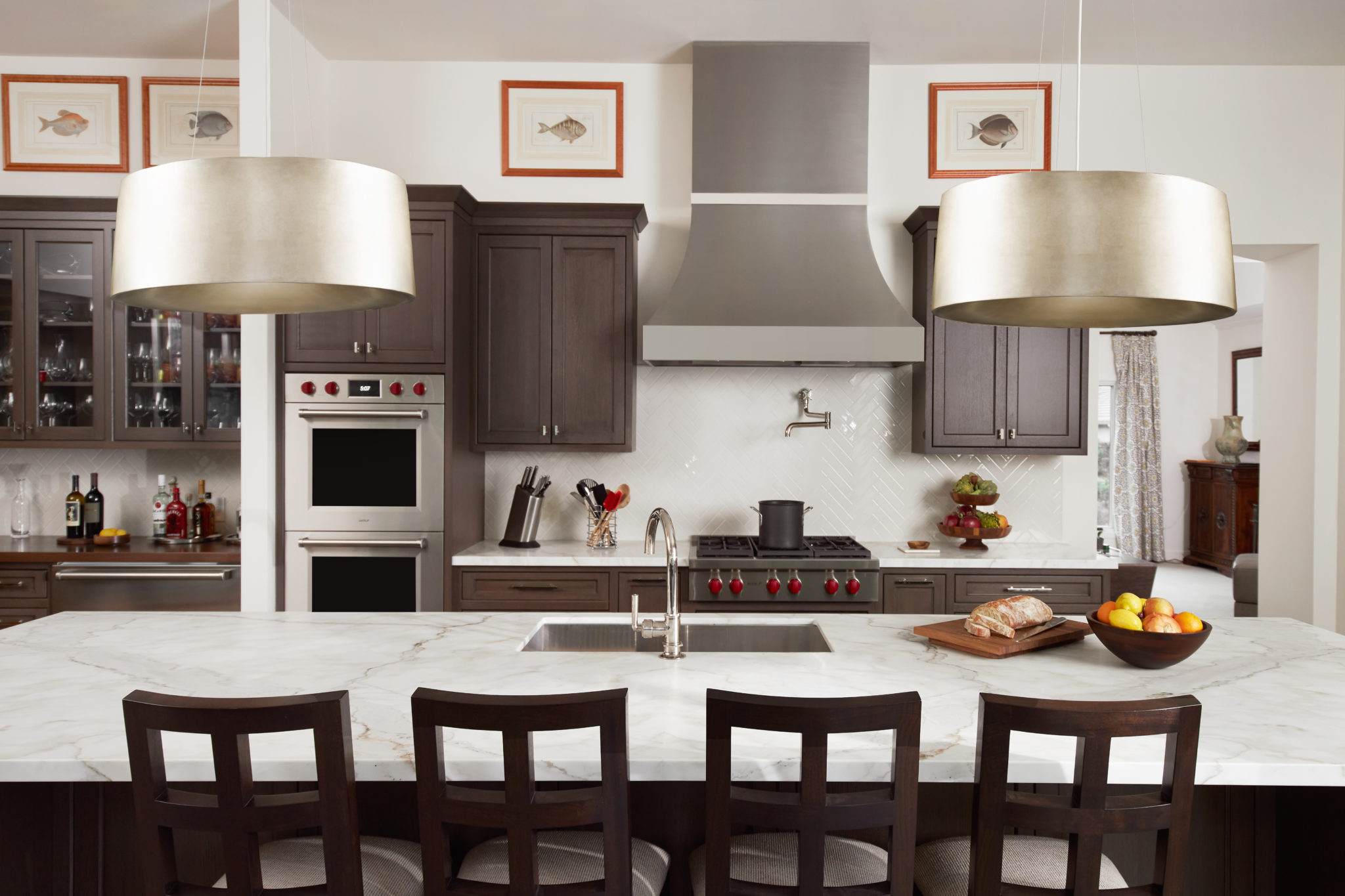 The Kitchen Island has become the place to gather around following the open concept layouts in residential design. A large landing space for food prep and buffet serving is important to families and often on the client's "must have" list.
Many times, this is a strategic location for a kitchen sink/or newer workstation options. This design allows the cook of the house to engage with family and friends who are seated at the island while preparing a meal.
Owner, Leila Douglah of Douglah Design shows a beautiful kitchen island created for clients who love to cook and entertain.  Locating a workstation on the island was a perfect choice for this social California kitchen. Utilizing Bentwood cabinetry gave flexibility with design, storage, and accessories for this expansive kitchen project.    
Meagan Miller of

KRB

Kitchen and Bath Design Center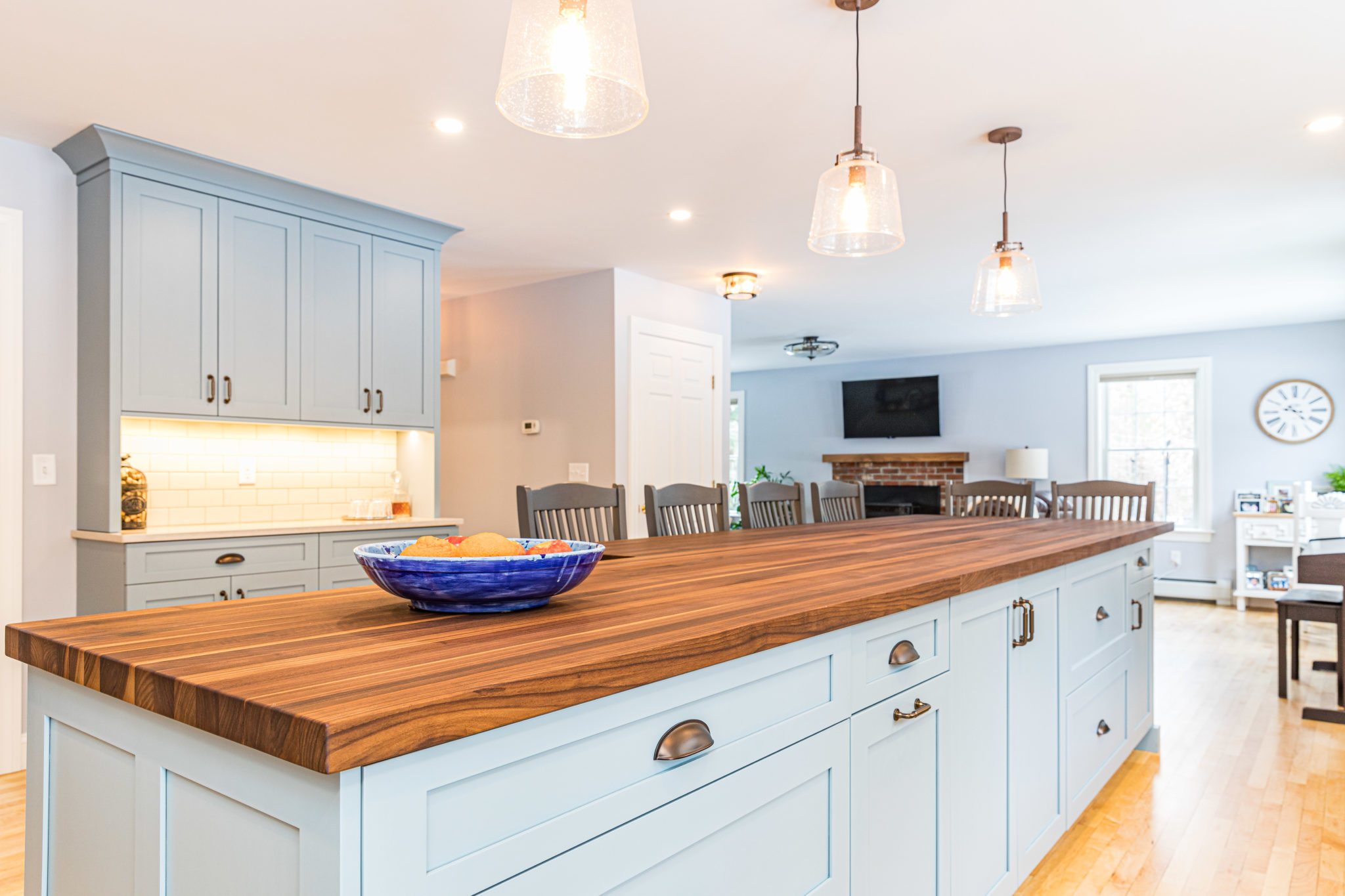 Designer, Meagan Miller of KRB Kitchen and Bath Design Center, shows how a large kitchen island provided both function and seating for an East Coast family.  The 14-foot kitchen island naturally became the star element and accommodated comfortable seating for six. On the working side of the island, everyday dishes and essentials were now organized and easy to access.  A beautiful Farmhouse style was achieved utilizing painted cabinetry along with a lovely custom walnut countertop.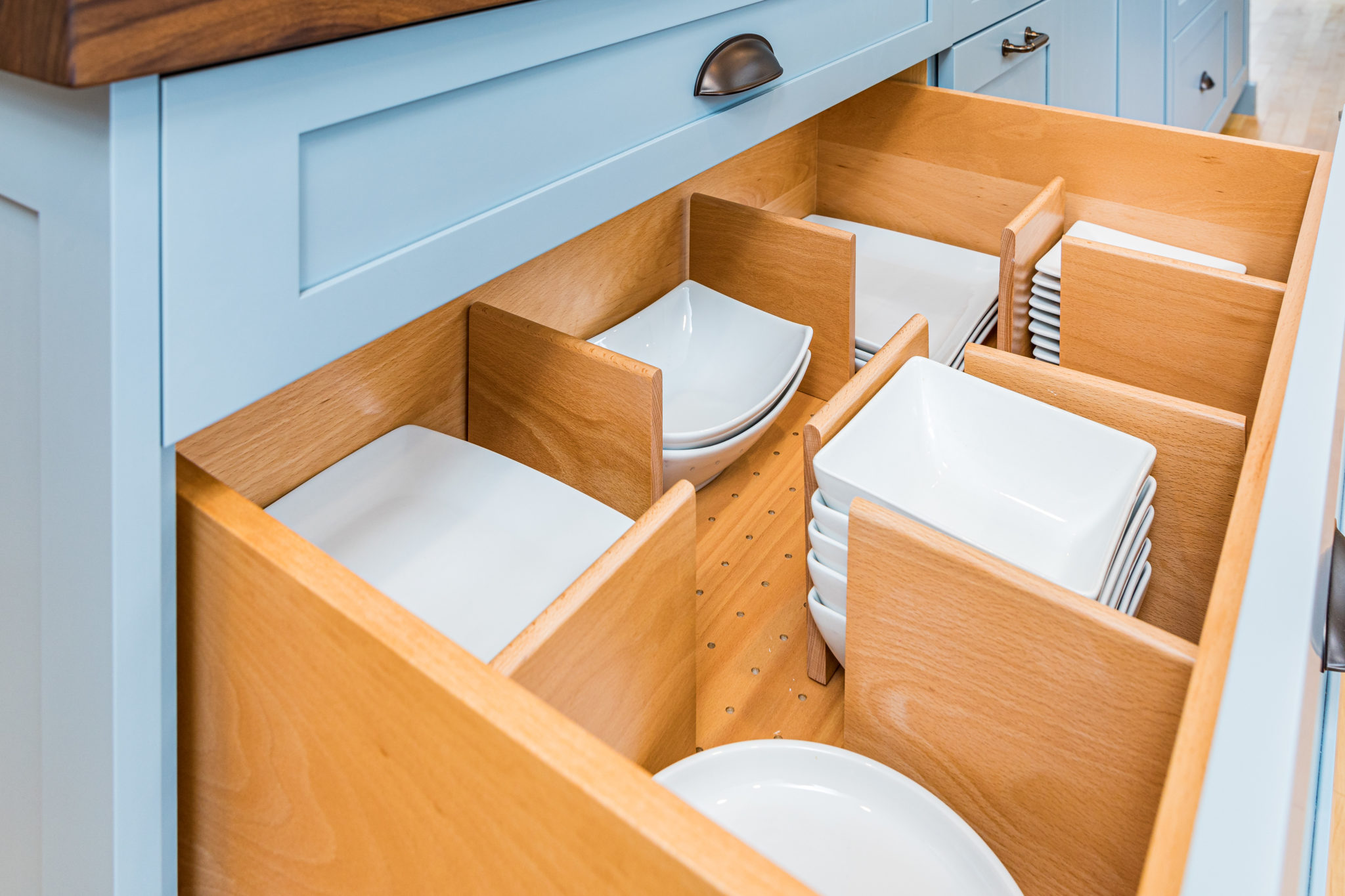 Hellen Hsieh of

Design Loft Company

Banquette seating is another popular way families can gather around for a meal, homework, or game night.  The "eat-in dining" table of the past has been updated with a more inviting design element.  
Designer, Hellen Hsieh of Design Loft Company, shows how banquette seating was incorporated into a new construction kitchen project in California.  Painted Harmoni cabinetry looks updated and ready for family action.   
Must Have Butler's Pantry & Functional Areas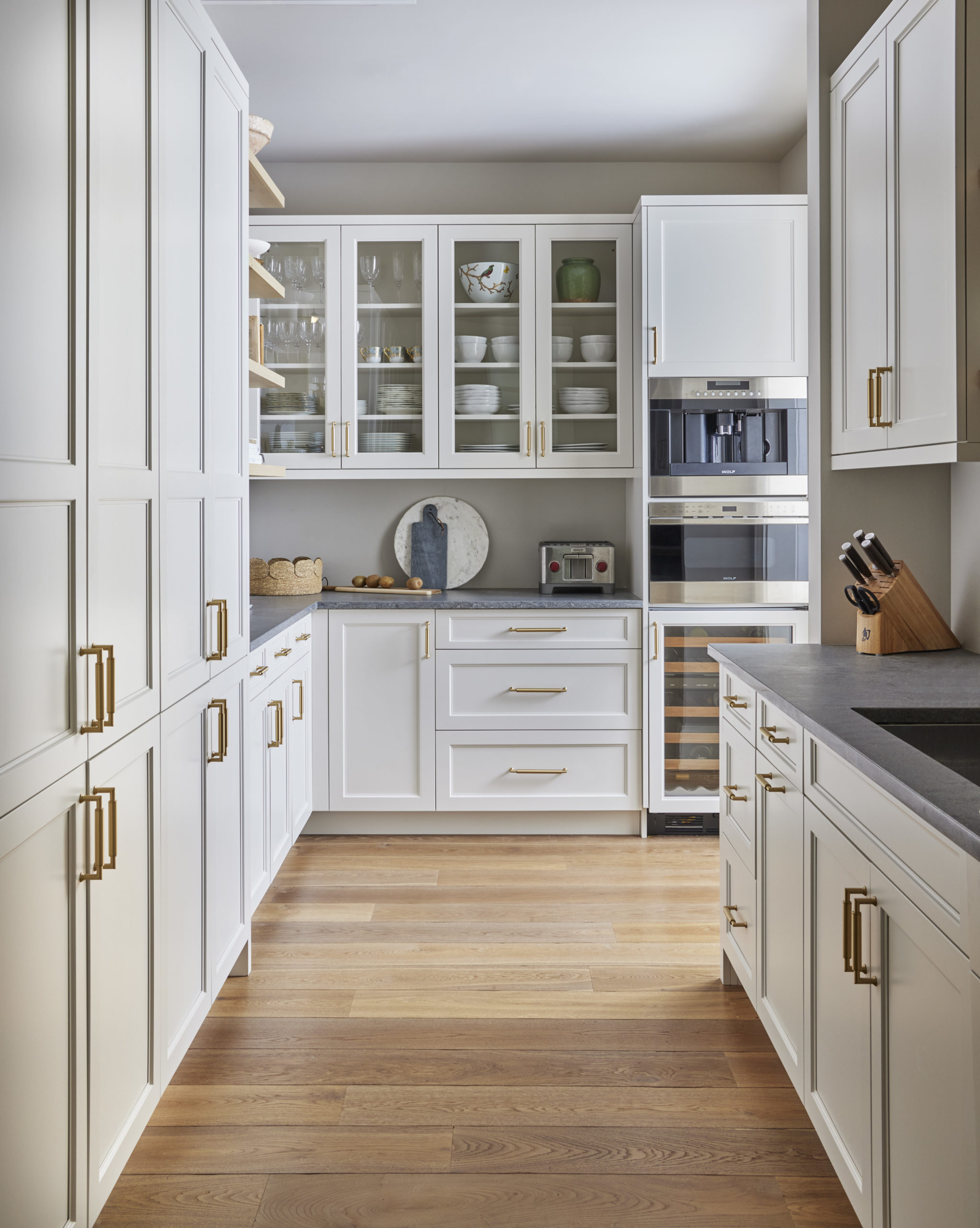 The Butler's Pantry has evolved to include extra large storage and offers the multi–functions that families need. Small appliances like the toaster, coffee maker, and blender can be housed here and ready for the morning action. The additional workspace and clean-up zones assist with everyday kitchen use but prove essential when entertaining for special occasions and the holidays.   
Katie Stanfield of the Cottage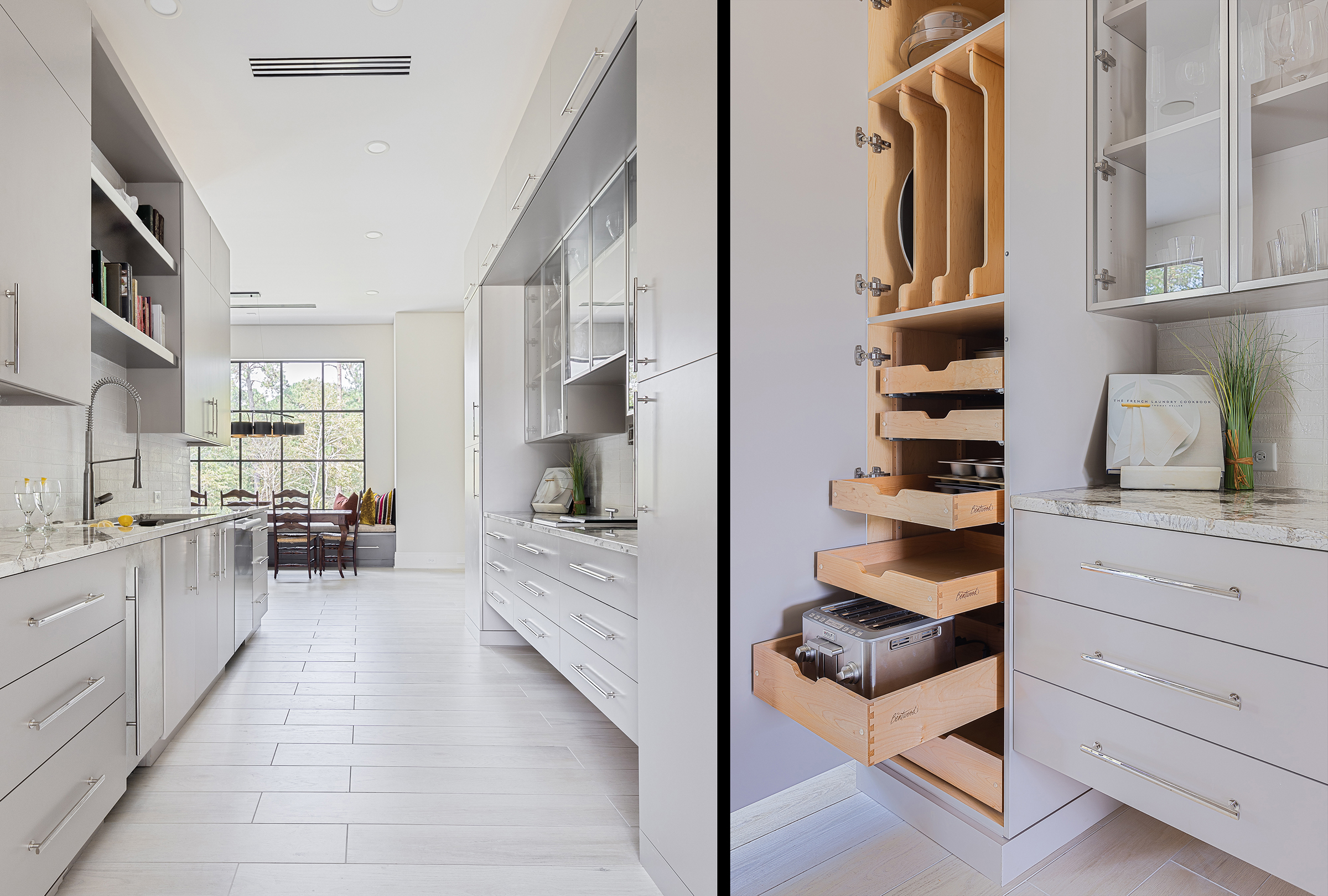 Katie Stanfield, Designer from Bentwood Dealer, the Cottage, shows how a client request for extra functions resulted in a secondary kitchen.  
Additional appliances, workspace and storage are common requests for kitchen remodel projects. Hiring a kitchen professional who can offer a customized design solution like this, is money well spent.   
Joy Wilkins of Custom Kitchens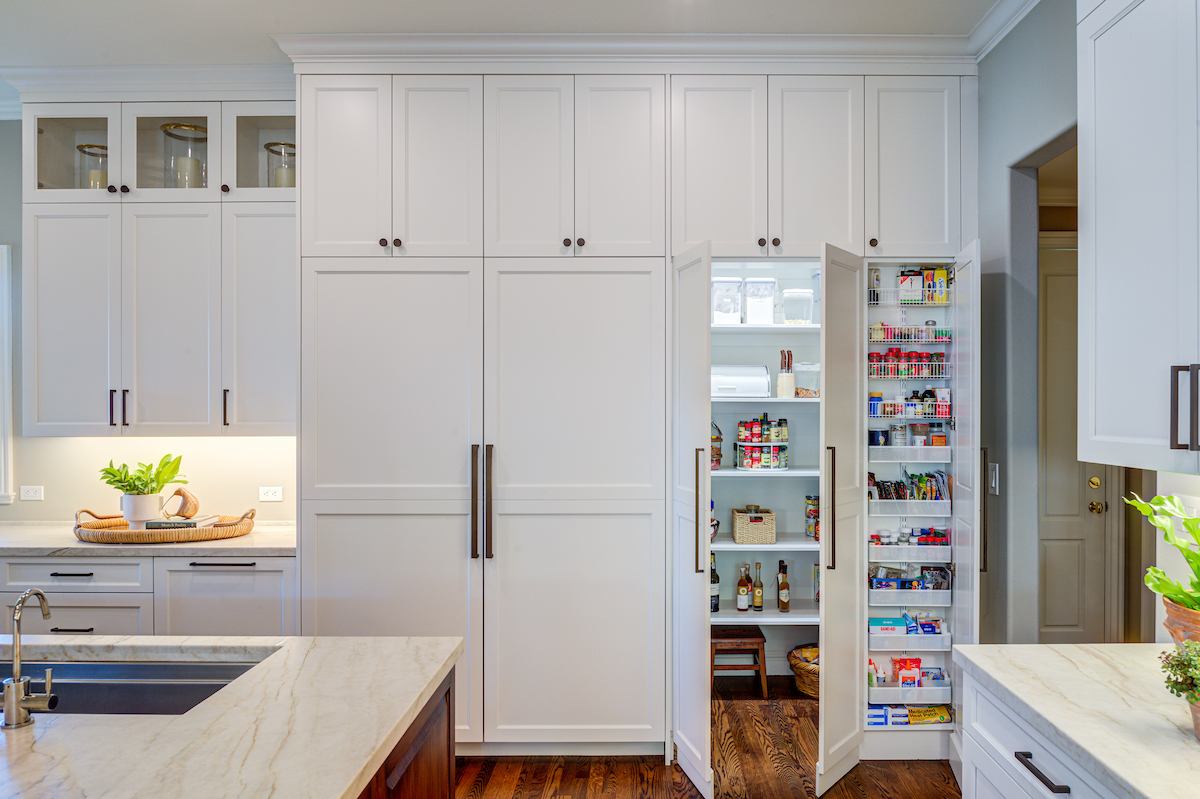 Joy Wilkins, Owner of Custom Kitchens, provided a storage solution that integrated beautifully into her California kitchen remodel project.  Behind Bentwood tall cabinetry is a large storage pantry just steps away from the main workspace.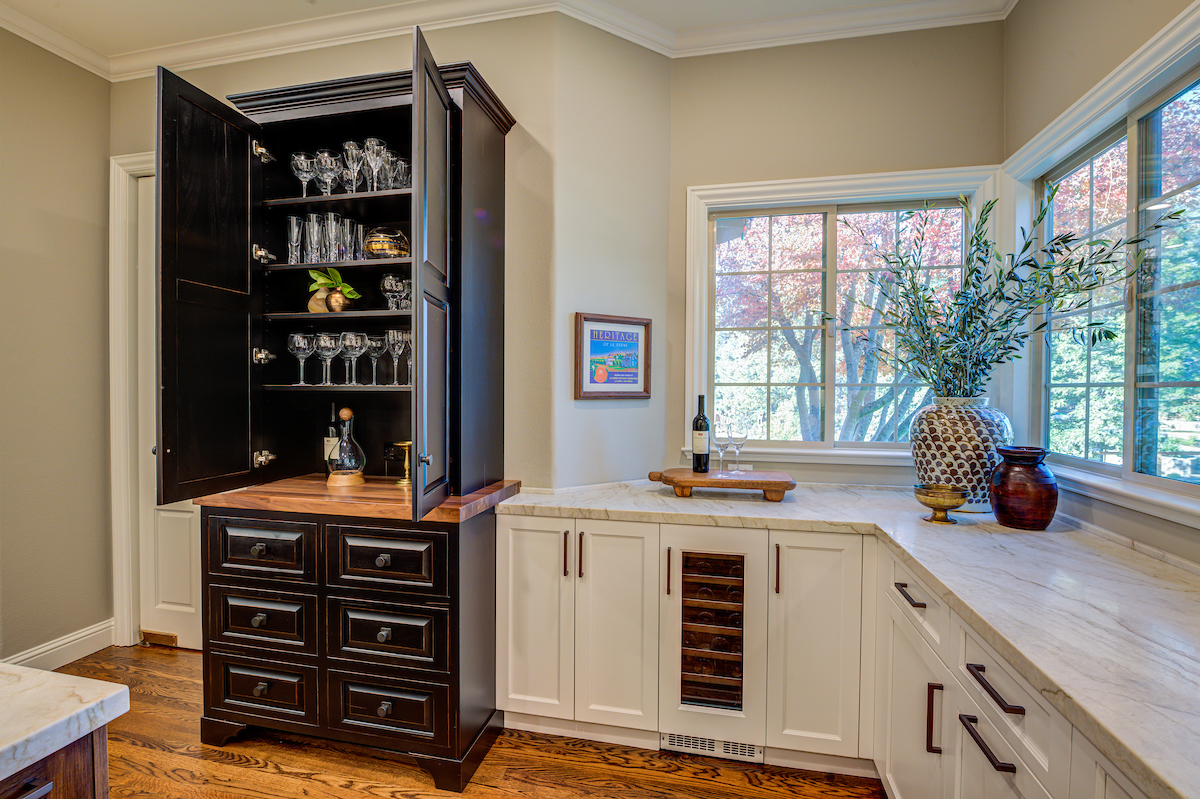 In addition, Joy created a custom furniture piece to accommodate storage and entertaining support.  The bonus was a focal element that offered the desired function and aesthetic specific to her client.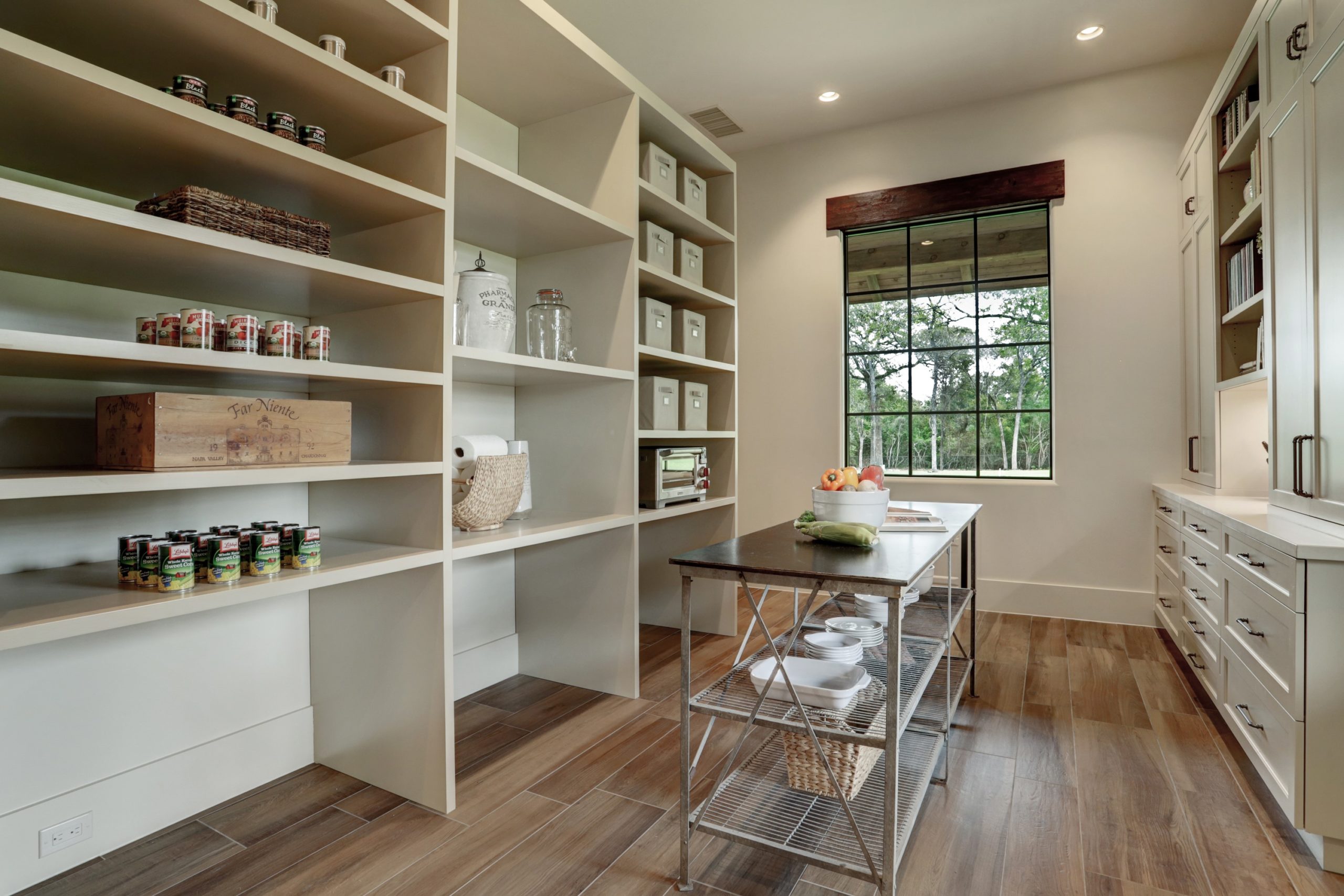 Busy families today buy in bulk and need space to store these essential items. If space allows, having a walk-in pantry with open shelving is the way to go. Visible storage allows for easy organization and restocking, plus makes quick work of writing the weekly grocery list.  
Shawna Roorda of Bentwood of Houston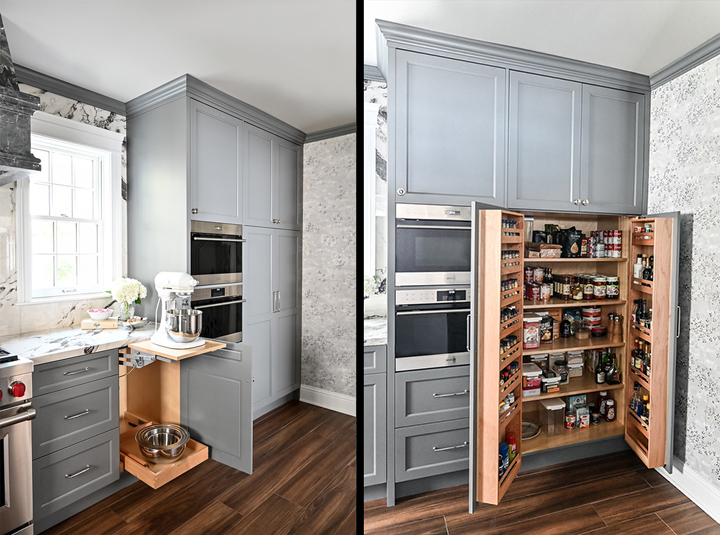 No room for a large pantry?  No worries, we have you covered with many storage solutions for compact spaces.  
Here are some impressive storage solutions from Shawna Roorda, Lead Designer at Bentwood of Houston. Function behind every Bentwood door was designed into this kitchen remodel project.  
Function and

Beauty

A

RE

P

ossible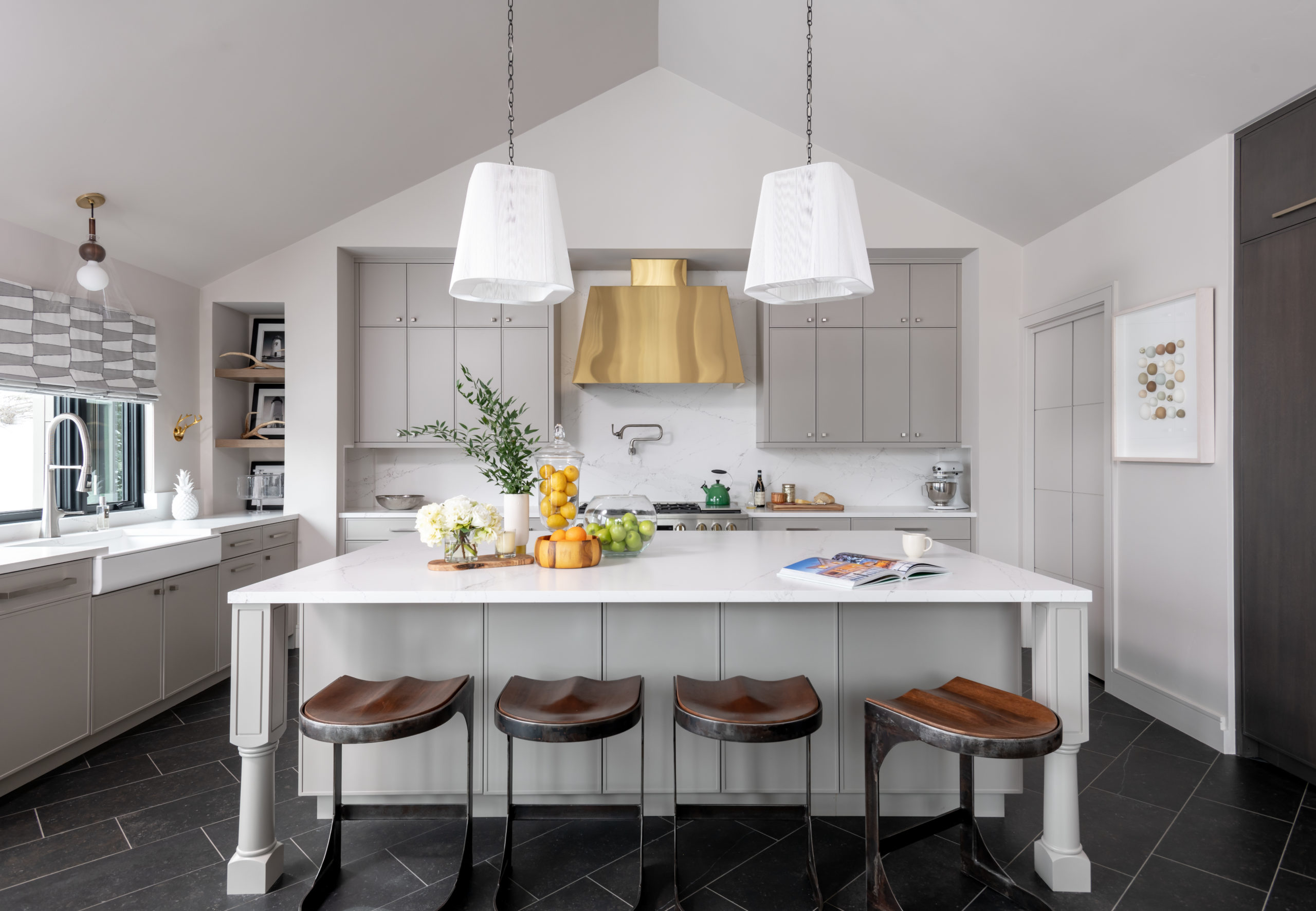 We are pleased to share these family kitchen projects from our dealer network that successfully solve design challenges. Improved function, storage, organization, plus overall aesthetic are what clients are asking for and we are listening. There is no question that family homes today benefit from custom cabinetry and value the flexibility it provides for each household.   
Find Inspiration Near You
Summary
Article Name
Kitchen Design with Families in Mind
Description
At Bentwood Luxury Kitchens, we assist with manufacturing cabinetry that stores, organizes, and functions, for the real world. Supporting families so they have more time together and less time trying to find things is what personal design is all about.
Author